Crypto Analysis | Hive About To Lift Off?
Good day Hiveians!
Join me in analyzing the crypto markets!
Hive may be getting ready for a (short?) rally
Although, like always, there is a non trivial chance for that turning out to be a dud... but let's talk about the bullish scenario. I already talked about it in my last post and want to highlight the key levels to watch here.
On the daily chart we can see two strong resistances in the form of trend lines that connect the previous lower highs. Here is the chart from last post again: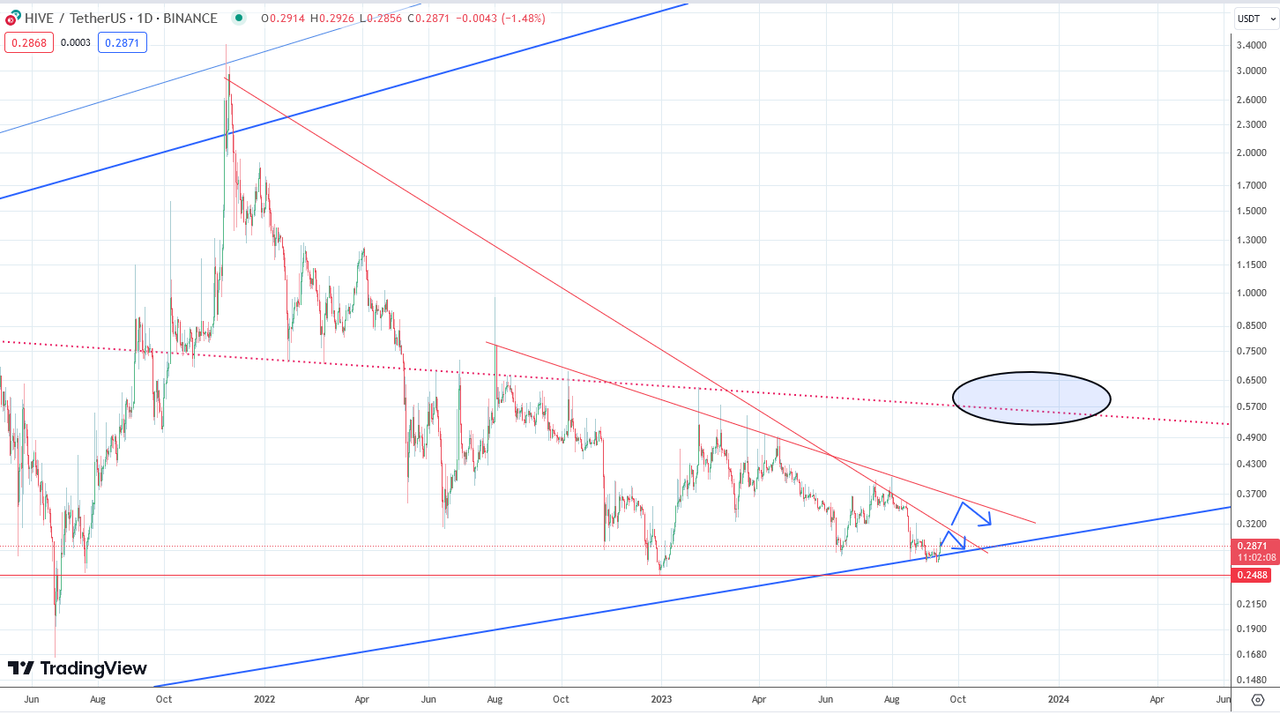 The first resistance is at around 30-31 cents and the second one at around 36-37 cents. Both could also lead to a rejection of price and that would be quite anti-climactic. But if price does push higher, it could lead to a long term trend reversal. While price has stayed above the 2022 low, the overall trend was clearly pointing downwards. Breaking through these resistances would indicate a shift in which price could finally be trending up on average.
This is the weekly chart and we can see the resistance here in purple (the blue line is from the daily candles):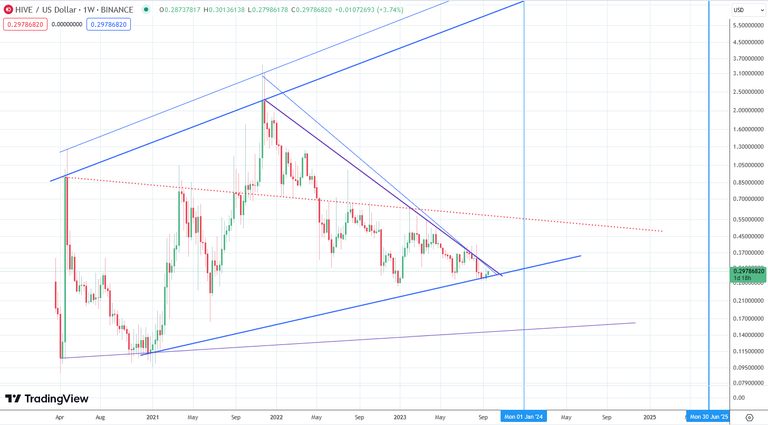 This shows us just how close price is getting ready to pierce through these lines and historically this has always lead to a rally. While these rallies ultimately reversed again to make lower lows, I think the chart shows a consolidation pattern that could lead to price rallying higher for a longer time, perhaps even initiating the big impulse wave we have been waiting for. Yet we can also see that price can fail to break out of such a resistance. This is seen in the wicks above the line and the ultimate rejection seen in the candles closing below it. For a confirmation we therefore have to see the weekly candle closing above the purple line.
The daily chart seen in a close up shows this situation: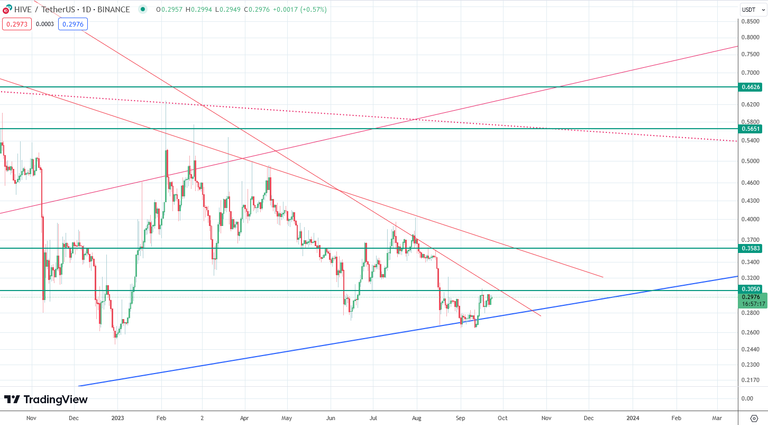 We can see the the red resistances as seen outlined earlier and the green resistance threshold levels to watch out for. Should price overcome the first two, there is a bigger chance for price to go to the 50-60 cents area. In fact, I am very confident that price will shoot up to those levels if we can get a confirmation on the breakout from this lower area.
Conclusion
Overall it looks as if we could get some significant price action in the coming weeks. Be ready to sell some Hive since we know that when Hive pumps it's always smart to sell into the dump. But my hope is that this will be the start of a much bigger push to higher levels, possibly even the dollar range again. But think long term, more like years than weeks or months.
---
As a general reminder: Please keep in mind that none of this is official investment advice! Crypto trading entails a great deal of risk; never spend money that you can't afford to lose!

⛅🌦🌧🌦🌧🌨☁🌩🌦⛅🌧☁🌤🌥🌪🌧🌨🌩⛅🌦☁🌤🌥🌤⛅🌤⛅🌦⛅

⛅🌦🌧🌦🌧🌨☁🌩🌦⛅🌧☁🌤🌥🌪🌧🌨🌩⛅🌦☁🌤🌥🌤⛅🌤⛅🌦⛅

---
---