Crypto Analysis | Follow Up: The Hive/BTC Potential
Good day Hiveians!
Join me in analyzing the crypto markets!
The HIVE/BTC chart is quite interesting and is generally overlooked when taking about the price of Hive. We currently have this set up on the weekly chart: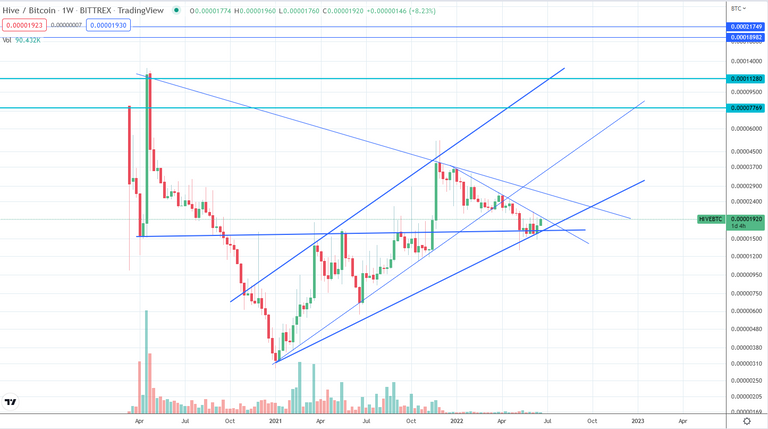 It hasn't really changed too much from my last update beside the fact that the parallel channel was broken to the downside. While this left the door open for a massive trend reversal (since 2021 there was an upward trend), the most important trend line (the thick horizontal one) held. This is the last support for current levels and if it fails I would expect this trend reversal to set in rather fast.
This is a chart from last time highlighting this horizontal divide: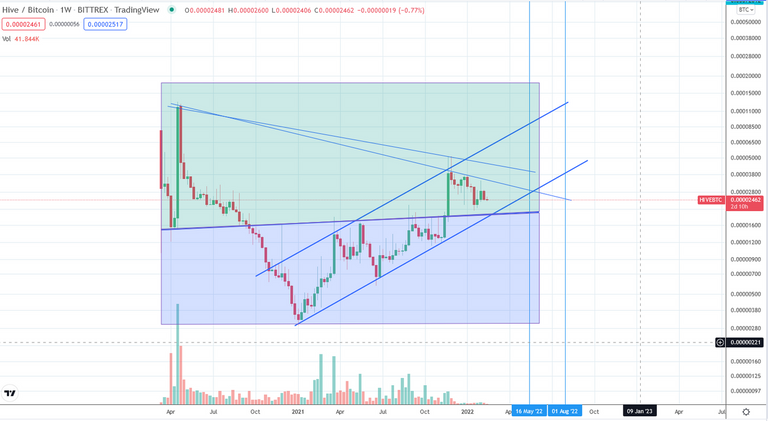 If you look at the first chart again, you can see that there are now 2 weeks of green candles. Price is itching to break out to the top, but has so far been rejected for the last 6 months. What interests me here is the potential I see in this chart for Hive. It is more evident when we look at the 4h chart and look at what happened in April of 2020 when Hive went parabolic. The reason why I think this time frame could be important is that it is almost an exact replica of the bigger macro chart. Lets have a look (I have marked the two areas of interest):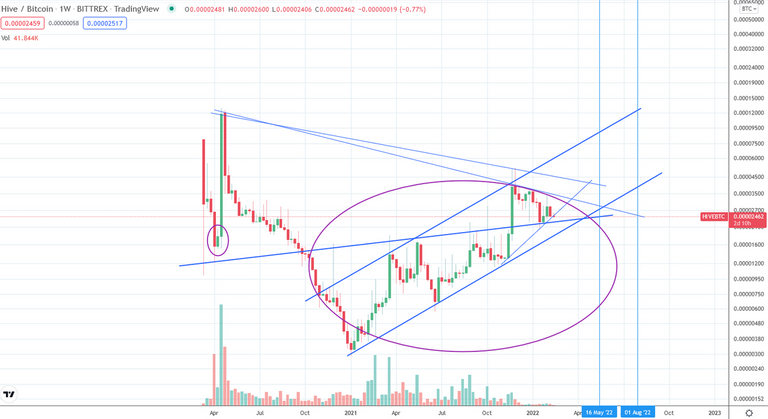 In the smaller oval we have this pattern: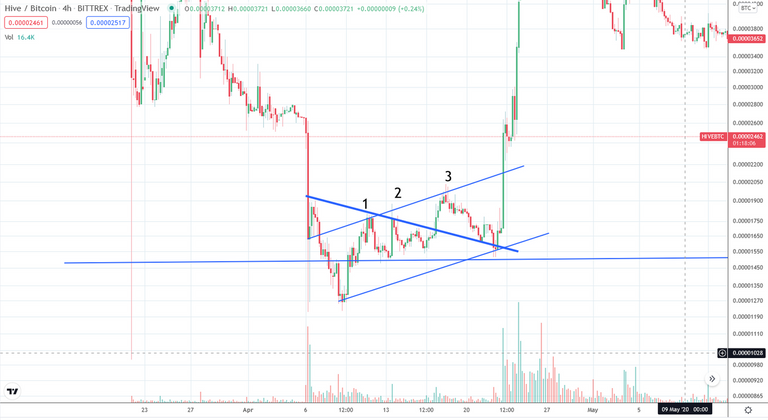 And in the larger picture we have the same fractal: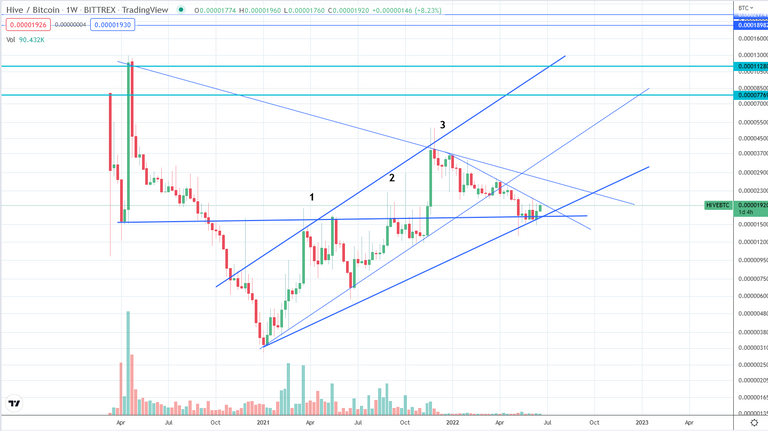 The similarities to me are stunning and what gets me excited is the potential upward momentum we can see from the smaller fractal. After this fractal was completed in 2020 we saw Hive going vertical. I am not suggesting that the same thing is going to happen, but fractals do have a tendency to repeat in a very similar fashion. Notice how the main support in the smaller fractal came from the "horizontal" (not quite horizontal, but the same key points) trend line and not from the one "connecting" (it leaves out the middle area) the lows. In the larger fractal we have the exact same set up.
So what does this mean?
While everything can happen, it looks to me as if Hive is ready to break out of this position to the upside. Hive has been quite strong against BTC since the crash and has managed to hold this horizontal support. If it holds up, Hive has only one direction to go: up!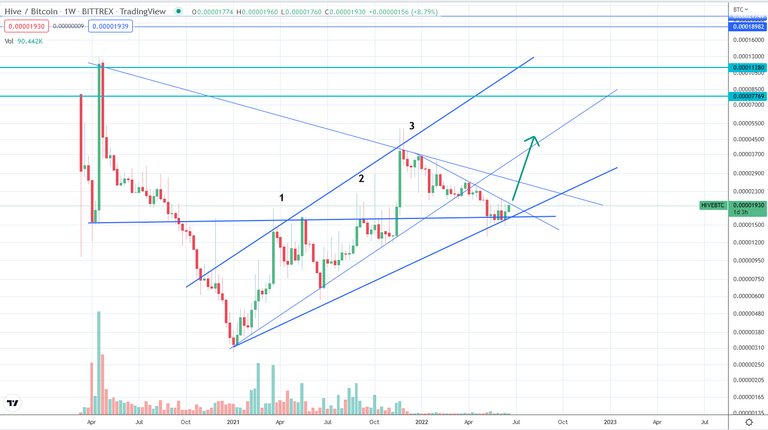 What do you think, could Hive really break out in such a massive way over the next few months?
---
As a general reminder: Please keep in mind that none of this is official investment advice! Crypto trading entails a great deal of risk; never spend money that you can't afford to lose!

⛅🌦🌧🌦🌧🌨☁🌩🌦⛅🌧☁🌤🌥🌪🌧🌨🌩⛅🌦☁🌤🌥🌤⛅🌤⛅🌦⛅

⛅🌦🌧🌦🌧🌨☁🌩🌦⛅🌧☁🌤🌥🌪🌧🌨🌩⛅🌦☁🌤🌥🌤⛅🌤⛅🌦⛅

---
---