JAKARTA KOTA STATION (BEOS)
Happy weekend, architecture and design lovers.
Exploring the city and discovering nice things seems endless, right?
Apart from museums, there may be other things that are more than hundreds of years old, such as: legendary schools, colonial-era hospitals, colonial-era banks. However, on an accidental occasion, I, who was assigned to a place at that time, found a city station which was also a relic of the colonial era and was hundreds of years old.
Located in the West Jakarta area, Jakarta Kota Station or what is known as the Beos Station, still maintains the original structure of the building. Of course, with repairs within a certain period of time.
It has two entrances, and I chose the east door because the path I took was closer to it.
---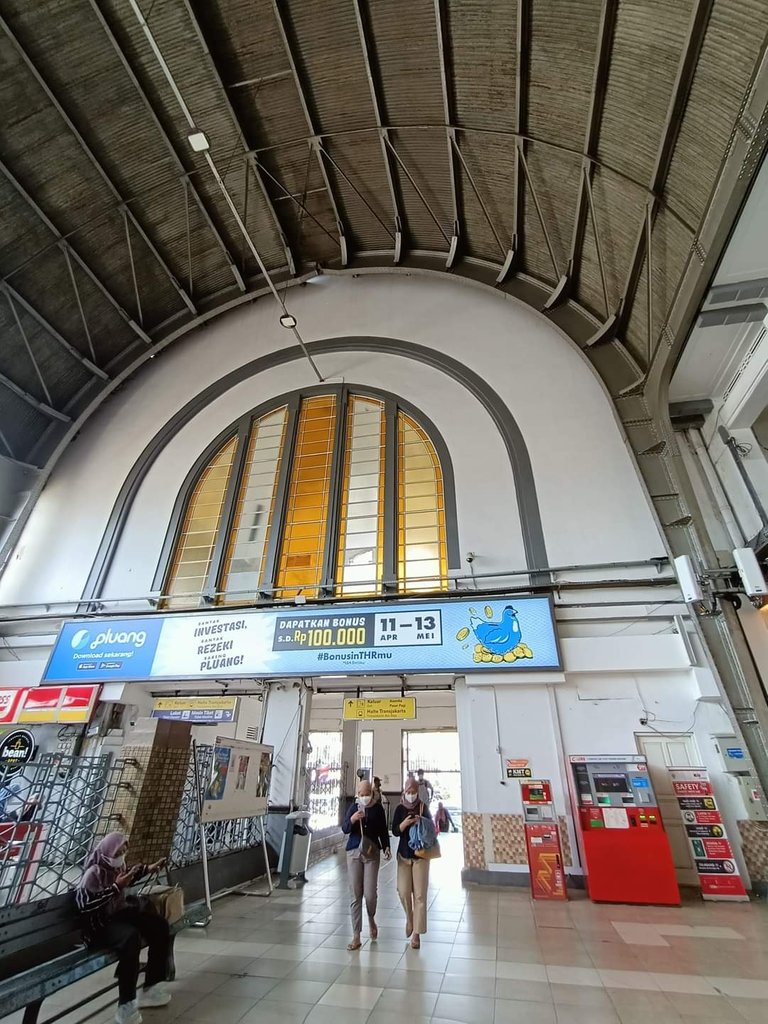 ---
like any other public place, once you pass the guard post, you can see a long, stretched room with a high, semi-circular roof.
---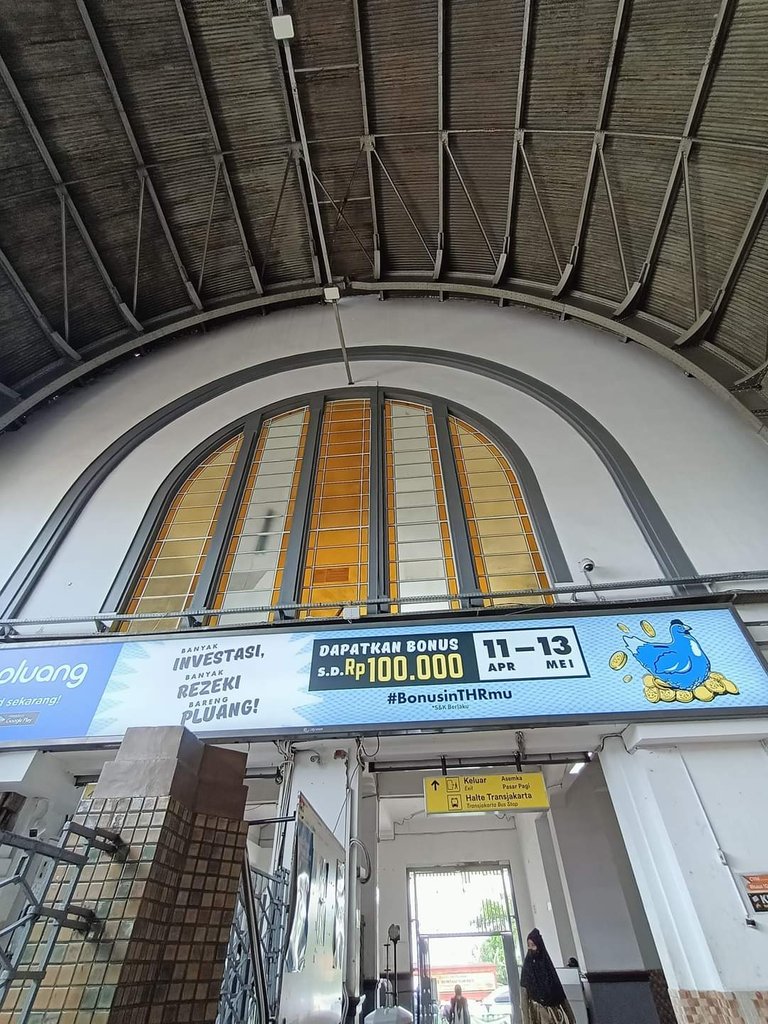 ---
The large window right above the entrance is also framed with sturdy iron, you can zoom in by zooming in on the image I attached.
Roof frames made of iron look very solid and clean. even for the arched roof trusses connected to form pillars is amazing to me. I have always been honest about how the development of the colonial-era was really carefully calculated down to the slightest detail.
---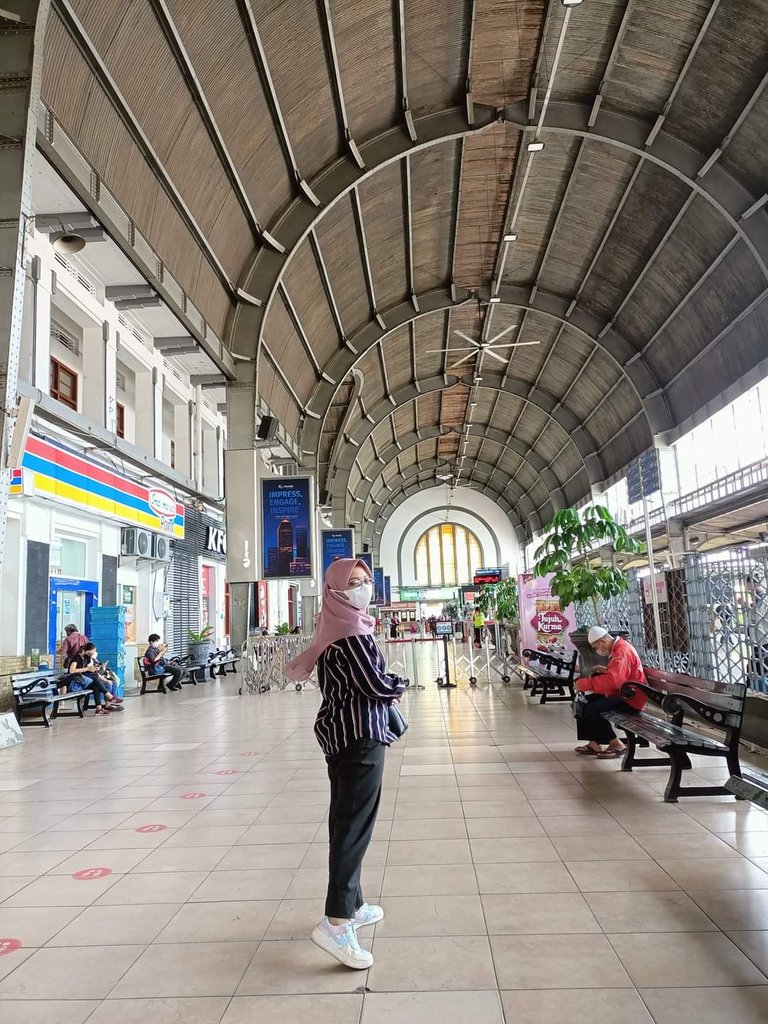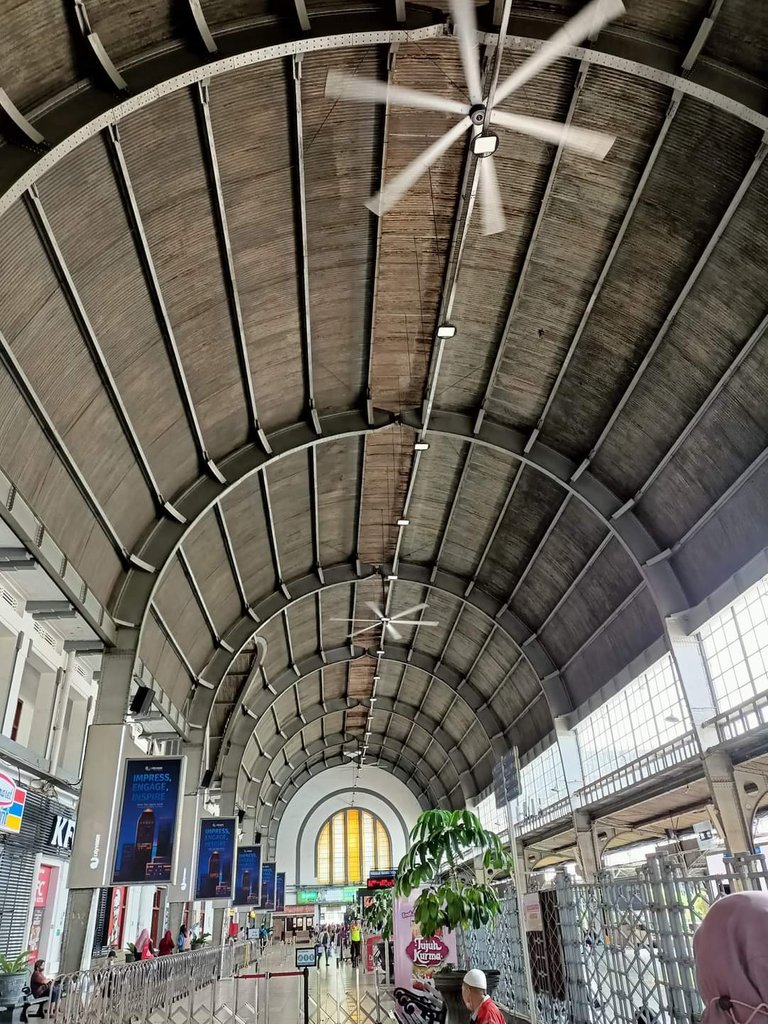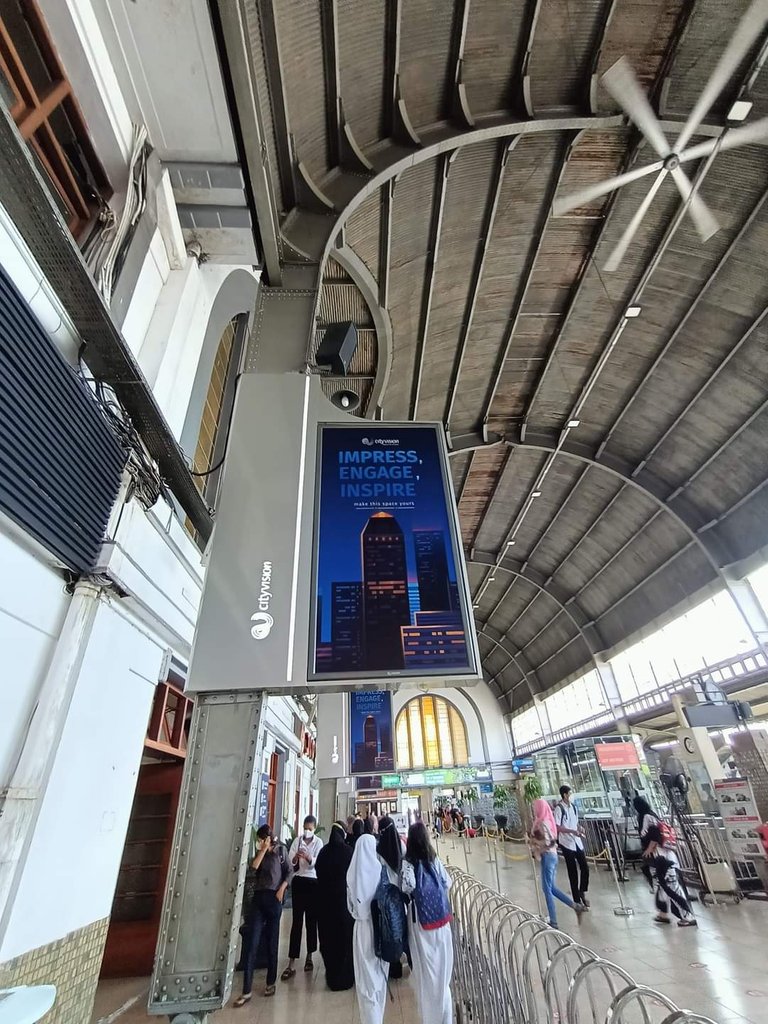 ---
Fans are installed along the lobby with a certain distance. Even though it's not as cold as the air conditioner, it doesn't feel hot here either, because the air circulation also works well.
On the left there are several food stalls that are open with a profit sharing/franchise system.
---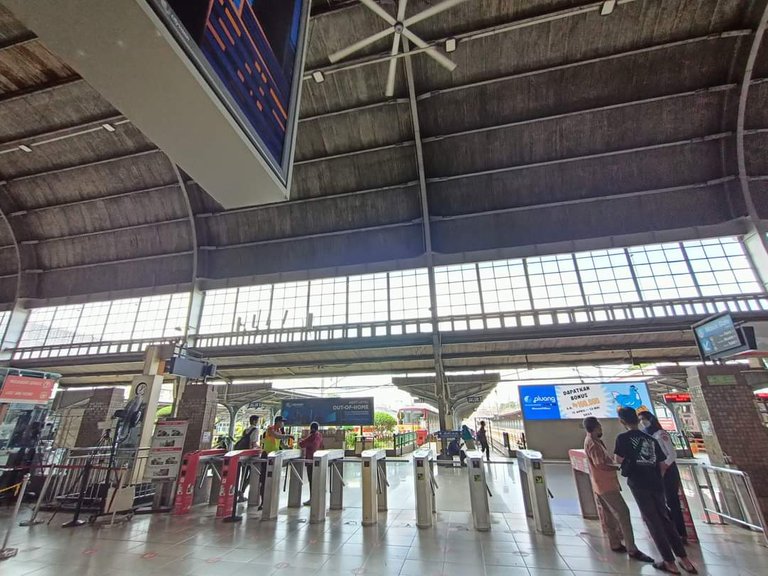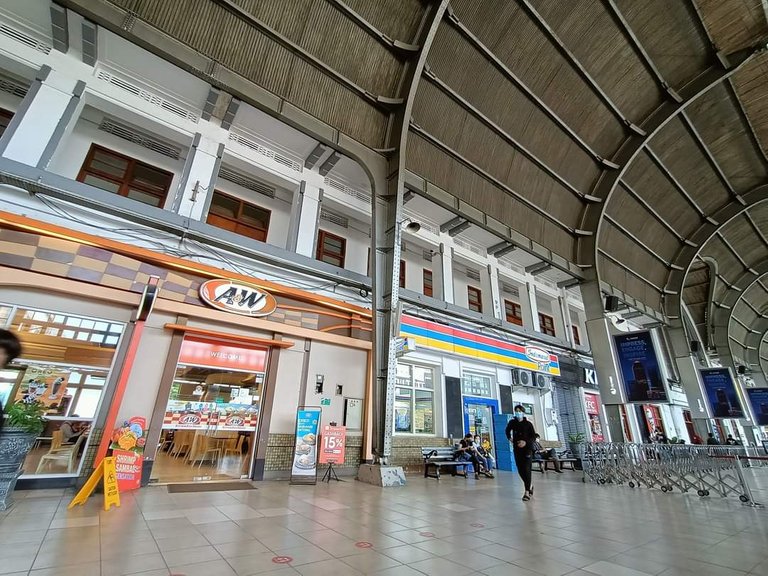 ---
While on the right, after being restricted by an iron barrier and a card tap machine to enter for commuter line passengers, as well as checking tickets for long-distance train passengers, the train platforms are lined up.
---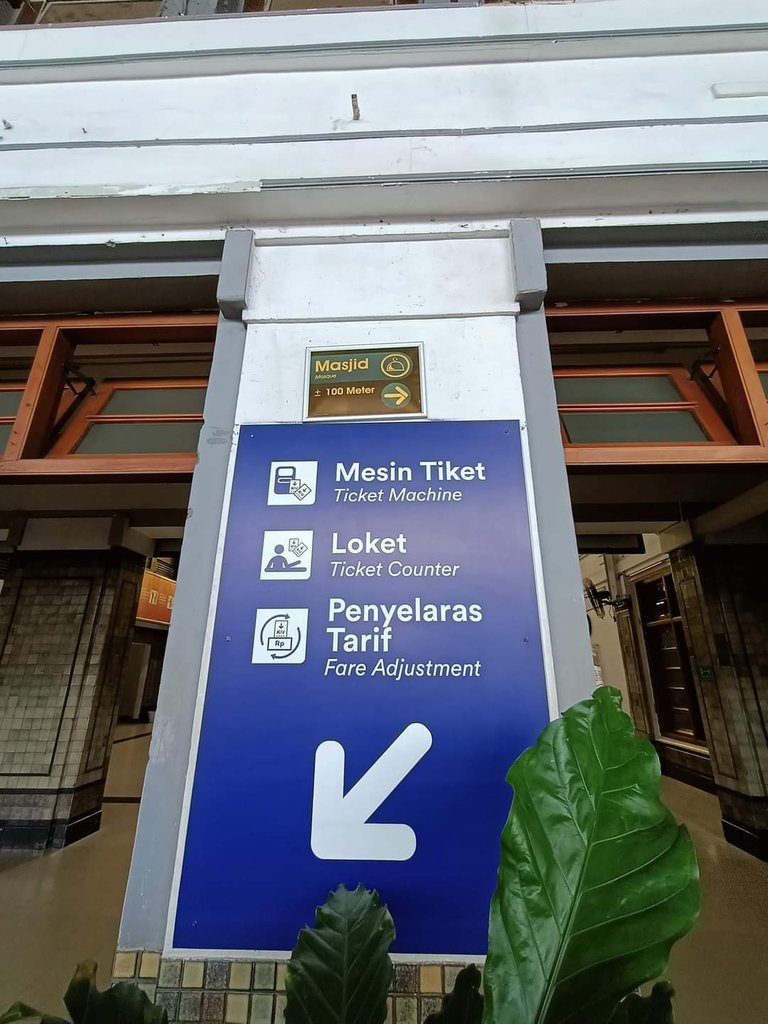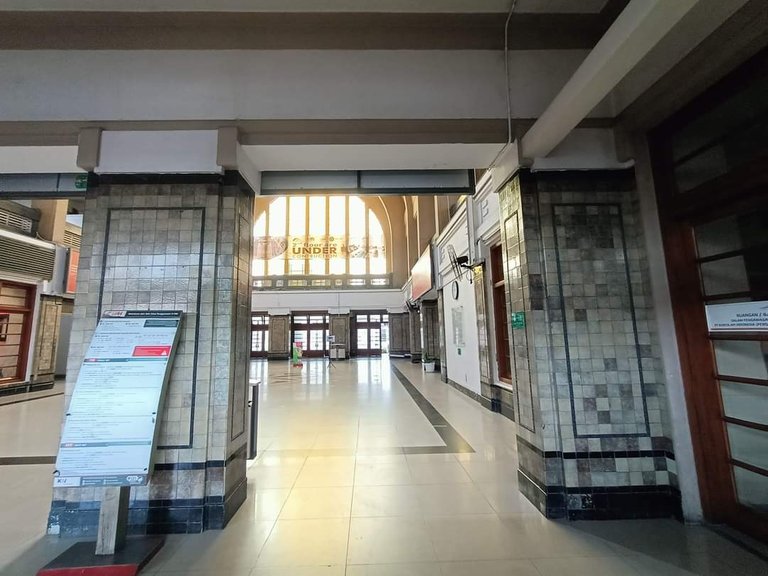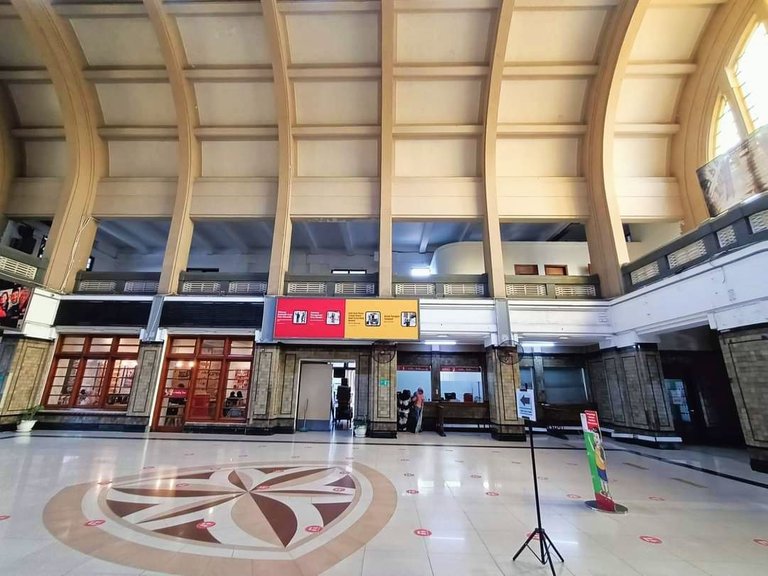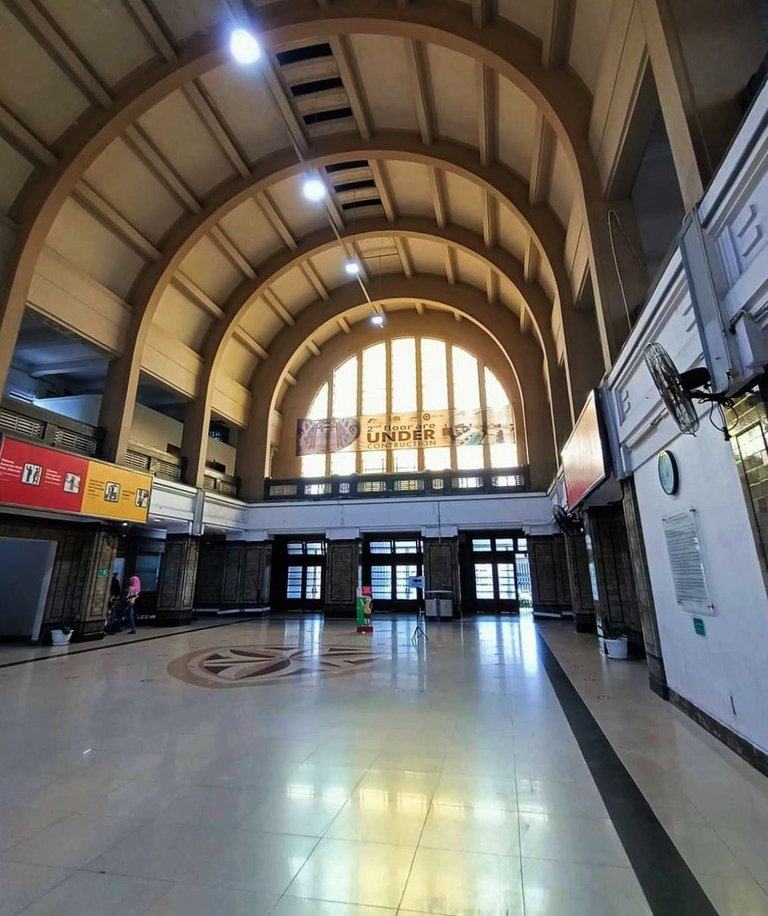 ---
Close to the west door, there is a large room on the left. Out of curiosity, I tried to turn around and see what the function of this room was?
This large room was apparently used for ticket purchases made on the spot. I don't have to queue to buy tickets because I already use a card for the commuter line.
Besides that, there are ticket machines, and also fare adjustments.
This room is dominated by broken white and cement pillars with graystone ornaments.
The reason why the ticket provider's room is so spacious is because during special times, such as when celebrating Eid al-Fitr for Muslims, there is always a "mudik" culture where almost all migrants in this city will use public transportation to return to their homes in their hometowns.
The number of requests for tickets and people who come directly to the station is very massive, so it would be safe if the space provided was this wide.
Rather than a station, looking at this room, I feel like I'm standing in line for a classical music performance. LOL
---
---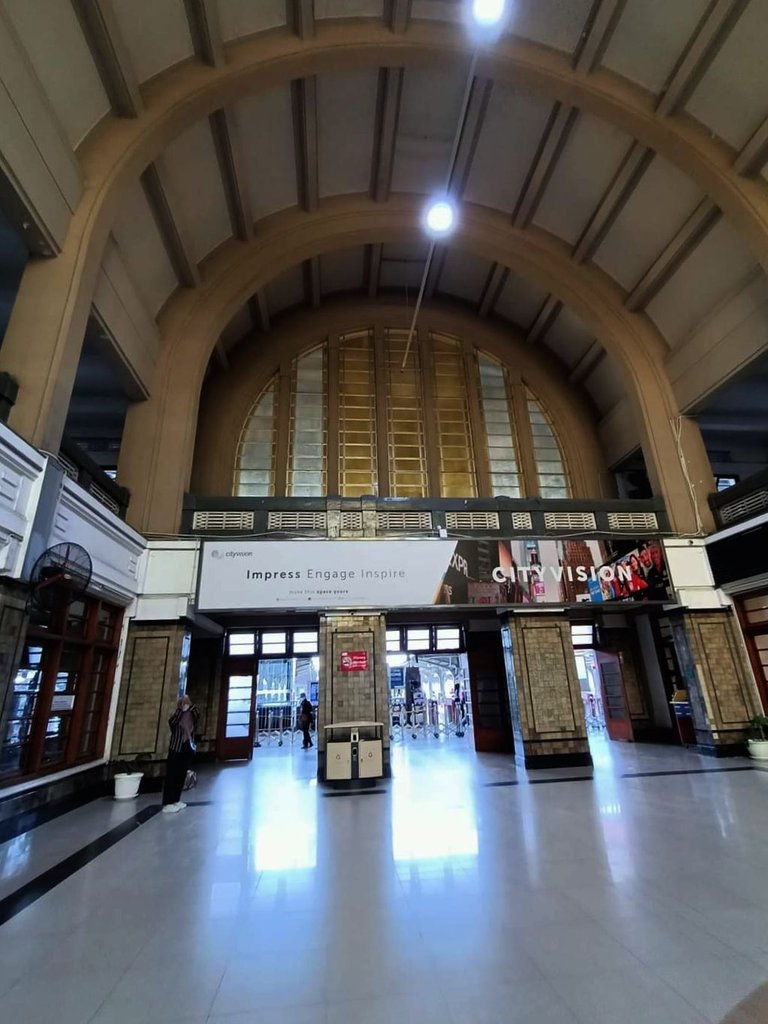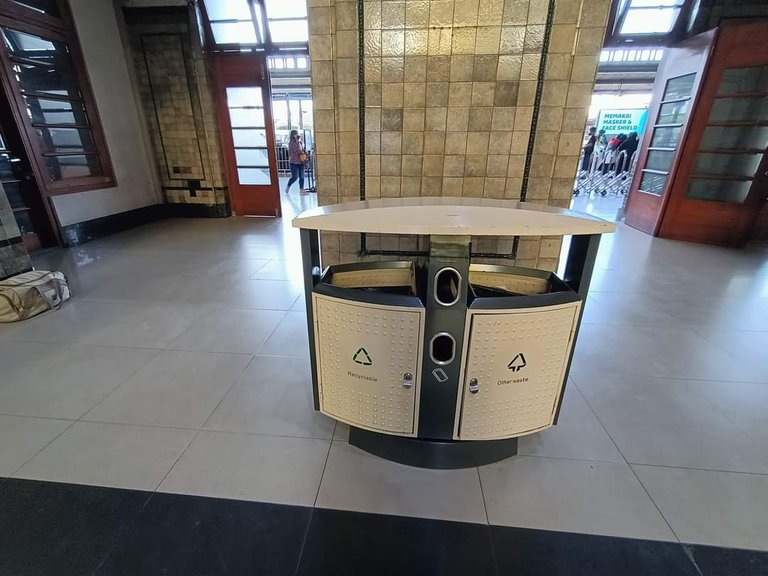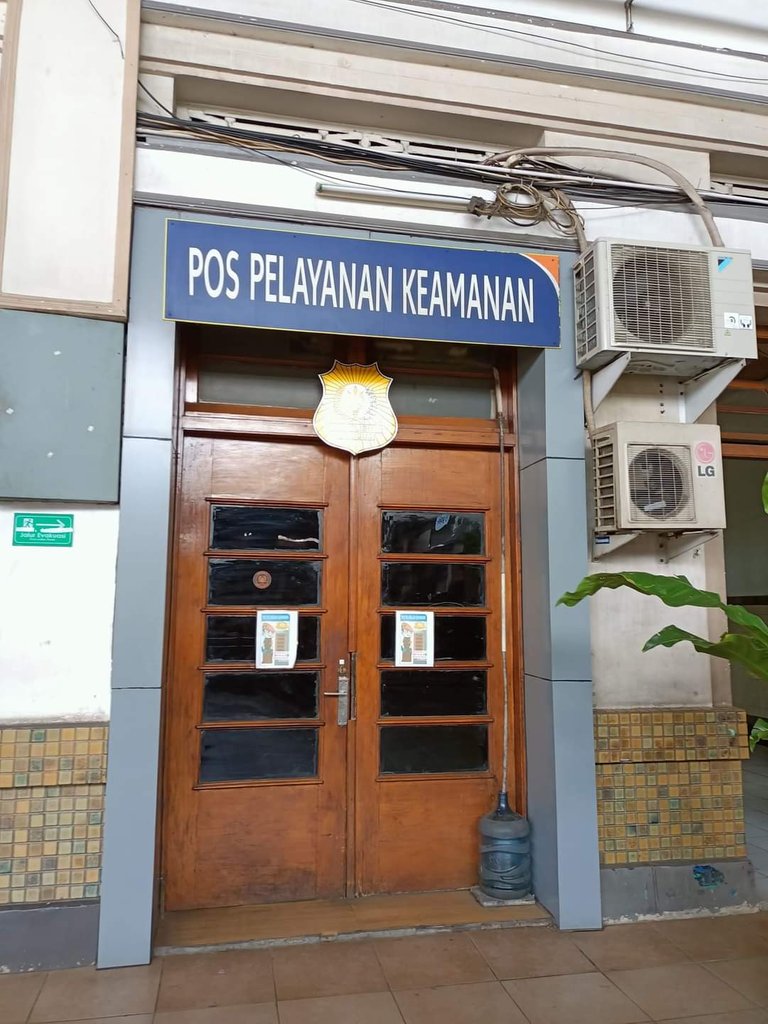 ---
---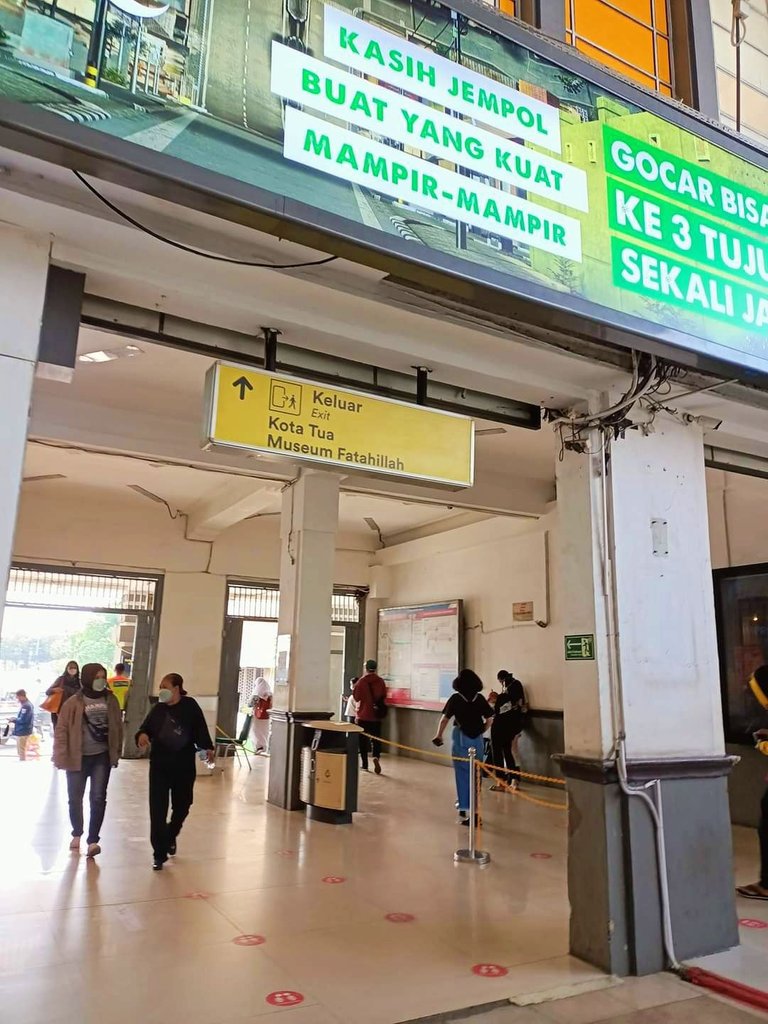 ---
The four large pillars that separate this room from the station lobby look beautiful from a distance. Among them, there is a landfill. This station feels beautiful and neat.
---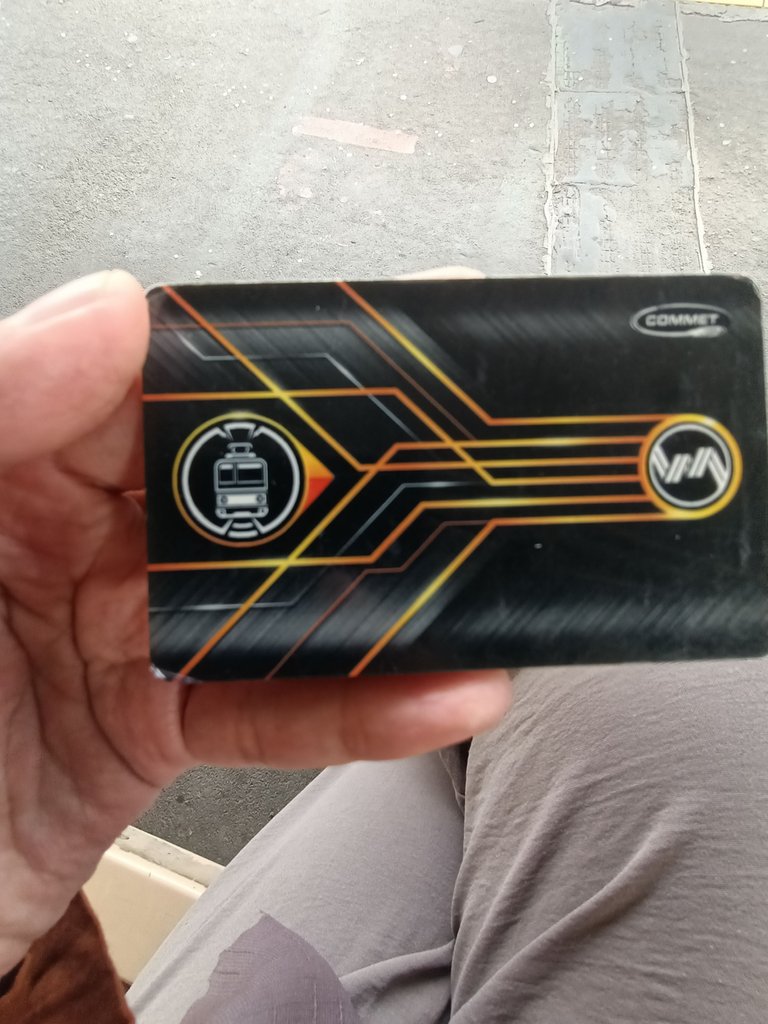 my card for commuter line
---
Hemm... My train is arriving soon, I have to get fast and end my adventure at the Jakarta Station in this city. See you in my next writing.
---
---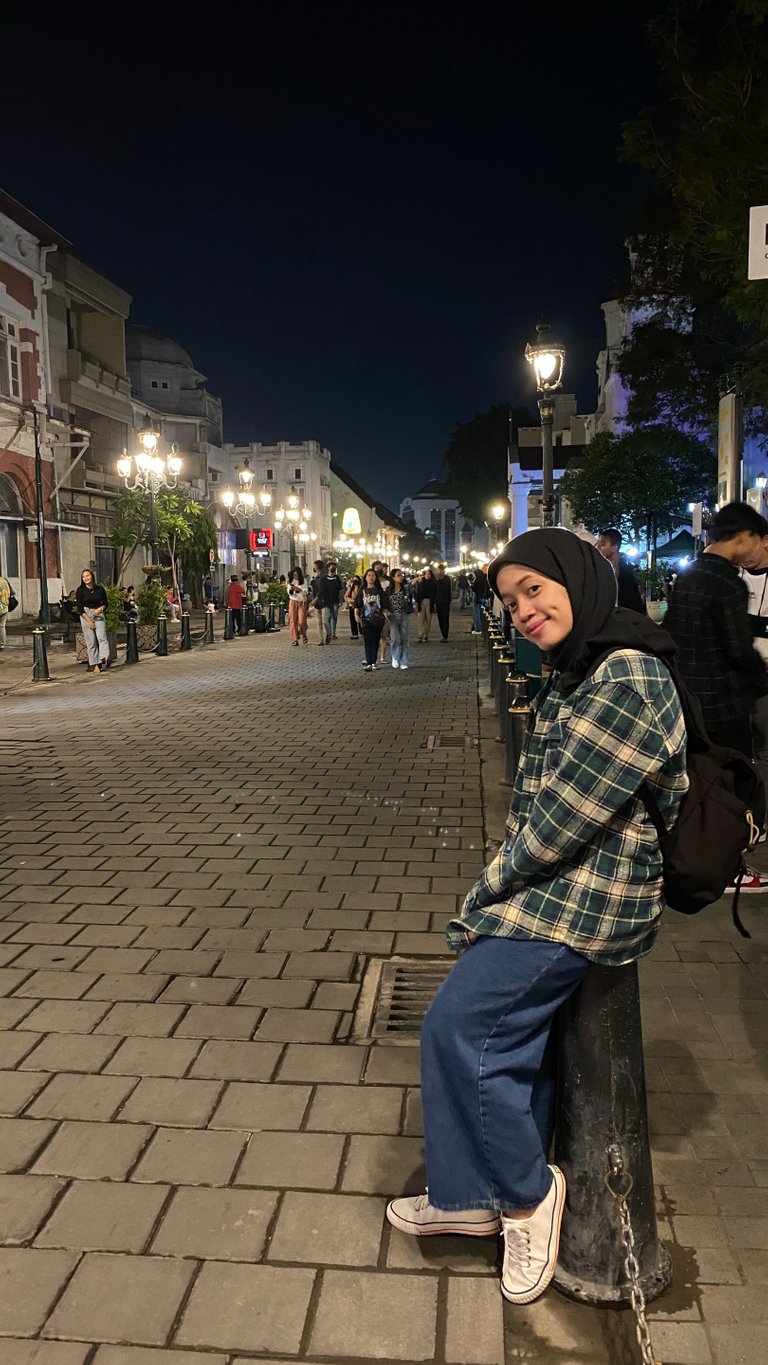 Titis N
Hi, I am the child of the universe, I like to read books with various genres. I was born in the city of batik but can't draw batik yet. I want to be a novelist, but my works are only short poems that are included in anthology books.
please share my content if you feel my content is good for everyone to read. Thank you. Let's be friends!

---
---