Walnut Jam
I'm not very into jams. I consume it very often. I had tasted sour cherry, fig and apricot jams before.
Reçellere karşı çok ilgili değilim. Çok sık tüketiyorum. Daha önce vişne, incir ve kayısı reçellerini tatmıştım.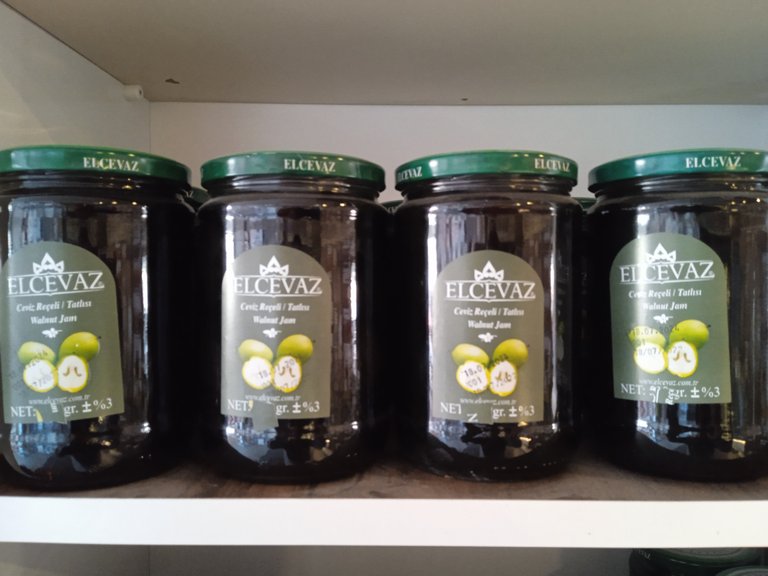 Although I have known walnut jam since I was little, I never had a taste for it. I stayed away from walnut jam as it has a strong and offensive odor of unripe walnuts. Until a few weeks ago.
Ceviz reçelini küçüklüğümden beri bilmeme rağmen hiç tatma merakım olmadı. Henüz olgunlaşmamış cevizin sert ve rahatsız edici bir kokusu olduğu için ceviz reçelinden uzak durdum. Ta ki bir kaç hafta öncesine kadar.
There is absolutely no walnut smell in the walnut jam made by the housewives. It has very little immature walnut flavor, which is minimized by the ingredients added to the mix.
Ev kadınlarının yaptığı ceviz reçelinde kesinlikle bir ceviz kokusu yok. Çok az olgunlaşmamış ceviz tadı var, o da karışıma eklenen maddelerle minimize edilmiş.
---
---