Summer of 2021: Short trip to the lake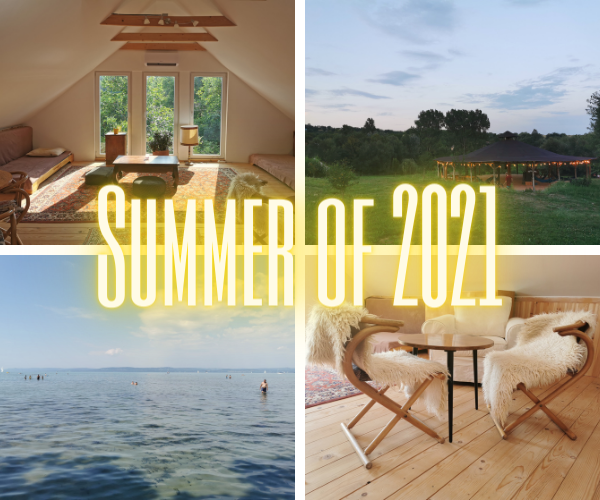 The summer months of 2021
For a while, it looked like we would not end up celebrating the summer months at all, as the little lady (and after that, I was the lucky one) had a long-lasting cough that just didn't seem to want to go away and so we were stuck at home. Quite sad when you think about it, we didn't swim once this summer due to her or me feeling of the weather while it was 35 degrees. But it is what it is, but when I noticed we were all feeling ok again, and there was an option to book a trip to Lake Balaton, I didn't think twice.
I was so looking forward to cooling off in the lake, just feeling all zen in the water, and afterward enjoying some nice dinner in a restaurant. Things ended up going slightly differently though.
The preparations were exciting
Although we only went there for 2 nights, I always pack as much stuff as I can, to make sure we're prepped in case of shitty weather. This trip wasn't any different, especially because I discovered they predicted rain (a lot of it!) and thunderstorms in 2 out of the 3 days. Now I have to admit that I live here long enough to know that these predictions often only mean: 1/2 hours of rain and then the sun is back in full glory. Therefore I didn't let it spoil the fun of packing and just added another bag for warmer shoes and long pants with some vests, just in case. Yes, it was a bit heavier to carry, but who cares if the car has to carry the weight anyway, lol.
I picked an accommodation not far from the lake (15mins) and with a very natural feel to it. As you can see in the pictures, most of the interior is wood, and I already felt zen at home looking at the pictures. The owner of the camping also cooked mostly vegan and with homemade goodies grown in their own garden. Although the camping was far from being done, so far it looked quite nice already, I can imagine that within a few years this place will be a hidden gem near lake Balaton.
We planned on an early departure from home
But the more I thought about it, the more I felt like I didn't want to arrive there too early because check-in was at 3 PM. First, the idea was to just drop our luggage there and go to the lake, but looking back, I'm so glad that we didn't do this as we would have been stuck at the camping for many hours while now we were sitting at home, quite relaxed.
The little one felt different though, she was complaining all morning, even after knowing it would take some time, that she wanted to go. And we were happy that finally, we ended up leaving at one point, thinking she'd be all happy in the car. We were wrong, she has never been more annoying in any car trip so far. As if it wasn't bad enough to have the burning sun on our body constantly, with the air conditioning not even being able to cool it down anymore, we had to listen to her complain constantly.
If that wasn't bad enough: we had issues with the brake
We knew all the things wrong with the car before leaving, but we also knew soon after going home, we'd replace the car. What we didn't experience before were brake issues. Like, none of it. This was completely new and started on the highway when there were sudden traffic jams. I have to admit, quite scary, and even my boyfriend didn't feel comfortable at all driving. He decided to put on cruise control, and be that slower driver in the right lane that everyone wants to pass. I couldn't agree more as I wanted to arrive safely and didn't want anything to happen (obviously). We were too far from home to turn around, and were now just hoping to arrive without anything happening on the road.
We arrived safely at the camping
Thinking we'd be able to get into our apartment right away, but when arriving at 3.30, it was clear that these people were in no rush whatsoever. They took all the time they needed, and we were told 20 mins or so. Which ended up being at least an hour. Imagine that, you book something with arrival time of 3 PM, arrive 30 mins later, and then still have to wait another hour to enter the apartment, quite shitty. But we decided to not make a fuzz although we were quite keen on chilling inside rather than outside in the midst of the heat.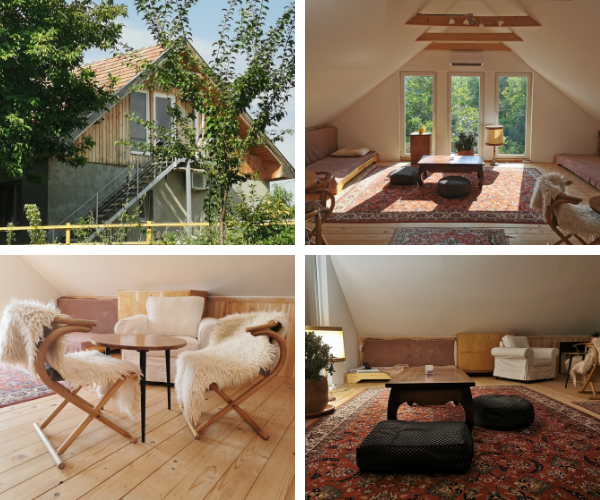 The house above, was our apartment. The top floor that we could reach with the stairs that was clearly built by themselves, and quite rocky as it moved from left to right while going up. The owners slept on the bottom floor. Entering the apartment, I was like oh wow, looks nice, all wood, quite zen! The squeaky floor was a downside but nothing to worry about. It all looked quite nice and they had put on the air conditioning for us so it was super cool inside.
We didn't want to drive anymore
As my boyfriend really didn't trust the brakes, so instead, he asked the owner if she knew a mechanic that was able to check it out. She called one and he would come at 9 am the next day. Happy that someone would check it, we decided this day wasn't going to be a "lake-day" but we'd stay on the camping instead. We didn't bring any food with us, only water. So that meant, we would eat what was available there. The menu was quite limited, we were able to eat a bit, but not as well as we'd planned on our holiday, lol. I was just glad there was food available though...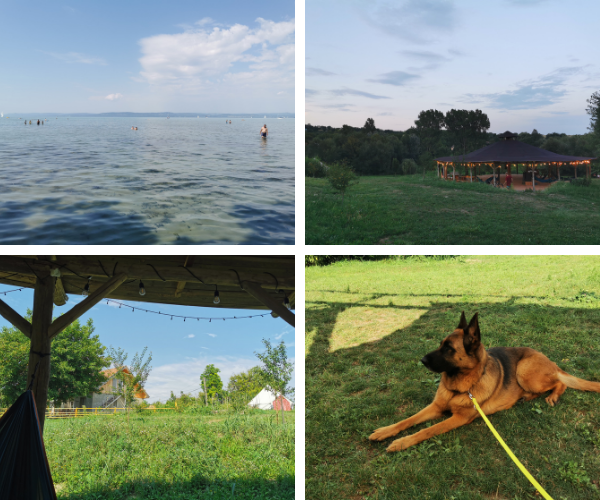 We were looking forward to having some cat-company at the camping as I read that they had a bunch of cats there. Unfortunately, the cats were out hunting most of the time during summer, as the owner told us. Luckily for us, there were 3 very welcoming dogs that were super friendly, and I was surprised that my daughter wasn't afraid to pet them as the German shepherd was big, and the smaller shepherd was super playful and that's usually what my daughter freaks out about, running away and then the dog thinks, oh yeah, she wants to play. These dogs were all very well-behaved and I think she is more comfortable with dogs since we spent a few days at this camping, which is nice!
Sunday was lake-day
The mechanic was super late, so around 10 am we decided to ask if he was still coming, if not meet later, because we didn't want to end up at the lake during the hottest hours. In the end, it didn't matter much as I got the worst sunburn ever, and today (weeks later), I'm still peeling off my skin, oops.
I have to admit, normally when we go to the lake, for short trips, I take tons of pictures. I capture everything. While this time, I think I have a folder with 25 pictures max. And most of them aren't even worth sharing.
I didn't take any pictures of our food, I was in total relax mode and forgot about it. I didn't take more than 2 pictures at the lake, and these are even quite similar. Nothing special. Just the lake, that's it. I took pics of the green area on the camping and our apartment, that's about it. But nevertheless, this means that I was quite relaxed and didn't feel like being online for a few days. I have to admit, that they made this easy for us as we didn't have any signal in the apartment, so we'd have to sit in public areas to catch some wifi.
A very needed short trip has come to an end
The trip was mostly spent at the camping, where we only went out for dinner outside of the area once, and only ended up at the lake once. Quite different than our normal trips. I have to admit, that even with the car issues added, all of us felt totally relaxed. The conclusion was if you drive carefully, it best to leave early on Monday and make sure you're home before the traffic jams, so we did, only 20 mins in, there seemed to be a huge traffic jam somewhere, leading us around for 2,5 hours! We decided to take the other road, which was already 1-hour longer drive, and stop at a gas station for a short break. That looked very cute: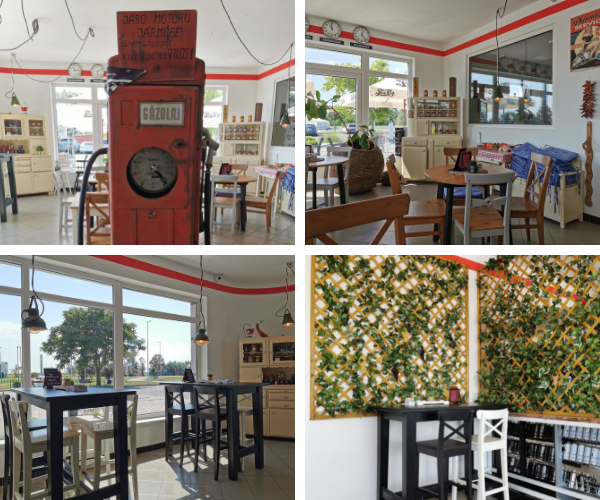 While eating our sandwiches, I noticed that maps were showing a shorter trip by the minute that passed and the traffic jam was resolving slowly. Therefore we continued the journey through the highway again, and thankfully arrived home safely.
Back to reality: Car hunting
I decided to deal with the car issues was something to deal with the next week or so, as I wanted to hold the relaxed vibe for a while, and hunting for a car here, isn't fun at all. Unless you'd have an unlimited budget to spend maybe, but second-hand car hunting, it's just not fun at all. Today, writing this post weeks after we arrived back home, I'm in that vibe, and decided that this week, we will find the right car for us, so we can move on from that as well.
I wish that summer would last a bit longer, but unfortunately, this week has been nothing but grey, and rain already, assuming that wearing shorts is something that won't happen again this year. Long pants, and soon probably long sleeves it is.
Although I wanted to have a kick-ass summer where I could wipe off a lot of things to do here in Hungary before we leave for Spain next year, I can't feel too disappointed honestly, it is what it is. We live in a strange world currently, the times are weird even without obstacles in our private lives due to the pandemic. I'm just even more motivated to make sure we will end up in Spain rather than sooner than later. Too bad about the things we didn't do here, I'm very ready to move on now because I know fall and winters here are just boring as can be, and they won't spark any interest to stay here longer.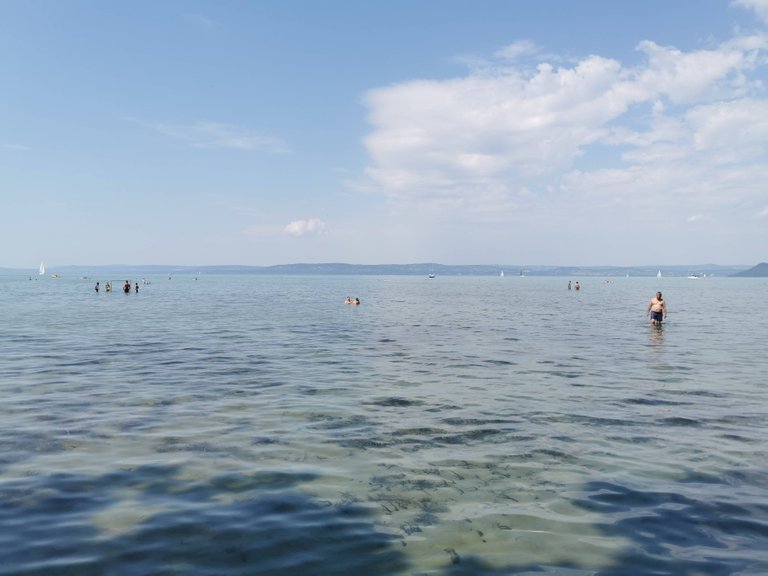 One last glimps at the lake, which I have to admit, will miss once we leave for Spain. The good news is, that we will have the sea instead, which is quite nice to dream about as well!
Did you create enough memories this summer? Or did your summer disappoint a bit as well as ours? There's still a bit of time left with ok-ish weather, so I'm hoping that we find our new car this week, and can do a few short (half)day trips to create just a few more memories to slowly close the chapter in this country.Let's see if we can manage to get that done!
---
---