Rebalancing Life | Good things are coming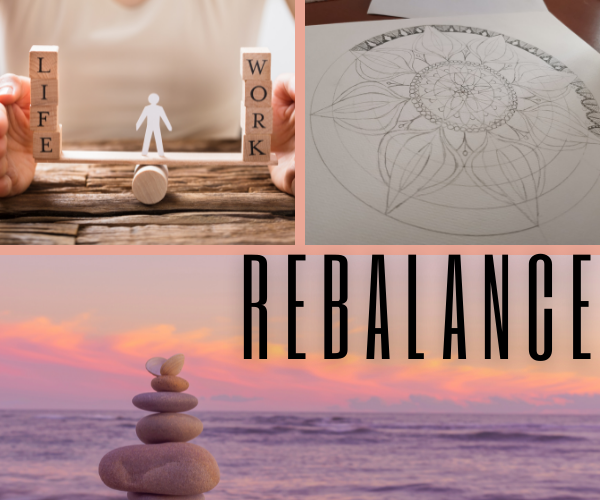 Created in Canva
The Mandala drawing is my own
Rebalancing again in life
I wrote it before, and will probably write it more often, I'm currently trying to find a new balance in my life again which will most likely take a few more days. After our little lady has spent her time at home for a few weeks (poor her), her cough has now vanished and she can go back to kindergarten on Monday. Just for a week though as we have planned a short trip after this.
Day trip plans
We were actually planning on going on a quality trip during kindergarten hours and have some fun together, but as she spent longer at home than anticipated, I felt we needed to first have some quality time as a family before summertime is over and we don't have a second chance to do so. The day trip we planned for us together can be done later. I know the little one has a lot of fun at kindergarten during these hot weeks, as they have a pool and lots of water stuff to play with during the summer months, but still, we also need to make some new family memories before another round of restrictions will be announced.
Yes, I'm definitely counting on new restrictions being announced at the end of August/beginning September. If not, that's great, it means we have some more time to enjoy the outsides before being locked inside mostly. We're just trying to make the most out of the time we have now.
Daunting tasks and memories that surface
Recently, my boyfriend bought a new computer, leaving me his old laptop. I had to sort all the pictures and documents on my old devices (including phone) to have an organized structure at one location, accessible from all devices. I had a lot of documents and images double, which is fine in some cases, but a pain in others. I've finally managed to get through the 2021 images folders and these are sorted, now it's time to continue this but moving backward in time.
This task is quite the headache, but on the other hand, I bump on all these memories we've created in the past years, and sometimes it's a trip down memory lane and makes me long for next year, the moment when I can finally say "Hun, we did it, it's time to make concrete plans and do it". I'm talking about our move to Spain here, which we both will have to work hard for to accomplish the things we have envisioned.
A new job
Recently, I got hired for a new job which I've started last week. Although it's not that many hours a week yet, this will probably be expanded once the accounts grow and more time is needed to keep up with the work. So far it has been an absolute joy to work with the project owner and I have managed to get the numbers up a lot in the first week. I can schedule my own hours and the extra earnings are helping a lot. It's been an absolute joy that got my creativity flowing.
Speaking about creativity
I noticed that my creativity went up a lot offline, I've been doing a lot of crafty things with my daughter (which is super fun) and I also picked up drawing again. After an utterly failed mandala (which my daughter saved lol), I started working on this bigger mandala with pencil only: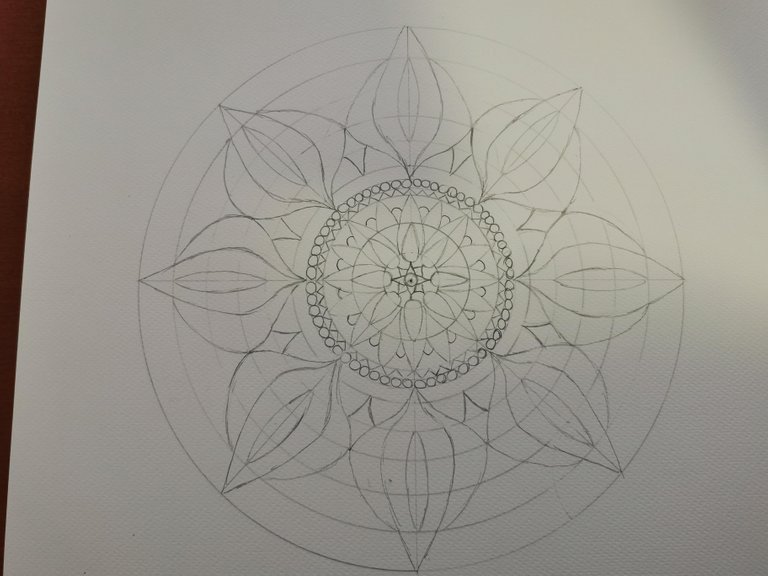 It's a lot further in the process now after many hours of drawing already, but it's still not done. I didn't look at any other mandalas for this design, but started draw and see what was created instead. It's not with perfectly straight lines completely, I noticed the flaws (lol), but so far I'm very happy with the result and I will share this in another post when I'm done, and find the time to sort the many step by step pictures.
The creativity to write on my personal blog and work on projects of my own has been paused a bit this week as I was totally focused on the client's project last week. But I know that once things are going all smoothly, I will find more time to publish my own things as well. Until then, I'm just going to keep being creative offline so that I have some material to write about later.
Abundance mindset
Currently, I'm totally feeling the abundance mindset. I'm feeling the money flow coming in from different angles and even the tiny staking rewards of some projects make me feel rich and know that things will work out next year (or sooner) to find our way to Spain. We won't go empty-handed of course, so hard work, dedication and planning are needed and I'm all up for it.
I'm seeing the bigger picture already and it's making me so happy and smile a lot knowing that we are close to achieving that point. Even the year we pulled out for it to make it happen doesn't feel that far away anymore, I'm trying to hold on to this feeling and keep producing, less consuming.
Soon we will have a short family trip to the lake and we can't wait, I found this beautiful new location in nature, and looking at the images already makes me feel zen. I'm absolutely going to sit down and make some drawings there.
Wishing you a lovely weekend filled with joy and love!
---
---