A Wednesday walk leading to a park, tapas & the first sunburn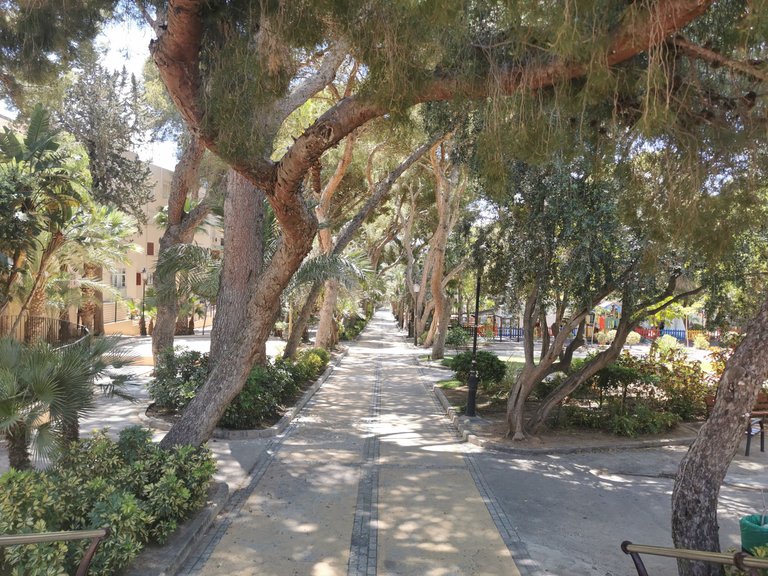 This was our first long walk in Spain
I remember this one like it was yesterday because it was the first day that my health app on the phone told me that I walked 9,3km that day after I noticed the big number of steps (for us at least lol). Remember that the week before we left for Spain my back injury flared up even worse than it had been in many years and that I was quite hesitant to travel, afraid that it all would end up being a recipe for disaster for my back pains.
The opposite has been true, all the walking has done wonders for my back and I've only had some discomfort on the days when I "overdid" it and had to take some rest days to give my back and hips some time to rest and recover. To be honest, this has been the case since I had my first daughter as I developed something quite common for pregnant women in my pelvis and I've always had discomfort when that area was overpressured for some reason. That's also one of the reasons I preferred riding my bike over walking as riding a bike was less painful.
We needed a card for the bus
We planned on traveling to the suburb that week, this was before we rented a van, so we needed to get a card for the bus as this means traveling is a lot cheaper and with 3 people that adds up so we decided to get one and load it up with some money. Although we thought this sales point was near the supermarket, it turned out we misread the app and it was another 20 minutes walk after we already walked 20 minutes through the burning sun. As this was totally unexpected, I did not even bother to use sunscreen which turned out to be a stupid move, next time I should just skip the long walk and go home with groceries in case of no sunscreen.
Although hot, we enjoyed walking in another area
So far we had not been further than 15 minutes distance tops in a few directions and this unexpected walk for a bus card was actually a refreshing one. We saw other parts of the town and at some point, we landed on a city park we didn't even see coming as it was in the middle of a busy street. We were very thirsty at this point and could use a rest and a drink.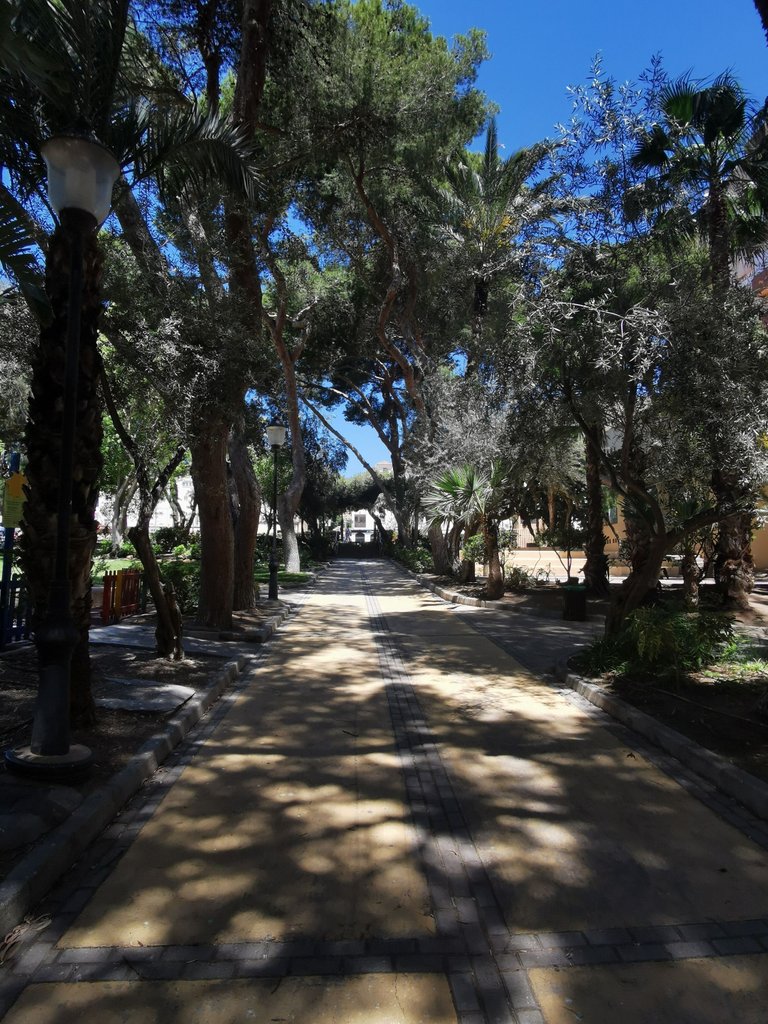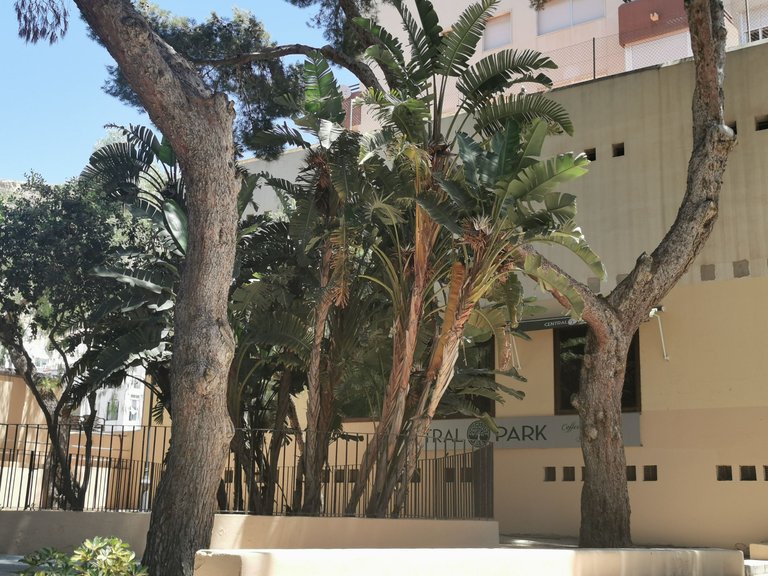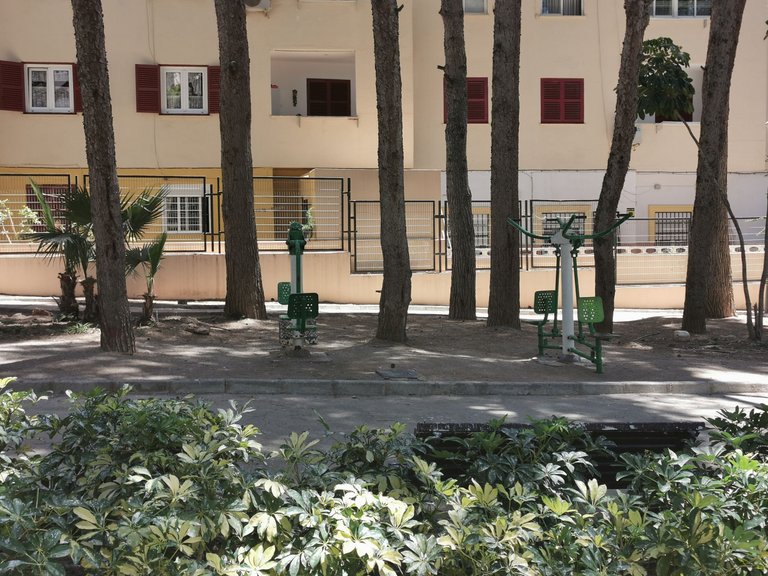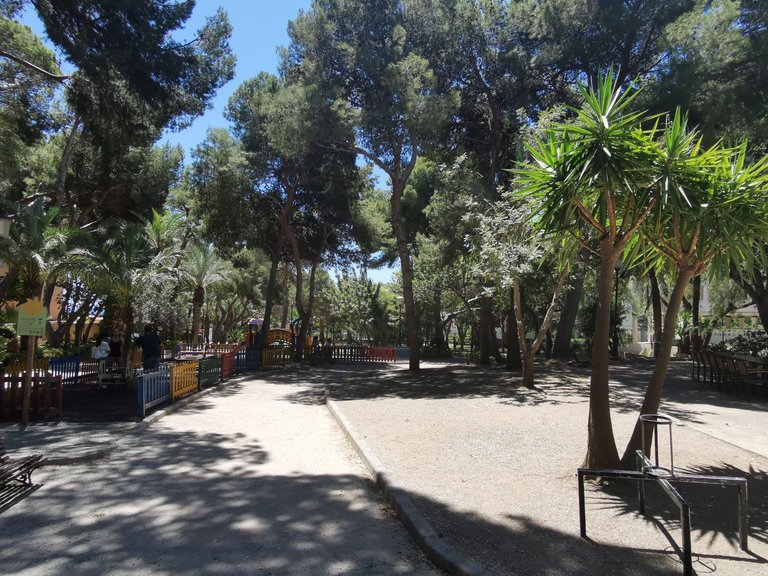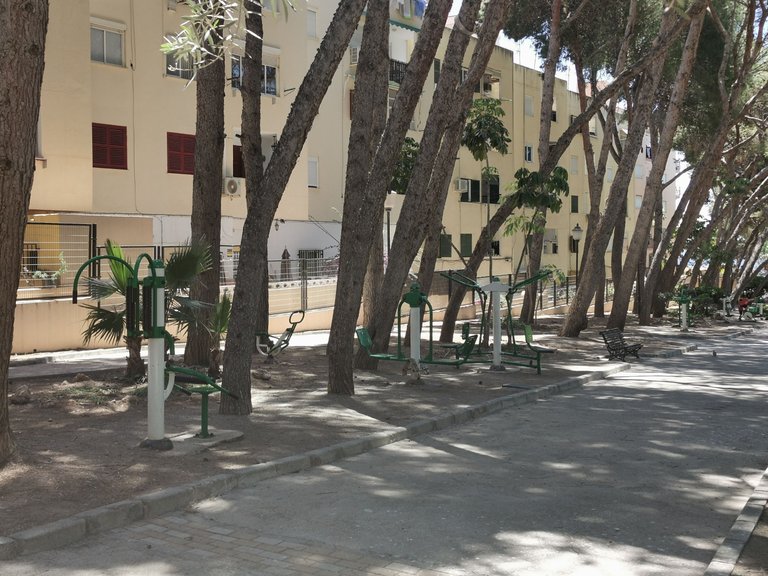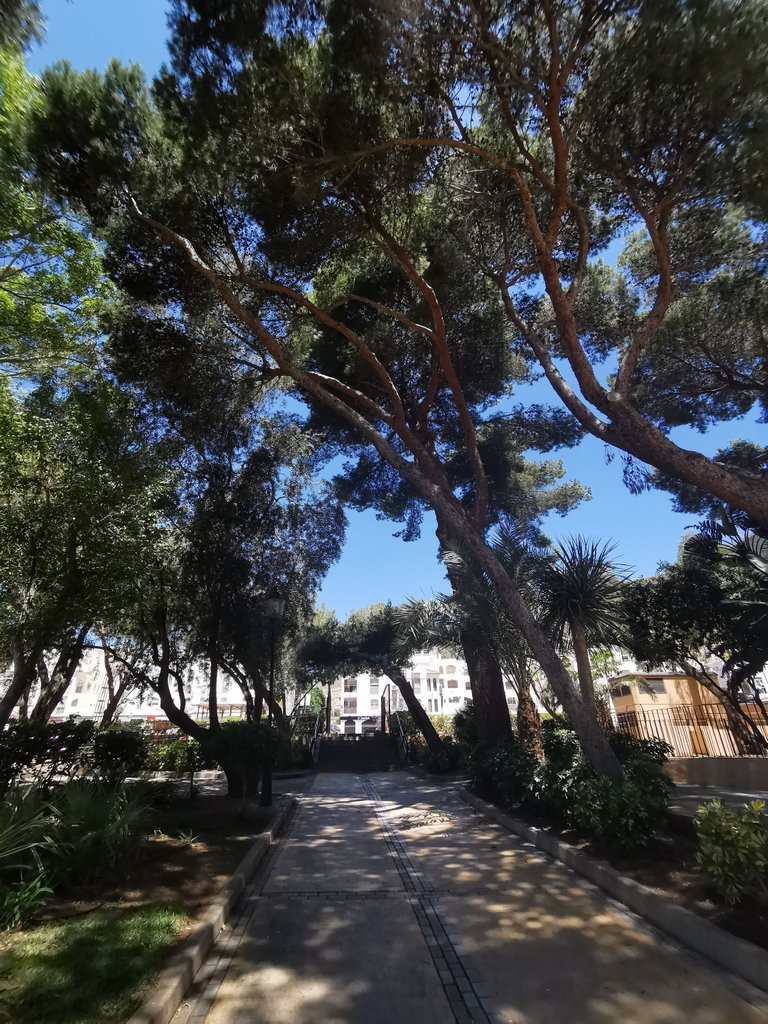 No free tables
In the middle of the park was a restaurant where they were just putting reserved signs on all tables and when we asked if there was a free table, the waiter said he needed to check. Meanwhile, our daughter played in the playground as we had a quick visit to the toilet that was thankfully there as well.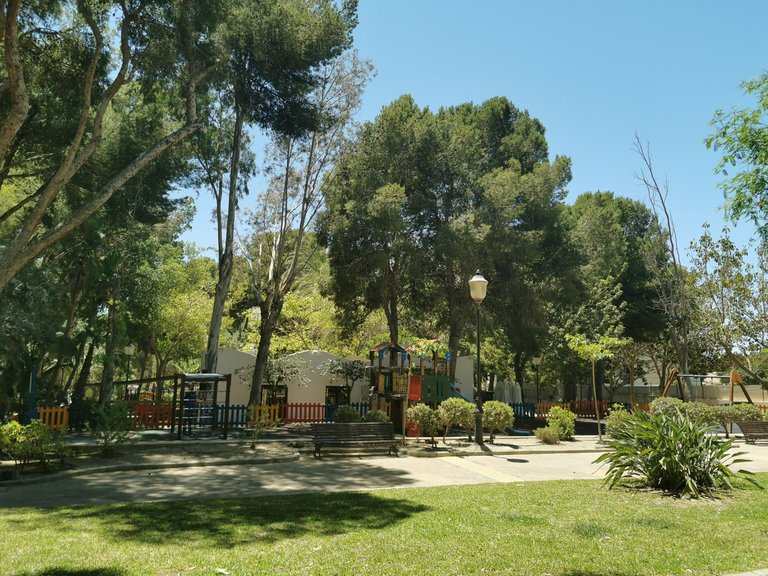 When the waiter told us there was no free spot, we decided to walk again and find another place to sit as it was nearly tapa time anyway, and I really needed to rest. It was a smart move because when I was taking a few pictures of the park, a mosquito landed on my arm and I noticed it because it bit me and when I tried to get it off, he didn't move a bit. Stupid animals always pick me, while I've become super allergic to them a few years.
The first days after arrival I already had a huge spot on my shinbone which is today still feeling like a horribly bruised mark while the hard spot is also still noticeable when I touch it. It's actually very annoying because it means I barely dare to sit on a terrace at night unless it's very windy because I'm mostly a target by these mosquitos. They bring such discomfort most of the time that I'm considering going to a doctor soon to find out if the antihistamine tablets I've been taking for a few years are good enough to avoid this stuff or if I need some change in tablets or doses.
Tapa time!
While walking the same way back, a very long walk next to the main road, we sat down where they didn't have all tables reserved. I was surprised it took us three attempts before they had a free table outside, I sure wasn't going to sit inside as it was hot enough as is while there was no air conditioner lol.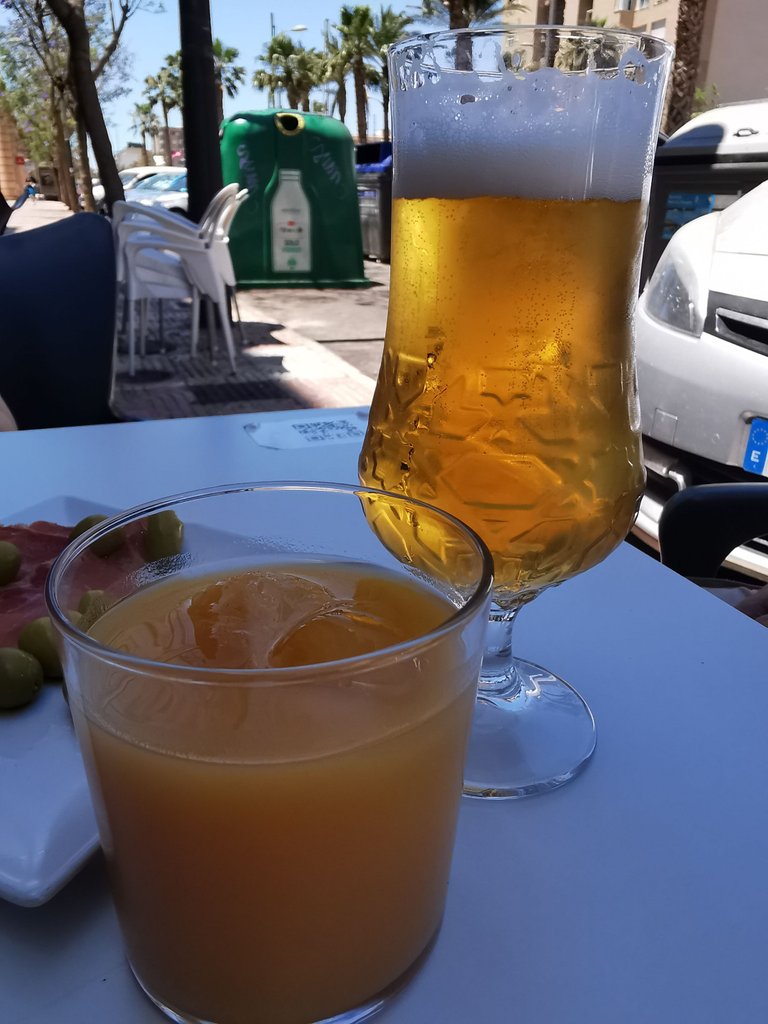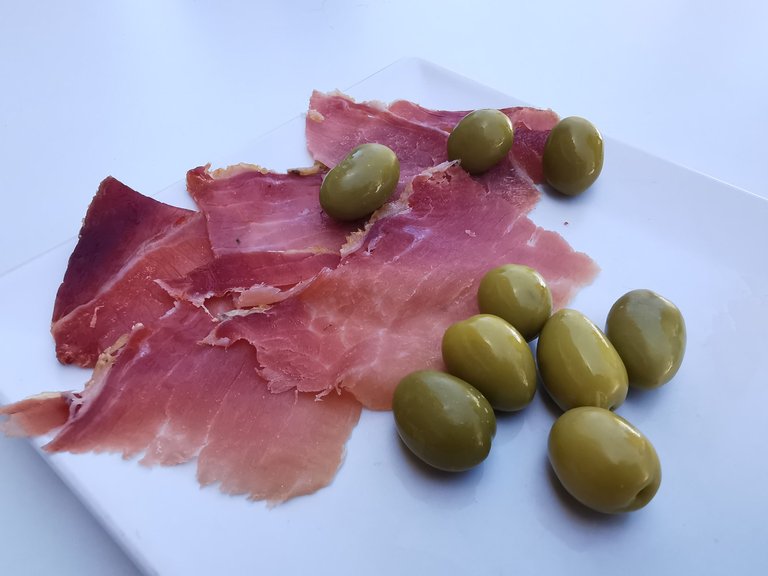 A beer and peach juice it was, actually two but I didn't capture them both. The waiter brought us some ham and olives. This time the tapa was free, which was surprising as we barely had a free tapa here in this area, so we learned from @whywhy that this is normal in our region. I had no clue, I always thought tapas were free, lol.
Sunburn!
When we arrived home, I was truly at my limit. I could feel it in every bone of my body that I could not walk one more step after this, to be completely honest, the last part from the supermarket near us to our door was so painful to me that I had to stop every 5 meters at some point, slowing down my boyfriend who was carrying the groceries. I just could not walk anymore. I knew I would have to take it very slow the next few days to not make it worse, which I planned on doing so anyway.
And when we arrived home, my boyfriend noticed how burned I was and then I knew for sure to stay inside as well, at least when the sun was up. This sunburn was so bad that it hurt me for a week or so. I was very careful after that though, so lesson learned. And while I bought a small tube of sunscreen in my bag for these unexpected moments in the sun, as well as a roller for your face, I didn't put these in my bag yet. Of course, afterward, I did.
Thanks for going on this walk with me, hopefully, you enjoyed it!
Previous parts of The Expat Diaries
Credits
All images used in this blog are my own.
Let's Connect
If you want to connect, you can give me a follow on my socials. For inquiries, you can send me a direct message on Discord.
Social Media Management Portfolio:
My Referral Links:
---
---