This Is Awesome - The Plan Ahead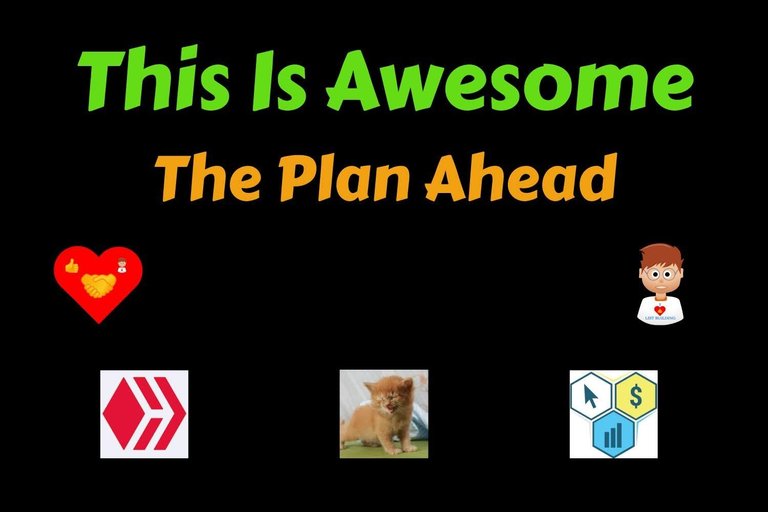 Made in Desygner
This Is Awesome
The goal of this project is to grow the Hive ecosystem by rewarding awesome content, and we do that by following curation trails that curates good content, much of it manually, and in the following categories.
The Plan Ahead
So as was promised in our latest weekly payouts to delegators we now reveal the plans for @thisisawesome going forward, This Is Awesome - Weekly Payouts To Delegators #105
This plan can be separated into Short Term, Medium Term and Long Term.
Short Term
In the short term we want some level of manual curation going, where we highlight posts on most days, this gives additional value to the curated posts, and further our goal of growing the Hive ecosystem by rewarding Awesome Content.
Now as we have stated above quite a bit of the curation trails we are following are actually manual already, so that means we don't really need to do the manual part ourselves, but rather highlight posts from the manually curated posts that we have already upvoted.
In addition to this PeakD just released a very interesting feature called, Curated Collections which will make it very easy for us to sort through the posts we have upvoted, and then select the best of them to be highlighted in our Curated Collections.
To begin with we will not do this every day, but on the days when @flaxz has the time to do this, and to find the exact right format to complete it on a daily basis for the long term.
Medium Term
Secondly to post a Curated Collection on most days will give us additional income in Hive, CTP and ALIVE tokens, and this is important since following curation trails that do manual curation also means that our curation rewards in Hive will be less than 10% on most days.
This will be compensated by the Hive rewards we earn on our daily Curated Collections though, at least on the level of Hive Power that we are voting with now.
Plus in addition to that the increase in CTP and ALIVE token earnings will be quite substantial from the same daily posting.
At the same time @flaxz has already been removed from beneficiary rewards on our posts, and he is instead included for weekly payouts of CTP and ALIVE tokens the same as all other delegators, and this is important for the long term plans.
Long Term
So lastly we want to go away from powering down our Hive Power, and only reward delegators with weekly payouts in CTP and ALIVE tokens.
To accomplish this we plan on tokenizing the Hive Power in our account, and we want to do this in the same way as the CTPSB project on @ctpsb has tokenized their Hive Power.
The token will start at 1 token per owned HP in our account, and when we sell tokens, using a market maker to keep it pegged, we will power up all the Hive that we get, though we do need some liquid to run the market maker with.
Our HP will also grow from curation rewards, and from author rewards that are paid out as HP, this means that the value of the token will grow over time, and the market maker will be adjusted to sell new tokens as the price of the token increases.
This also means that it will be very beneficial for token holders to delegate Hive Power to this project, in addition to the weekly payouts they get in CTP and ALIVE tokens the delegations also substantially increase the value of this new token.
Let's view some numbers, so if we earn curation rewards at 9% APR on average then if we at the same time have HP delegations that are 5 times higher than our owned HP in the account, that means we have an owner token APR of 45% just from curation rewards.
Do note that 5 times is counted very low, our current ratio is that we have delegations of 13 401 HP, and 413 HP that is owned, meaning our delegated HP is 32 times higher than our owned HP in the account, and that puts a 9% curation APR to mean a 288% owners token APR.
How likely that is to last though is anyones guess, such a high APR will sell a lot of tokens and most likely lower this ratio a bit, but those are the numbers using our current HP and recieved delegations.
Earnings of liquid Hive and HBD from our daily and weekly posts will be used to buy DHEDGE and UTOPIS with 50%, and the other 50% to buy CTP and ALIVE tokens on the market and added to the same pool where we currently pay out 50% to delegators and stake the other 50%.
DHEDGE and UTOPIS pay out dividends on a daily and weekly basis, and that means our ability to compund them and to buy CTP and ALIVE tokens will grow over time, which in turn means more rewards to our delegators, and more stake that also earns us more curation rewards too.
The terms now change from @flaxz being the owner of the account, even though he still has the keys, to that the account assets are owned by the owners of the holders of the new token.
Plan Implementation
To implement this plan we are going to first get feedback from our current delegators and what they think about it, then also fine tune all details about it.
The short term will start this week, while the medium term has started for part of it, and the rest will be done as soon as we start getting payouts from making daily posts.
The long term will take a bit longer though, all details for the new token needs to be worked out, and the short and the medium term already fully implemented, plus preferrably we want the ALIVE token to have enabled delegations too.
Mention Delegators
Here we mention all current delegators, to make sure they can give us feedback on this plan, and that they get notified about our plans.
@cryptospa
@alokkumar121
@flaxz
@fiberfrau
@certain
@reeta0119
@pjansen
@paulcaraway
@elianaicgomes
@jeanlucsr
@pixiepost
@guurry123
@mariannewest
@ph1102
@invest4free
@imfarhad
@torrey.blog
@elbrava
@gadrian-sp
@tristancarax
@arena10
@quinnertronics
@adysscheryl
@iamraincrystal
@athomewithcraig
@justclickindiva
@cliffagreen
@jacoalberts
@thatcryptodave
@regenerette
Thank You!
Thank you very much for reading this post, leave your thoughts in the comments below, and ...
Stay Awesome!
Sincerely,
This Is Awesome
---
Join us on Discord: https://discord.gg/SthJJDZ
---
---