Introducting: @rc-assist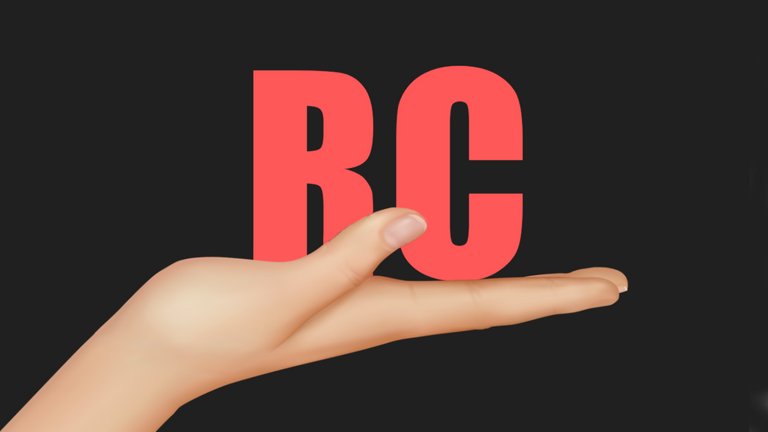 Many on the Hive blockchain (and our 'legacy blockchain' as well) will remember the big HiveTorch project. Some of you may have "carried" the Torch and passed it on to another Hivean after adding the requested 1 HIVE to it. The Torch was originally the brainchild of @geekgirl who created it as an experiment intended to "test the speed and trust of transactions" on our 'legacy blockchain.' Then, the idea was carried forward on the Hive blockchain by @stayoutoftherz. The Torch was recently paused at the planned 500 transfers and the community was asked whether to continue passing it, or whether to retire it (for now, at least) and distribute the funds to an on-chain project. A poll was conducted and the results can be seen here:
https://peakd.com/hive-147983/@stayoutoftherz/hivetorch-its-final-destination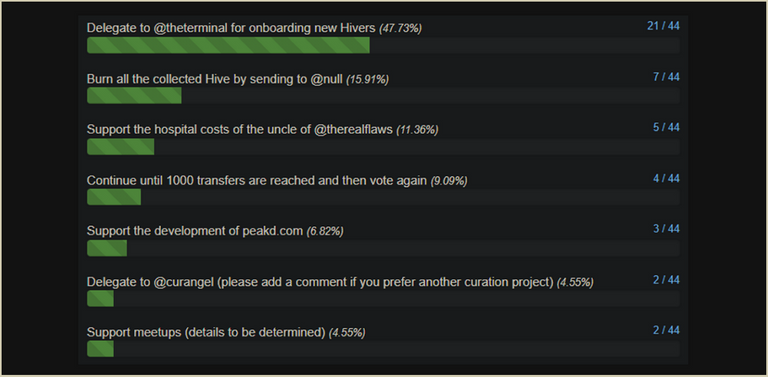 @theterminal is grateful to @wesphilbin for nominating us as one of the projects to potentially receive the funds. We are also grateful to the members of the community who voted for us — Thank you!
As was stated previously on condition that we were selected to receive the funds from the HiveTorch, our intended purpose was to PowerUp those liquid funds and use the stake for delegations to new accounts on the blockchain. When new accounts are onboarded without an initial delegation, so few Recourse Credits are allocated that publishing posts and networking in comments becomes difficult. Sadly, many accounts are onboarded in this manner, leaving the new users frustrated rather than excited about their arrival to Hive. We have honestly lost count of the accounts that have come to @theterminal with no RC. Heretofore, several Staff members have provided delegations from their personal stake to remedy the situation, and that still might be necessary. This winning of the Torch funds, however, will give us additional resources. Even a smallish delegation of 20, 30, or 40 HP can go a long way in helping those new accounts to become established!
The Torch funds were recently transferred
to @theterminal's wallet by @stayoutoftherz.
For the sake of transparency and accountability, a new account @rc-assist was created and the Torch's 700 HIVE funds were transferred and staked to that account. The following screenshot from the wallet of @rc-assist is proof of the transfer as well as the PowerUp: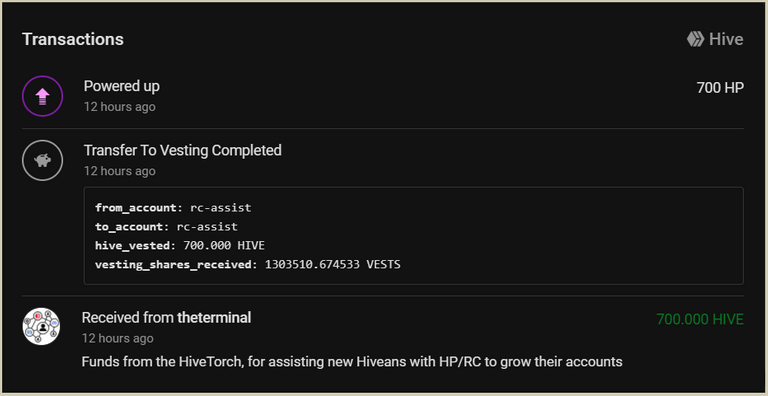 @rc-assist will begin immediately to delegate some of that HP to new accounts on Hive as they come to @theterminal's Discord server for assistance. Feel free to direct any new accounts that need help to us!
Again, THANK YOU to everyone who voted for
this use of the Torch's collected funds!

The success of @theterminal is a product of countless hours of volunteer work by our fabulous and dedicated Staff, all of whom could never be fairly repaid for what they have done. It is also a 24/7 endeavor, operating continuously since December, 2018. The Staff provides assistance as a remembrance of the help each received when they came on-board the blockchain, and attempting to make the onboarding process easier for those coming behind them.
Besides the Staff, @theterminal and @heyhaveyamet also owes a debt of gratitude to all who have assisted with delegations, currently or in the past! A list of our current delegators appears below in alphabetical order. Thank you!
@adalger
@bhattg
@branbello
@brisby
@crimsonclad
@derekrichardson
@drakernoise
@failingforwards
@flipflopcrypto
@hivebeliever
@jamerussell
@jayna
@justclickindiva
@justinparke
@kidsisters
@notacinephile
@paulag
@prettynicevideo
@richardfyates
@shrazi
@simplymike
@sreypov
@stayten
@thekittygirl
@trippymane
@unorgmilitia
@wesphilbin

This would enable us to connect and engage with even more new Hive accounts! If so, please contact a Staff member in The Terminal's Discord server, below in the comments, or by clicking the "quick-delegation" links, below. We appreciate your interest in helping us help others.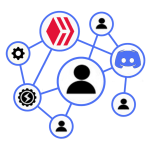 Whether one has been on the blockchain for three days or three years, there are always questions! @theterminal, founded in December 2018, is a project that answers questions people have about the workings and etiquette of participating on the Hive blockchain. We answer questions about use of the Discord app, as well. A few users of Hive's 'legacy blockchain' have also sought assistance. Everyone is welcome.
Those who delegate to @theterminal will be awarded a "Terminal Supporter" badge on their blockchain profile, the "Patron" role in our Discord server, and our humble gratitude.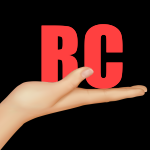 When new users arrive on the Hive blockchain, they have no initial HivePower (HP) unless some is delegated to them. Users with no HP are allotted so few Resource Credits (RC) that only a few posts or comments will have them running out of RC quickly. This is counterproductive to growing an account and establishing a presence on the blockchain. @rc-assist exists to help fill that void by delegating a small amount of HivePower to those new Hiveans. The amount will vary slightly, depending on circumstances, but will range between 20 and 100 HP. Once the delegatee has grown their account enough to be self-sufficient, the delegation will be withdrawn to support other new accounts.
Those who delegate to @rc-assist will be awarded a "Terminal Supporter" badge on their blockchain profile, the "Patron" role in our Discord server, and our humble gratitude.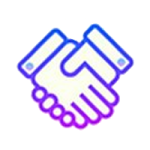 The sister-project to TheTerminal is @heyhaveyamet (HHYM), founded in October 2018 and still going strong. The goal of HHYM is to look through the #introduceyourself posts of those new to the blockchain and welcome the new arrivals and gather links to their introductory posts in a daily curation post. New accounts are carefully checked for effort, plagiarism, and account-farming before being featured.
Those who delegate to @heyhaveyamet will be awarded a "Terminal Supporter" badge on their blockchain profile, the "Patron" role in our Discord server, and our humble gratitude.


to learn more about either of these projects, please visit: @heyhaveyamet or @theterminal
or click the banner to visit our Discord server

---
---