TCL

My television quit working this past week so I had to get a new one. I say, "...had to..." because my television is rather important to me since I live alone. It provides entertainment when I'm watching it, and sometimes just a bit of "background noise" so I don't feel so lonely. I watch some regular network programming, but I really enjoy the concerts and educational documentaries that air on PBS (Public Broadcast System). Earlier today, the Austin City Limits television show featured an hour-long concert by musician Jackson Browne, followed by a NOVA program about the universe. Great fare, both of which kept me company while I edited some photos for a future post on Hive.
When I was a child, and later as a young adult, there were repair shops for electrical devices (like fans, toasters, etc.) and electronic devices (radios, television sets, etc.). Back in those days, television sets were heavier than they are today because they were often mounted in a wooden cabinet called a "console" which required two strong men to move. My father took a course in electronics in the early 1960s, so he repaired the TV when I was a child. But I distinctly remember calling the repair shop when I became an adult and got married. The shop sent a van with two burly guys who whisked the console away for a couple of days, then brought it back when it was working again.
Nowadays, however, we live in a "throwaway" economy where it is cheaper to buy a new item rather than having the old one repaired. As such, the electronics repair shops have closed, or become specialized in computer repair only. I find this incredibly sad, as it seems such a waste to throw things away all the time. My parents' first microwave gave perfect service for over 30 years, but microwaves purchased today will probably stop working within ten years. And such it is with the television that died this past week after only ten years of service. It was an Emerson®, a long-respected and quality brand, so I was a bit surprised at its mere 10-year life. It had a built-in CD/DVD player, which I used more for music-CDs than for movies on DVD.
It seems that the only television sets available in today's world are the so-called "smart TVs." I didn't really want a "smart TV" because I don't have cable-TV service or high-speed Internet, but there were no other choices. I had also hoped for a brand I recognized, such as another Emerson, or Philips, Sony, Panasoic, LG... but the store had none of those in my price-range and desired screen-size.
After examining the selection and consulting with the sales clerk, I settled on a brand of which I'd never heard: TCL. The sales clerk said that, in his experience, they seemed easier to set up than some of the others, and fewer customers returned TCL items with complaints than some of the other brands. Had I the leisure of returning home and researching all the brands available at the store before making the purchase, though, I might have opted for a Vizio® or other brand that was actually manufactured in this country. But, I didn't know.
The TCL SERIES 3 unit that I bought seems nice so far. It is larger than my last television (32"/81.28cm instead of the 26"/66.04cm I had) and not as deep since there is no built-in CD/DVD player. It is shockingly lightweight for its size and I had no trouble lifting it and setting it into place. All I had to do was mount the "feet" onto the bottom of the unit with a screwdriver, place it on my credenza, and start the hookup.
I plugged my digital antenna (for over-the-air broadcasts) into the coaxial connection on the back of the television, plugged the power cord into a surge suppressor, and I was ready to go. Only a minimal amount of setup was required: basically, just scanning for channels with the digital antenna and filtering-out the ones I did not want to be displayed. The picture-size, color-balance, and other options seemed fine at their default settings! Lastly, I moved the HDMI cable from my old TV to the new one so I could connect my laptop occasionally.
Although this new TV doesn't have a built-in CD/DVD player, it does have a USB port that can accommodate flash-drives/thumb-drives. So, I can still play music and videos from the USB-drive on the big screen, which is very cool! Most of my physical CDs have been copied onto my computer, anyway, so using USB will actually be faster/easier for me. In fact, I've already loaded music and videos onto a 32GB flash-drive that wasn't being used at the moment and plugged it into the TV and it works great! The TV also has a screen-saver feature (manufacturer's logo floats around the display) that kicks-in when music is playing to avoid "burn" on the screen. My DVD movies can always be watched on my laptop, or with the laptop-to-TV HDMI connection.
Now, my biggest complaint...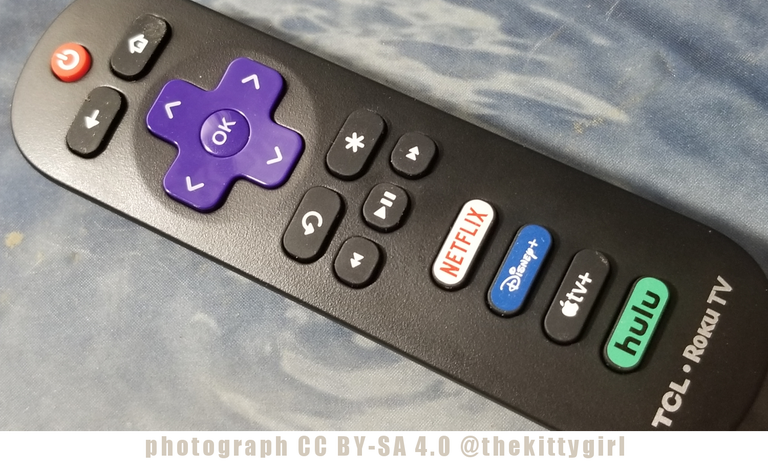 This so-called "smart" TV came with a rather "dumb" and minimalist remote control. There is no numeric keypad on it. 😱 So, if someone is watching Channel-4, and then wants to view something on Channel-58, the only way to get there would be to press the "Channel Up" button 54 times. I find that to be rather annoying and totally ridiculous. Talking to a friend about her "smart TV," she reported the same type of remote control, so it must be common to pair smart-TVs with dumb-remotes. Seriously...? WTF...? 🙄
Since I only have access to "over-the-air" broadcasts, the annoyance is minimal because I only have 23 or so channels which I might want to watch and the few others have been "hidden" so they don't show. And fortunately, the channel listing "wraps" so that if I am on my highest-channel number (62) and press "Channel Up" once, it takes me back around to my lowest channel number (4). Still, if I were a cable-TV subscriber with 500+ channels, I would be much more dissatisfied with the lack of numeric keypad on the remote. Could you imagine having to press "Channel Up" 300 times to navigate from Channel-225 to Channel-525...? What were they thinking...?!?!?

So, do you have a "smart TV" as well? Did it come with a remote that has a numeric keypad on it, or not? I'd like to learn what is considered "standard" for such purchases!

 😊










17-Nov-2021
---
---