hive.pizza | Witness Updates, Scholarships, and more!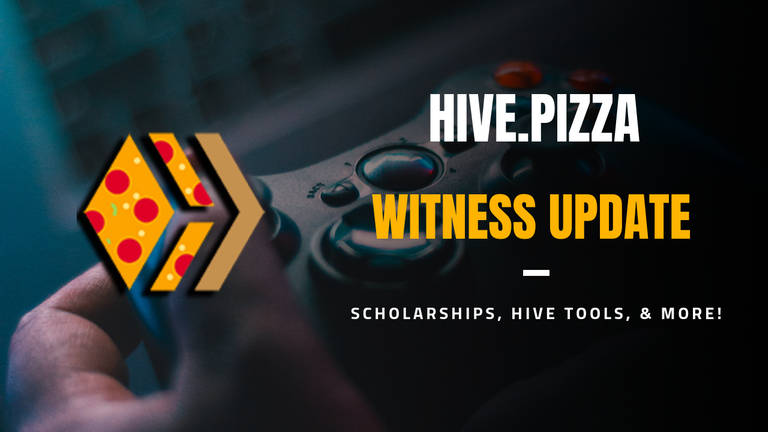 We hope you guys are all off to a great start of your week! As usual we have quite a bit to go over so we will jump right in! Today's update will be a bit of news combined with refreshers for those who may be new or might just be discovering PIZZA and learning about all of the awesome things we do!
Witness Update
Rank: 66/61
Thank you so much to all of the new votes we saw come in over this past week! We truly appreciate your support!


Scholarship process will begin in 1 week
Next Sunday the initial Scholarship process will begin! We will select an initial test wave of 15 people to assist us in private-testing the program and the system we have built for our Guild members. Applications will be posted in our Discord server. We will prioritize those who stake PIZZA and who are active in the PIZZA community when considering this first wave of Scholarship requests. This criteria may or may not change in various ways as we formally roll out the program.

Those who apply (simple process) and are selected will receive access to the exclusive Guild section of our website and will receive their initial wave of assets. Those accepted in this first wave will keep a larger % of profits for themselves during this test phase. You will work closely with myself, HiveTrending, and our community team to ensure the process is smooth and ready for more gamers!

We're excited to kickstart this chapter of hive.pizza and for our gamers to start earning even more than they already are!



Staking Rewards are LIVE
For those who missed it, Phase 1 of our passive staking rewards program is now live! We aim to provide an alternative and competitive edge to traditional financial institutions (not to mention our liquidity pools for those with heavier bags) through 12% APR compounding rewards staked to holder wallets every day! You can read more about this awesome new program in our announce post located here.


We've seen an increase in stakers with a total 731,677.31 PIZZA tokens staked to date! Wow! Who will stake our 1 MILLIONTH token? This has also lead to a stabilization of our token price. 12% offers generous and realistic rewards while at the same time keeping inflation low enough that any sort of volume increase will likely lead to another price spike. The sell floor is very thin and it is almost solely made up of traders selling their tokens for profit rather than people exiting the project.


Phase 2 will introduce additional rewards on-top of this 12% base reward. While we are still working diligently on the details, we do feel hopeful that we'll have more news on this front soon!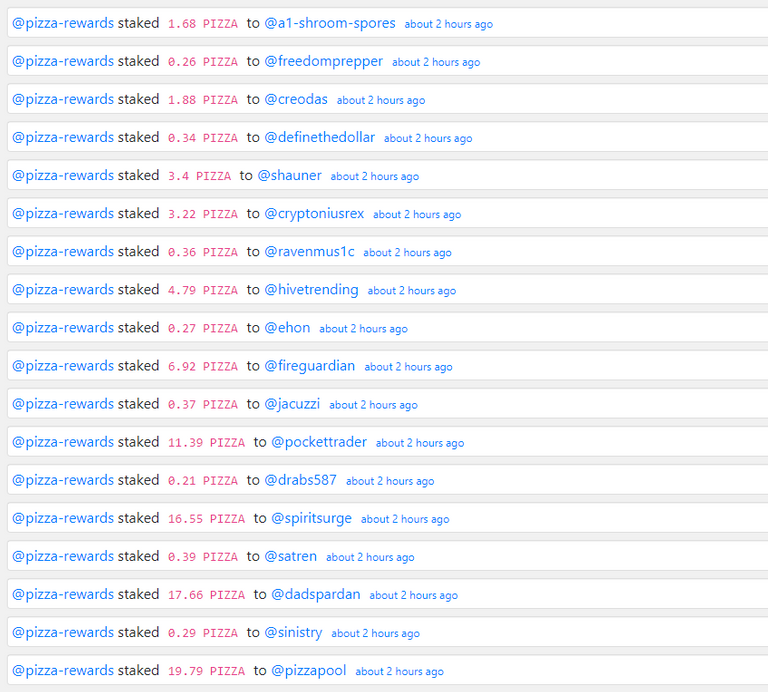 Diesel Pool Updates
You can get in on our high APR liquidity pools by clicking the links below! Here are current APR (at time of post):

PIZZA Tools
It has been a while since we took a look at all of the tools our team has built for the HIVE community and for PIZZA. We've had quite a few new people join the community and I felt now is a good time to do a quick review of some of the awesome development we've done over the past 11 months.


Pizzabot

Powerful on-chain engagement bot allowing users to tip other across the chain. One of the highest used comment bots on-chain. Version 1 was released as open-source which is now being used in and is assisting several other projects on the blockchain.



Pizzabot Discord Bot

Extremely versatile community Discord bot used in over 20 servers. While having tons of core integration exclusive to the PIZZA community and PIZZA Guilds, it offers a vast array of tools that connect to HIVE, the second-layer, and to several games you all may play every day.



Pizzabox Discord Bot

An in-development community, fun, and moderation bot for the PIZZA community.



Marinara Discord Bot

Alpha-Build PIZZA Community Music Bot



Mozzarella Discord Bot

Alpha Build PIZZA Onboarding Bot



HIVE dApp Browser Extension Menu

We've built an awesome and easy-to-use browser extension compatible with all Google Store enabled browsers such as Brave, Google, Vivaldi, etc. Easily navigate the HIVE ecosystem and even favorite your most-used destinations!



Hive-Engine Wordpress Plugin

Easily pull price data for your favorite coins and display that data in an elegant and simple module on your front-end.



Hive-Engine All Staking Tool

Almost a year ago we released this awesome little tool as we saw a need to quickly stake all of your tokens at once. For those growing their accounts and who wish to just simply stake their tokens all at once can use our stakemytokens tool to do it in just few simple click! Save time. Make money!



HIVEisbeautiful Data Tool

For those who love data, our team has built an awesome tool that enables viewers to monitor each block as it is processed in a visually pleasing way. If you are like me and love visual things, you'll love this tool!
We have an array of other tools such as this that allow you to do things such as view comments in real-time, view some of our node data, check out random posts on HIVE and more available here.



HIVE API Fix

Last year many users on the HIVE blockchain experienced issues signing into peakd due to issues with the node not automatically switching. Our team was able to find and deploy a fix that allowed users to sign back into their accounts and get back to blogging and earning!



HBD/PIZZA Video Game Store

For the gamers out there, we have built an easy-to-use video game store where users can buy Steam PC games using their PIZZA tokens or Hive-Backed Dollars. Gamers can do more and more on-chain through our store!



hive.pizza Website

Our website has some pretty cool stuff being built under the hood. You can see some of it in action now via active Discord integration and on-chain integration such as the ability to post to chain.



Curation Bot

We love to read and we love to curate! We've built an awesome manual curation bot that assists us in automatically letting you know that we A. read your post and B. sent you a slice of PIZZA, which also happens automatically.
PIZZA is a very active project with new things happening every day. We have some awesome things in development and we're planning out even more cool things to come after that!

Reminders & MISC

Level-Up!
We had some more incredible LEVEL-UPs happen this week! Let's check them out!

EARN PASSIVELY BY DELEGATING TO PIZZA
Consider helping our onboarding and curation initiatives by delegating your HP to our @hive.pizza curation account. Not only does it help our project grow, but you will farm your share of the daily $PIZZA delegation rewards pool! Delegation rewards are paid out in liquid form to your wallet each day.



We're over 3,000 members strong
Are you a part of the Pizza Guild yet?
Join the
Pizza Guild Discord Server
Visit the
Pizza Guild Website

Join our curation trail here
Vote for us as Hive-Engine witness here


Vote for us as HIVE WITNESS HERE
---
---