hive.pizza | Witness & Code Updates, Announcements, & more!

Hi everyone!
We hope you've had a wonderful week! It has been insane over in the PizzaLab as @hivetrending and I cook up some new awesome-ness that we think you're going to enjoy! Much is still a work in progress but there are many updates and improvements coming to PIZZA over the next few months, buckle up!
Let's jump in!
Witness Update
Rank: 71/67
Missed: 0
As you can see, we still need quite a few votes to climb past the next few ranks, including that outdated node that is still ranked above us!
Please consider voting for pizza.witness if you support active HIVE projects!



Hive dApp Menu UI upgrade
We've pushed another update to our Hive dApp Menu browser extension! Not only will you find new listings, but you'll quickly notice the UI has undergone additional changes.
Nothing is final! I found the old UI to be a bit rough on the eyes and preferred this 'nightmode' style a bit more personally. Make sure and drop some feedback in the discord!
We've also added a new PizzaLabs section for some quick access to a few of our favorite PIZZA tools, features, and resources!
Additional Front-Ends: ONEUP, SPLINTERTALK, & STEM GEEKS
Currently, we have over 70 users enjoying our extension! Get it here!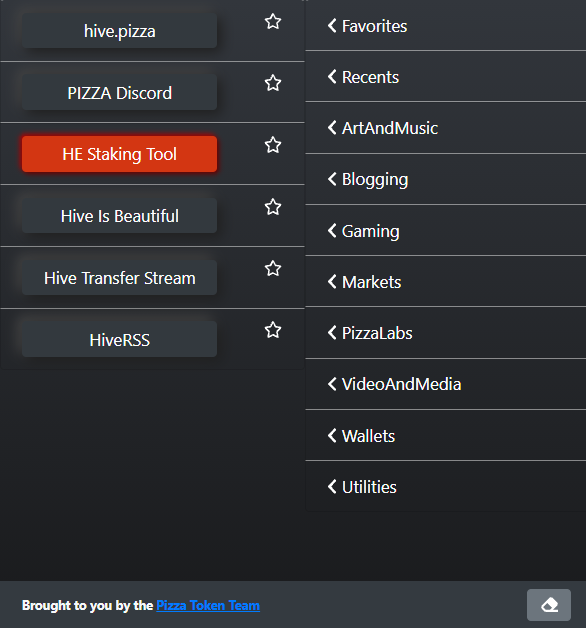 New Extension
We're gearing up to launch another neat little extension that will help you keep an eye out for updates directly from the PIZZA team!
More info on this soon!
Snapshot Teaser
There will be a snapshot of our Baron rank (those who have 10,000 PIZZA tokens or higher staked) taken soon for something super cool and special that is coming that we've been working on a while now! We are still working out a few details and wrapping up some production but will be announcing the official snapshot date soon!
If you do not yet have 10k tokens but have intentions on being a Baron, consider doing so BEFORE the snapshot!
Don't wait on this one!
HIVE Christmas Album by PIZZA
We are excited to announce that the PIZZA team is putting together the First Annual hive.pizza Christmas Album!
We will be working with various artists throughout the HIVE community to bring you some classic holiday hits with a spin of their own!
If you are a musician in the HIVE community and can record or provide a track, please reach out to me!
We will be using this mix to showcase some HIVE talent and demonstrate some of the cool opportunities musicians have here at HIVE to off-chain musicians!
Hive Music Store
For those of you who don't know, we're building a full-fledged music shop and streaming/radio service over at hive.pizza! Progress is coming along but we're still just a little ways away from the initial launch! Some cool things we'll be able to include:

Building Radio Stations
Podcasts
Whitelisted musician shops
Subscription services

Stay tuned for more information!
PIZZA Contests - Over $200 in Prizes
Pumpkin Carving Contest

We're pleased to announce our first annual Pizza Pumpkin Carving Contest!
You have until 11:59pm PST October 29th, 2021 to complete and submit your carving for the contest!
Don't have access to a pumpkin? No problem! Be creative and find a replacement produce item such as a squash or pineapple!
For more information, check out the post by @dibblers.dabs here!



PIZZA / CineTV 'Pairing' Contest

Thank you so much to everyone who joined in and participated in the contest we put together along with @raymondspeaks and @brofund! We will announce the winners as soon as possible! Keep an eye out on your notifications!
Diesel Pool Contract Renewal
We have renewed our distribution contract for the PIZZA:DEC Diesel Pool and have stacked this cycle full of compounding returns tokens! Earn rewards that keep rewarding along with swap.hive! Current rewards are:

SWAP HIVE
UTOPIS
DHEDGE
APE
Misc
Discord Engagement

We have one of the most active Discord servers in the HIVE ecosystem and we invite you to come join us! Participate in fun conversations, play games, watch movies, and earn rewards! We're even building out an extensive engagement system that will further gamify the way you use HIVE! Join the Discord here!



Onboarding Web Adventure

We have starting building some initial design elements for the adventure! This is still a very exciting part of the future of our website and we can't wait to share more progress here!



Community Bot

The Community Bot is still in-development but has a working Alpha version available in our Discord. It has an initial rank system, economy, moderation tools, and miscellaneous other cool features (such as checking Hive-Engine market data).



DayZ Game Server

Quick shoutout to our DayZ server! We're really starting to build a solid group of gamers playing over there together! If you have DayZ and have been looking for a chill server to play on, come join us!



Splinterlands PIZZA GUILD

Our PIZZA 1 (one of our Splinterlands teams) has knocked out the competition yet again and taken another first place in this weeks Brawl!
Huge shoutout to our team and officers for bringing the heat and keeping the competition on their toes!
We have a second team and are considering a third! Are you interested in joining a competitive Splinterlands team? Join our Discord!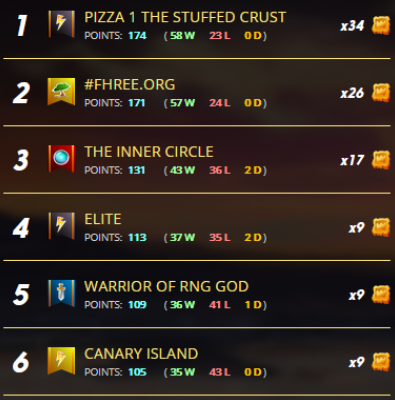 TOKENOMICS
| Circulating Supply | Staked | Burned | Max |
| --- | --- | --- | --- |
| 622,465.22 | 495,525.98 | 890,671.33 | 100,000,000.00 |

---
Wallet Status


5454 wallets hold $PIZZA
0437 wallets hold >= 20 $PIZZA (bot access level 1)
0066 wallets hold >= 200 $PIZZA (bot access level 2)
0028 wallets hold >= 1000 $PIZZA (badass level)
0013 wallets hold >= 10,000 $PIZZA (baron level)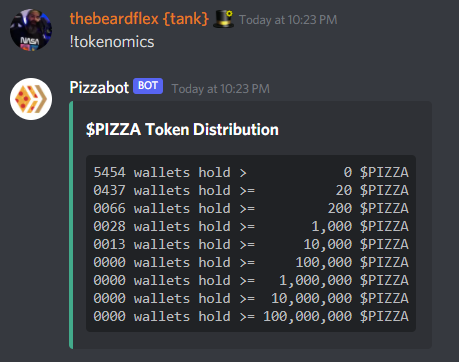 REWARDS


Note: There will be some changes coming to rewards in the coming days that will see more opportunities for holders to earn through staking! Make sure you're locking your tokens up!


Top 10 Staked Leaderboards


Date: 10/17/2021
Token: #PIZZA
This weeks bonus: 9% (two weeks in a row - lucky!)


It looks like we've had a small shakeup in the Top 10! @revisesociology and crew has entered the fray! Will we have any new challengers willing to take them on or join them in the Top 10 this coming week?


Want to get in on the action and secure your own weekly bonus rewards?
You can buy $PIZZA on LeoDex, TribalDex, or Hive Engine!


You can earn up to 10% back in the form of $PIZZA and other tokens by knocking our current leaders out and claiming your spot among the top!
@pizzaconnection @cooperclub @stickupboys @dadspardan @dibblers.dabs @pizzapool @shauner @hykss @pockettrader @brofundholdings
Lucky 5 Weekly $PIZZA Holders
(randomly chosen weekly from all holders with >= 1 $PIZZA in their wallet)
These lucky winners have won 3% of their staked $PIZZA holdings value back!
Remember, the more you have staked the more you can increase your lottery winnings! You can also secure guaranteed weekly winnings by being in the top 10 staked holders list! The rewards are up to 10% back weekly for our top 10!
@zeroooc @steevc @melbourneswest @anjanida @aerokossasjc
BONUS 5 Weekly 500 $PIZZA Holders
These 5 bonus winners are drawn from holders with >= 500 $PIZZA
Remember, the more you have staked the more you can increase your lottery winnings! You can also secure guaranteed weekly winnings by being in the top 10 staked holders list! The rewards are up to 10% back weekly for our top 10!
Congratulations and thank you for locking up your tasty za! Enjoy your bonus rewards of 3%!
@nyxlabs @ghostlyxknight @huzzah @ciderjunkie @saltyreptile
Daily Winners
Congratulations! You have won an instant 4% APR of your $PIZZA holdings back in additional $PIZZA!
@hetty-rowan @sharkthelion @sheinthu @kryptodenno @cryptoniusrex @alexvan @marshmellowman

DELEGATE TO PIZZA
You can also delegate your HP to our @hive.pizza curation account and farm your share of the daily $PIZZA rewards pool! The reward pool increases 10 tokens every 10k HP that is delegated to the account!



You can also check out the HIVE.PIZZA website here.
Buy $PIZZA
Leodex
Tribadex
Hive-Engine

Join the Discord and $PIZZA NATION

Join our curation trail here
Vote for us as Hive-Engine witness here
Vote for us as HIVE WITNESS HERE
---
---