Dead by Daylight - Gameplay Basics & First Impressions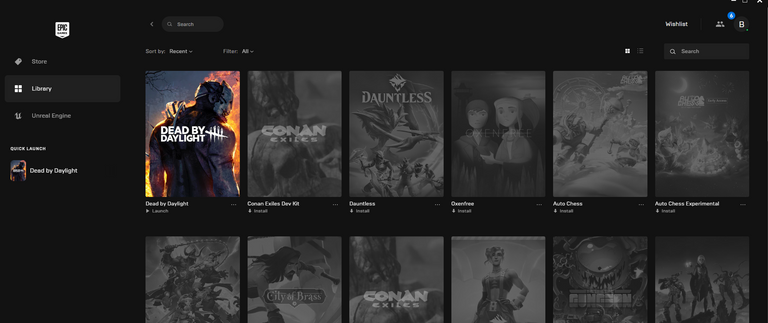 While hanging out in the PIZZA Discord server this week we discovered that Dead by Daylight was FREE on the Epic Games store launcher. I've seen how the game has been able to keep the attention of streamers over the years and decided I would go ahead and take advantage of the free opportunity and give it a shot. I mainly wanted to see what all the hype was all about, but also how they were able to keep such traffic after all these years. I love how some of the top played games online right now are still from 2013-2016. Those were epic gaming years!
Dead by Daylight presents itself as the following,
"Dead by Daylight is an asymmetric game that is played in trials between four Survivors and one Killer."
The term 'trials' is interesting when used here, but I think I understand the vibe they were going for.
After installing and launching the game, you're met with a pretty visually pleasing opening scene. Admittedly I was a bit distracted getting setup and was not paying as much attention as I should have been. I will likely circle back to watch this at a later date to make sure I did not miss any details for continuity reasons!
The game does a great job enticing you to play through the tutorial modes. After the initial load in, a new player screen pops up which presents some tiles for tutorials and indicates there are rewards for unlocking and completing each step. If you'd prefer to skip the tutorial (I recommend against skipping for multiple reasons), there is a full game manual available that will teach you about every topic in the game.
It looks like I was awarded some in-game premium currency just for logging in (in the amount of 500). I am unsure if this was a single occurrence or if this is a daily rewards.
Note: Dead by Daylight has Cross-Play functionality to allow players across devices to play together!
As with most games these days, Dead by Daylight has capitalized on the concept of daily quests through what they call, "Daily Rituals". These dailies seem to award players in the form of BLOODPOINTS currency.
Bloodpoints are basically skill points that determine how quickly you can move through the expansive skill trees available in Dead by Daylight. You will use these points to upgrade your character. There are even cool loot boxes!
Per Dead by Daylight:
Most in-game actions trigger scoring events that are converted into Bloodpoints at the end of the match. Certain offerings, perks, and events may modify the amount of Bloodpoints you receive.

Bloodpoints are capped at 1,000,000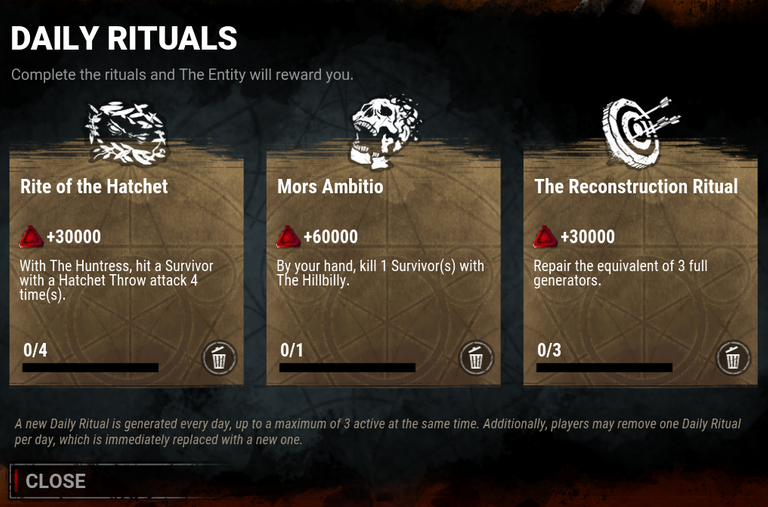 I think I'll go ahead and try out the tutorial. Not only do I have absolutely ZERO idea on how to play or what I'm doing, aside from trying to survive some psycho trying to kill me, and I'd kinda like to take advantage of some of the Bloodpoint rewards that are being offered currently for completion. Taking a look at the first tutorial, they're offering a cool 50,000 bloodpoints just for learning about what the heck we need to do!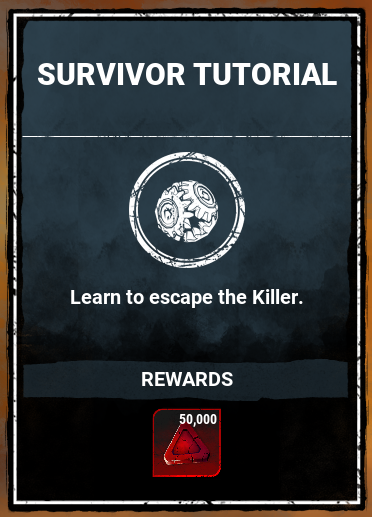 The tutorial was short and sweet. It's a really quick run-down of the basic game actions and objectives for winning (or losing) the game. As this was a survival tutorial, it was purely focused on team tactics, how to activate the gate, and how to escape using the hatches with a few gameplay mechanics thrown in such as how to jump over crates.
I'll save you the dozen and a half freeze-scene pop-ups that they throw at you and just briefly go over the core fundamentals that you need to know in-order to play as a survivor.
When sprinting, you leave scratch marks on the ground that the killer can see. He will use this to hunt and murder your face off. Walk or crouch for peak survival chances.
Vaults are awesome when running but beware, killer can sense this aggressive action.
Skill checks are a huge part of repairing the parts required on the map or when performing other actions that will decide your fate. Any time you enter an action, be ready for a possible skill check to pop up. When this happens, pretty spacebar when the needle is in the designated space. Hit the solid spot for an epic skill check.
Killers have powers (WHY DO THEY NEED POWERS TOO?) and will use them to murder you. Each killer has a unique power. Learn them, or die!
When a killer captures you (oh, and they will...) you can attempt to wriggle free by mashing the A and D keys. This is really dependent on where you are on the map or if the killer is taking their time finding a hook.
Use pallets to stun the killer or knock your pals free! If the killer is chasing you or carrying a pal, knock over pallets to knock them free or stun the killer for a nice getaway!
Teamwork is key. Han Solo has no place here. They can also heal you. That....is pretty necessary.
You can hide in lockers. While I did not really find this tactic enjoyable, apparently it will save your life.
Only try to unhook yourself is there is no other option. You will likely die. Some will live, but those who do are few.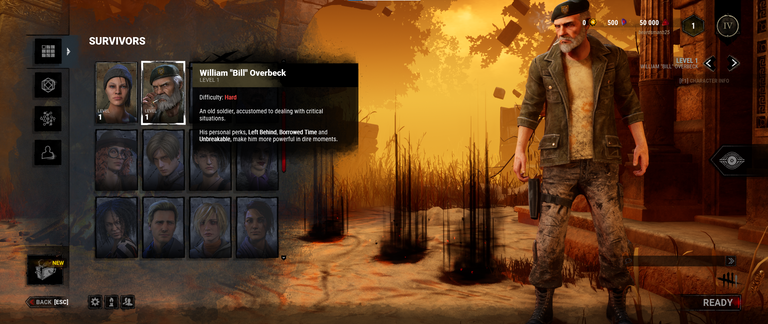 That brings us to the conclusion of the tutorial and the formal beginning of our new scary adventure. I've decided the most appropriate character for me is William "Bill" Overbeck. Basically the only beard that was available at the initial level. Wild Bill has some pretty awesome end-game stats and is considered a tough character to play. I like a good challenge...
Bill comes with some great skills right out of the gate. We're starting out with Left Behind, Borrowed Time, and Unbreakable.
Thanks to playing the initial tutorial I have some Bloodpoints banked up that will allow me to upgrade Bills skills a bit. I also found some free codes that are listed on the interwebs that gave me an additional Bloodpoints boost and some new cosmetic charms to rock on my hip as attachments!
Here are the codes that are available at the time of this post for you to use:
DECIPHERSTRIKE
INSERTCOIN
PRIDE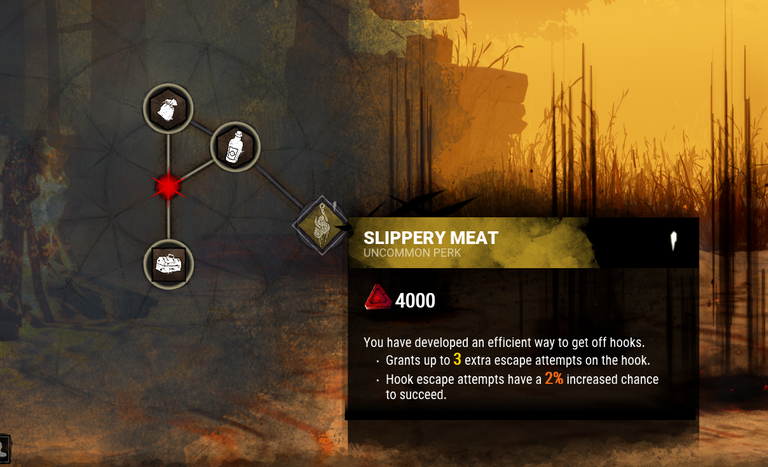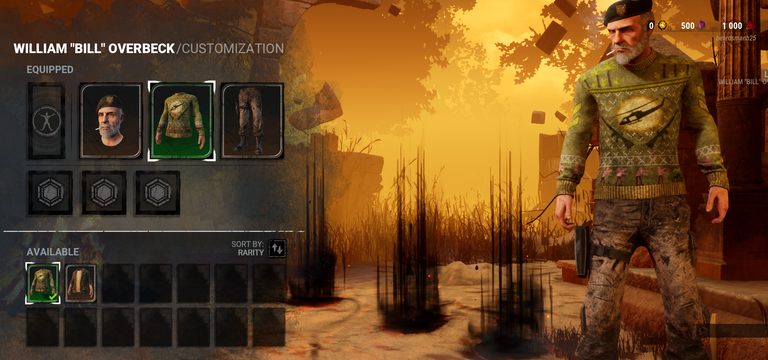 Now, we're ready to rock and roll. There is quite a bit left to check out in the store and through some of the story/lore unlocks. We'll have to go over some of that stuff another day though as I'm ready to jump in and try my first trial! You can check out how mine and Wild Bill's first adventure went and the crazy conclusion in the video below!
Thanks for watching/reading!
---
---