Gardening with The Anarchist's: After Hours - Week 1
What's up my fellow cannabis lovers and enthusiasts, and welcome to my very first Cannabis Gardening Blog! This has honestly been a long time coming for both me and my fiance, and now that we actually own a home (inherited, but ours nonetheless) we can finally grow our own plants!

Just as a forewarning, being my first grow, this is not only an experimental grow, but a budget grow as well! Alright, so let's get into it!
I started the germination process on Friday, May 20th, soaking 10 seeds that I acquired throughout the past year or so. Not completely sure which ones I ended up starting, but I was hopeful that at least half would germinate! And out of the ones that did end up germinating, I knew that at least half would be males, so I was hopeful for at least 3 females.
I had about 25 seeds originally, and some of them are pretty old (I save every seed I find lol). Most of them are from the "Lemon Skittles" I've had recently, but I believe there may be a few "G13" and other various strains.
I've checked out a few other posts in the community and have read that @canna-curate has mailed other members seeds! I don't know how to go about getting some, but I definitely want to explore that option in the future, if at all possible!!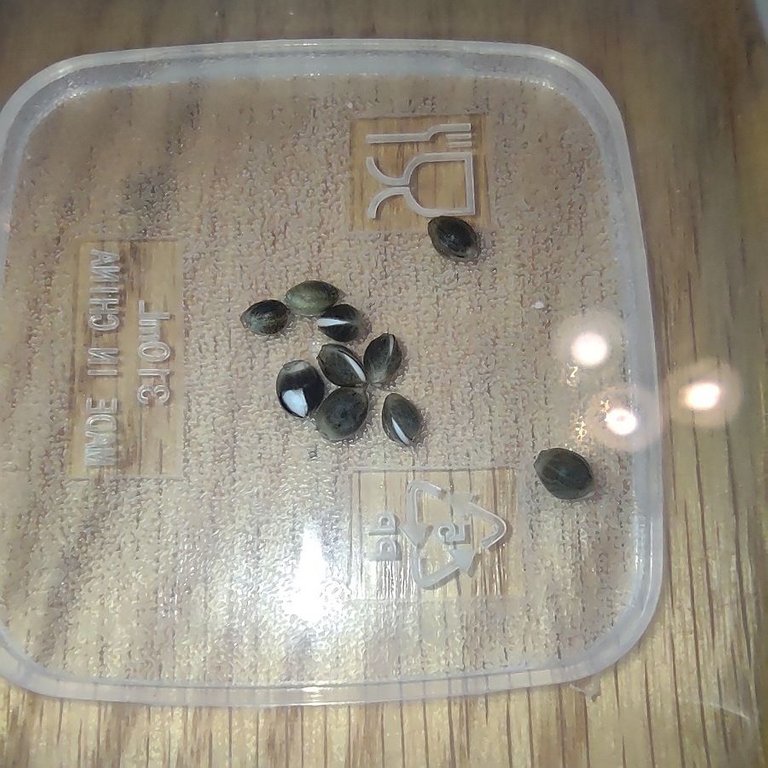 Being a mix of seeds, I wasn't sure if they would all germinate, but after soaking for about 12 hours in a container of water, 7 of them had visibly split: leaving one with a hole, and 2 that had sunk but didn't start to sprout. After I saw the 7 that were good, I drained the water and put them in a wet paper towel, folded it up and put in a ziplock and stored them in a cabinet that we don't use that often. A dark place that would be room temperature at all times :)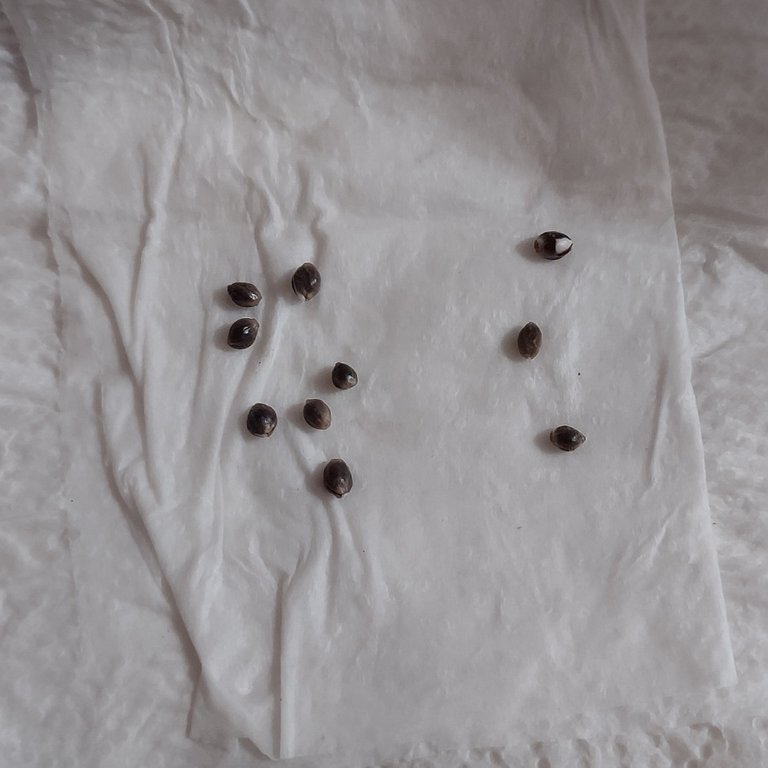 Leaving them overnight, I checked them first thing in the morning and added a few more drops of water to the paper towel. No visible difference overnight, but that was expected. Periodically checking them throughout the day, I continued to add drops of water to maintain good moisture!
After only approximately 36 hours inside the paper towel, the seeds had popped enough of a taproot to be able to plant!
Utilizing homemade plant pots that I made from milk jugs, I transplanted the freshly germinated seeds into each pot, using soil from our family garden on Sunday, May 22nd!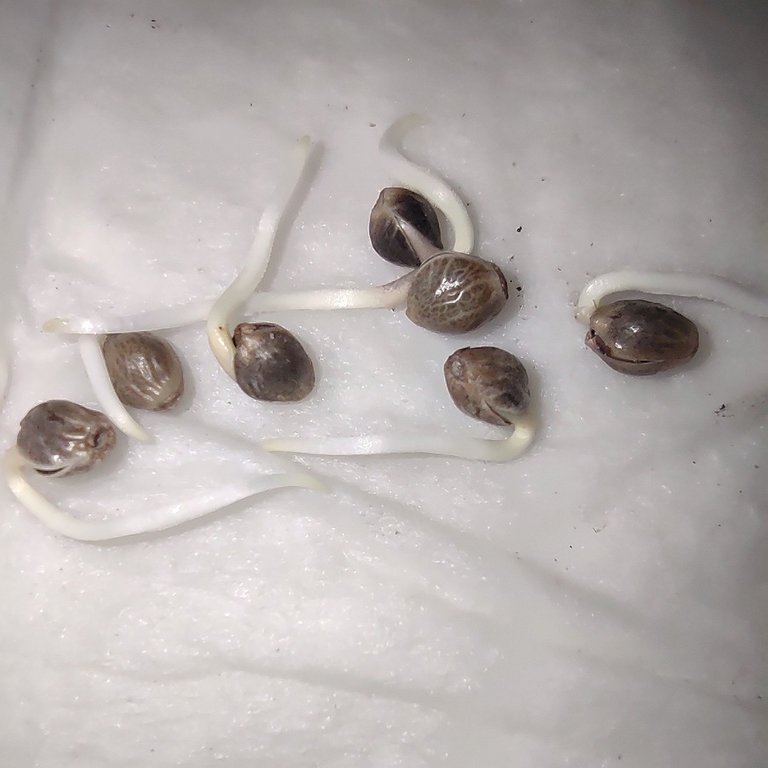 As of now, they will be kept inside under a basic lamp until they pop. Once that happens, I plan on leaving them outside during the day, and stored inside the garden shed overnight to keep them safe until they get a little bigger and able to transplant to either our garden or separate plant pots!

Ok, so that was where I was originally going to end this post, but I had a lot going on this week, and never got around to publishing. Now instead of an intro post and an update, you guys get both all in one! So, here's my one week update!
These guys did really well considering being inside a milk jug, only 1 sprout out of the 7 died off! They were left outside on the deck of our pool, and they were watered regularly, so I'm guessing it was just too close to the other plants. This past Sunday, May 29th, was exactly one week after I planted the seeds! I crafted more planters from milk jugs and 2 coffee canisters, and poked holes in the bottom for drainage!
Utilizing the same tool I used to plant the seeds, and being extremely careful to not damage the root system, I cautiously removed the growing plants from the temporary container and transplanted them each into their own planter!
With each plant is in it's own container, the current plan is to wait until they get a little bigger and establish a little bit more of a root system. Then, once that happens, I can cut the bottom off of each milk jug to remove the dirt without disturbing the roots and transplant them into the empty space we had left over in our garden! A nice 5 foot by 12 foot section that should be perfect for our first grow!
So there you have it, the first 7 days of our grow! Thanks for stopping by, and don't forget to tune in on Monday for another update on these beauties!
Stay Trippy, My Little Hippies; and have an awesome week!!


---
All pictures taken and edited using my trusty Moto G Stylus
Signature created by @doze
---
---