Nigeria versus Sudan: Enjoy how it happens
When it comes to the Africa Nations cup this is the best I have seen so far. I just don't know how to say it but all the side that makes it to this year Africa cup of Nations are very good. Just take a look at how good they are. If we continue playing like this Africa league will get good attention and more investors shall move in. Remembered the popular saying that states that the journey of a million miles begins with a step. I am so bullish that a day will eventually come and Africa league will be embraced by local fans and it will be fantastic. Before then let us keep the upgrading spirit going to zenith.
If you read my post recently about the Africa Nations cup you will see where I said that I don't like how the Africa Nations cup is being run. But I am so glad with the improvement right now. What I am seeing really gladdens my heart and that has given me the love to embrace the competition amazingly well. I am glad I am watching good matches. All the team are amazing. I know with this, more improvement will start trooping in just like what I have said. I would love Nigeria to host this competition, I don't know why they are shying away from it.
That aside, I am happy seeing my country winning. Just take a look at how the team are performing, their performance are top notch I must admit. This is the more reason I have grown to love the match. I remembered back in the days where Nigeria were doing tiki taka but it was very sluggish. If you watch their match you will surely get bored and will hate to continue watching it as you might even end up sleeping haha. This is the more reason I hate their matches back then. We hardly score goals not to talk of winning matches.
Now back to the fresh and new Nigeria team, we are currently in Cameroon and they are doing well as they are the one topping the Group of death (Group D) table. In the Nigeria group we have Egypt, Sudan and Guinea Bissau. We started with Egypt and we defeated them 1nil. Goal from Iheanacho does the magic as it places us in first position. The Egypt match was one match that nobody would have thought that we will win but we took them by surprise and got them defeated.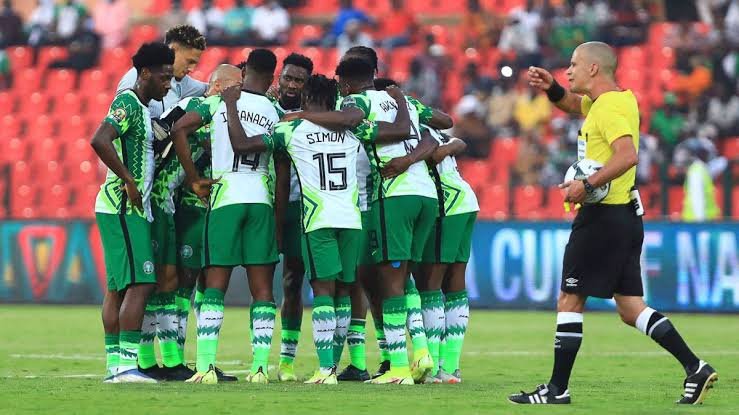 Another good thing I love about Nigeria in that match is that we were very composed and the defence were able to give Mohammed Salah a lonely night as he was unable to perform his magic. People were thinking he will damage the Nigeria defence but that didn't happen, we dealt with the Egyptian and the entire Egyptians very well. Their coach was saying they will teach Nigeria football funny enough it went the other way round.
Our next match sees us plays against Sudan. We all knows them to be a better side but if you observe the Nigeria team properly you will see that we are always fast with the ball that is why they are finding it difficult to stop us. We were playing like a team that outnumbering it opponent. The match started and it didn't take Nigeria up to three (3) minutes before they score through S. Chukwueze. The assist came from Simon Moses and I was really happy for that. Immediately Nigeria got that goal their performance and momentum increased.
They keep pressuring and as I was watching the match I know Sudan will concede more goals. They were simply running every where with no proper control. This really got me pitying them. Well I was thinking it will end 1nil in the first half but right in the last minute Nigeria scored their second goal through Taiwo Awoniyi, the goal was fantastic I must admit. You need to see how happy I am because I know we are now safe. That goal ended the match as it became 2nil in first half.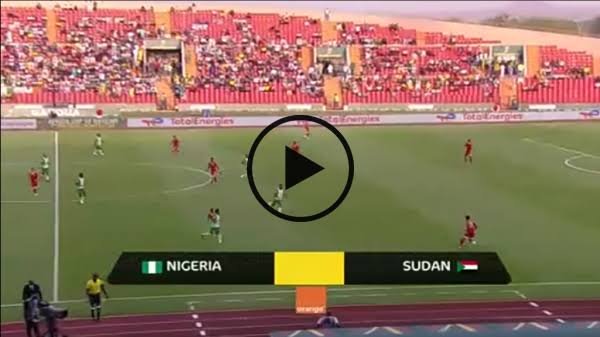 With the two goal I was very sure that we have won this match and we might score more. Immediately we came back for the second half it didn't take Moses Simon some seconds before he gives the Nigeria side their third goal. This was so fantastic and you just have to see how I was dancing, jubilating and celebrating. I know we have gotten this three point already. All the Nigeria players are so fantastic and I must applaud them for such a wonderful and amazing performance.
In the 70th minute Ola Aina gave Sudan a goal through the foul he commited. Well,
W. Khidir walk ahead and he converted the goal pretty well. I have to give him kudos for such a wonderful penalty kick. At first I was thinking he will lost it but he makes it looks so easy. What a nice penalty.
Well as we have it, that is how the game ended. With this Nigeria have qualified for the next round and I am pretty sure they will love to win their last match against Guinea Bissau. Well, let us watch and see how things unfold but for the now congratulations to Nigeria, it seems this might be our trophy.
I will end the post here, if you have anything amazing to say please air your view by commenting under this post.
---
---