La vida secreta de la abuela Margarita | Cuento infantil reseña. (Esp-Eng)
Hola a todos mis amigos de Hive que son amantes de los libros! Hoy quiero compartir la reseña de un cuento infantil muy bello que me encontré en mi biblioteca personal. Se trata de La vida secreta de la abuela Margarita.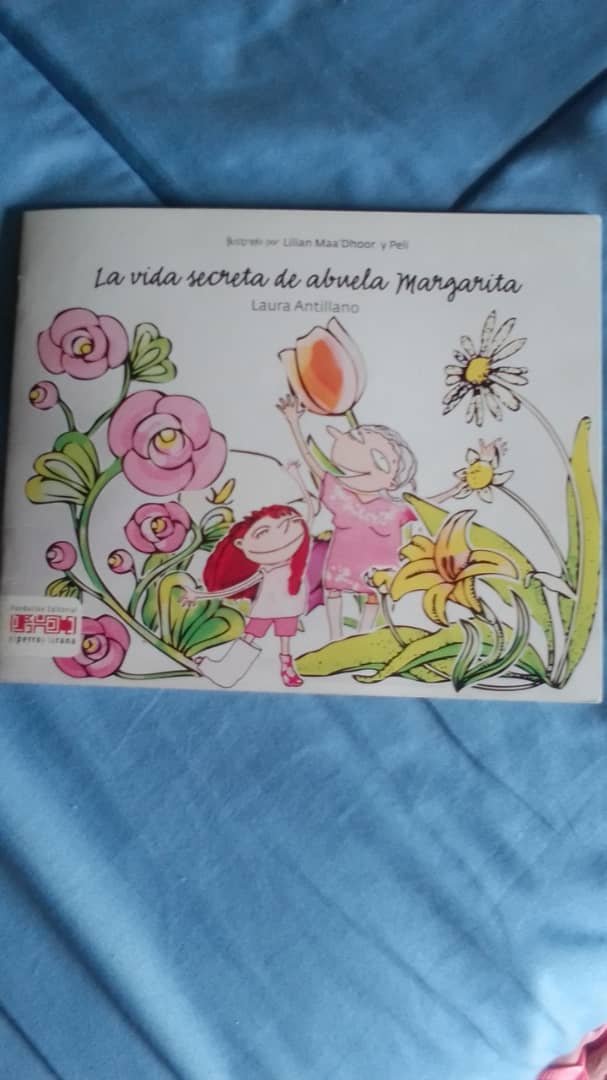 Yo vivo en Venezuela, en el estado Táchira y mi hija mayor y su bebé de 13 meses viven en Cuba, por lo que mantenemos una comunicación fluida a través de WhatsApp. Mi hija desde que estaba embarazada me pide que le mande audios con cuentos y canciones para ponerle a mi nieta y así crear un vínculo, así sea a distancia. Esta semana el cuento que leí para nieta María Teresa fue esta bonito libro infantil de la autora Laura Antillano.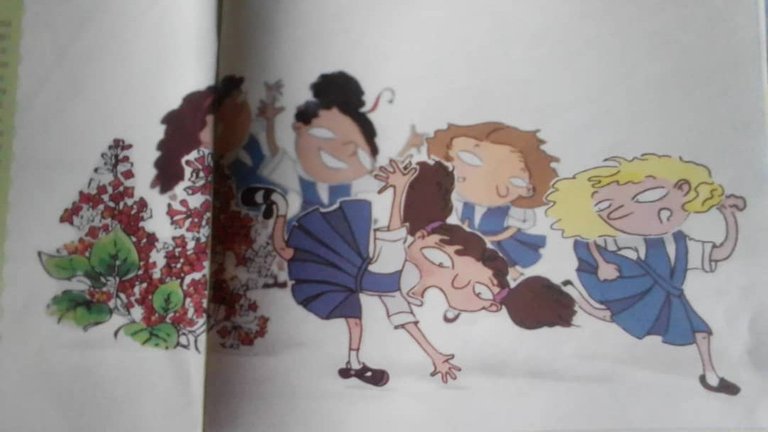 Este bello libro, nos narra la historia de una niña de 7 años que en medio de sus travesuras con sus compañeras de la escuela se cae y se fractura el tobillo, así que deben ponerle una bota de yeso para que su pie sane.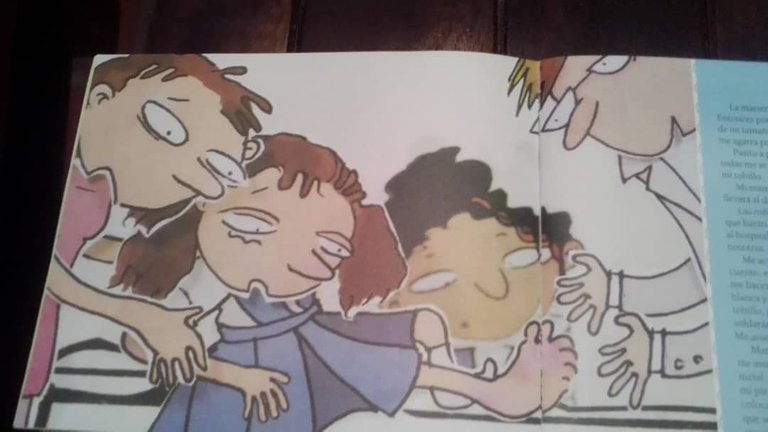 La narrativa nos lleva a conocer la desesperación y aburrimiento de la niña mientras está de reposo en casa bajo los cuidados de su abuela Margarita, quien siempre esta sonriendo y llena de alegría.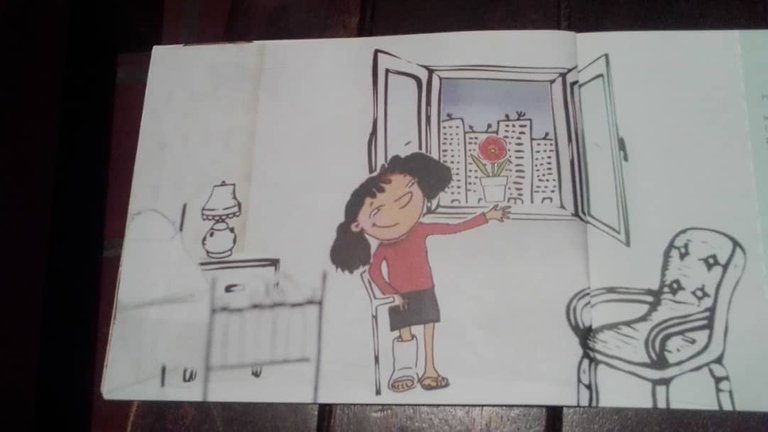 La niña aprende de su abuela que podemos disfrutar de la vida sin dejar que algún obstáculo nos borre la sonrisa. La abunela le devuelve la sonrisa a su pequeña nieta y juntas se divierten y comparten el tiempo de reposo.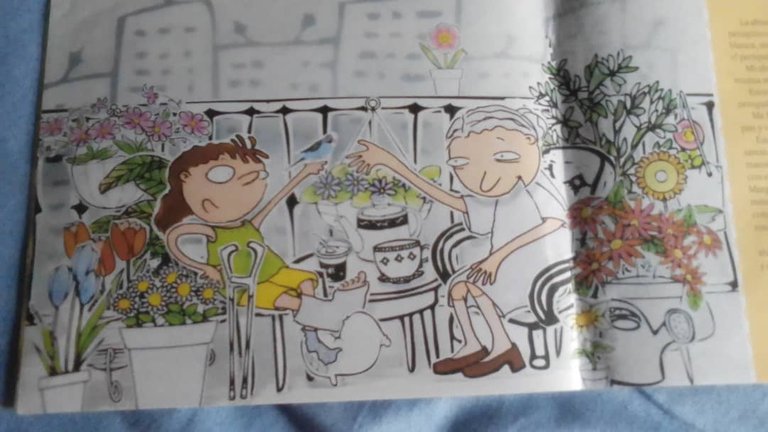 El libro trae algunas ilustraciones para colorear
La edición de este libro, fue distribuida por la librería del sur. Yo compre mi libro en la libreria del sur que esta en el teatro Teresa Carreño, ese día compré muchos libros, los cuales, durante la pandemia me han entretenido mucho para no sentir las limitaciones de estar en casa todo el tiempo. Me siento identificada con la abuela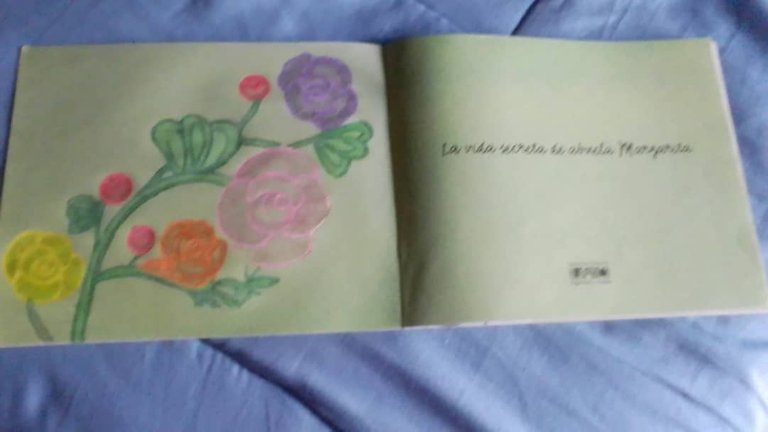 | Título | La vida secreta de la abuela Margarita |
| --- | --- |
| Autora | Laura Antillano |
| Ilustraciones | Liliam Maa' Dhoor y Peli |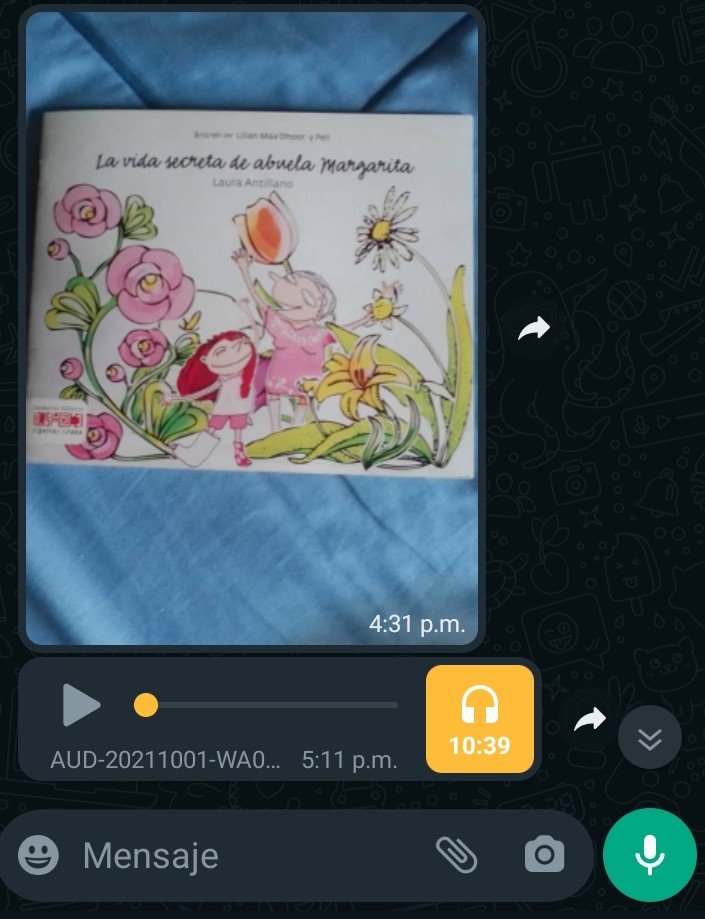 Captura de pantalla del audio que le envié donde le leo el cuento y las fotos de los dibujos del libro.
Les recomiendo este libro para leer con los pequeños de la casa. Muchas gracias por leer mi post, dejen sus comentarios y hasta la próxima oportunidad.
---

English version
The Secret Life of Grandma Margarita
Hello to all my Hive friends who are book lovers! Today I want to share a review of a very beautiful children's story that I came across in my personal library. It is The Secret Life of Grandma Margarita.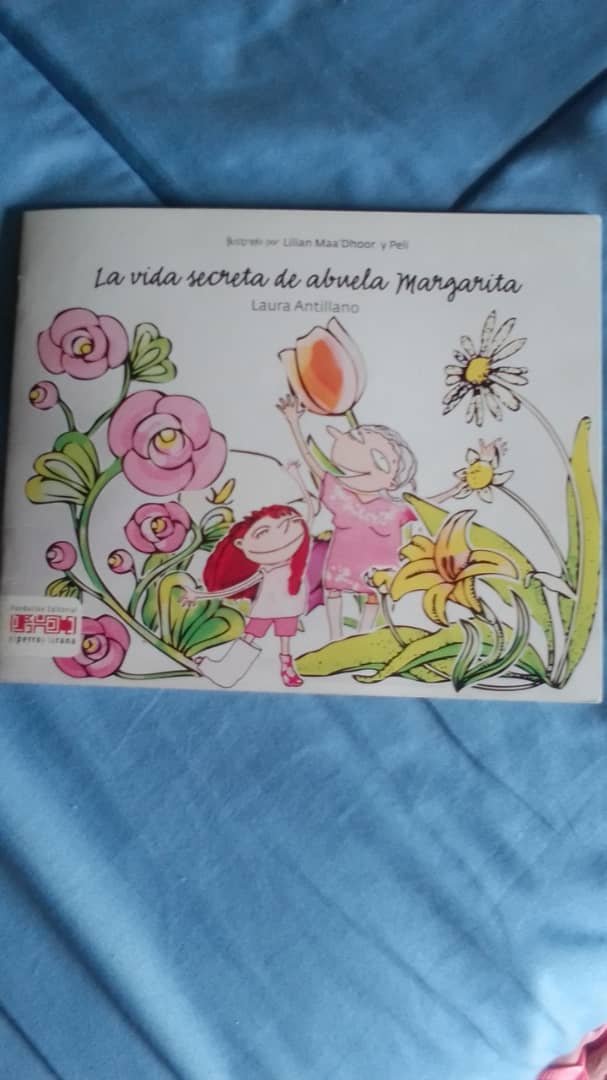 I live in Venezuela, in the state of Tachira and my eldest daughter and her 13 month old baby live in Cuba, so we maintain fluid communication via WhatsApp. My daughter has been asking me since she was pregnant to send her audios with stories and songs to play to my granddaughter and thus create a bond, even at a distance. This week the story I read for granddaughter Maria Teresa was this beautiful children's book by author Laura Antillano.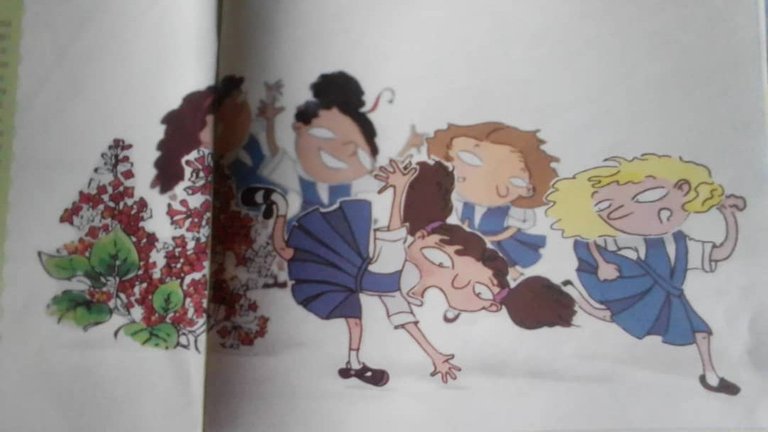 This beautiful book, tells us the story of a 7 year old girl who in the middle of her pranks with her schoolmates falls and fractures her ankle, so they must put her in a plaster boot for her foot to heal.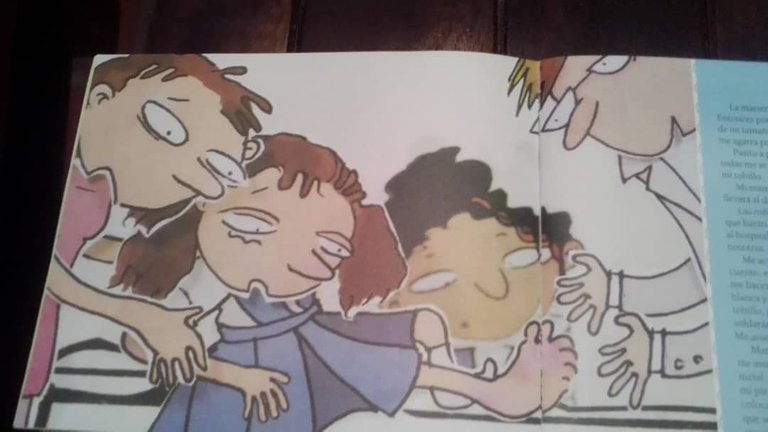 The narrative takes us to know the despair and boredom of the girl while she is resting at home under the care of her grandmother Margarita, who is always smiling and full of joy.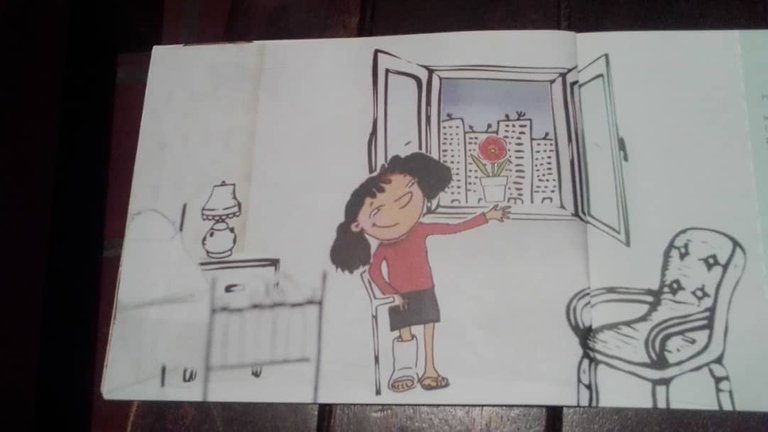 The little girl learns from her grandmother that we can enjoy life without letting any obstacle erase our smile. The abunela smiles back at her little granddaughter and together they have fun and share their quiet time.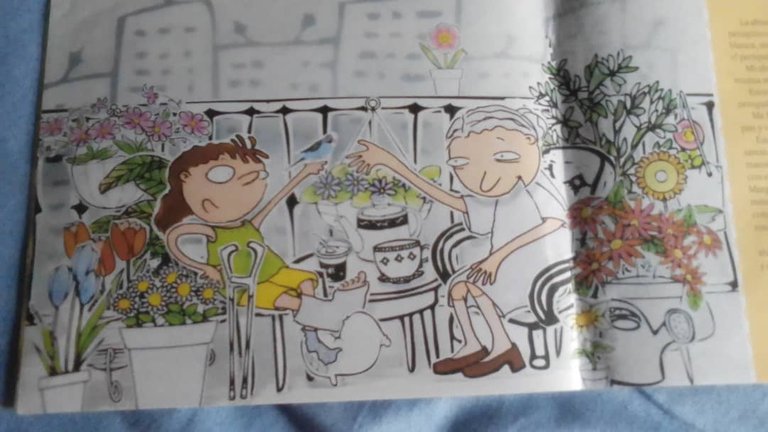 The book comes with some illustrations for coloring
.
The edition of this book, was distributed by the southern bookstore. I bought my book in the southern bookstore that is in the Teresa Carreño theater, that day I bought many books, which, during the pandemic have entertained me a lot to not feel the limitations of being at home all the time. I feel identified with the grandmother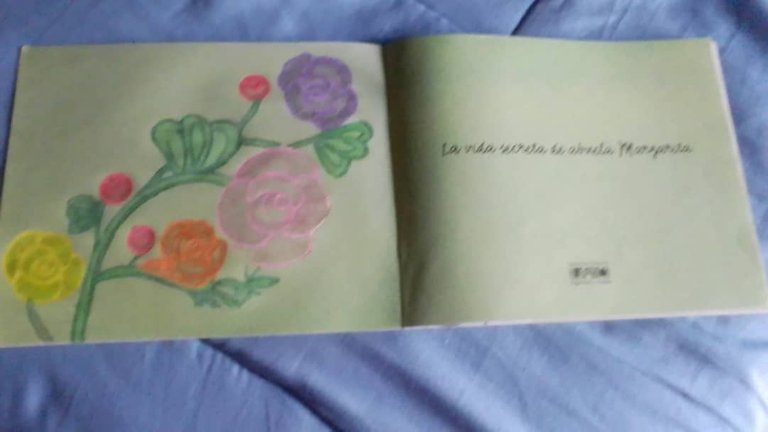 | Title | The Secret Life of Grandma Margarita |
| --- | --- |
| Author | Laura Antillano |
| Illustrations | Liliam Maa' Dhoor and Peli |
Screenshot_2021-10-07-13-55-48-797~2.jpg](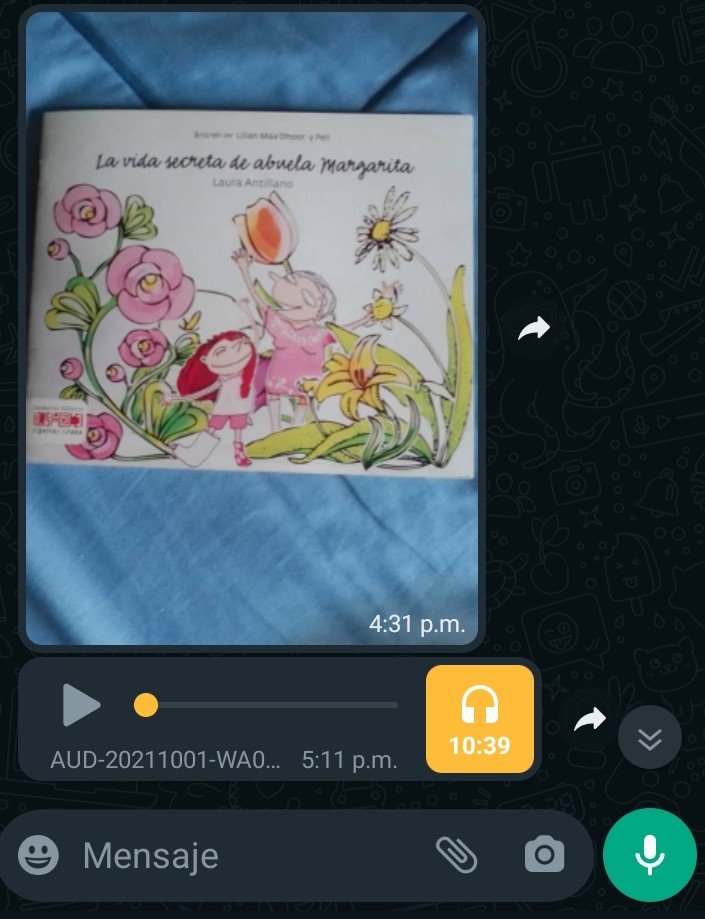 )
Screenshot of the audio I sent him where I read him the story and pictures of the drawings in the book.
I recommend this book to read with the little ones at home. Thank you very much for reading my post, leave your comments and until next time.
---

Las fotos fueron tomadas con mi teléfono ZTE Blade A3 2020. La traducción fue hecha con deepl.com. Post de mi autoría.
The photos were taken with my ZTE Blade A3 2020 phone. The translation was done with deepl.com. Post of my authorship.

---
---