Flamenco and the Macarena for ttt week 51
Hello Hello to all you music lovers of The Hive.
Tuesday means #ttt or #threetunetuesday from @ablaze Basically you just pick and share three tunes on a Tuesday and tell us a wee bit about them. I have included his last ttt post which you can read for further details Action Bronson Trio of Rap for Three Tune Tuesday Week 50
It is a bit of fun and you can explore the #ttt tag and find tunes, music and songs that you might not have heard of but actually end up liking.
It feels great to broaden our horizons, don't you think?
HIVE is global and music is global, there are tunes amongst #ttt to suit EVERY musical taste, so let's get rocking!
It is week 51 of #ttt and today I am going to get some of you to put on your 👠👠👠 and 💃💃💃
There could only be one theme for me this week!
Sevilla - Seville in Andalucia in Spain!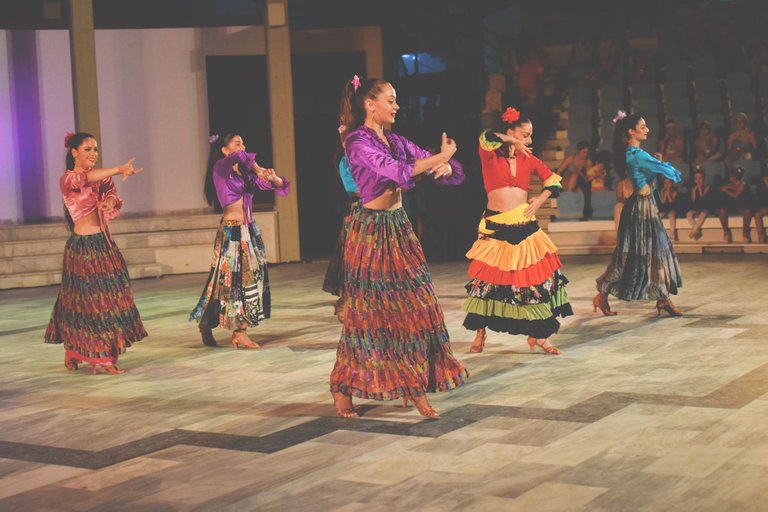 Image by Dimitris Vetsikas from Pixabay

With Rangers playing tomorrow in the Europa League Final in Sevilla and me having worked and lived there I thought well flamenco and sevillanas time! In April there are many ferias and the Feria de abril de Sevilla) is one of the most famous.
The amount of sherry amongst other things that gets drunk is pretty impressive. Then you have the ladies and their polkadot dresses dancing and I must admit to having joined in a fair few times over the years!
Okay, so before I hit the flamenco trail I want to start off with a duo from Sevilla.
If you watch or read some of my previous ttt posts then you will know that I like to have a earworm song amongst the three, and why be different this week!
This was a big hit in 1993 when it was releasesd and this is quite a cool version with the orchestra, recorded live in Maastricht with André Rieu
Tune 1 Macarena - Los Del Rio
Right then, let's slide on those shoes and in the words of the great man himself David Bowie Let's Dance!
Tune 2 Farruquito y familia
This next artist is Farruquito a flamenco dancer and the grandson of the legendary Antonio Montoya Flores who was known as 'El Farruco' and considered one of the most remarkable dancers in the history of flamenco. Hence Farruquito is named little Farruco. He is from from Las Tres Mil Viviendas which is Seville's run-down gypsy estate. Farruquito was performing when he was five on the Broadway stage with his grandfather, in the Flamenco Puro show.
Just watch the wee guy rock it at around four minutes.
Now I remember why my hands used to hurts so much, I remember all the special clapping as a musical instrument that we used to do!
La Niña de los Peines
When we talk about Flemenco we have to talk about Pastora Pavón or La Niña de los Peines who is wildly considered as the best flamenco singer in history. She was the complete artist who mastered practically all the flamenco styles.
As with so many flamenco stars she belonged to a very important dynasty of Sevillian artists. Her brothers Arturo and Tomás were also awesome singers. Pastora started singing in local cafes when she was only 8!
The sound records of La Niña de los Peines were declared in 1999 to be an Asset of Cultural Interest in Andalusian Heritage.
Tune 3 La Niña de los Peines - Quisiera yo renegar (Petenera)
There we go and I hope that you enjoyed my different tunes for today.
Have a great week and see you next Tuesday, and hopefully tomorrow Rangers will win the Suropa league Final in Sevilla!
Now it is time for me to visit your #ttt tunes!
PLEASE NOTE: The YouTube videos shared are not owned by me and I am simply sharing great music with the community here on Hive
ngers will win the uropa League Final in Sevilla!
---
---