Don't forget June 15th PST LEO Power Up Day
Hello Hello cubs lions lionesses and everybody in Hive.
I am sure you have seen many posts announcing LPUD!
If you have not then allow me to enlighten you.
The first LPUD will be on June 15th 2022 (PST)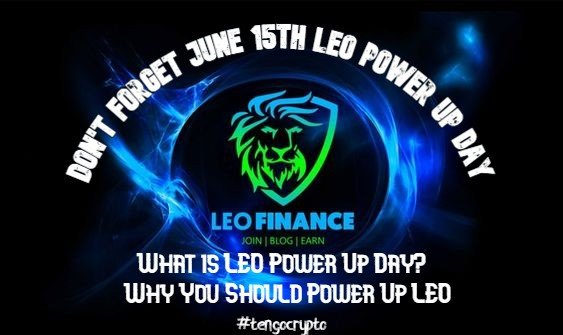 Okay okay we know when it is, but what the dickens is it?
What is LPUD?
LPUD stands for LEO Power Up Day
You might have heard of HPUD, well that is Hive Power Up Day where you can power up Hive on the first of the month.
LPUD is exclusively to power up LEO
NOTE that LPUD will adhere to PST (not UTC like HPUD)
HOW to participate in LPUD
To participate in LPUD all you need to do is go to your LEO wallet and decide how many LEO you want to power up and then hit that Up arrow to Power Up.
Simples, isn't it.
You can power up any amount, however IF you can then I would recommend that you power up at least 200 LEO.
WHY should you Power Up your LEO
You are contributing to the growth of the Leo ecosystem.
You are helping secure the long term health of the Leo Finance. The more that comes in the more Leo ecosystem grows and the more rewards for all.
Stronger votes - the bigger the LP the bigger the votes, watch yours go up the more LP you accumulate over time.
Earning more curation rewards - the higher your LP the higher rewards you will get for curated posts.
Earning interest by holding Leo Power - the more LP you have, the more you can earn from just holding!
Earn by delegating some of your LP and get more rewards back!
BONUS BONUS Win PRIZES
Remember how I said that you should try to power up at least 200 LEO?
Well here is why!
@leogrowth in this post Leo Power Up Day is now a thing! - Join and win a Dolphin size delegation announced prizes for random users that power up on the 15th and adhere to the rules in the post.
You will have a provably fair chance via a provably fair random picker of winning a 20k Leo Power Delegation. How freaking cool would that be?
Thanks to some incredibly generous users, there will be other prizes that you could win.
There is also another massive BAD LUCK prize available from @onealfa who I am sure will be watching all the fun of #lpud from his motorhome somewhere in the mountains of Northern Europe.
Will I be participating in LPUD
The answer to that is hell yeah I will!
Leo Finance is not only a fantastic community with welcoming people but the Leo ecosystem is showing phenomenal growth with people like the amazing @khal working tirelessly behind the scenes on our behalf!
Do I want to help that continue in my own small way?
Of course I do and so I will be participating in #lpud and powering up Leo on the 15th of June and each 15th of the month thereafter!
How will I be getting 200 LEO for LPUD?
I will looking at my Hive Engine and trading some layer 2 tokens for LEO.
As of writing this LEO is currently available at 0.078 USD.
So you can grab your 200 LEO for 15.6 USD.
TIme to Take ACTION
1 Reblog Leo Power Up Day is now a thing! - Join and win a Dolphin size delegation from @leogrowth
2 Get and stack 200 LEO if you have not already
3 Power up your LEO for #lpud on June 15th PST
4 Continue to be Awesome!
Don't forget that by powering up on #lpud you will be contributing to the growth of the Leo ecosystem and helping to secure the long term health of the Leo Finance. That sounds like a win win to me!
---
All images and ramblings are from me, the mad Scotsman @TengoLoTodo unless otherwise stated.
DO WHAT YOU LOVE AND DO IT OFTEN
Haste Ye Back!
Posted Using LeoFinance Beta
---
---