UNITY IS KEY
United are ants for colonies to survive,
Trusted are bees for their bonds in a hive,
When insects know better for humanity to learn,
Shame is the outcome to the existence of men.
Bond is a reason preys stand firm to fight,
Buffalos in numbers send predators in fright,
Unity is virtue to the hearts that accept,
Below lives division at a much farther depth.
An army strike harder than a soldier of one,
Division cause loopholes and wars can't won,
Warriors with arsenals are better as one,
The division of a herd is delight to a gun.
Vulnerable is a broomstick in the cold face of fear,
In bunch fright goes folding via its very own scare,
United we stand and divided we fall,
What then is called progress when bond turn out dull.
Is intelligence to humans a blessing or curse?
Imperfections as dust separately treading a course,
Our greatest of fear is the design that we are,
The repulsions we share leaves deception on par.
Killed and buried is unity to man,
None can be trusted, not even a clan,
In common is intelligence to animality and man,
Clear is the difference in these contrast of worlds.
Unique is our ways to be divided to life,
Defeat in battle is the result of the strife,
Winners don't last when division is the route,
Tree bond to the ground lies in the firmness of the root.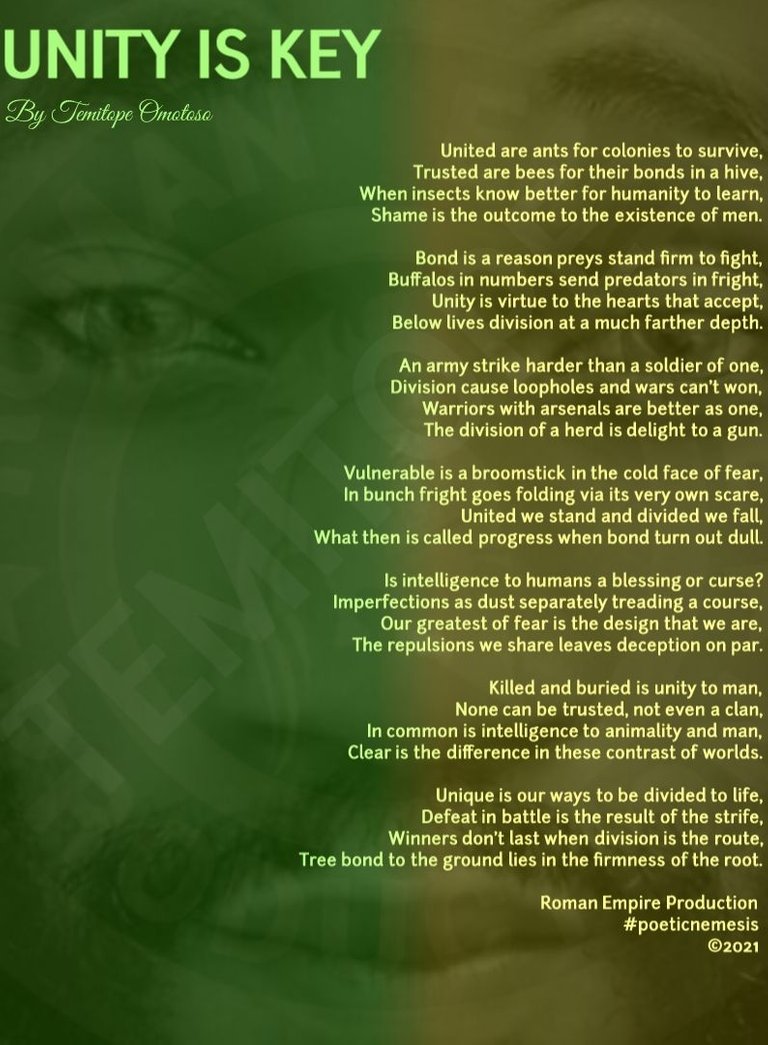 ©Roman Empire Production
Thanks for reading
---
---