TRIP TO INSANITY, UNFAIR EXISTENCE
TRIP TO INSANITY
"SOMETIMES WE FALL TO MAKE A RISE,
THE MUNDANE MYSTERY OF THIS LIFE IS MORE THAN MEET THE EYES,
FAILURE MUST BE ENCOUNTERED FOR SUCCESS TO BE ENSURED,
WHAT THEN HAPPENS WHEN THAT FAILURE KEEPS THE POSSIBILITIES DENTED?"
Out of my enclosure I stepped to walk,
Obstinate was the war within to take a baulk,
Sensation so sweet-bitter all at the same time,
On negativities my mind quit not for a dime.
Thoughts of my failure swarm in like bees,
Memories that followed swept in like cold breeze,
Helpless and vulnerable, I took a brief cease,
The ghost of past avenue is in to haunt my peace.
Randomly alive sprung dead failures in my head,
On my knees I succumb begging for their silence,
Commotion caused drew to me multiple eyes,
All on my one-way trip to insanity.
Possession too late for me to avert,
Down I knelt like a dog on pat overdose,
Unreligious yet prayedwithin,
Oh please depart for peace to reign.
Incident so tragic yet felt comic,
Up I sprang with grin flashed in pretence,
All dust yet set out from my lake of shame,
To insanity the trip was unplanned.
Condemnation blared the planet of eyes,
Different sizes marred my every steps,
Words unheard spoke their sight,
Overshadowed turned my day by their nights.
In silence blared aloud my thoughts,
Not only to humans are ghost entitled,
Gone with the wind yet not dead within,
Experiences come and go to test for weaknesses.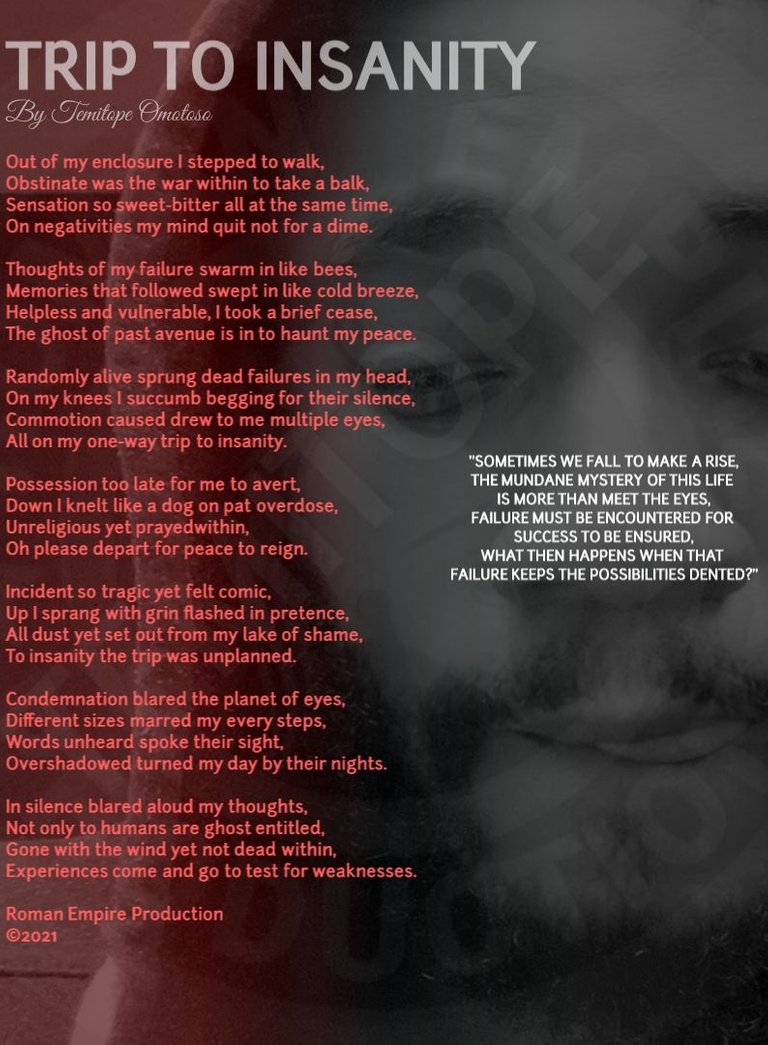 UNFAIR EXISTENCE
There I stood on the shores of life,
My focus and gaze on the sea of strife,
Calm as it seems but rough on all sides,
Easy is nothing no matter the tides.
On sailed ships with series of load,
Success at heart no matter the cold,
Ashore I watched cruises go wrong,
While some got better sailed on so strong.
Away from shore I moved my feet,
Within are thoughts so loudly discreet,
What's life worth for better and worse?
Why precious to some and others a curse?
In the distance I watched barbarism in disguise,
Where wealth is to mammoths and penury to mice,
Injustice ran rampant with caution ablaze,
Life it all seems to the awe of my gaze.
Barbaric explains the nature of the acts,
Gibberish so accepted while buried are facts,
Upon the mice trampled the mammoths to live,
Yet forced to smile for the stampede they receive.
Indiscreetly aloud sprang my thoughts within,
Despicable speak forth the view I've seen,
In sufferness they smiled with tongues left on mute.
Woe betides the soul that play forth the flute.
What worth then is life when freedom is dead?
Where greed is the priority for others well-fed,
Enough for a day was the sights I received,
Rosy isn't life so don't be deceived.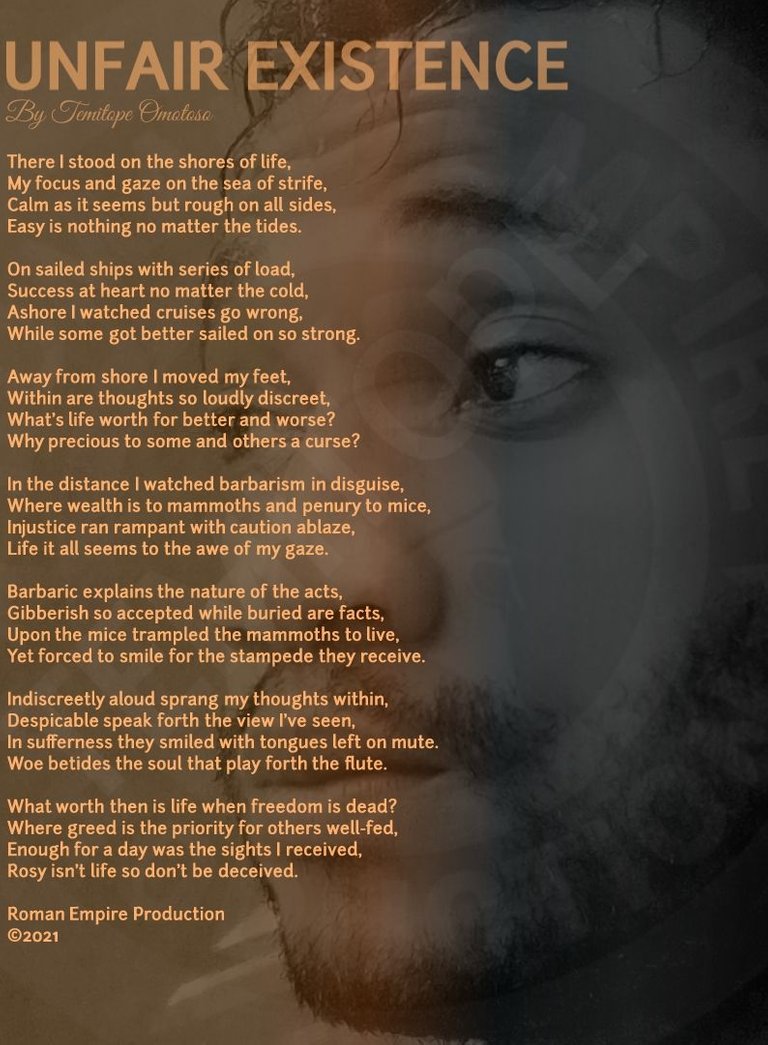 ©Roman Empire Production
Poetic Nemesis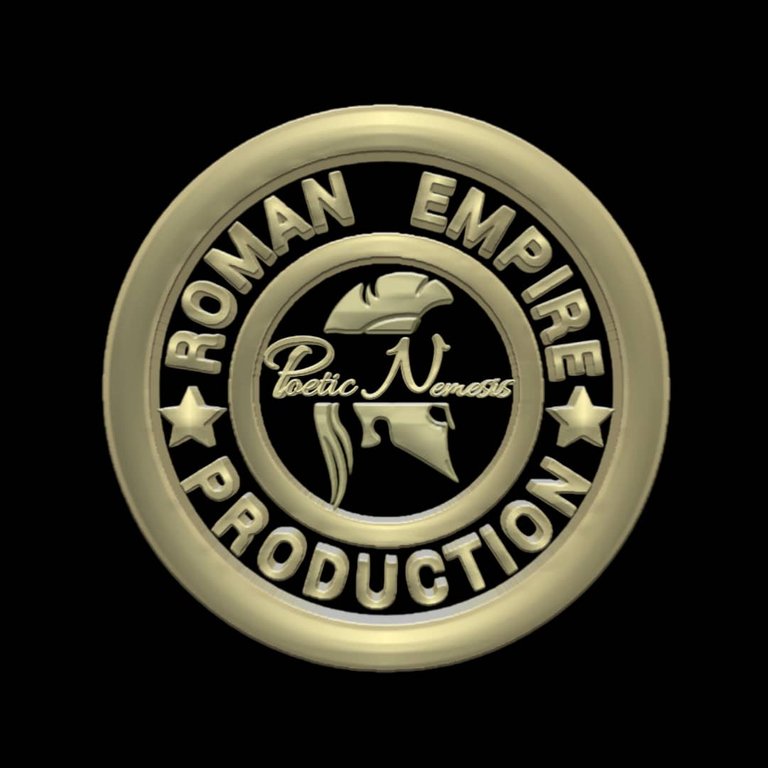 ---
---