Metaverse: Gaming Much Bigger Than Thought
There is no doubt that gaming is one of the fastest growing industries. We are dealing what something that is already generating more than $100 billion in revenues annually.
That was the belief anyway. Now, we get more research that place the number much higher.
Why is this important?
It is the baseline of the next generation Internet. Basically, this shows how powerful this transition can be.
Gaming: Twice As Large
We are now seeing some evidence that the gaming industry is vastly underreported. In fact, the revenues are believed to be double what was estimated when all aspects are factored in.
Obviously, there is a lot more to gaming than what is generated off the content or IP itself. When we factor in consoles and other hardware along with many different sectors that are popping up, we can see how the numbers get really large.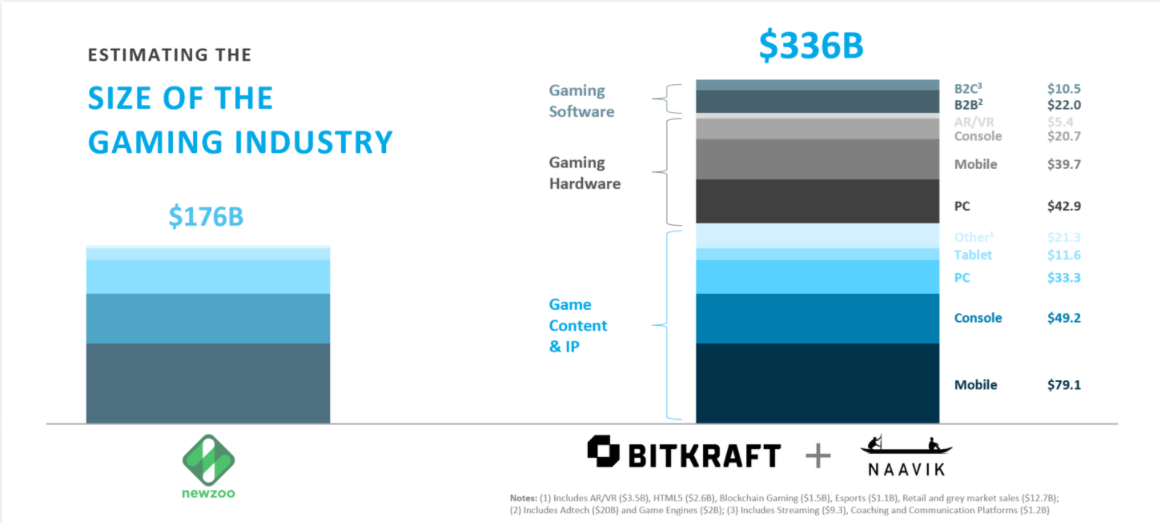 As we can see, the developers of this report factored in both hardware and gaming software in addition to just content and IP. While there is cross use of the hardware, i.e. mobile phones do more than just gaming, it is hard to ignore how they all tie in together.
According to their numbers, gaming and its related monies now are at $336 billion. That is a very large industry, one that is only growing.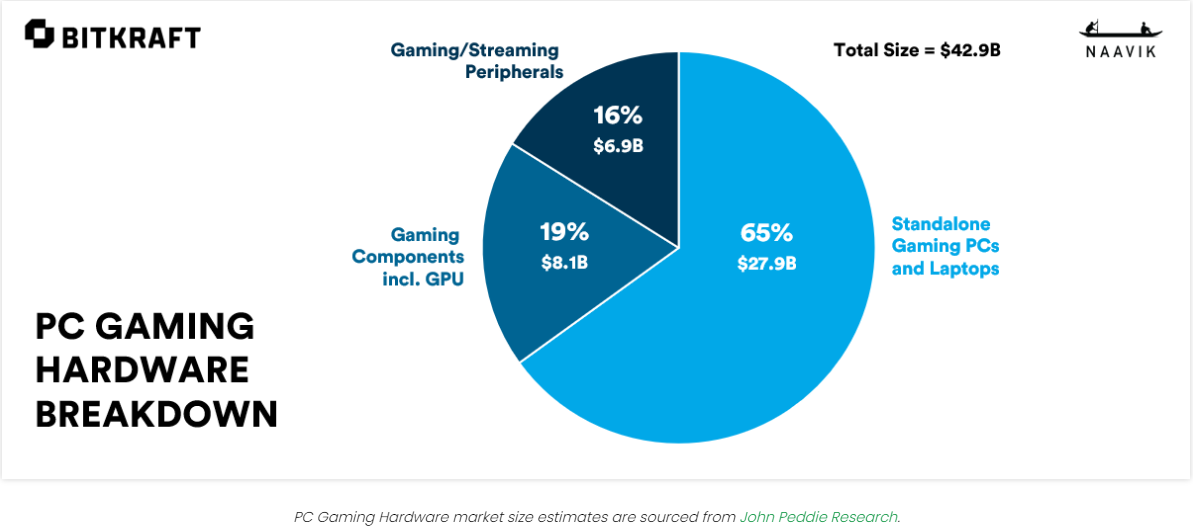 With regards to hardware, here is what they had to say:
With regards to PC hardware, we have divided our analysis into three areas: standalone gaming PCs and laptops; gaming components (in which we include GPUs); and gaming/streaming peripherals. Given the increasing popularity of PC gaming and streaming, as well as the success of companies dedicated to the space such as Corsair and Razer, we felt it crucial to include these revenue streams into our analysis.
Hardware is an important component to this concept, especially as we head towards the Metaverse. This is all going to change throughout this decade.
Metaverse: Next Generation Internet
We are seeing a lot written about this subject. The research here shows where a lot of this is going to fit in.
To start, it is best to remember that many feel much of the future Internet is going to be built on gaming architecture. This seems to be the thread that can combine many different industries together. It is also why many feel that broadcast television and Hollywood is going to come under assault.
The first chart shows AR/VR to be $5.4 billion. This is an area where we are going to see a massive increase over the next half decade. One of the most vital parts in the early formation of the Metaverse is the concept of moving the Internet to a 3-D realm. Presently, most access is done through 2-D devices, hence we are looking at a flat screen.
This is also the step that moves us a bit further into the immersive world. Here we see the stage where transformation starts to take hold. We will go from essentially being viewers to active participants in what is taking place.
Which feeds back to the original concept and what is outlined in this chart:

Not only is the gaming aspect estimated to be at $366 billion, there is near an equal amount in the other media forms. What is crucial here is that, if all is built on gaming platforms, this puts the total near 3/4 of a trillion dollars.
Of course, this is applying things as they stand now. There is no way to estimate how much bigger this will get once these newer innovations roll out.
Blockchain Gaming
Here we have something that is in its embryotic stage. There is little doubt in the minds of many that blockchain gaming is going to be a powerful force down the road. It is also something that aligns nicely with the entire concept of the Metaverse.
Through the use of in-game currencies and tokens, gaming is being moved to another level with the integration of blockchain. While tokenization is a long used concept in gaming, the universal aspect of ownership is only being realized due to blockchain.
With most games, assets are tied to the game itself. What this means is that when one exits, there goes the assets. Blockchain is altering this since ownership is denoted by a transaction on a public ledger with the asset residing in a personal wallet as opposed to a company server.
This all feeds into #Play2Earn which is a Metaverse concept. The idea that people get rewarded for their participation is Web 3.0. It is moving away from centralized control of platforms and ownership of data. While projects might be centralized, the assets acquired will be traded on open markets. This alters the ownership concept completely.
Finally, we can see these ideas combined. Since most media forms will be built on gaming architecture, it all can fall under the #Play2Earn model. Certainly, there will have to be variations such as "Watch2Earn". However, what people choose to focus upon will have to be rewarded. All media entities are vying for attention. In the Metaverse, that means rewarding people for their time.
We will see this spread throughout most industries. Everything will be tied to a marketplace since tokenization means the value of anything can be traded. The very nature of interaction is going to change completely. Whether it is people engaging with each other, businesses, or even computers among themselves, we are going to see a new economic system arise.
For now, we are only just realizing how big some of this truly is. Since gaming is likely to lead the way, it is helpful to watch all aspects of this industry.
It is also bigger than most originally thought.
Charts and quote taken from this article.
---
Other Metaverse Articles you might enjoy:
---
If you found this article informative, please give an upvote and rehive.

gif by @doze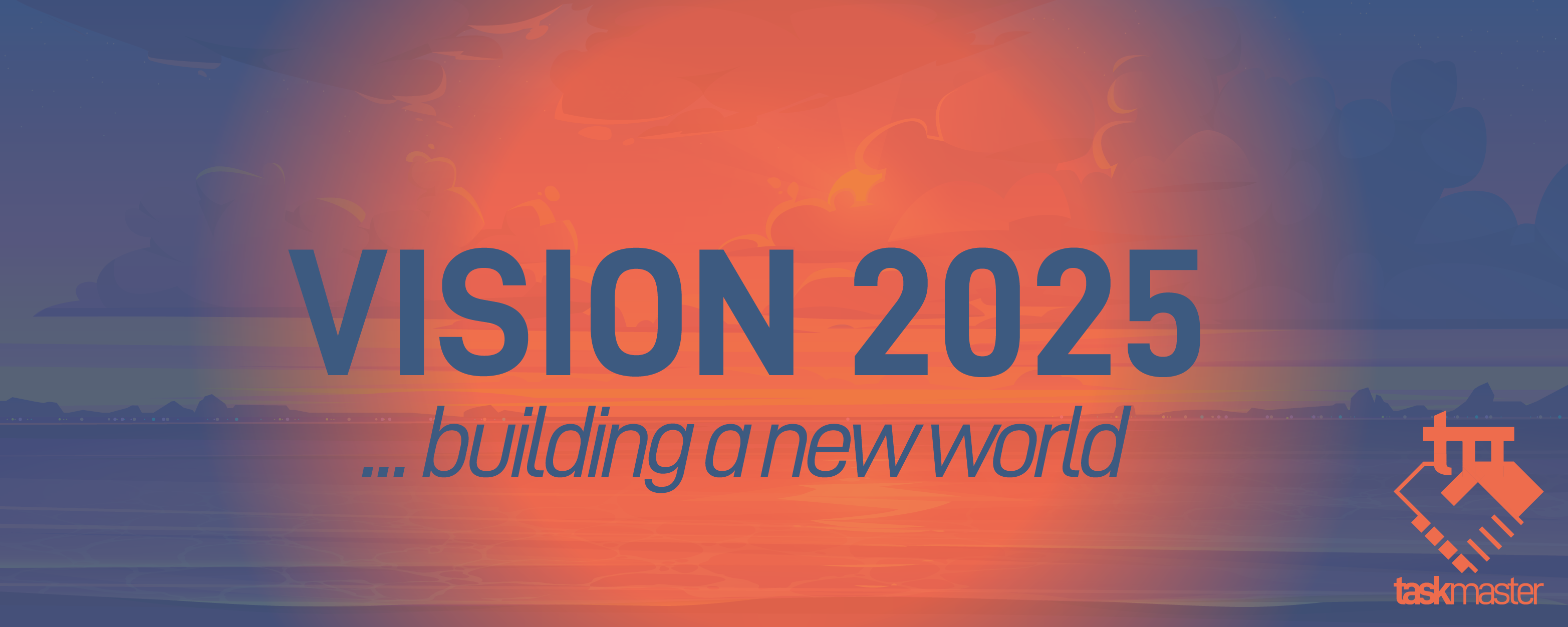 logo by @st8z
Posted Using LeoFinance Beta
---
---