DHEDGE Upvotes and Upvote Queue
Have some DHEDGE? Like to post? One day your post gets a nice juicy upvote but the next one gets next to nothing?


Just take a look at the upvote queue at app.dhedge.cc/queue and see who is waiting for an upvote, and how much DHEDGE is already in the voting round. There's a link for each post in the round in case you see some content you think you may like too.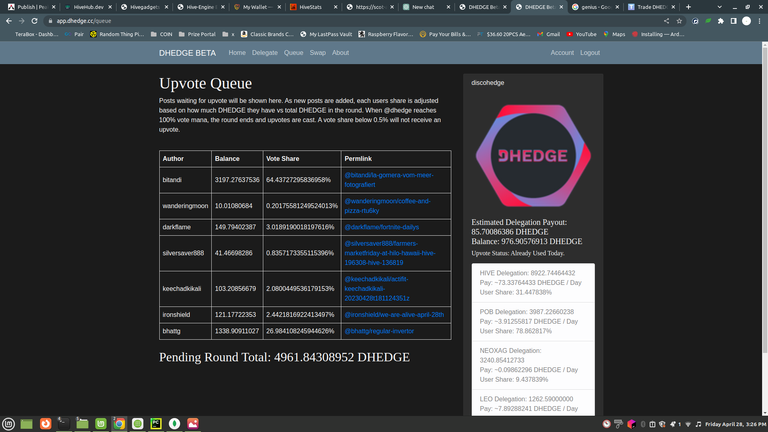 To see round results, you will still have to go to @discohedge's most recent blog post update, and go to the comments section for round details, at least for now.


There's other stuff in there too, but I wouldn't pay too much attention to that for a couple days... Payouts for H-E delegation pools are NOT turned on yet, however HIVE delegations are fully functional. You can delegate in early to H-E pools if you wish, missed days will be made up for during testing of payout code.




To Do:
Setup payouts for H-E delegation pools.
Setup swap section, first with rates, then add swapping via app.
Setup account section with pending drip info.
Setup voting, first for bonus weight (incoming swaps are split between Hive pool, H-E pools, Drips, and @null), then for other settings.
Add second voting tier for for users under the threshold for receiving an upvote from the main account.
Setup 30 and 60 day HIVE delegation leasing (outgoing) taking DHEDGE (only) as payment.
---
---