Weddings and Happy Ever Afters | How I Did my Sister In Law's Bridal Makeup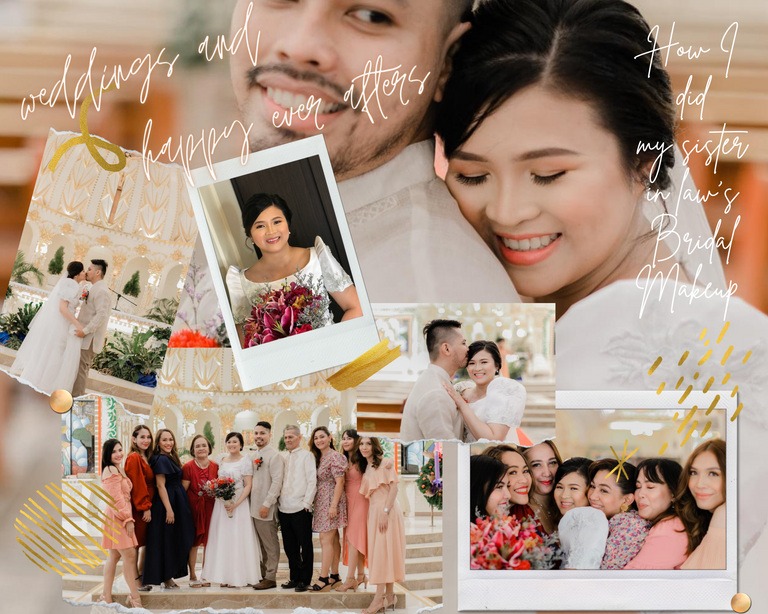 ---
Weddings, a meaningful beginnings for most couples. As a trans woman, I've always known that marriage would be blurry for me for countless of reasons, but it never made me stray away from appreciating its essence. Whenever I would do wedding makeup, it gives me so much joy for somehow, I get to live my bridal dreams through the women I beautify.
Last December, my older brother, Kuya Joey got married and I had the immense honor of doing his bride's makeup. I was so excited to do her makeup because months prior, I barely had any clients due to the pandemic. As an artist, I really appreciate it when people give me creative freedom, when I get to do what I think is best for my client. However with brides, it's different, you're not there only as an artist, but also as a Fairy God Mother, which means that you get to make their dream wedding makeup come true. Lucky for me, Ate Tala knew exactly what she wanted.
When I first saw Ate Tala back when my brother introduced her, she always looked regal. She's simple yet sophisticated, and that's exactly the direction she wanted to go for her bridal makeup. She wanted it to look clean and not too made up. We did a makeup test days before the wedding, and I think it really is essential just so she could request if she'd like to add or change something. Below are photos I took during our Makeup Test.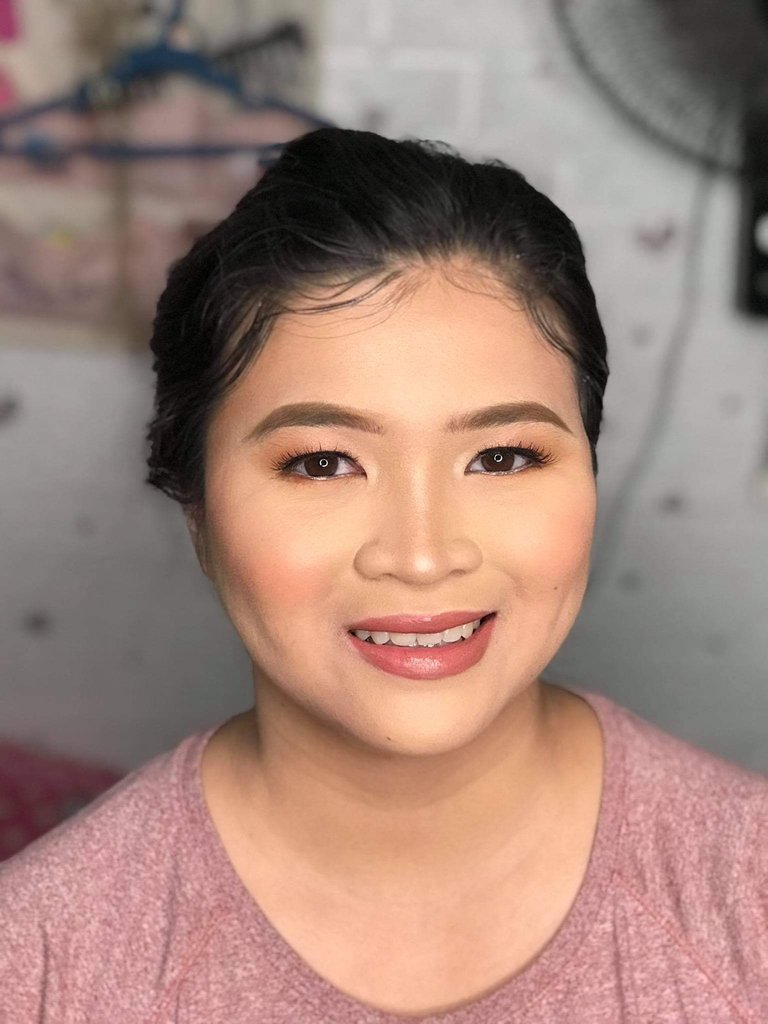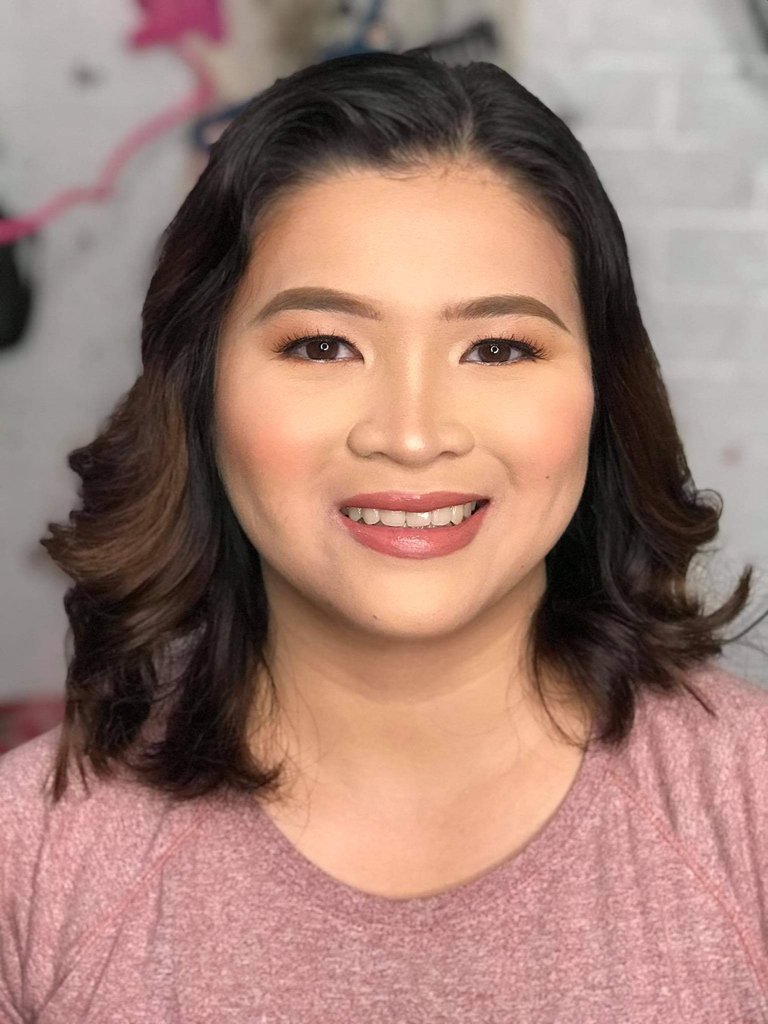 On the day of the wedding, I had to wake up really early because not only will I be doing the bride's makeup, but also my mom's and my sister's, Joyce. I woke up at around 4am and did their makeup at 5am I assume, then I had to rush to the apartment where the bride's staying at along with my hair stylist, Sweeney.
It truly was a collaborative effort between me, my hair stylist and Ate Tala. We also made sure to talk to her as we do her hair and makeup just so she would feel comfortable around us. Like what we practiced on, I really focused on keeping her makeup as simple as possible. For her base I made sure that it would match with her skin tone because I know there would be flash photography and sometimes, if you use a wrong shade of foundation, it would look off in photos.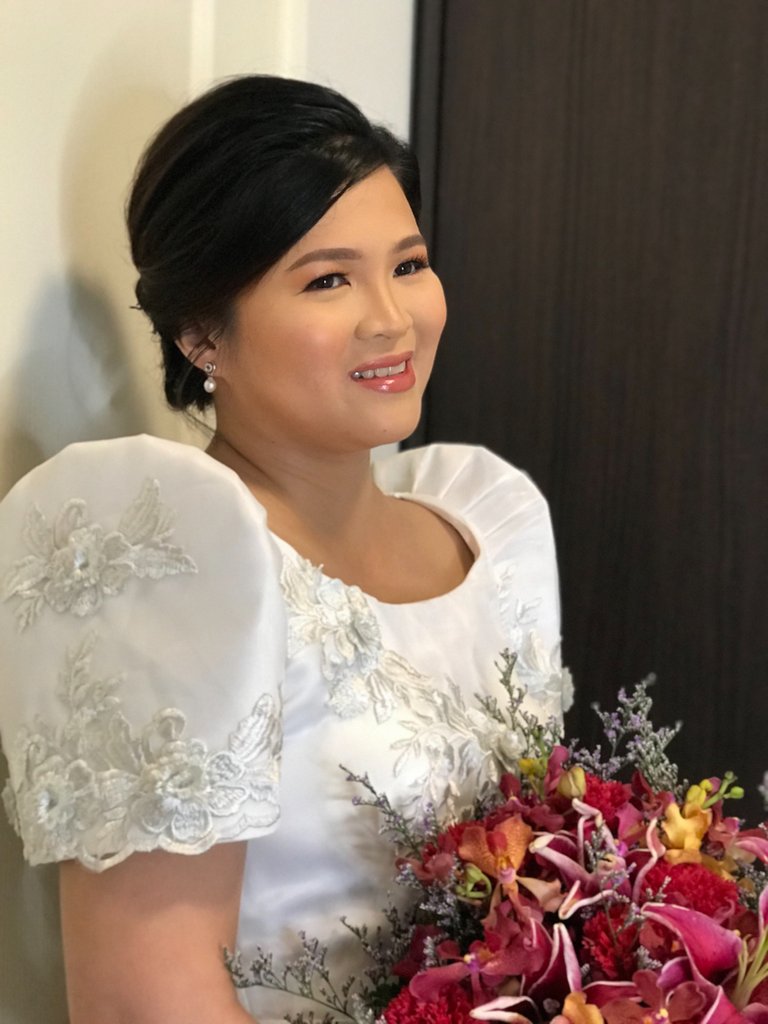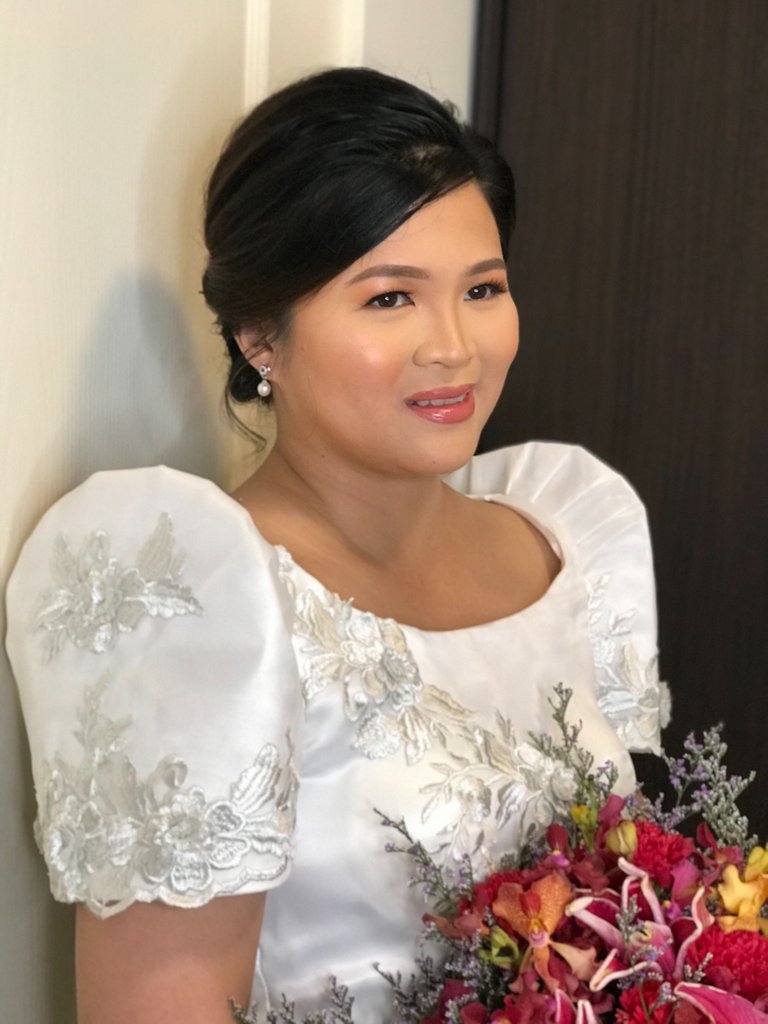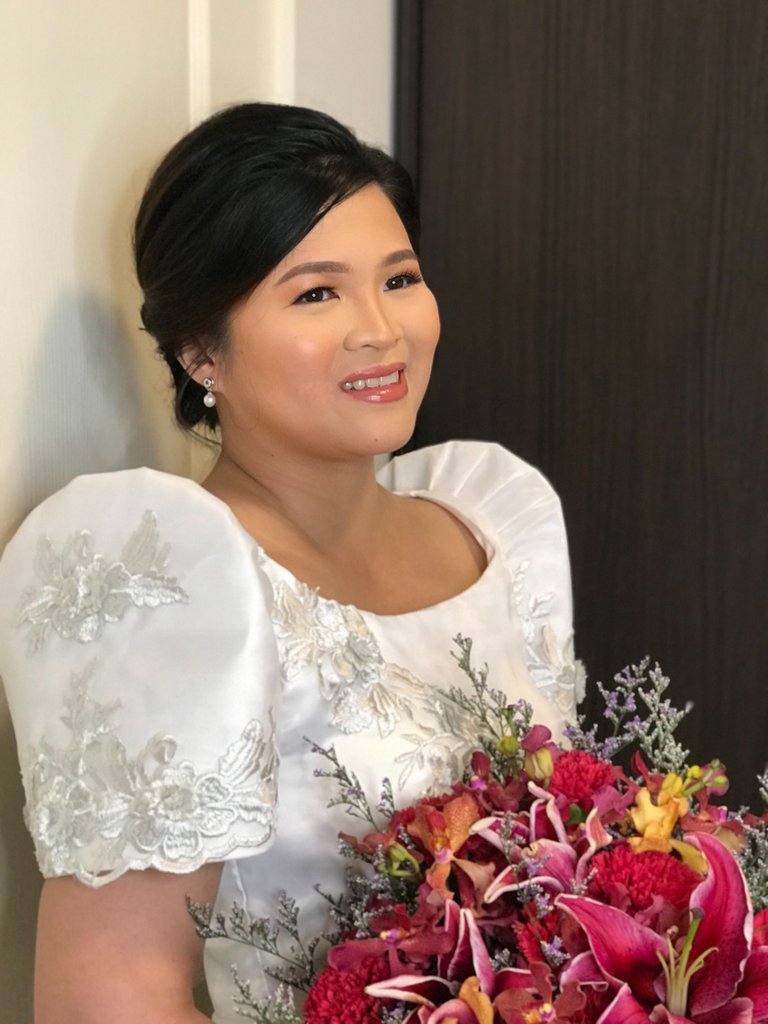 Ate Tala had such clear skin so she didn't really need a lot of layers. I also made sure her brows were clean so that it would frame her face well in photos, she had them waxed the day before so it was really smooth sailing for me. For her eyeshadow, I did it in a way wherein it had the right amount of warmth and sheen. We also chose the best pair of lashes. It was light and fluttery, which is perfect if you want to achieve a very feminine look. I barely did any contour, just on the nose and around the perimeters of her face. I added a subtle pink blush which I think is really pretty on a bride. I also went in with the right amount of highlighter which is a must for brides. It makes them look very youthful and fresh.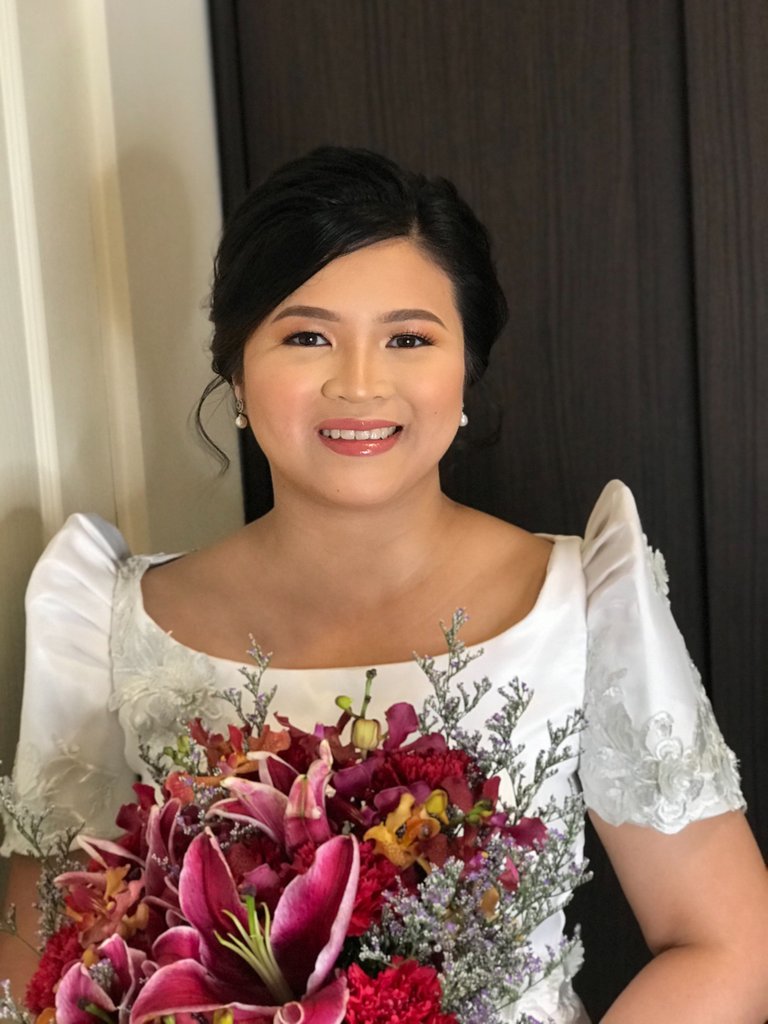 When I was doing her lip color I had doubts whether I should top it off with a gloss or not because I knew she would wear a mask on some instances. She told me she'd only wear a mask after the ceremony so I did add the gloss to complete that fresh and dewy bridal glow. Her gown was a Filipiniana so I knew she should keep her hair tied back, and my hair stylist did a pretty good job. I think it really suits the entire look well. We both were so happy that she liked her wedding makeup. She was extremely beautiful and I'm not saying that because I did her makeup but because I know how pure of a person she is.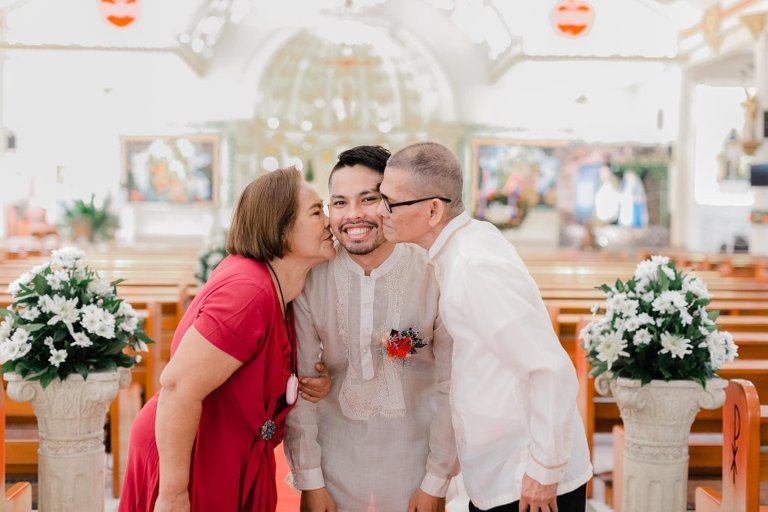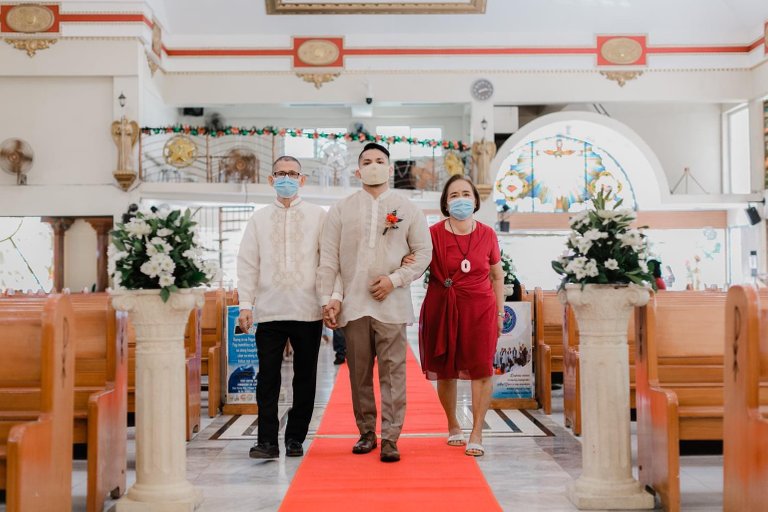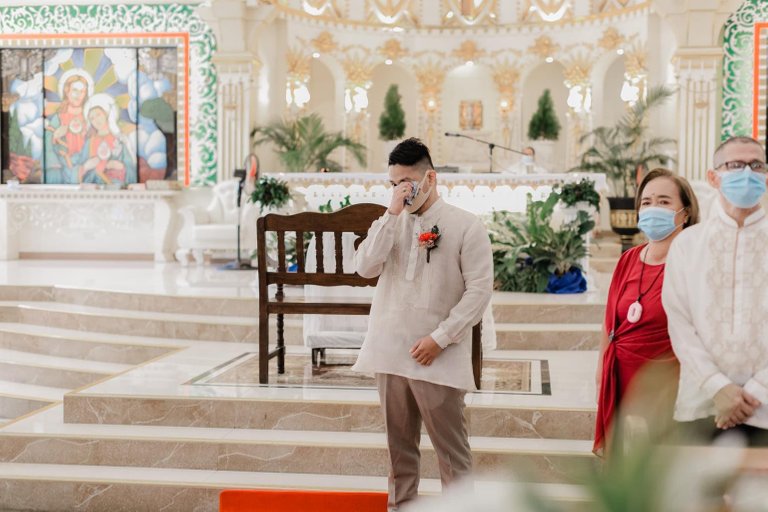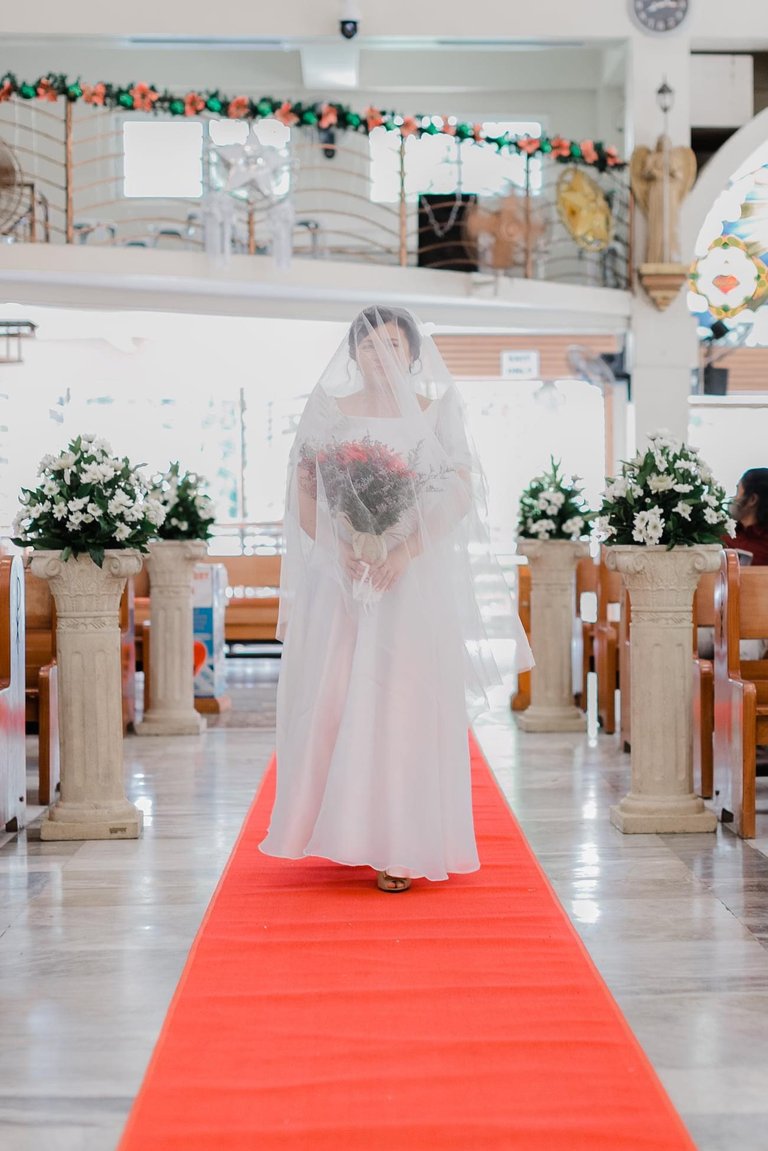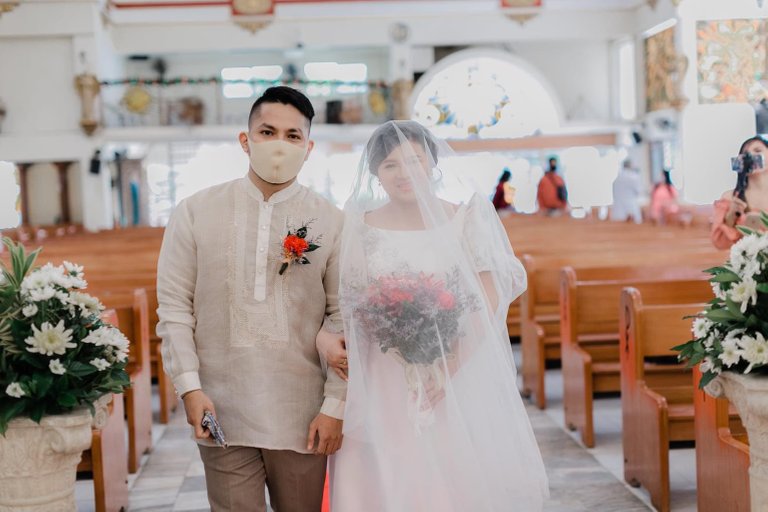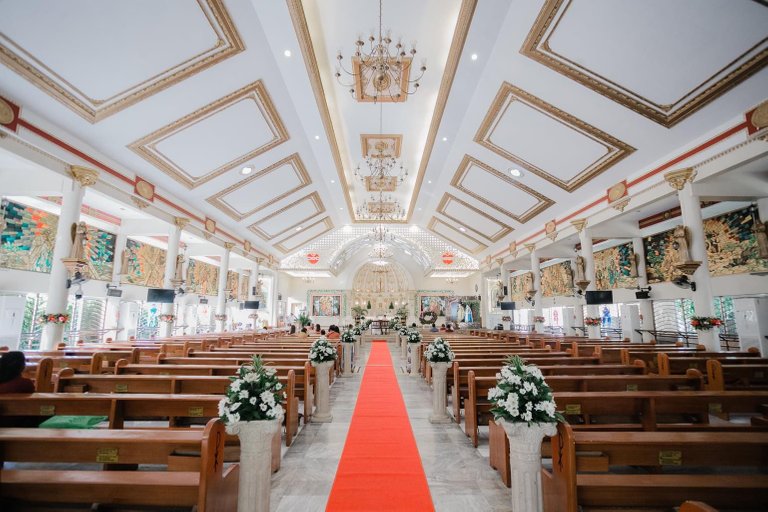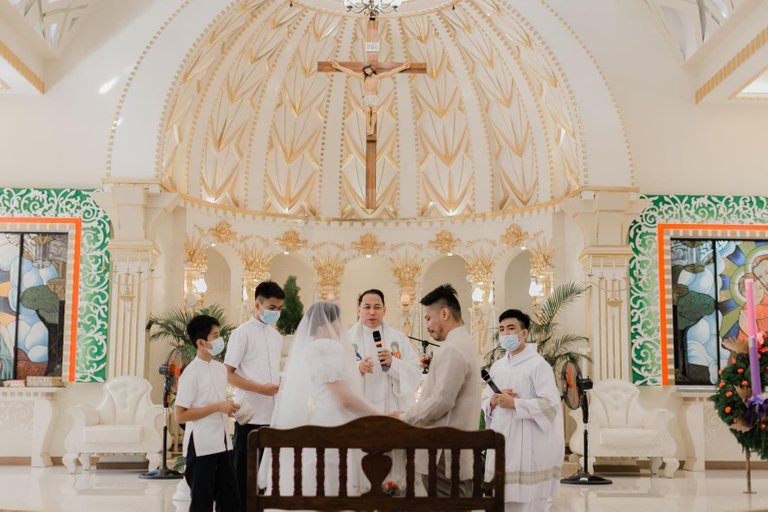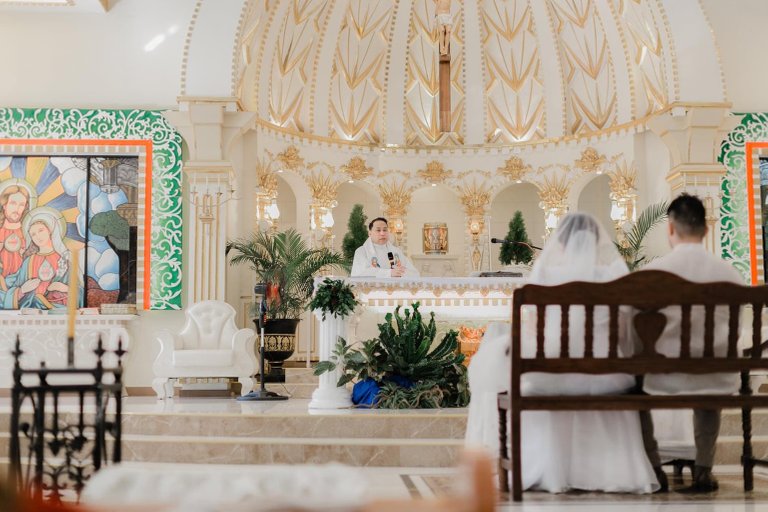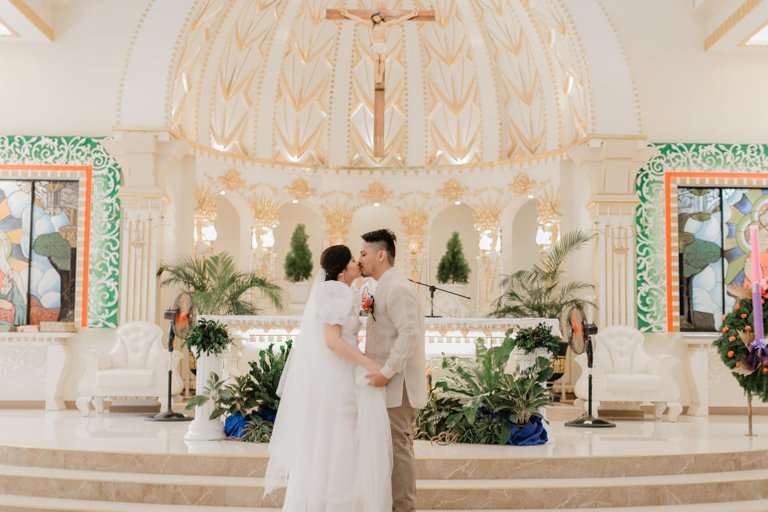 The wedding took place in Alliance of Two Hearts Parish in Banawa, Cebu City. It is an intimate wedding so the only guests were the couple's immediate family and some of their closest friends. After the ceremony, the reception was held just across the church, KKD Restaurant . We all had a good time.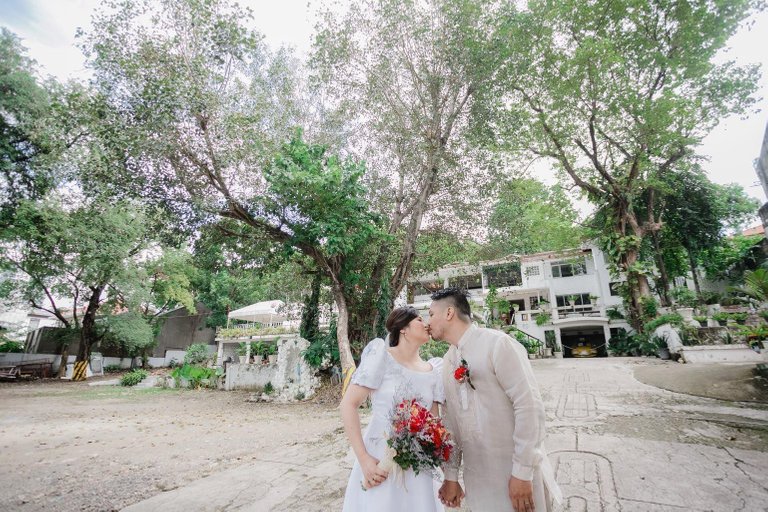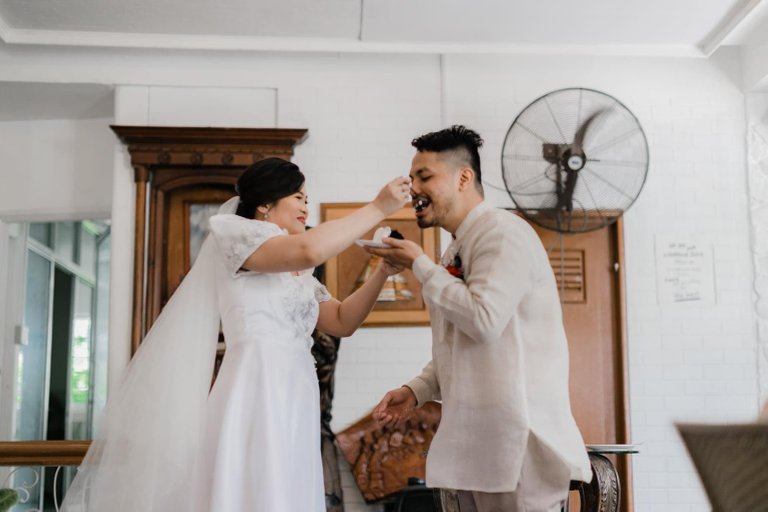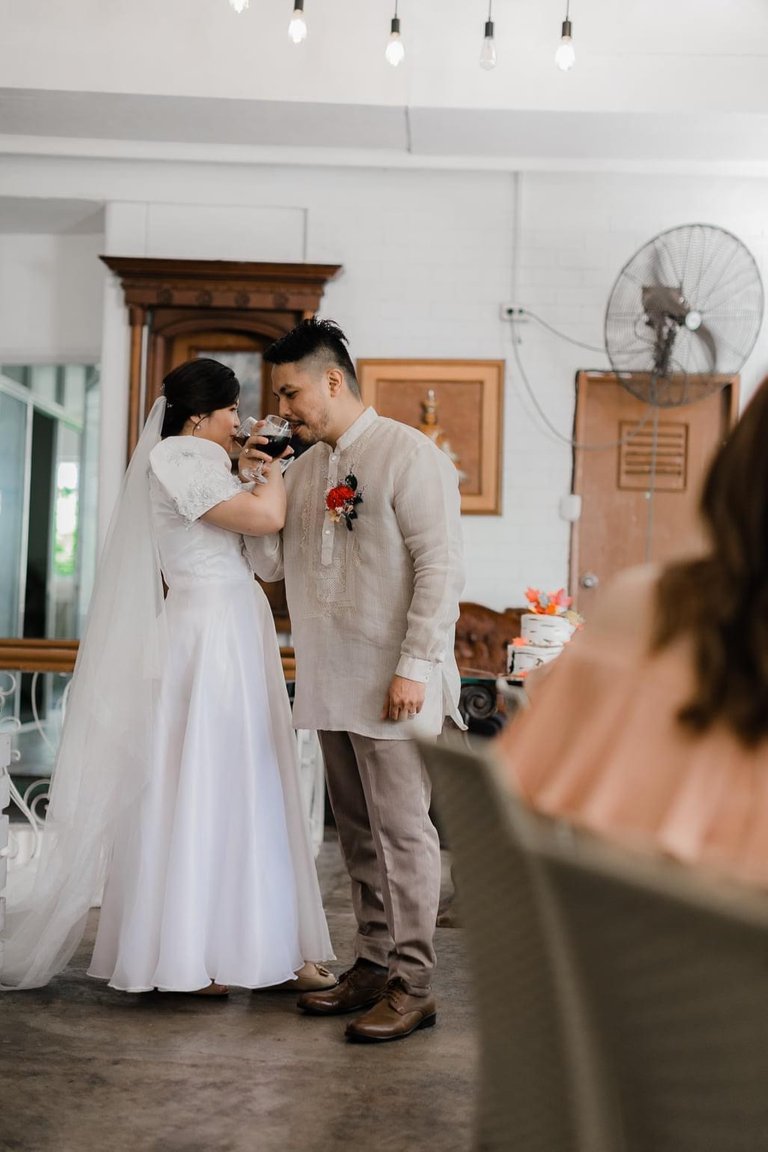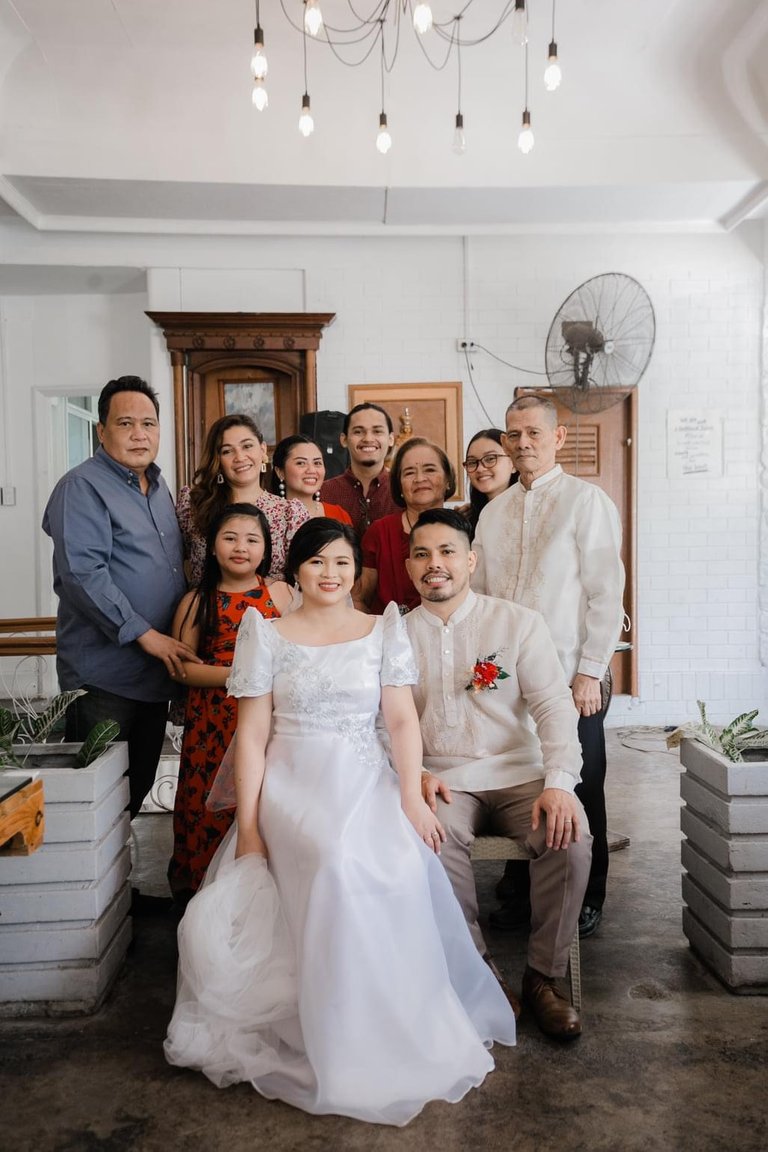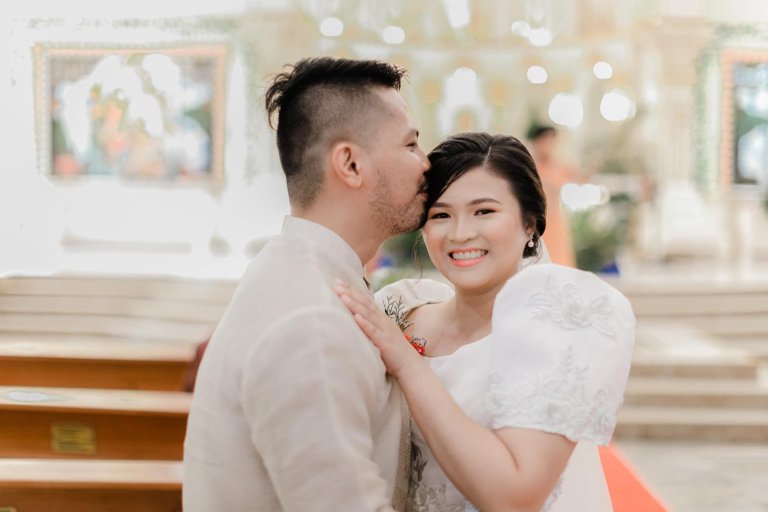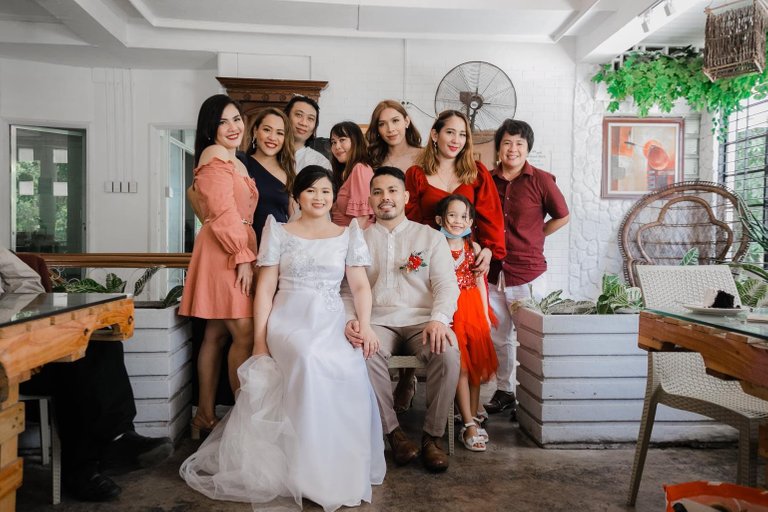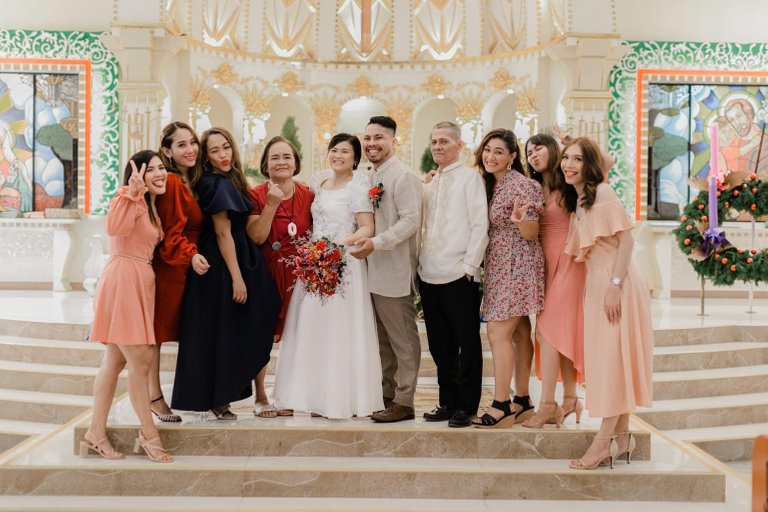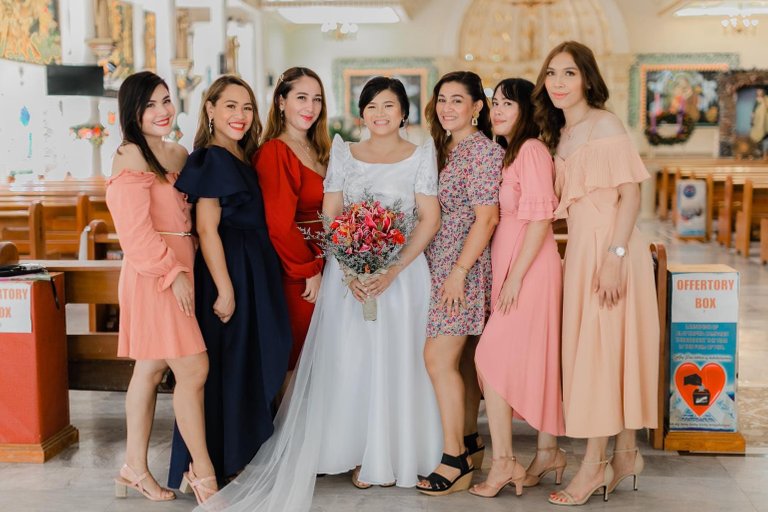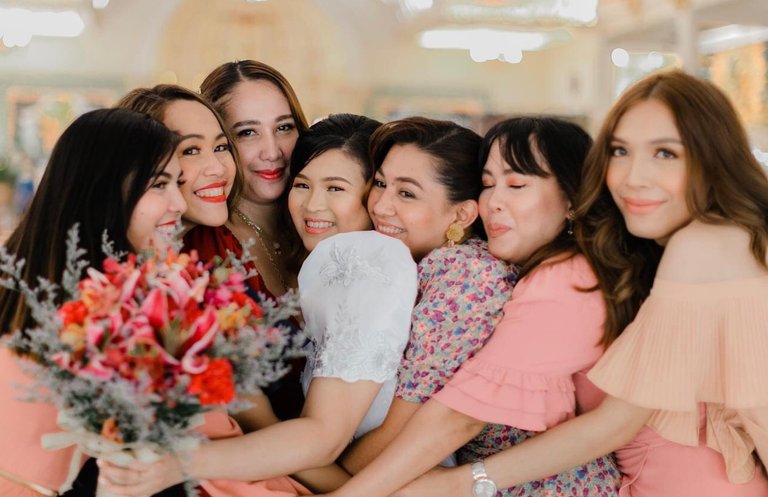 Our family was complete and we were all very happy and proud of our brother and just like any other wedding, our main request was for them to give us a new niece or nephew lol.
Weddings truly are magical. It binds not only the newlyweds but also both families together. It creates this eternal bond that won't be broken easily for God is in the center of it.
Thank you for reading today's blog, stay in love! 🤍
---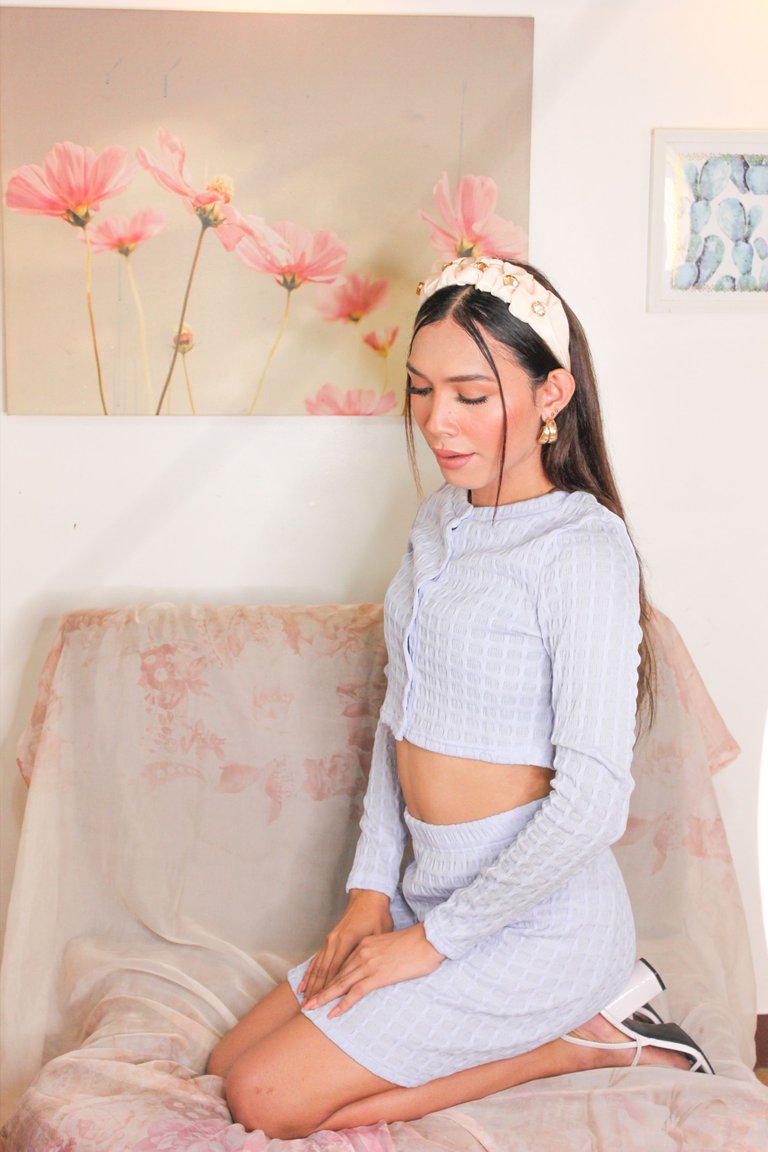 Sway
Hi guys, welcome to my channel, this is Sway! Oh I mean my corner here in Hive.🤗
Follow me to not miss any of my posts, love and light 💛

---
---