(ESP/ENG) Mi participación en el concurso de la comunidad Ladies of Hive #54 / My participation in the Ladies of Hive community contest # 54
¡Hola a todas! Esta semana me animo a participar con las dos preguntas, gracias a la invitación de @maisugar.
Hello everybody! This week I encourage you to participate with the two questions, thanks to the invitation of @maisugar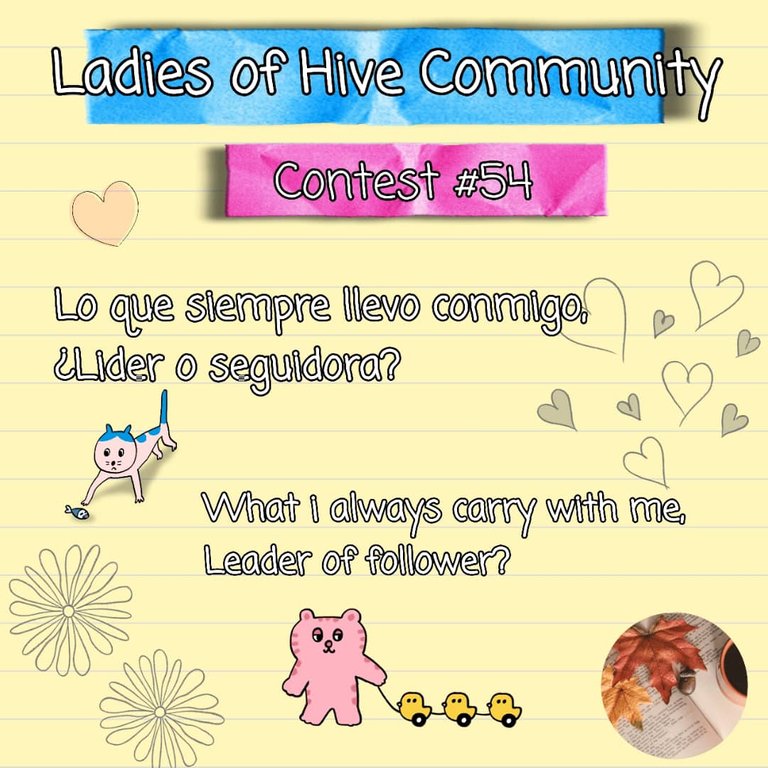 1️) ¿Qué es lo más importante que SIEMPRE llevas contigo y por qué? / What is the most important thing that you ALWAYS carry with you and why?
Aparte de mi tarjeta de débito y las llaves de mi casa, hay dos cosas que siempre cargo en mi bolso: Primero las Listas de compras. Suelo tener una memoria un tanto... descuidada je je muchas veces me pasó que iba de compras y olvidaba comprar muchos artículos, así que opté por elaborar listas, eso solucionó el problema por completo, ya que si olvido comprar algo, es porque no lo anoté en la lista. Como no cuento con una nevera, tengo que comprar prácticamente a diario, así que elaboro una lista con lo que necesito adquirir ese día, a esa lista la llamo Lista diaria, porque se trata de un par de cosas, por lo general alimentos. En cambio, tengo otra a la que llamo Lista semanal, que es una lista que suelo ir elaborando a lo largo de la semana, con las cosas que noto, ya ha llegado el tiempo de comprar, como el jabón, el shampoo y hasta el alimento o arena de mi gato, son artículos que no se adquieren todos los días, por lo que pueden esperar a ser comprados. Así que, el día en que cobro, suelo llevar esa lista semanal y adquirir todo lo que he anotado allí. De verdad, es un método que me ha ahorrado muchas molestias, sólo es cuestión de anotar en el momento cuando nos damos cuenta de que algo ya se ha acabado.
Apart from my debit card and my house keys, there are two things that I always carry in my purse: First the Shopping lists. I usually have a somewhat ... sloppy memory hehe many times it happened to me that I went shopping and forgot to buy a lot of items, so I opted to make lists, that solved the problem completely, since if I forget to buy something, it is because I did not write it down on the list. Since I don't have a refrigerator, I have to buy practically every day, so I make a list with what I need to buy that day, I call that list Daily List, because it involves a couple of things, so general food. On the other hand, I have another one that I call Weekly List, which is a list that I usually make throughout the week, with the things that I notice, the time has come to buy, such as soap, shampoo and even my cat's food or litter are items that are not purchased every day, so they can wait to be bought. So, the day I get paid, I usually take that weekly list and buy everything that I have written down there. In truth, it is a method that has saved me a lot of hassle, it is only a matter of writing down at the moment when we realize that something has already finished.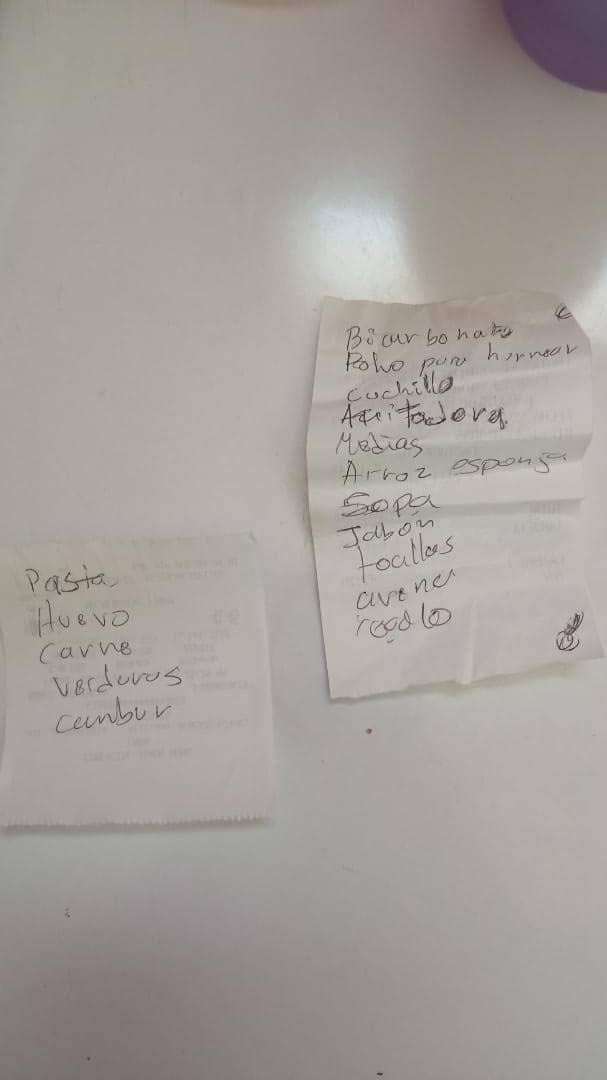 (Ejemplos: a la izquierda una lista diaria y a la derecha, una lista semanal / Examples: on the left a daily list and on the right a weekly list)
Para elaborar las listas, suelo utilizar las cientos de facturas que me dan cada vez que realizo una compra. No sólo he organizado un poco mis compras, sino que le doy utilizad a esos papeles, en vez de simplemente botarlos a la basura (porque a los días pierden su color y todo se borra), aunque, como son muchas, a veces también elaboro pelotas de papel para mi gato, las adora más que a las pelotas de goma ja ja pero ese es otro tema. Me gusta mucho reutilizar algo que aparentemente ya no tiene uso.
To compile the lists, I usually use the hundreds of invoices they give me every time I make a purchase. Not only have I organized my purchases a bit, but I also use those papers, instead of simply throwing them away (because after days they lose their color and everything is erased), although, as there are many, sometimes I also elaborate paper balls for my cat, he loves them more than rubber balls ha ha but that's another issue. I really like to reuse something that apparently no longer has a use.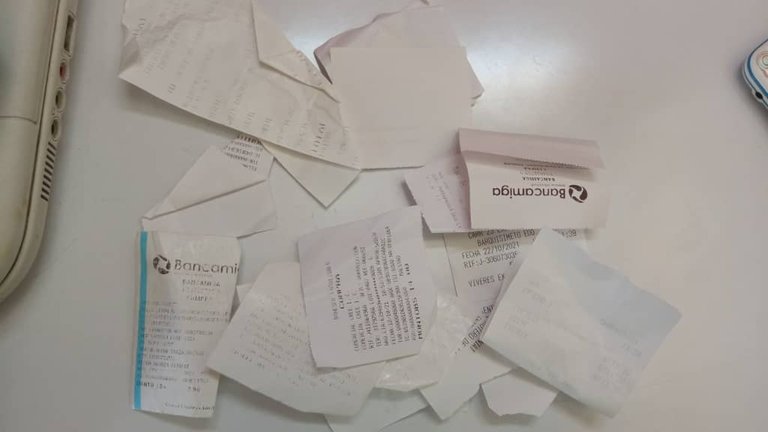 (Facturas obtenidas en cada lugar que compro y futuras listas de compras / Invoices obtained at each place I shop and future shopping lists)
La segunda cosa que siempre llevo conmigo cuando salgo, así cambie de bolso, es una bolsita con croquetas para gatos. Soy amante de los gatos, de hecho, tengo uno llamado Ikki, al cual amo y consiento mucho. Gracias a mis trabajos, puedo comprarle sus croquetas para que tenga una buena alimentación. Pero son consiente de que muchos gatos en condición de calle, no tienen esa suerte, por eso, después de toparme en varias ocasiones con gatos comiendo de la basura, se me ocurrió la idea de portar siempre un poco de alimento y así poder alimentar un poco a algún mínimo que me encuentre cuando salgo de compras, que como ya mencioné, es casi todos los días. No se me olvidará el día en que vi a un gatito cachorro comer con desespero y con mucha dificultad, un elote o maíz que había sacado de la basura, eso me rompió el alma, porque sus dientecitos no podían sacar los granos. No dejó que me acercara, en cuanto me vio, salió corriendo, metiéndose por una cerca. Como no podía pasar, saqué mi bolsita de croquetas para gatos y la vertí en la entrada de la cerca, al alejarme, pude ver de lejos como el gato cachorro salía con cautela y comía ansioso las croquetas. Sé que no es mucho, pero al menos un poco de alimento puede contribuir a darles fuerzas para seguir adelante.
The second thing that I always carry with me when I go out, even if I change bags, is a bag with cat croquettes. I am a cat lover, in fact, I have one called Ikki, which I love and consent a lot. Thanks to my jobs, I can buy her croquettes so she can have a good diet. But they are aware that many cats in the street are not that lucky, so after running into several times with cats eating from the garbage, I came up with the idea of ​​always carrying a little food and thus being able to feed a little to some minimum that I find when I go shopping, which as I mentioned, is almost every day. I will not forget the day when I saw a kitten, desperately and with great difficulty, eat a corn or corn that he had taken out of the garbage, that broke my soul, because his little teeth could not remove the grains. He didn't let me get close, as soon as he saw me, he ran off, sneaking through a fence. As I could not pass, I took out my bag of kibble for cats and poured it at the entrance of the fence, when I walked away, I could see from afar how the puppy cat came out cautiously and eagerly ate the kibbles. I know it's not much, but at least a little food can help give you the strength to keep going.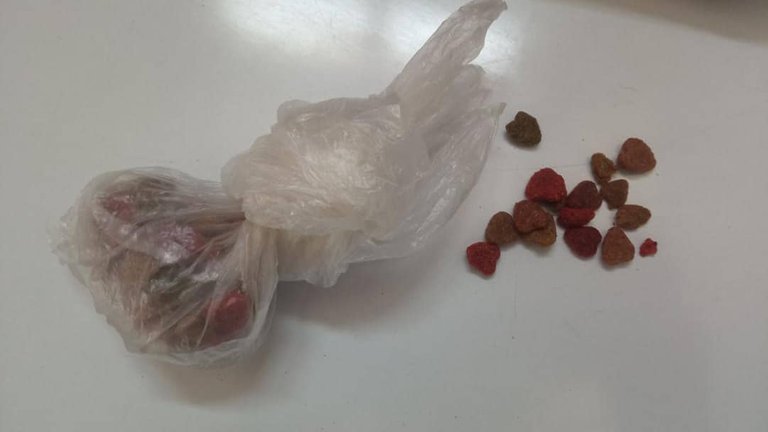 (Cuando vacío la bolsa, la lleno para la próxima salida / When I empty the bag, I fill it for the next outing)

2️) ¿Eres una persona líder o un seguidor, y por qué crees que es así? / Are you a leader or a follower, and why do you think that is so?
Antes me consideraba una seguidora, me gustaba seguir las normas a cabalidad y realizar todo lo que me pidieras. Pero luego pasé por muchos eventos y mi mentalidad cambió, creo que más que nada porque me tuve que hacer cargo de muchas cosas y aprendí a valerme por mí misma, eso y que mi sentido analítico ha mejorado con el paso de los años, así que siento que soy capaz de dar pautas a otros para que todo se elabore de una forma eficiente. Aunque bueno, como actualmente vivo únicamente con mi pareja, a él es quiñen le toca recibir mis órdenes ja ja pero hasta yo misma me ordeno ha realizar tareas que no quiero hacer y las hago al instante ja ja creo que soy una buena líder porque me gusta considerar también a los que están a mi cuidado. Todas mis órdenes tienen una buena razón y no me gusta abusar de mi poder ja ja
Before I considered myself a follower, I liked to follow the rules fully and do everything you asked me to do. But then I went through many events and my mentality changed, I think more than anything because I had to take care of many things and I learned to fend for myself, that and that my analytical sense has improved over the years, so I feel that I am capable of giving guidelines to others so that everything is prepared in an efficient way. Although well, as I currently only live with my partner, he is the one who has to receive my orders ha ha but even I order myself to perform tasks that I do not want to do and I do them instantly ha ha I think I am a good leader because I I also like to consider those who are in my care. All my orders have a good reason and I don't like to abuse my power ha ha
Muchas gracias por haber leído mi publicación. Espero que les haya parecido interesante. Me gustaría invitar a participar a @yilibeth
¡Hasta una próxima oportunidad!
Thank you very much for reading my post. I hope you found it interesting. I would like to invite @yilibeth to participate
Until next time!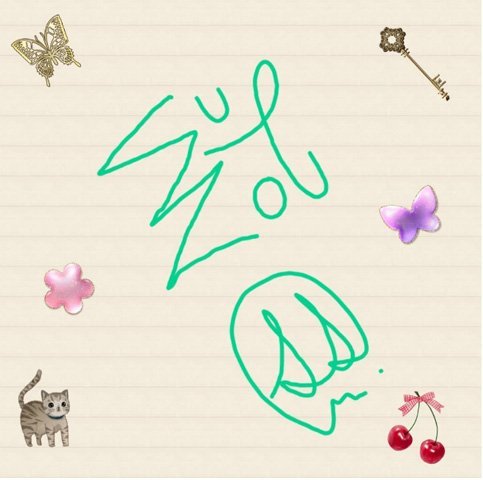 ---
---