My Hive Goals 2022 | Alive & Thriving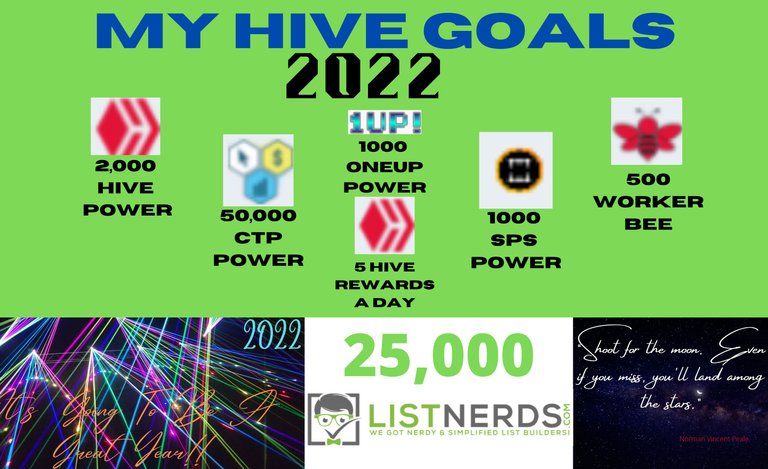 Made in Canva
Working harder is not an option here, it's a must. While I have recovered from my monkey wrenches that life has decided to throw my way over the last few weeks, I'm still working to get back on track with just my regular posts & other activities that has helped me grow to this point. I had recently added several other posts & a few other activities to my weekly tasks and some of them kinda fell off as I try to get back to my routine. In addition to all this other stuff, I took on babysitting one of my great grandson's to help his mother out and make a few extra $$ to help me along the way. My plan is to save enough to get a new laptop so I can accomplish more at a quicker rate as this computer is now 5 yrs old & out of date. Just updating it is out of the question, I done all I can do with this one. Anyways, Everything is down as a reflection of past burdens that slowed me down even more than my computer.
Let's take a look at this week .......
2000 Hive Power
All I can say here is it's down, but should start getting back to normal next week. The charts will show that even with what little I managed to do in the earlier part of my week still wasn't enough to even make the charts, it looks like I did nothing at all.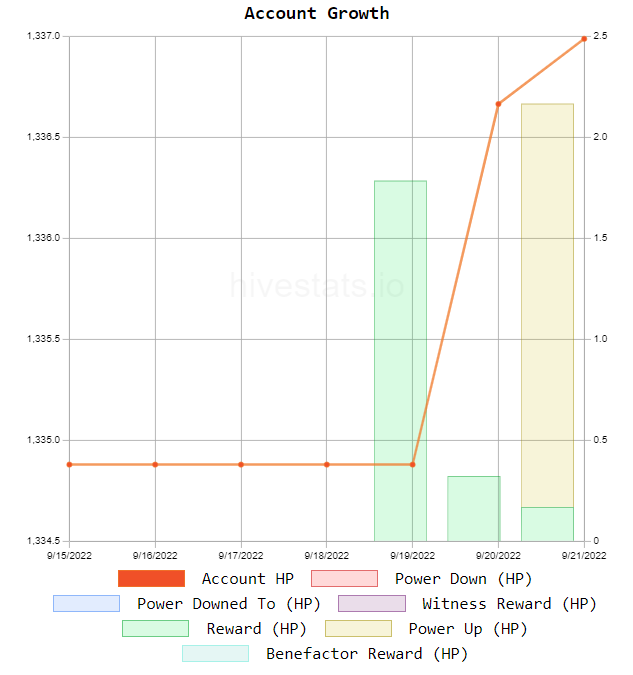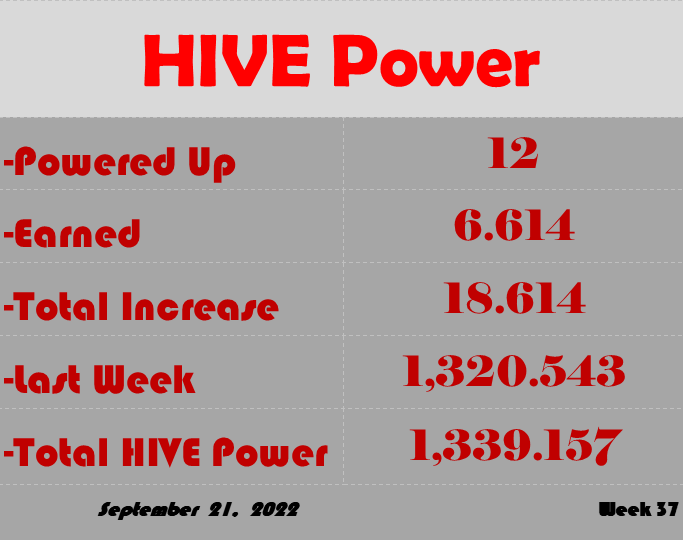 5 Hive Rewards A Day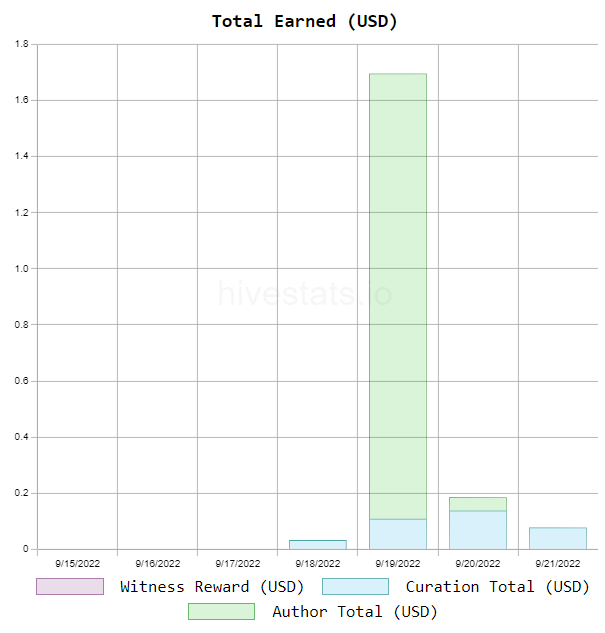 50,000 CTP Power
I was able to hit that 10,000 mark on HE which means that when I tip you with CTP, your tip will be a little more. Also, although I still yet to reach the 25,000 on HE that I would like, I can set my focus on getting to 25,000 staked in ListNerds by splitting my weekly earnings & purchases betwen the two.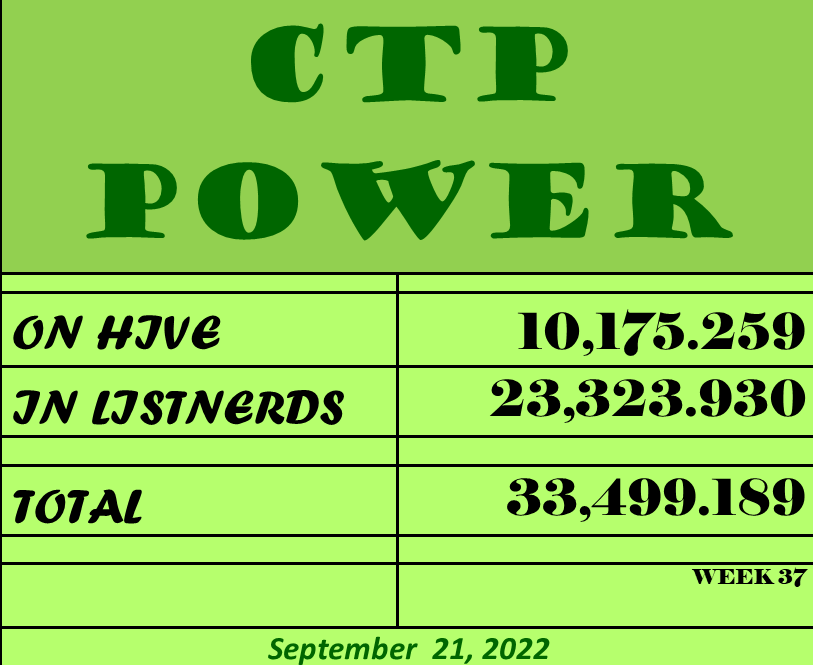 1000 OneUp
Still earning a little each week.

Splinterlands
I used to play the game and with the airdrop going on I wanted to accumulate as much as possible. Now that I don't play anymore, I still want to acummulate but I've reached my goals in both tokens so now it's just gravy. Who knows what use will come about for me with them. I still get a little of each everyday.
1000 SPS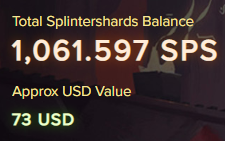 10,000 SPT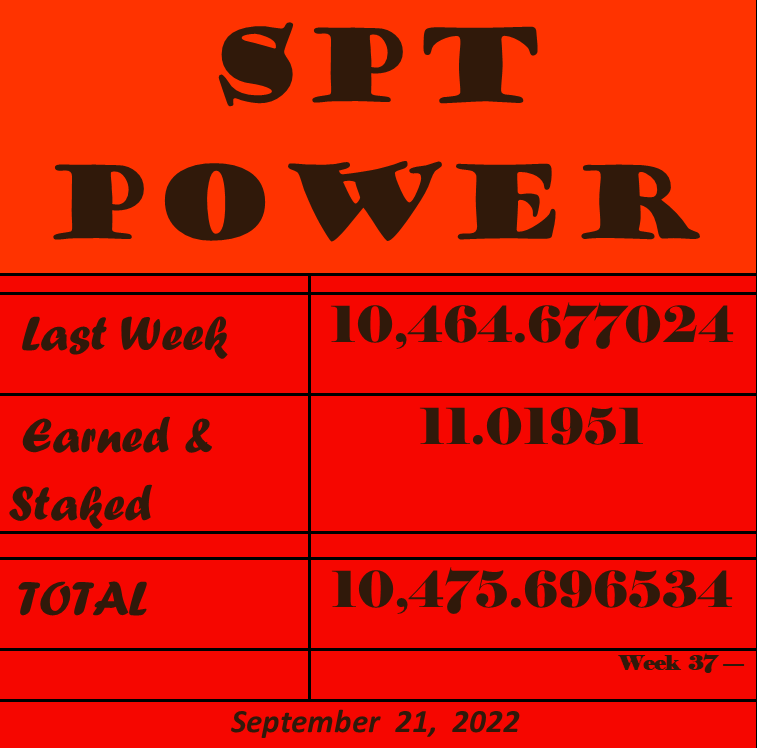 500 WORKERBEE
Since most of my other goal either have been reached or are on point, I set my concentrations on reaching this goal by years end. So I'll be buying all I can.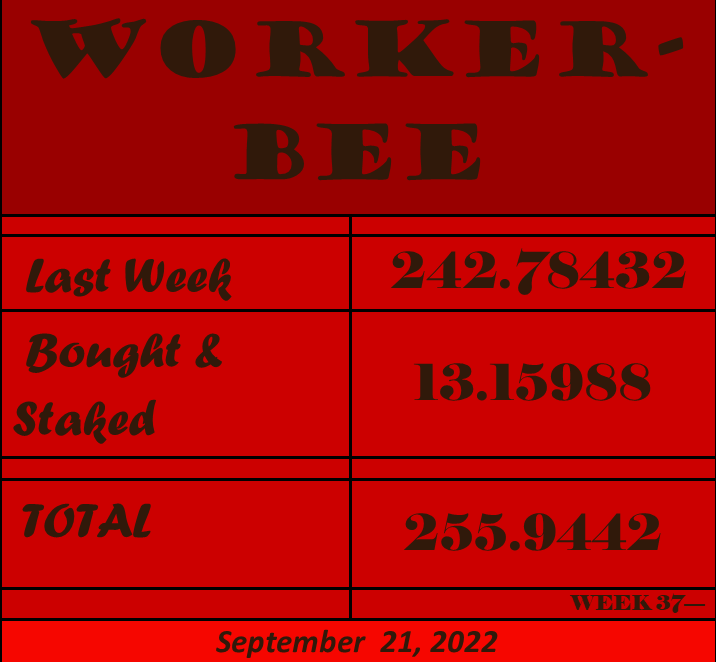 25000 Listnerds
ListNerds rright now is 'just ListNerds'. I still think it's an amazing program & love the rewards but I' don't get as excited about the numbers like I used to. No unstake this week, but plan to start doing that again on a bi-weekly basis based on a 2 week earnings split. I want to keep to liquid ListNerds coming as I never know when the opportunity will arise to sell some off for a decent price.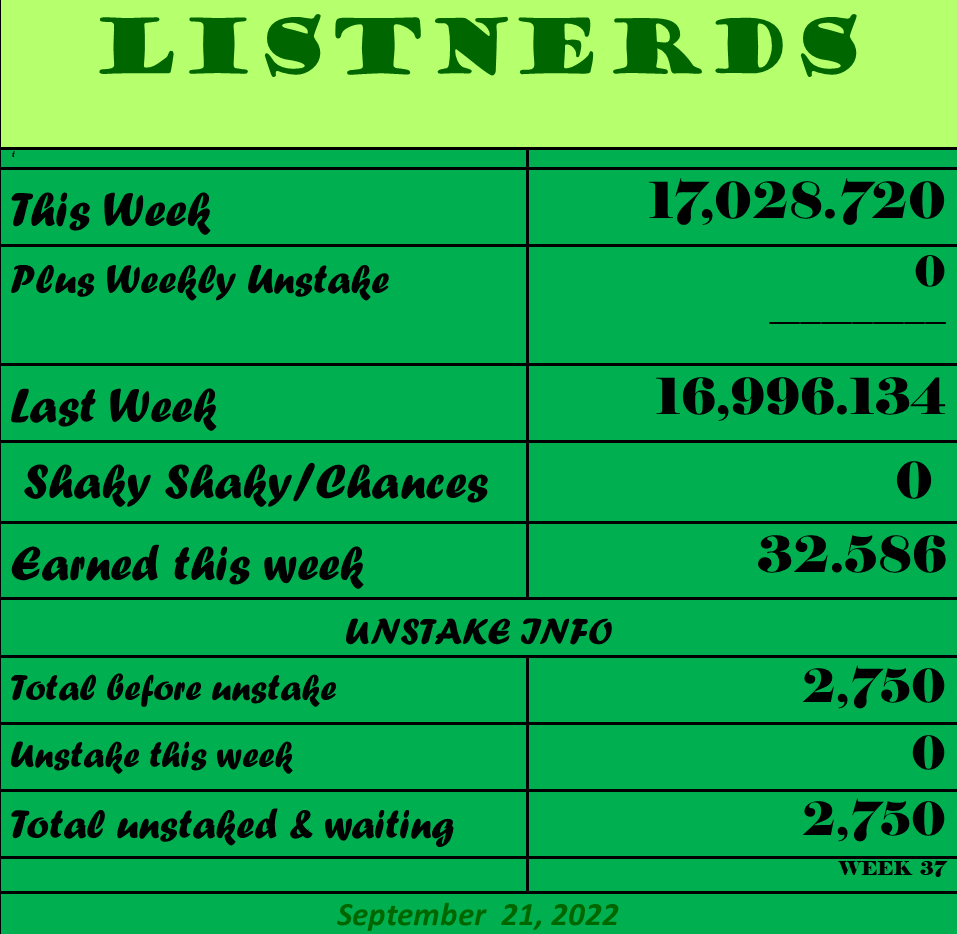 That's it for this week.....
Thanks for reading!!
See Ya next week!!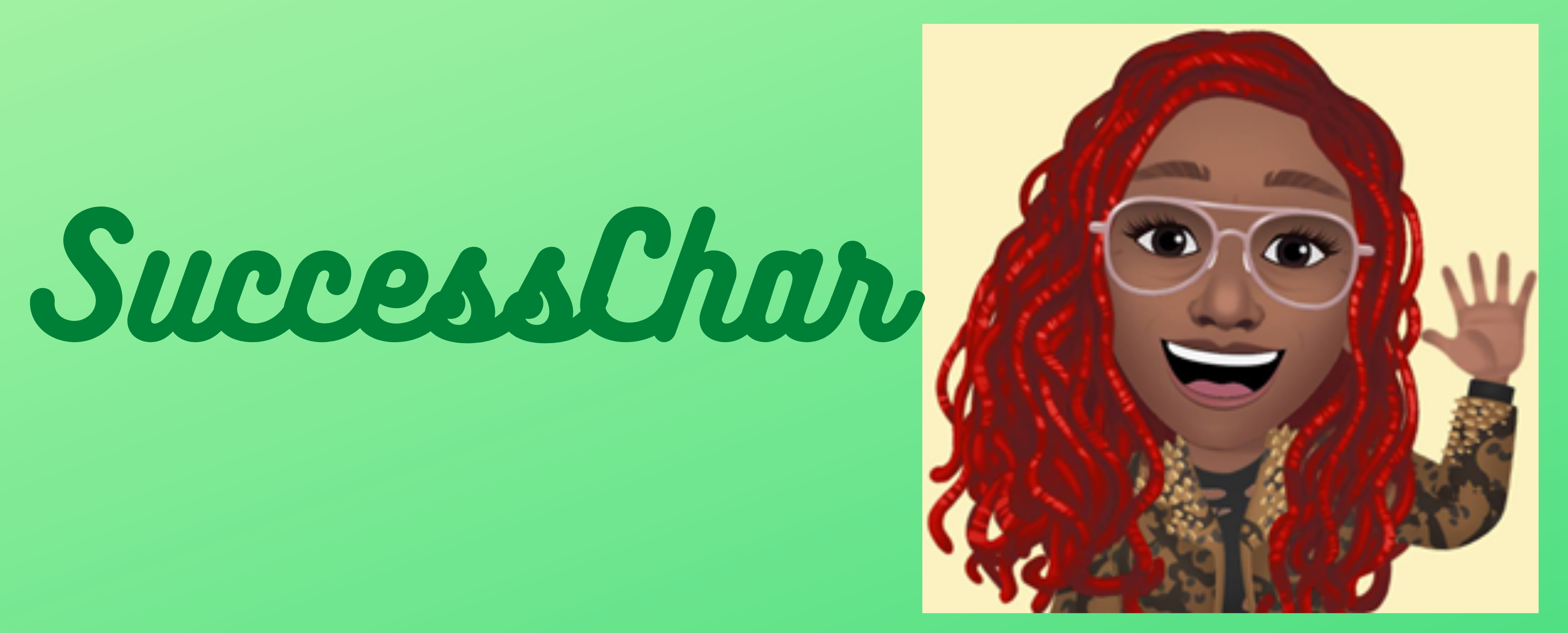 Here is a short list of some of my other works here, .......
You can always visit my profile on PeakD & check them all out.
Tokens On My Radar watch as this series as it gives you insight to many of the tokens available to all on the Hive blockchain.
The Plan shows you vital steps to take you, your brand & your business to the next level.
My Hive Goals 2022 Here you can follow along as I grow on Hive through the goals I set for myself for the Year.
Saturday Saver Club Come along as I build a savings here on hive with @susie-saver. This is like an extension of my Hive goals.
#ThriveOnHive This is a challenge that helps you build your Hive power along with helping your engagement & other tasks to get the most out of Hive.
Blogging My Way | Introduction | Explain My Blogs Name This is the introduction to my blogging challenge I've set for myself. It is based on a 5 part 30 day challenge from the 'Blogging Challenge Community' You can check my profile on PeakD for the latest edition.

If you like to earn #CTP/#listnerds tokens click the link below the picture and get started today!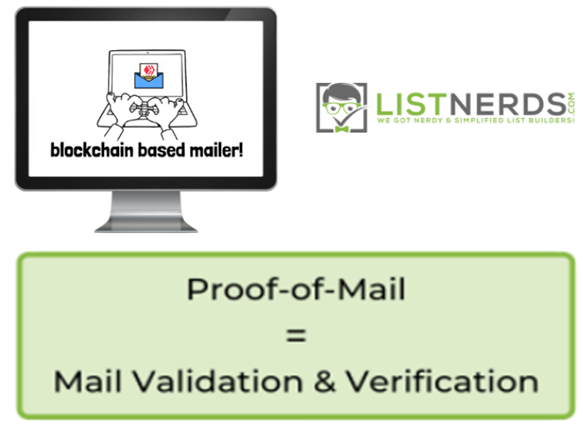 ListNerds - Click Here

---
---