Makeup Challenge #3 [SPA/ENG]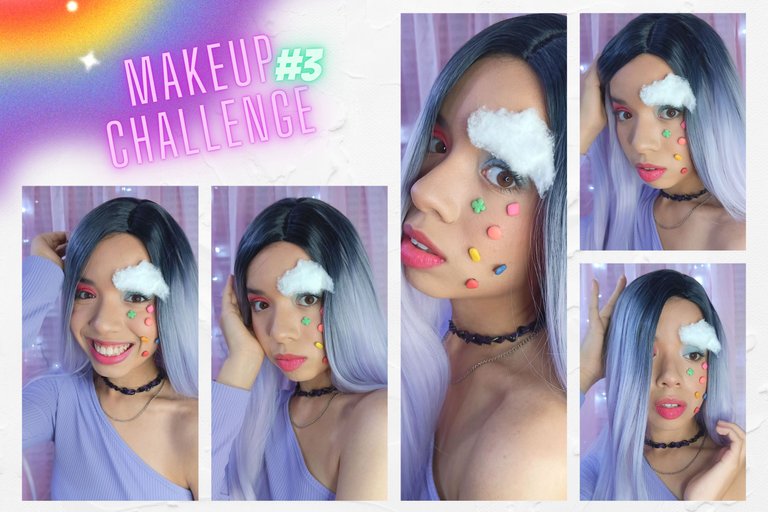 Hola, espero que estén teniendo un excelente día. Hoy quiero compartir con ustedes el último maquillaje que hice, con la intención de participar en una dinámica que nació hace un par de meses, a raíz de un curso de maquillaje en el que participé. No sé si recuerdan pero es algo de lo que les había hablado anteriormente, son una serie de retos creados con la idea de motivarnos y practicar, todo con el mismo grupo de chicas del curso de aquel día.
Hi, I hope you are having a great day. Today I want to share with you the last makeup I did, with the intention of participating in a dynamic that was born a couple of months ago, as a result of a makeup course in which I participated. I don't know if you remember but it's something I had told you about before, it's a series of challenges created with the idea of motivating and practicing, all with the same group of girls from the course that day.
En esta oportunidad decidí hacer algo un tanto diferente, con texturas, colores y dimensiones distintas. Considero que fue una composición bastante interesante, los elementos en ella fueron muy fáciles de hacer y funcionaron súper bien juntos. Admito que al inicio, no tenía idea de lo que iba a hacer pero estaba decidida a maquillarme en ese momento. Fui probando varias ideas y diría que en resumen, fue el resultado de pruebas, ensayos y errores.
This time I decided to do something a little different, with different textures, colors and dimensions. I think it was a very interesting composition, the elements in it were very easy to do and worked very well together. I admit that at the beginning, I had no idea what I was going to do but I was determined to do my makeup at that moment. I was trying out various ideas and I would say that in short, it was the result of trial, trial and error.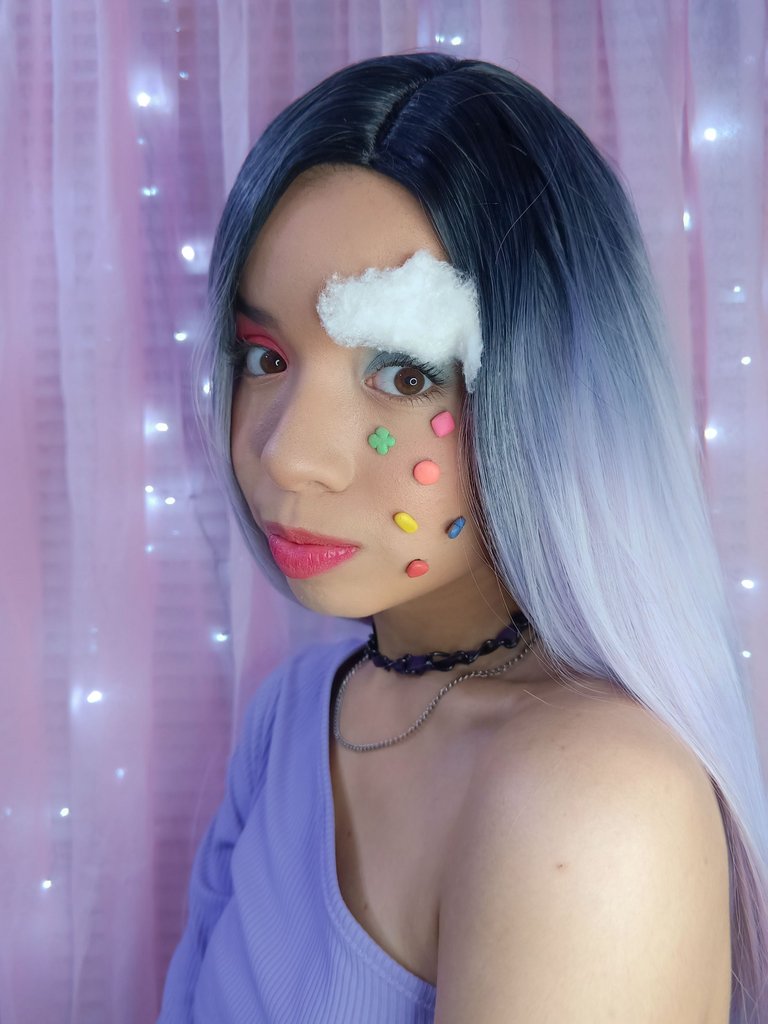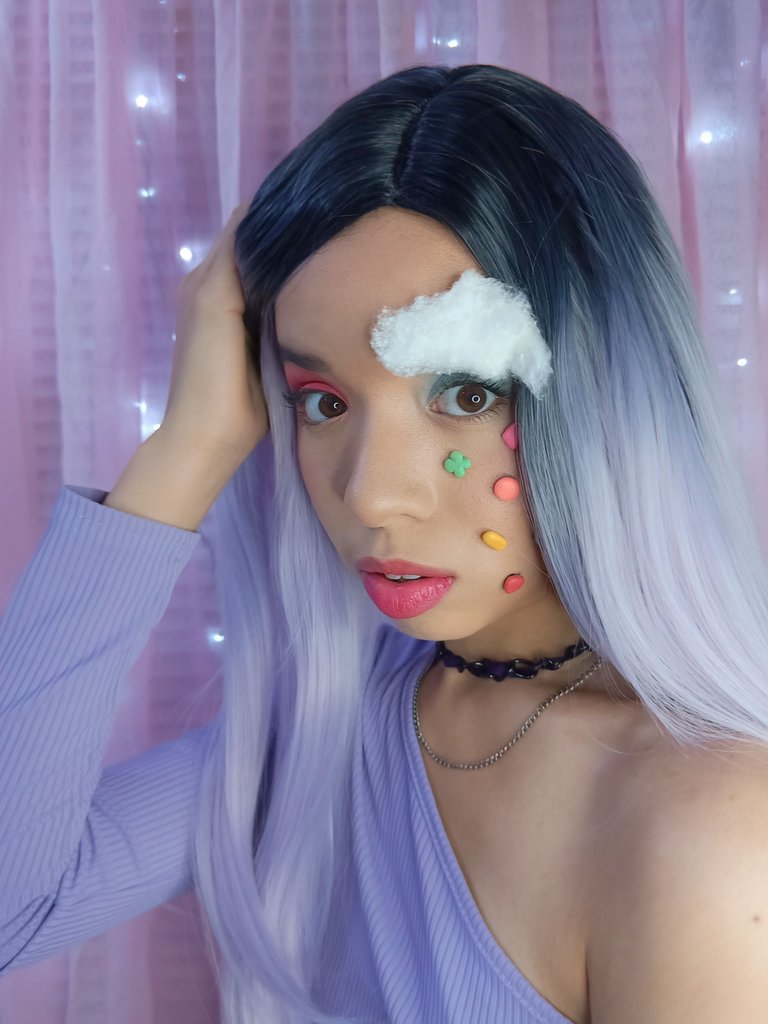 ---
No se imaginan la cantidad de veces que me desmaquillé y mentiría si digo que no sentí algo de frustración pero amé el resultado, fue muy divertido. También es cierto que me habría gustado que una cosa o dos quedarán diferentes pero eso es lo de menos y me hace sentir muy bien, el no haberme limitado por no tener algunos productos. Cómo saben, soy nueva en este mundo y no tengo muchas cosas pero estoy tratando de enfocarme en las cosas que tengo y no en las que me gustaría tener, algo que muchas veces juega en contra. Lo digo con seguridad porque sin ir muy lejos, hasta hace poco yo estaba en ese plan, enfocada en productos que quería adquirir pero que por el momento no podía y eso me desanimaba un montón, terminaba perdiendo el deseo de practicar.
You can't imagine how many times I took my makeup off and I'd be lying if I said I didn't feel some frustration but I loved the result, it was a lot of fun. It's also true that I would have liked one or two things to look different but that's the least of it and it makes me feel really good that I didn't limit myself because I didn't have some products. As you know, I'm new in this world and I don't have a lot of things but I'm trying to focus on the things I have and not on the things I would like to have, something that often works against me. I say it for sure because without going too far, until recently I was in that plan, focused on products that I wanted to acquire but at the moment I could not and that discouraged me a lot, I ended up losing the desire to practice.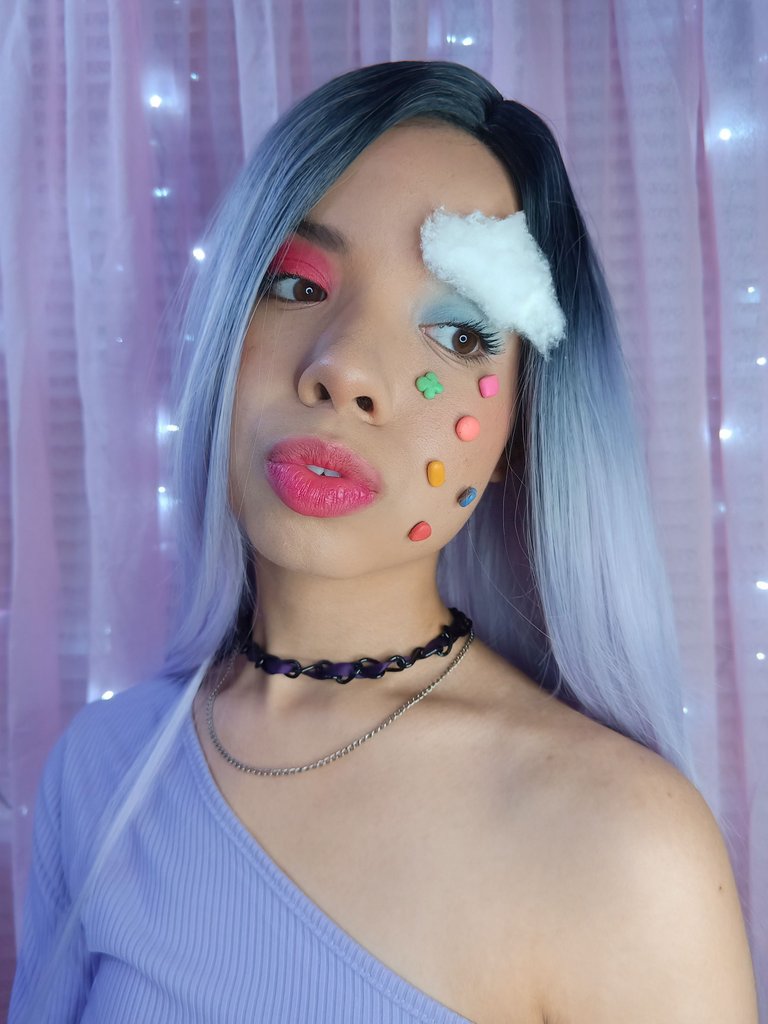 Básicamente acababa frustrada y no practicaba en absoluto pero con ánimos de dejar todo eso de lado, el día de ayer coloqué en mi mesa parte de los elementos que tengo disponibles para crear, incluso los que no tienen relación directa con el maquillaje. Solo diré que después de un par de horas, di con el resultado que pueden ver el día de hoy, el cual espero que les guste tanto como a mí. Realmente espero que disfruten el contenido del día de hoy y mantengan presente que no pasa nada por tener días en los que las cosas no salen bien, en los que no quieres hacer nada porque incluso los días más terribles terminan porque un día no es más que 24 horas. Horas que muchas veces se sienten como años, siglos, décadas... En fin, el punto es que todo pasa aunque en el momento creamos lo contrario.
Basically I ended up frustrated and did not practice at all but with the desire to leave all that aside, yesterday I placed on my table part of the elements that I have available to create, even those that are not directly related to makeup. I will just say that after a couple of hours, I came up with the result you can see today, which I hope you like it as much as I do. I really hope you enjoy today's content and keep in mind that it's okay to have days when things don't go right, when you don't want to do anything because even the most terrible days are over because a day is nothing more than 24 hours. Hours that often feel like years, centuries, decades? Anyway, the point is that everything happens even if at the time we believe otherwise.

Un vez realizada la rutina de cuidado de la piel, empecé a aplicar corrector en mis párpados y difuminé dicho producto con una Beauty Blender.
Once the skin care routine was done, I started applying concealer on my eyelids and blended it with a Beauty Blender.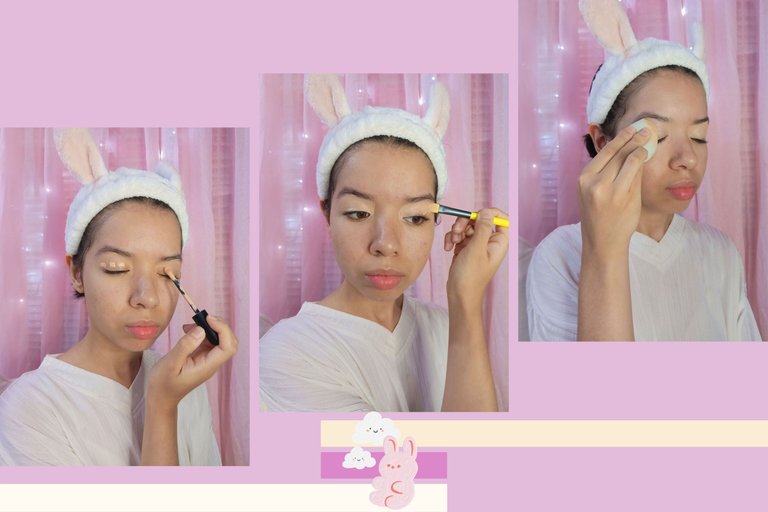 Tomé con mi dedo anular hidratante de labios color fucsia y lo apliqué en mi párpado móvil, difuminé un poco y encima coloqué sombra de ojos color rojo cereza para sellar el el hidratante.
I took fuchsia lip moisturizer with my ring finger and applied it to my mobile eyelid, blended a bit and then applied cherry red eyeshadow to seal the moisturizer.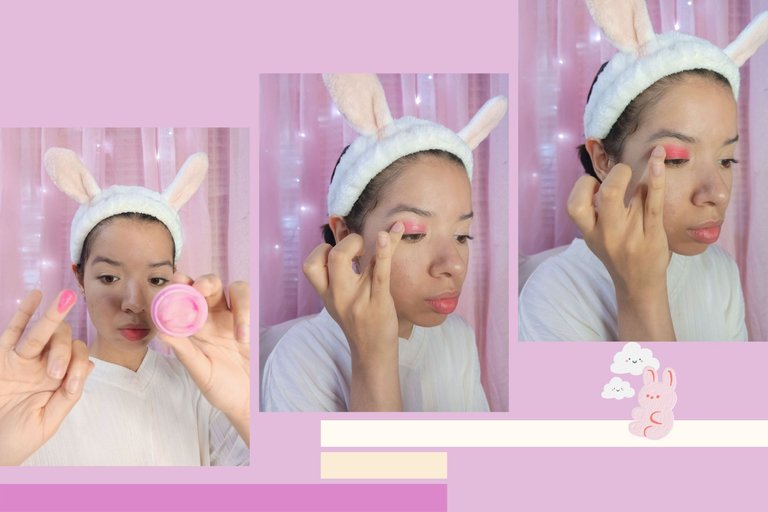 Para definir la forma, apliqué unas gotas de desmaquillante doble función en un hisopo y poco a poco fui quitando el exceso de producto. Luego con otro hisopo y agua micelar, terminé de limpiar el área.
To define the shape, I applied a few drops of dual function makeup remover on a cotton swab and gradually removed the excess product. Then with another swab and micellar water, I finished cleaning the area.
Con una brocha difuminadora apliqué un tono rosado mate, en el borde de la sombra roja que había aplicado previamente. Esto lo hice para esfumar un poco el tono cereza y a su vez lograr una transición agradable entre la sombra de ojos y mi piel.
With a blending brush I applied a matte pink eyeshadow, on the edge of the red eyeshadow I had previously applied. I did this to blend out the cherry shade a bit and in turn achieve a nice transition between the eyeshadow and my skin.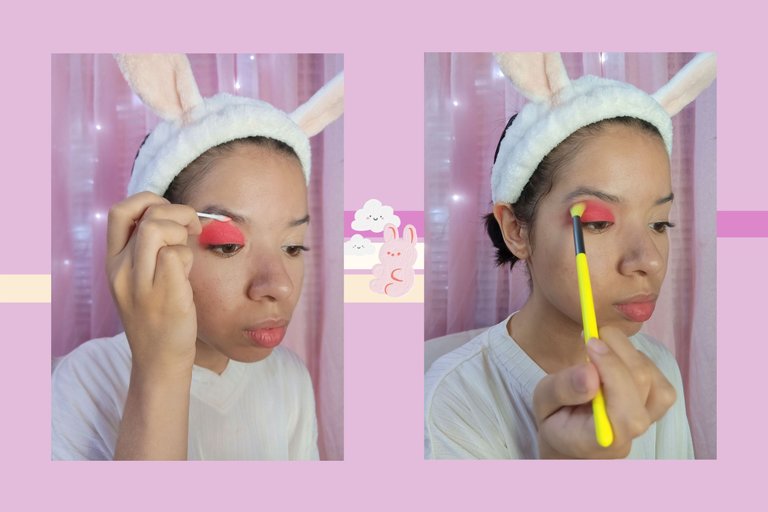 En el otro párpado, apliqué sombra de ojos azul con mi dedo índice y con una brocha difuminadora, agregué blanco y otro tono de azul.
On the other eyelid, I applied blue eyeshadow with my index finger and with a blending brush, I added white and another shade of blue.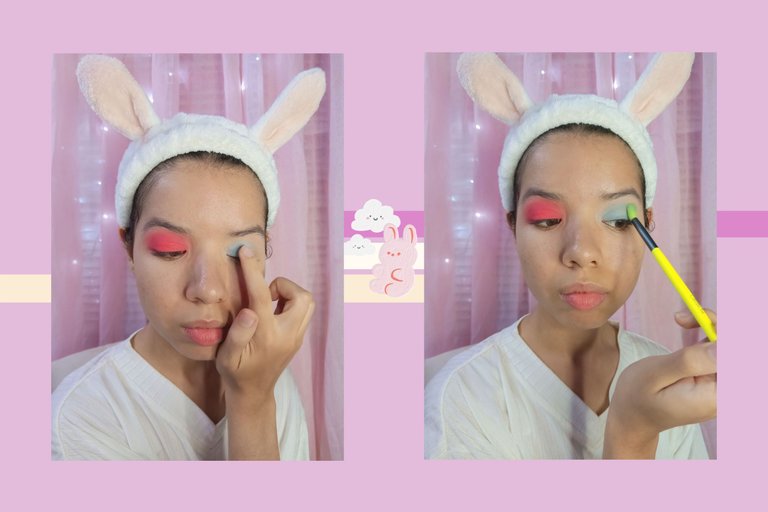 Apliqué corrector en las manchas e imperfecciones del rostro y difuminé con la Beauty Blender, con la misma apliqué y difuminé súper bien la base de maquillaje.
I applied concealer on the blemishes and imperfections of the face and blended with the Beauty Blender, with the same I applied and blended the foundation super well.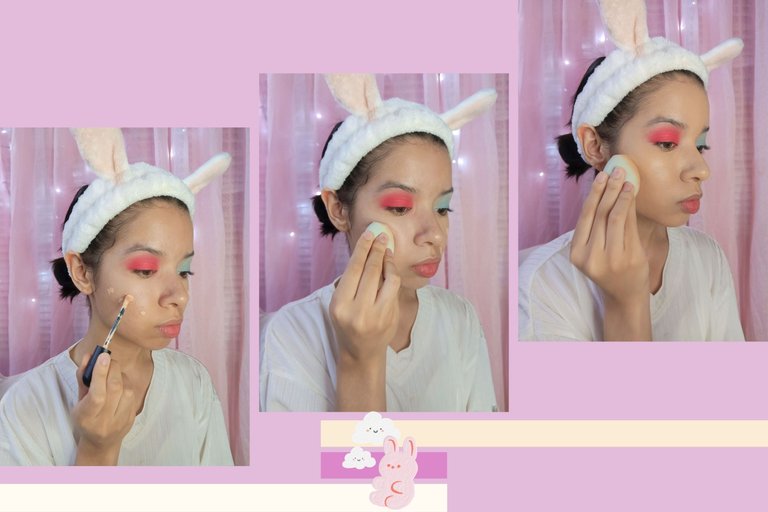 Luego apliqué corrector en las zonas del rostro que dejaba iluminar y difuminé con la Beauty Blender. Hice un contorno bastante sutil y en cuanto al rubor, traté de que se notara un poco más.
Then I applied concealer on the areas of the face that I left illuminated and blended with the Beauty Blender. I did a pretty subtle contour and as for the blush, I tried to make it a little more noticeable.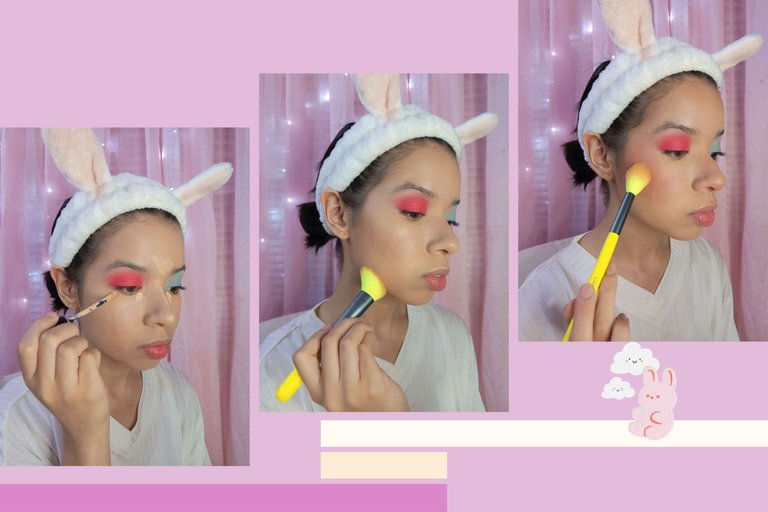 Definí la forma de mi ceja derecha con un lápiz retráctil y peine súper bien. En la ceja izquierda apliqué pegamento en barra morado y pegué un algodón con forma de nube.
I defined the shape of my right brow with a retractable pencil and combed super well. On the left eyebrow I applied purple glue stick and glued a cloud-shaped cotton ball.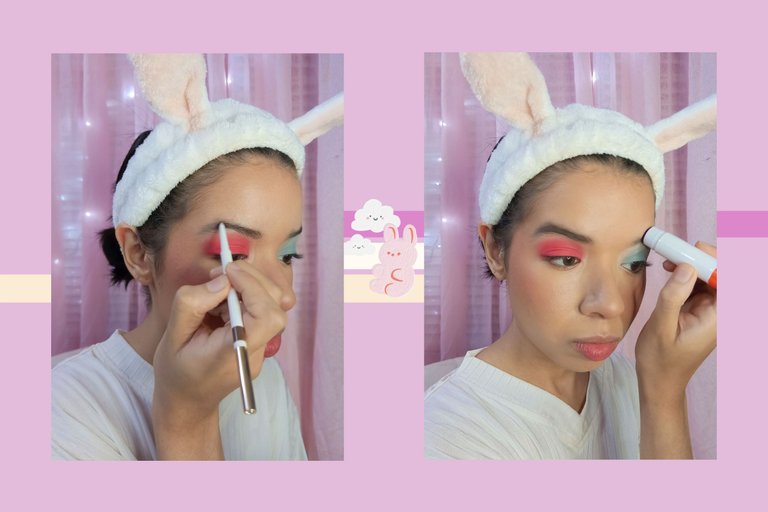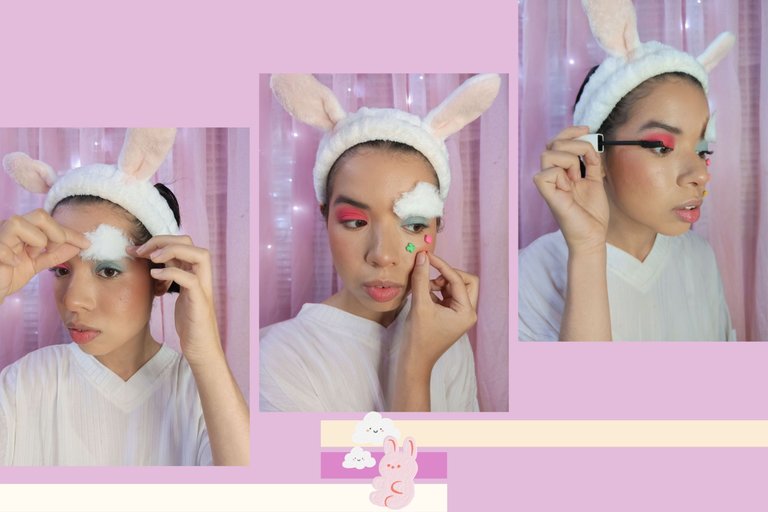 Con pegamento de pestañas postizas, pegué distintas formas de colores que hice con plastilina. Luego apliqué rímel en mis pestañas superiores e inferiores.
With false eyelashes glue, I glued different colored shapes that I made with plasticine. Then I applied mascara on my upper and lower lashes.
Sellé la piel con polvo traslúcido y para finalizar, apliqué en mis labios el mismo hidratante que usé en mi párpado derecho y difuminé con los dedos.
I sealed the skin with translucent powder and to finish, I applied the same moisturizer on my lips that I used on my right eyelid and blended with my fingers.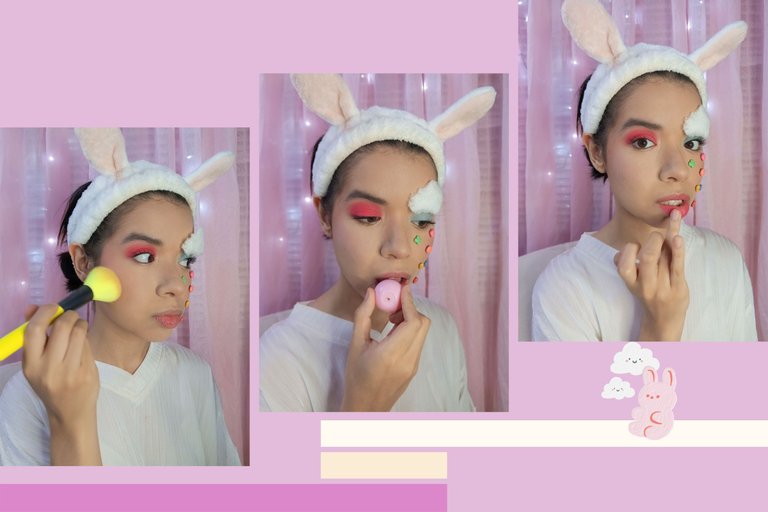 Cómo podrán notar, los últimos pasos definitivamente no tendría que haberlos hecho en ese orden pero es como les dije al principio, fue cuestión de "ensayo y error" porque al final, de eso se trata. Si quieren hacer algo en este plan, apliquen todo el maquillaje y después peguen los elementos extras, en este caso, la nube y las figuras de plastilina. Puede parecer obvio pero como el maquillaje fue improvisado, no me detuve a pensarlo, simplemente lo hice en el orden que me salió.
As you may notice, the last steps definitely shouldn't have been done in that order, but as I said at the beginning, it was a matter of "trial and error" because in the end, that's what it's all about. If you want to do something in this plan, apply all the makeup and then glue the extra elements, in this case, the cloud and the plasticine figures. It may seem obvious but since the makeup was improvised, I didn't stop to think about it, I just did it in the order it came out.
Lo correcto habría sido, después de hacer la ceja derecha, aplicar el rímel y sellar la piel con el polvo traslúcido. Pegar la nube, las formas hechas de plastilina y por último aplicar el hidratante en los labios. Así que bueno, ya saben porque los últimos pasos carecen un poco de sentido.
The right thing to do would have been, after doing the right eyebrow, to apply the mascara and seal the skin with the translucent powder. Glue the cloud, the shapes made of play dough and finally apply the moisturizer on the lips. So well, you know why the last steps are a bit pointless.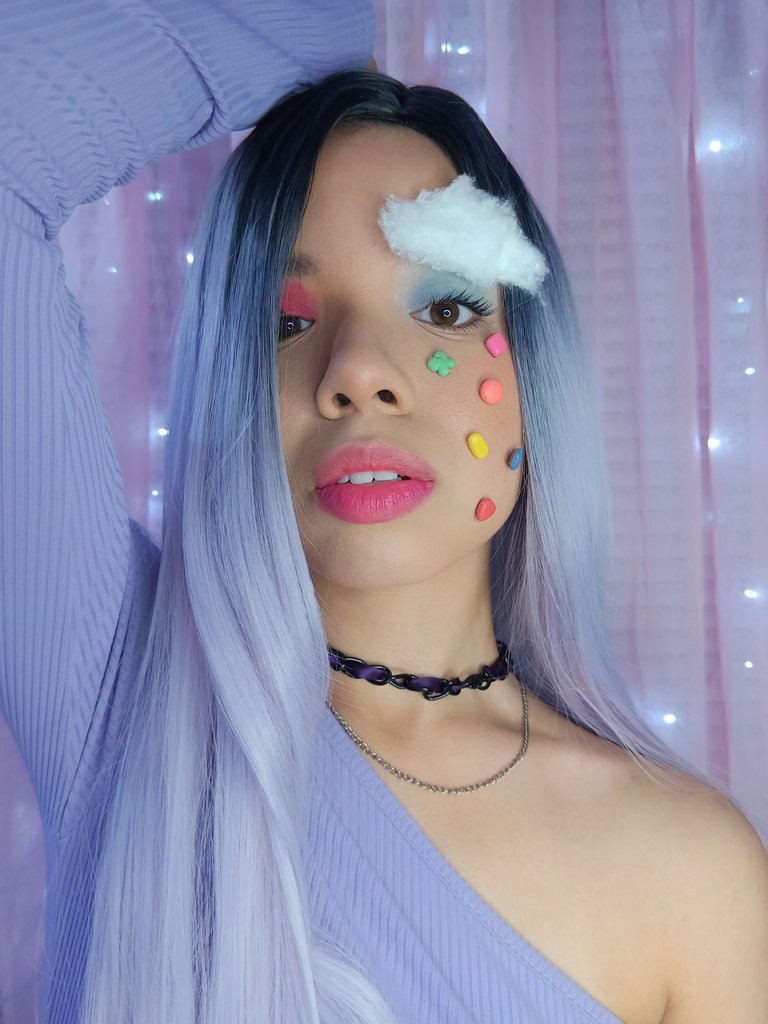 Aplicar el rímel fue súper difícil, casi no tenía espacio y sentía que iba a manchar todo, de hecho dañé una parte de la piel... No fue difícil de arreglar pero es algo que definitivamente se podría haber evitado al hacer todo de forma más ordenada, aunque la realidad es que soy una experta en manchar la piel con rímel y además, la máscara de pestañas que estoy usando es nueva así que bueno, se podrán imaginar. Lo único "positivo" por así decirlo, fue que al sellar la piel me di cuenta de que los figuritas estaban muy bien pegadas porque no se movieron.
Applying the mascara was super difficult, I had almost no room and I felt like I was going to smudge everything, in fact I damaged a part of the skin..... It wasn't hard to fix but it's definitely something that could have been avoided by doing everything in a neater way, although the reality is that I'm an expert at smudging skin with mascara and besides, the mascara I'm using is new so well, you can imagine. The only "positive" so to speak, was that when I sealed the skin I realized that the figurines were very well glued because they didn't move.
Yo suelo mostrarles cada uno de los pasos de los elementos extras que uso pero fui haciendo todo sobre la marcha e hice las formas mientras esperaba que otras cosas se secaran y tenía el teléfono en el trípode con una ubicación muy específica, ya todo estaba en su sitio y en ese punto, no iba a mover nada porque ya estaba tomando las fotos del proceso del maquillaje, así que bueno, ya saben. Además me lo planteé y no me pareció del todo necesario porque las formas que hice fueron extremadamente fáciles de crear, fui moldeando con mis dedos y en general, con es fue suficiente pero para el corazón y el "trébol de cuatro hojas" usé un palillo de altura para hacer las marcas necesarias y listo.
I usually show you every single step of the extra elements I use but I was doing everything on the fly and made the shapes while waiting for other things to dry and I had the phone on the tripod with a very specific location, everything was already in place and at that point, I wasn't going to move anything because I was already taking the pictures of the makeup process, so well, you know. Also I thought about it and it didn't seem entirely necessary because the shapes I made were extremely easy to create, I was molding with my fingers and in general, with is was enough but for the heart and the "four-leaf clover" I used a height stick to make the necessary marks and that was it.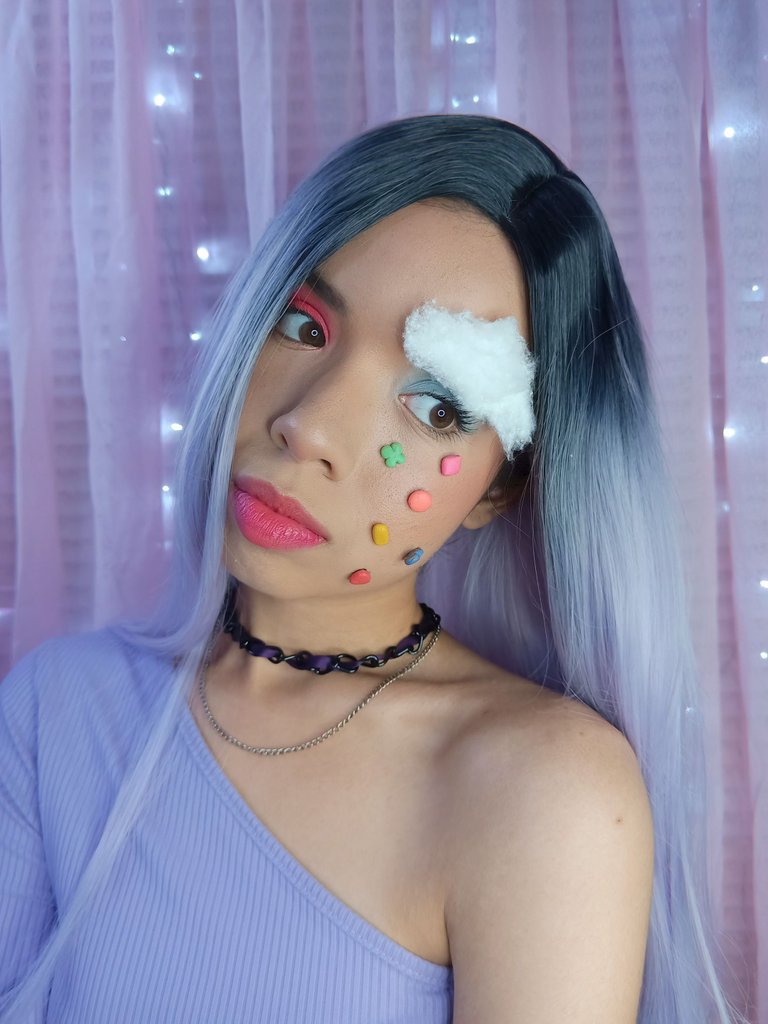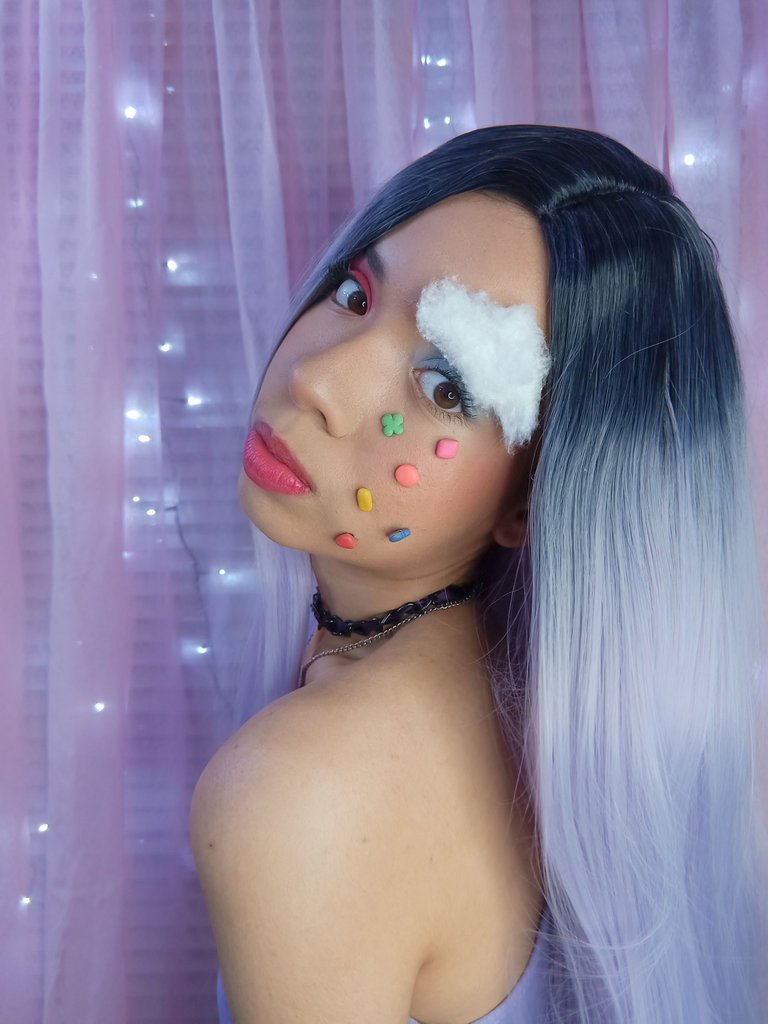 ---
Por cierto, las apps que utilicé y para no variar, fueron Polarr para la corrección de color, Canva para la imagen principal y las imágenes de los pasos. En cuanto a las fotos, todas y cada una de ella fueron tomadas por mí, con la cámara trasera de mi Tecno Camon 17 Pro en la sección AI con el lente x1 y con la configuración del temporizador en tres segundos. Para la iluminación, usé un aro de luz de 12 pulgadas con la luz blanca fría.
By the way, the apps I used were Polarr for the color correction, Canva for the main image and the images of the steps. As for the photos, each and every one of them was taken by me, with the rear camera of my Tecno Camon 17 Pro in the AI section with the x1 lens and with the timer setting at three seconds. For lighting, I used a 12-inch ring light with the cool white light.
Yo espero de todo corazón que les haya gustado y que les sirva de algo el contenido del día de hoy, a mí me gustó mucho pese a los contratiempos. Dentro de todo, disfruté el proceso de creación y se sintió genial volver a hacer algo como esto después de tanto tiempo. He estado súper inactiva y en parte se debe a lo que les mencioné en la parte de arriba, el desánimo, la frustración y un enfoque no muy productivo, cosas que me han ocurrido con bastante frecuencia últimamente pero estoy trabajando en mejorar.
I hope with all my heart that you liked it and found today's content helpful, I really enjoyed it despite the hiccups. All in all, I enjoyed the creation process and it felt great to get back to doing something like this after such a long time. I've been super inactive and it's partly due to what I mentioned above, discouragement, frustration and a not very productive approach, things that have happened to me quite often lately but I'm working on improving.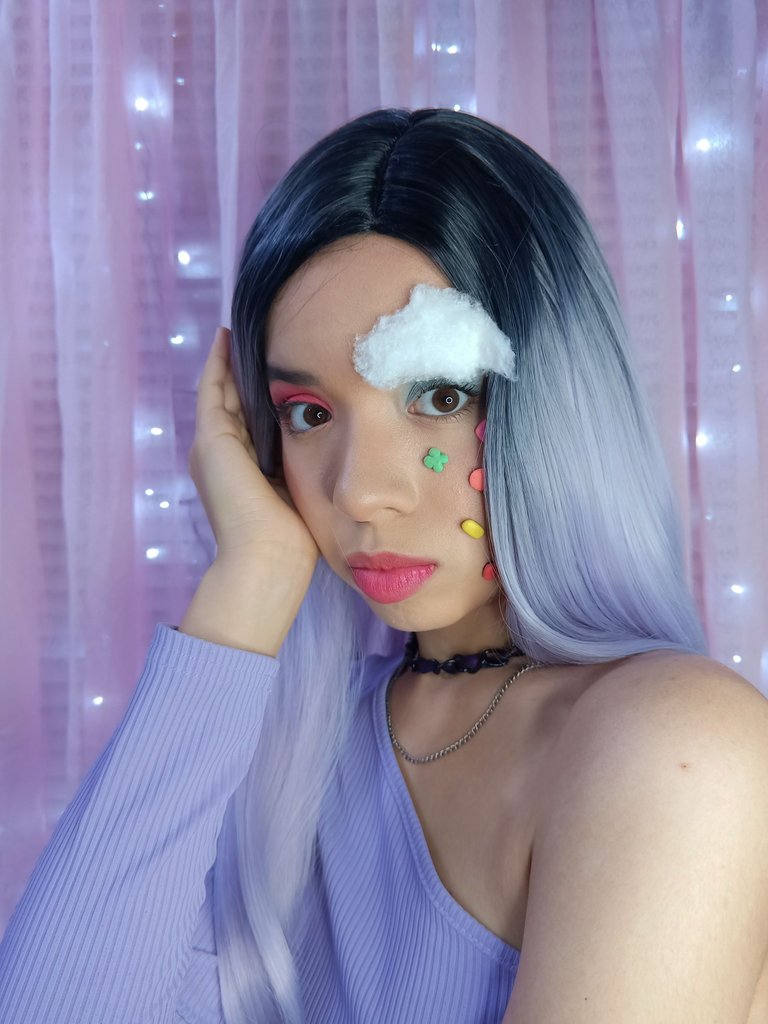 Otra cosa, no crean que en este tiempo no he pensado en el blog y en traer contenido de valor, he visto clases de creación de contenido, de maquillaje y poco a poco he ido aprendiendo distintas cosas, también he hecho muchos bocetos, he anotado un montón de ideas y si todo sale bien, a la brevedad posible verán un cambio notable en mi blog e incluso mis redes sociales.
Another thing, don't think that during this time I haven't thought about the blog and bringing valuable content, I have seen classes on content creation, makeup and little by little I have been learning different things, I have also done a lot of sketches, I have written down a lot of ideas and if everything goes well, as soon as possible you will see a noticeable change in my blog and even my social networks.
Me siento mejor después de darles un poco de contexto y admito que fue muy satisfactorio plasmar todo esto, crear es algo que me encanta y tener la oportunidad de compartir lo que hago es simplemente maravilloso. En este punto y sin mucho más que decir, quiero darles las gracias por leer. Espero que podamos encontrarnos en un próximo post.
I feel better after giving them some context and I admit that it was very satisfying to capture all this, creating is something I love and having the opportunity to share what I do is just wonderful. At this point and without much more to say, I want to thank you for reading. I hope we can meet in a future post.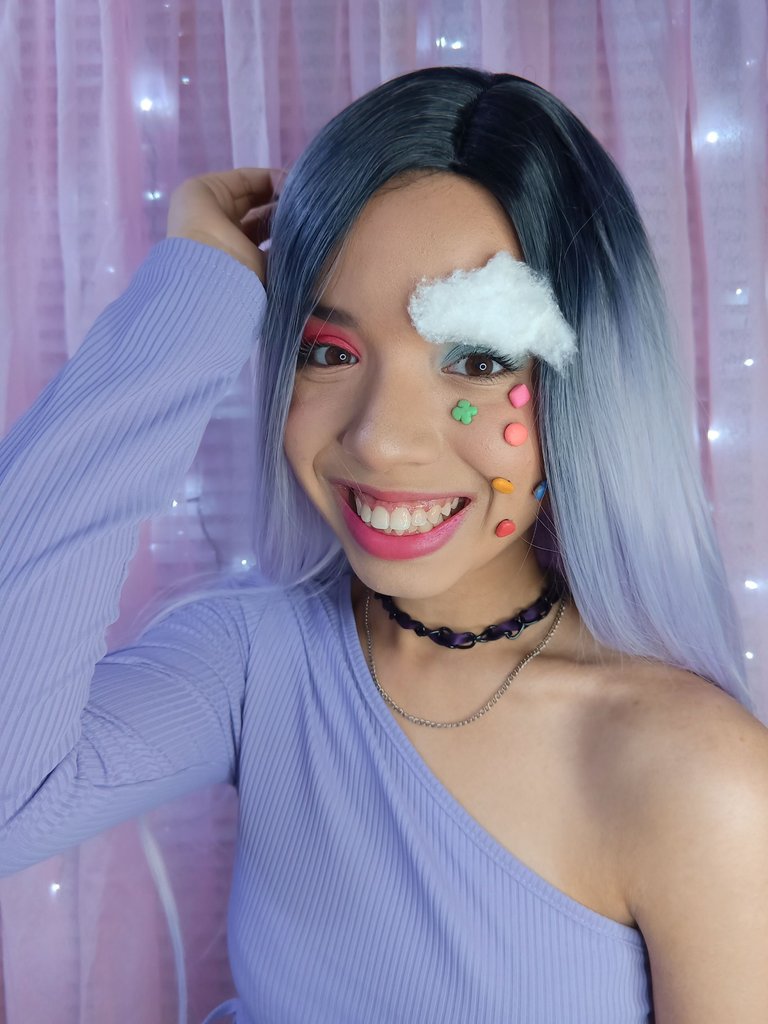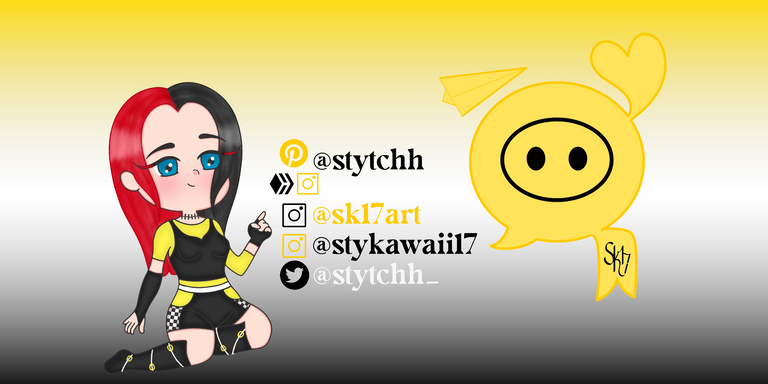 Tipografías ❤️ Typographys
Chromate Regular
Poppins
Butler
---
---