BenQ GW2283 Monitor Review | Laptop Screen Flickering Update
With the plethora of monitor models and brands in the market, choosing one which you think is worth it can be confusing. About two months ago, my laptop's screen flickering have gotten worse that I was left with little time to look for an exact monitor I want. But through quick research, one specific brand and model have captured my attention and had convinced me to get it.
The 21.5" BenQ Eye-care Stylish IPS Monitor.
How was it 7 weeks later?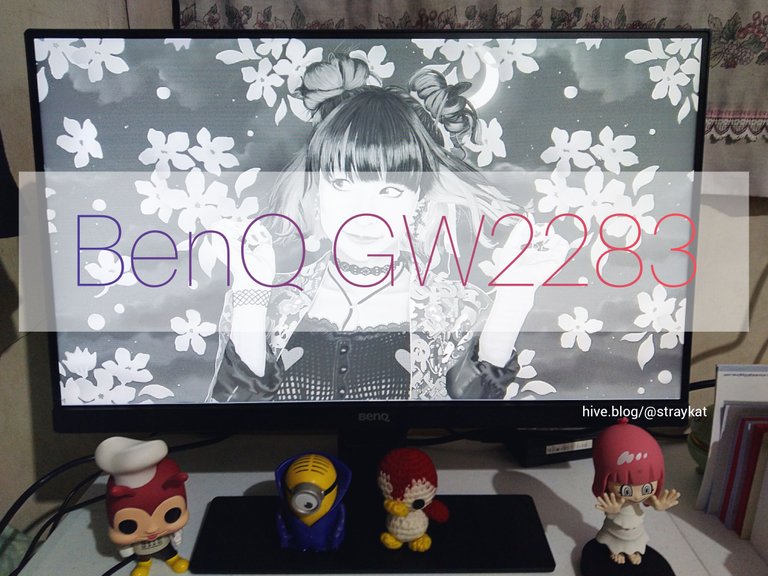 Never have I imagined that I would be purchasing a second monitor for my laptop. It was an unexpected purchase, really. I remember thanking the month of June for being a lucky month for me, then here comes July bringing me some bad luck on its first week. Well, somehow I'm still lucky because I have purchased the monitor during the 7.7 Sale. 😂 I got a pretty huge discount that it was able to cover the expensive shipping fee. I only had to pay for the monitor's price instead.
Before purchasing, I searched for monitor brands with good quality and BenQ happened to be among on the list Google have shown me. I've heard of this brand before though I am not sure of it's quality back then. When I searched for it on a shopping site, I've seen a couple of different models of BenQ monitors posted. To tell you honestly, I was surprised by how affordable the prices of their monitors despite being a good brand. The GW2283 model have immediately captured my attention because aside from its attractive price for its size, it's among the most sold monitor units on the app, like over a thousand. To make sure I'm getting a nice monitor, I spent a couple of minutes reading reviews and watching review videos on Youtube.
(I was originally planning to buy a different brand but the store replied late on my message so I went for the BenQ instead. 😅)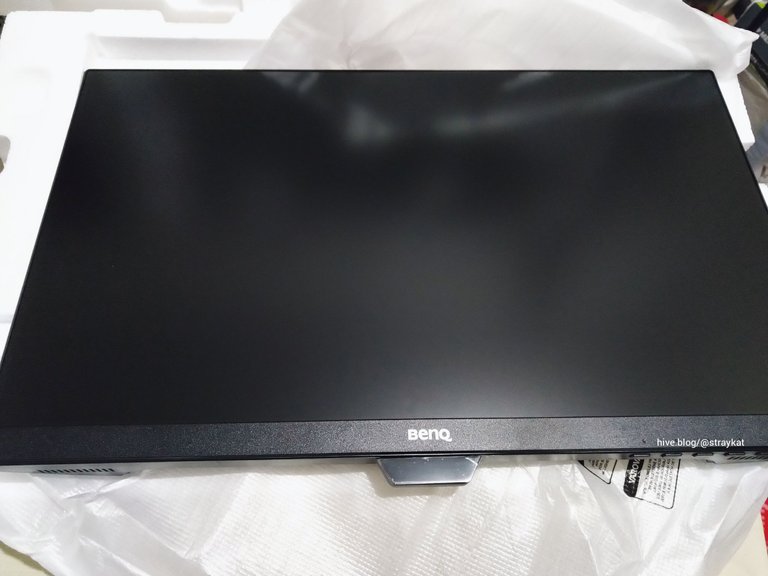 The GW2283 model is a 21.5 inches IPS LED monitor which supports VGA and HDMI connection, although only a VGA cable is included in the box. Aside from that, it also has a headphone jack, audio line in and even a built-in speaker which I still haven't tried using. I read somewhere that it works if you use a HDMI connection.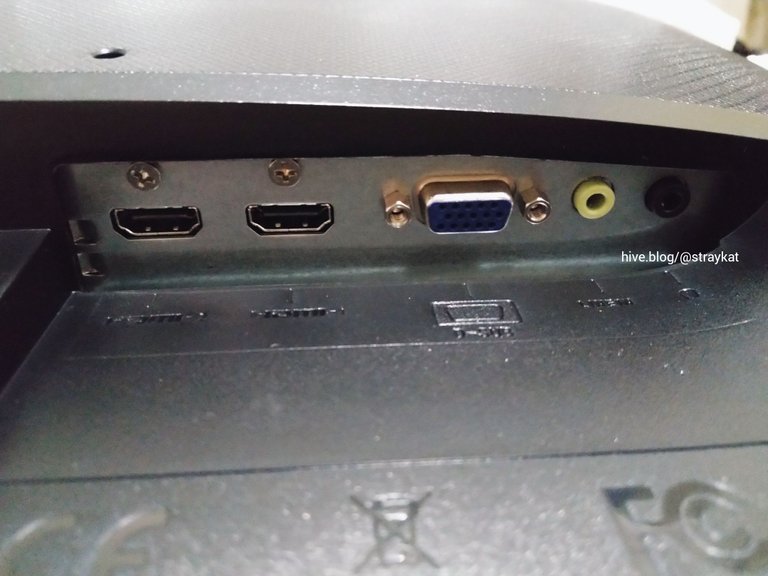 Of course, it has a stand as you can see on the first photo of this post. The stand is easy to attach, sturdy, and has a cable management on its back. There's also a cover to conceal the cables to give you that really neat look.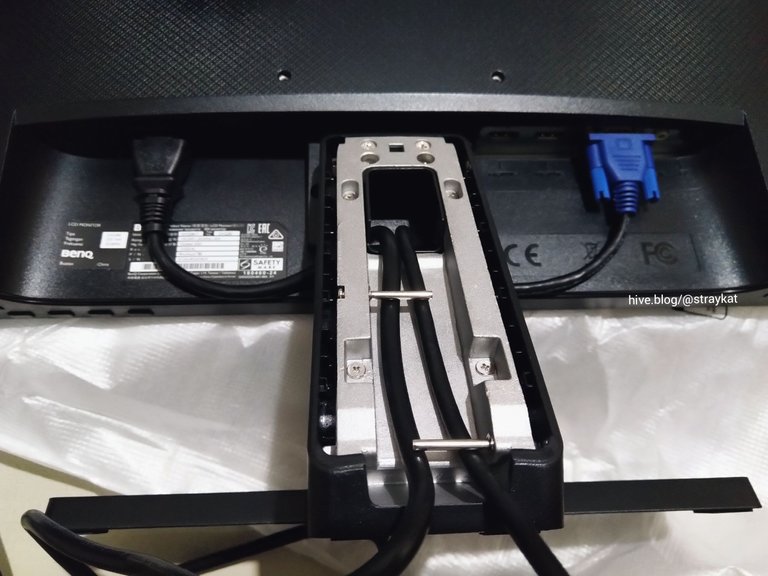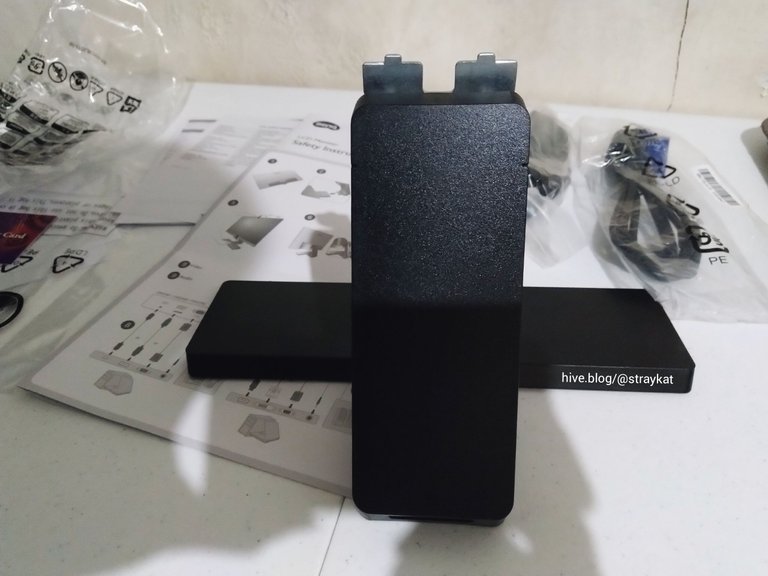 The monitor weighs about 4 kg and consumes 16W up to 25W.
Disclaimer: It says LED on the website and screen when you turn it on but what's written on the sticker on its back is LCD. Hmmm..
The monitor is also VESA mount compatible (100mm), as you can see the holes at the back.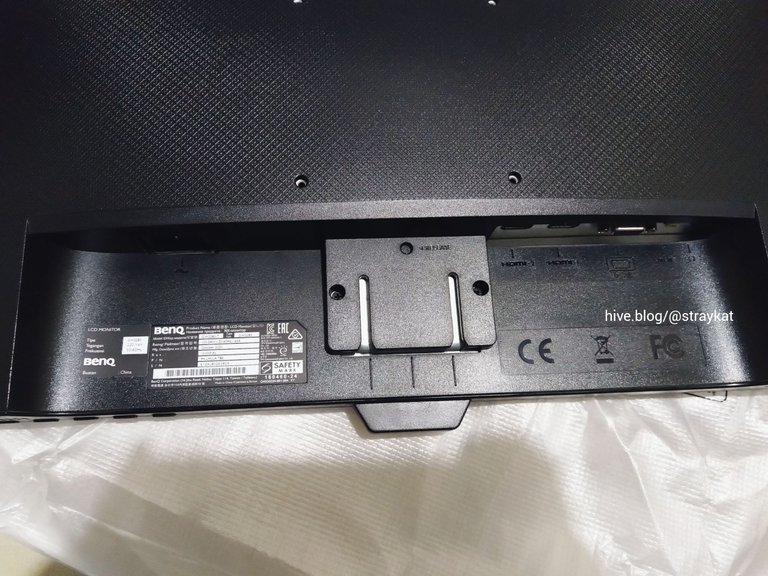 Many were satisfied and have vouch for the quality of the GW2283 model despite its affordable price. I am not very knowledgeable with what should be the criteria for a good monitor. I just trusted and put my faith on the reviews I've read and watched. Lol. From what I have learned, an IPS monitor is good especially when you're a gamer or someone who does creative work. I thought an IPS monitor would be good for me since I make digital drawings often.
The GW2283 was also described as a "Stylish Monitor". I find that quite funny but it does look stylish, actually. However, it's not that which convinced me to get this specific model. It was the "Eye Care" feature. As told on the BenQ website, it has low blue light, brightness intelligence, and has different modes to suit your needs. My favorite is the reading mode because it's the most relaxing to the eyes. I believe these features are really nice and would lessen my eye strain.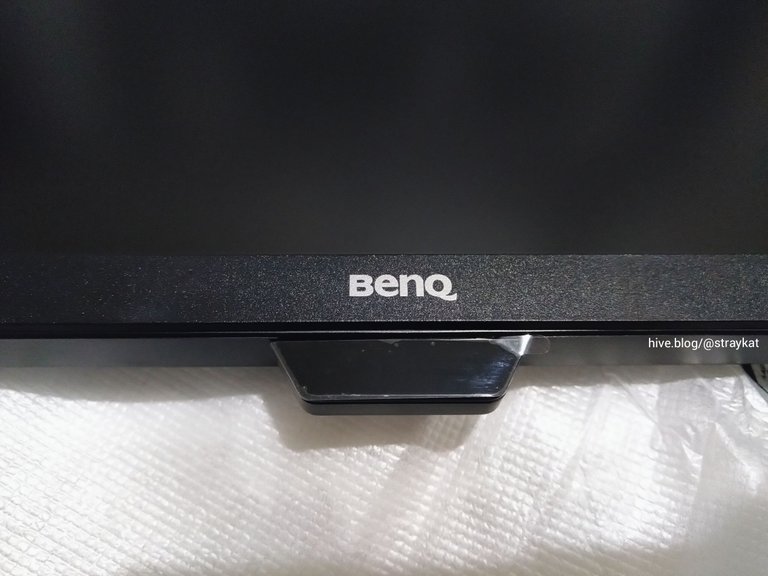 There's also a light sensor at the bottom which detects the light in the surroundings and adjusts the monitor's brightness accordingly. I find it really cool and saves me time from adjusting the brightness and whatnot.
And speaking of the monitor's bottom, the power button and other controls are located on the bottom right of the monitor. The controls are easy to learn but can be confusing at first, though it only takes a few minutes to learn their function.
---
The Return of the Flicker Nightmare!
The very first time the screen of my laptop went flickering was last year. I believe it was around September. It was a white flicker like the whole screen would flash white every 2 seconds. Thought it was the end for my laptop that time, but I somehow managed to troubleshoot it by updating the graphics driver and other screen flickering solutions I found online. 10 months went smooth until it went back last June 28th, but only just for a while.
Early morning of July 5th, while I was resting a few minutes after drawing Esdeath (Art #33: Esdeath | Akame ga Kill) and watching Alex Gonzaga pawning her diamond play button, my screen started flickering again but it was different from the white flash before.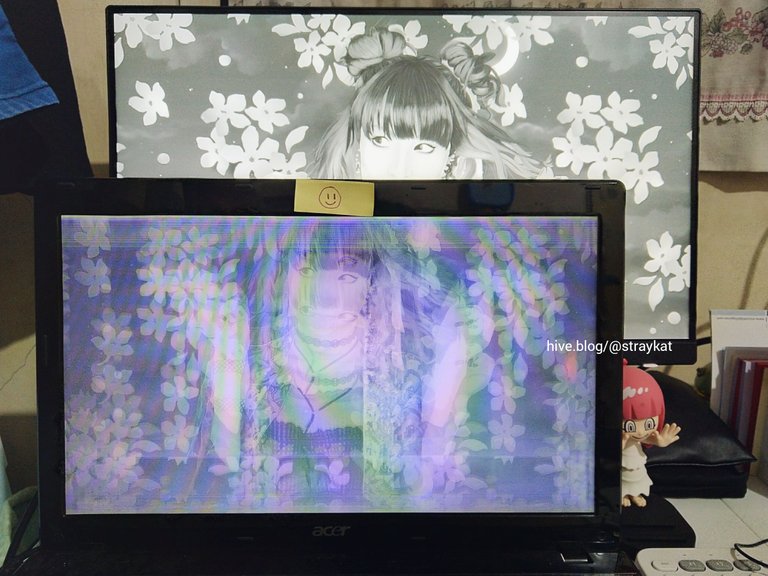 The screen had this green and pink lines and the images on the screen went kage bunshin like Naruto and were moving up and down. Staring at it while trying to troubleshoot it made me dizzy and almost throw up. Lucky I was able to locate the shutdown button through keyboard and even without looking at the screen.
With the desktop appearing completely fine on the BenQ monitor, I guess the problem now could be on some wires or the laptop's screen itself. Or maybe still on the driver?
---
A Dumb Purchase I Made Out of Panic. Yikes!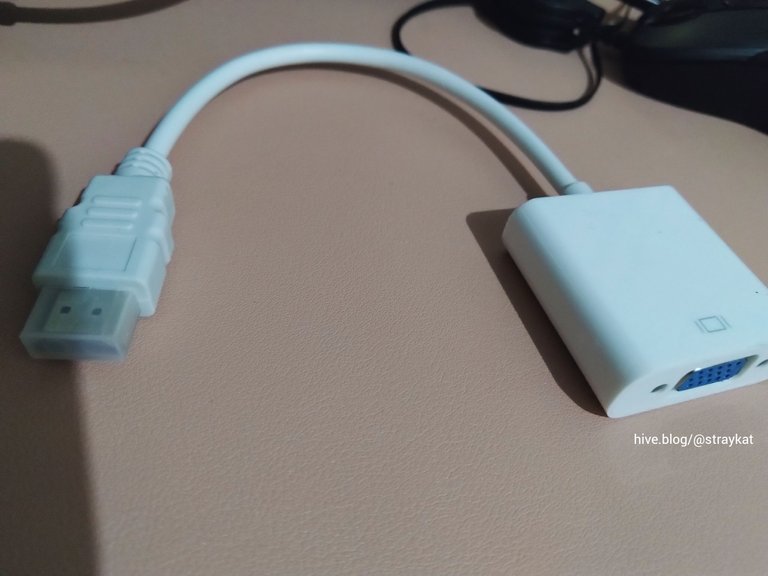 Before I end this post, let me just share to you a dumb purchase/decision I made out of panic. When my screen started flickering, I wished to immediately connect it to a monitor. We do have a couple of extra monitor but I had one problem. They are all using VGA ports/cables and it's not compatible with my laptop (that's what I thought). I scoured the heaps of cables my brother has and only found VGA cables, so I browsed the online shop and purchased this HDMI-VGA adapter.
Two days later, I examined closely the ports on my laptop and found one that looks identical to a VGA cable. And my friends, that's when I had an "Oh sht!"* moment. I grabbed my laptop and connected it to one of the monitors. The VGA cable fitted perfectly into the port. Lol. Two days wasted. Tsk!
The VGA port I have in mind was something with holes on each side where you have to twist the knob to lock the cable. I didn't realize immediately that you can just push those knobs back if you don't want to use it.
So the adapter arrived later and sadly, it didn't work. I feel bad. Not sure if I'm using it correctly but it doesn't really work. What a waste of money.
You're probably wondering, if we have spare monitors, why don't I just use one of it instead?
My brothers are selfish. Periodt. 😂
---
Is BenQ GW2283 Worth It?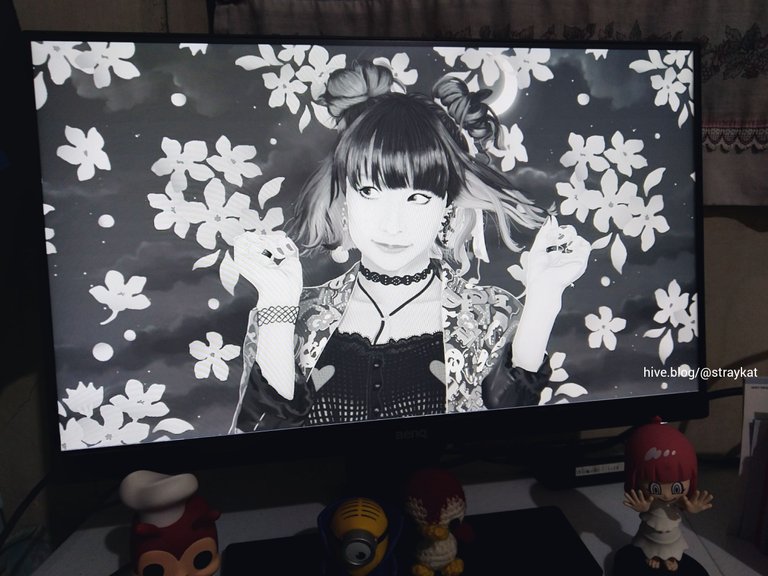 Certainly, YES! I am currently in love with it. Aside from it's bigger than my laptop screen, it also has good features in it. The bezel is also thin and almost gives a borderless feel. Now I can watch Jujutsu Kaisen and Attack on Titan on a bigger screen! 😂 Yipee! I love the matte appearance, light doesn't reflect on the screen. Drawing and reading feels so much better too! :)
Do I recommend this monitor? Yes!
It's affordable with good quality. :)
---
---