Campaigning for Itínera - Two Talks Up, Eco-Circus Ready to Go
Good morning from the the campaign-trail! Okay, we're actually still just trail-blazing the pre-campaign, but that is going splendidly well. We have had our first two Conferences for a Better World, our first real deep-end immersions into how to work social networks for all they are worth, organizing large Zoom meetings (the more visitors the merrier - though also a greater orginizational challenge for us), and giving interested viewers the chance to have a live encounter with our specially selected guests, presenting their projects. The first four of these are natural building related, the second four come from the realm of performing arts.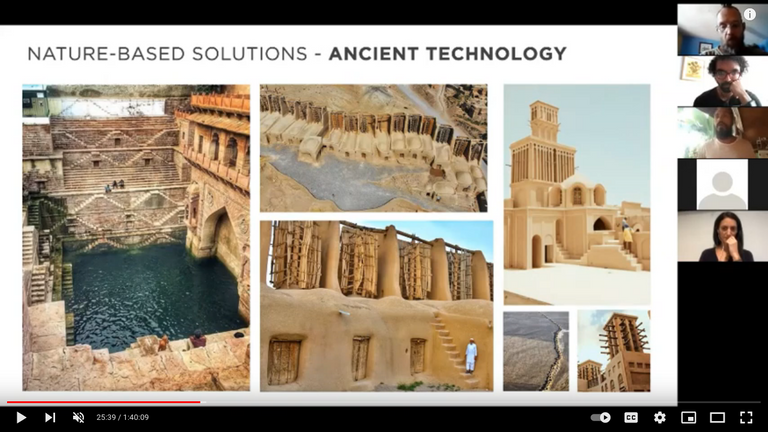 screenshot from video
You Can Watch What You Have Missed
In case you haven't heard about our online events, but the topics caught your interest, you might want to check out the recordings of our first two encounters. In the first one we hosted Susan and Tony from the Doighouse, a Canadian couple creating a sustainability learning center on Vancouver Island. The talk is jam-packed with lots of detailed information on building their Earthship inspired home and Permaculture garden. We managed to clean up the video, removing moments of technical issues. (One such thing still puzzling me is why the recording is age-restricted. It shouldn't be!)
The guest of our second conference is architect and natural designer Moein Nodehi, founder of Biotonomy, who creates autonomous buildings that follow natural systems. The numerous similarities to Earthship Biotecture are no coincidence. Moein works closely together with them, while following the same natural principles in his own designs. This time around we had far fewer technical issues, so the entire talk is posted pretty much like how it was. Check it out, it's pretty amazing:
The On-going Bi-Lingual Challenge
For those of you who have been following series of encounters, organized by Itínera Theater, you will surely remember our dedication to making all these events a multi-lingual experience. This ambition was soon reduced to bi-lingual, meaning English in Spanish. And while our first two sessions were presented in English, we did our best to provide live translation, in other words, typing subtitles while our guests were giving their talk. It was not easy, and especially in the first conference I felt they took away from the talk's quality. As it turns out, we didn't even have another option, as in the end our subtitles were not not recorded with the video. No worries, YouTube should have automated subtitles, and what's more, automated translation into more languages than we all speak. Unfortunately, maybe due to the length of the recordings, these are not available. Sorry for all you Spanish speakers.
Get Ready for the Eco-Circus This Sunday
In our next two conferences the situation will be the opposite: the presentation will be in Spanish, which we are going to translate into English. Judging from the last talk, we should have plenty of experience doing this by now, so I feel quite confident. We may even be so bold and post a live-recording on the encounter, without editing. Our guests this time will be the Eco-Circus, a Colombian ensemble of natural builders AND performing artists. Go ahead, and get a first impression by looking up their facebook and instagram profiles. Before the event I want to write a more informative post about them.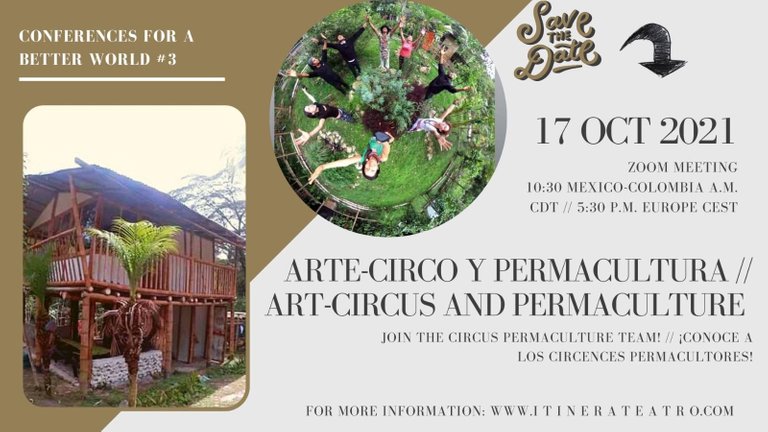 And finally, on Sunday the 24th of October, Itínera is going to present itself. Who we are, where we're from, what we do, and what our plans are. This will also lead the topic of our encounters into the second half, focused more on the theater, puppetry, music, and other forms of performing arts. It's going to be quite exciting, so stay tuned for more Conferences for a Better World.
---
---