Campaigning for Itínera - Hooray, Our Campaign has Finally Started
It happened yesterday around 3:00 a.m. that we finally launched our Indiegogo campaign! After much announcing, and organizing pre-campaign events, such as our Conferences for a Better World, our crowdfunding is well on the way. Our time frame is 35 days, meaning between now and Christmas Day anyone can support Itínera Theater with a donation, even as tiny as €1. And of course we won't hesitate to express our full appreciation, as even the smalles amounts help. Of course what's even more helpful doesn't cost a penny: SHARING our content, SHARING my blog posts, SHARING the website, and most of all SHARING the crowdfunding page with people who don't now us, but would be interested. You can use the QR code to be really quick.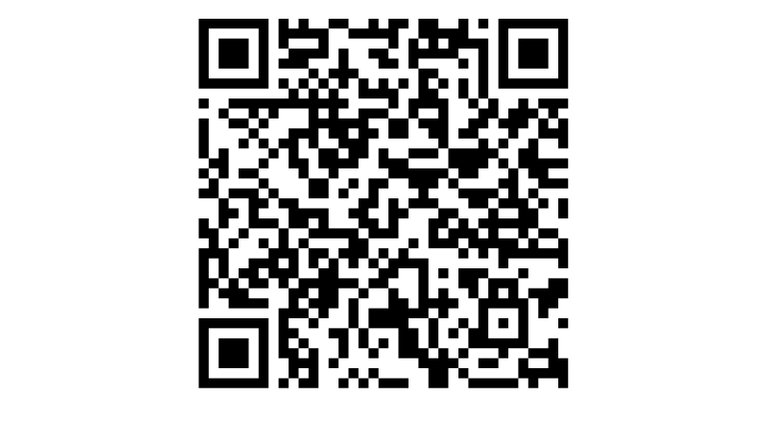 Help us Complete our Cultural Eco-Center
If you've been following my blog for a while, you should be familiar with this extraordinary construction project I'm involved in. (If you're not, take a look at the list of posts at the end of this post.) In a small Mexican town on the Pacific coast our international theater group is building a theater. This means first and foremost cultural activities for the local residents and international visitors. But in order to be able to organize anything in a decent way, some basic infrastructure is required. And let me tell you, those have been on the minimal to challenging end, ever since we first arrived on the property.
Of course we had been improving things gradually, including facilities for ourselves, such as kitchen and bathrooms, but more importantly, we have built an amazing permanent structure. What started out as a mere place to store things during our absence, soon evolved into a multi-purpose building, which we now call our Rehearsal Room. It is a round building with a huge floor space of 10 meters (30 feet) in diameter, a massive tire wall of almost 500 recycled tires, a passive convectional cooling system, and a reciprocal roof with a vegetation cover.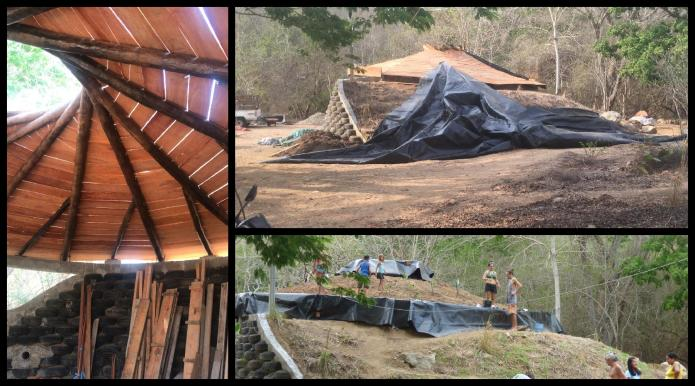 image source
However, before we can think about using this structure for any events, it needs to be finished. This means, a floor has to be put in, a door and some windows should close off the space, and the interior walls need to be covered with a cob plaster. Additionally, we want to install a basic photovoltaic system for our most essential energy needs. Later we would like to extend it so that all our electric needs could be met autonomously. Apart from this building, we also would like to have some more shade on the property, a more stable kitchen facility, and better conditions for camping. Finally, we would like to organize a big inaugural event for marking our move from the preparatory phase to actually opening our space as the Cultural Eco-Center. To make all this possible, we are raiseing €16,000 in our campaign.
Check Out Our Cool Video
You can't have a campaign without a promoting video (actually you can, and some folks have managed to raise money without one, but clearly having one doesn't hurt), so we really went out of our way to create a captivating little clip. I truly hope you will have as much fun watching it as we had making it. It involves some puppetry, which we stumbled into more or less by accident, at least I have. I won't give away any spoilers here (after all, it's barely 4 minutes long). In fact, after wanting to inbed the YouTube clip right here in the post, I have decided to just show an image of the video. This is merely to encourage curious viewers to visit our campaign page and watch it there!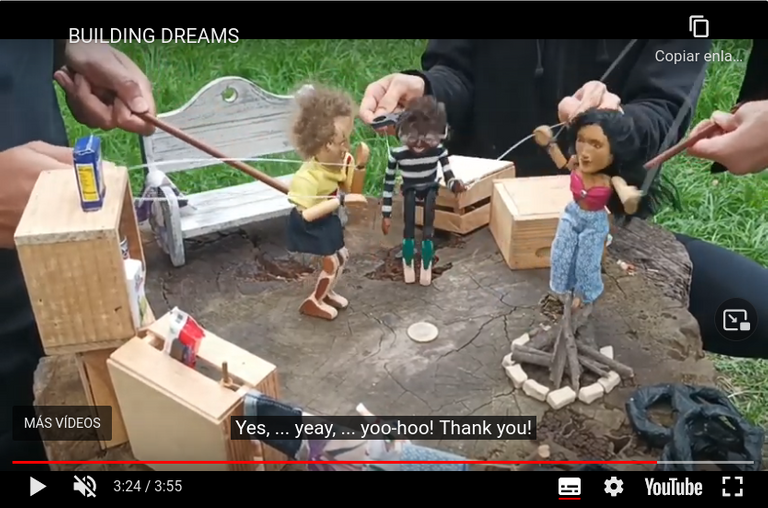 Launching With an 18-hour Online Festival
Having an awesome project and a fun-filled video are good way to start, but in order to really get the word out, we need the help of lots of people. For this reason, we organized a massive launch event: an Online Festival of Performing Arts with acts from around the world, almost back-to-back for nearly a whole day! Let me tell you, it was as huge as it sounds. Getting up at 2:00 a.m. and going to bed at 10:00 p.m. was only part of it. Staying on top of things, making sure the artists and spectators are well accommodated, but also sharing news of the individual artists and their performances in social media, while trying to invite more people to join, was most of the work.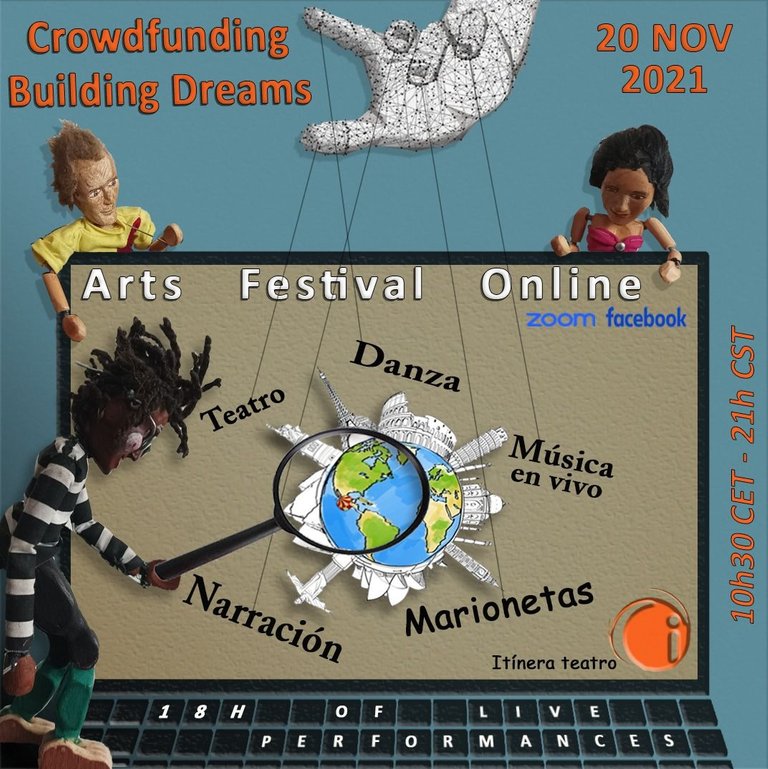 In the end, things turned out splendidly. The 15-minute buffer zone in between acts was fully utilized, so it looked like as if they were literally waiting in line, instead of connecting from the most diverse locations and circumstances worldwide. And the types of performances couldn't have been more diverse either: There was live painting and drawing, lots of puppetry, from the hilarious to the mysterious, there were treats of prose and poetry, there was dance, both modern and traditional, we had three different story tellers, one European, another African, the third Latin American, and of course lots and lots of music, criss-crossing from traditional songs on the accordion or violin, to experimental rock, back to Japanese drumming, gorgeous vocalizations, and on to improvisational piano or guitar, you name it! Oh, and of course, our festival couldn't be complete without an actual theatrical performance. Looking back on it, I can truly say, there was something in it for everyone, and those who don't believe me probably haven't sat through the whole thing!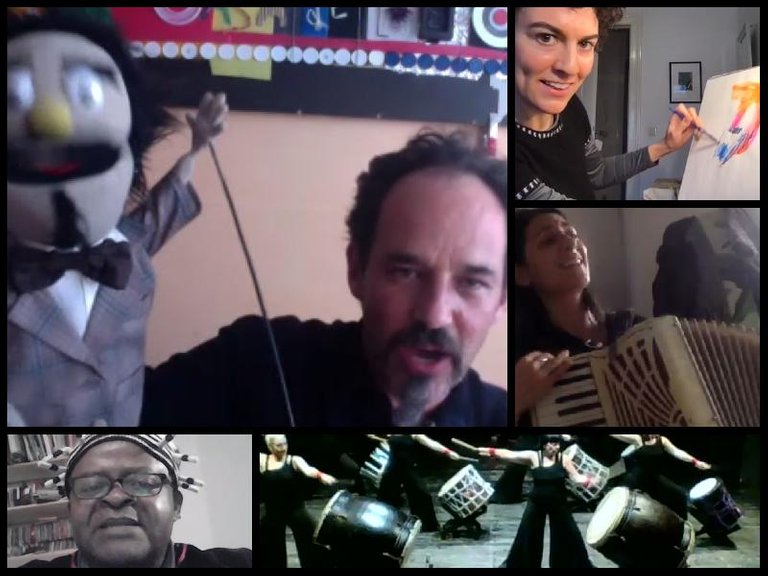 Look Forward for Detailed Introductions!
Oh, I'm sorry, I guess that includes you all, right? So instead of picking on you for not coming to the show, I want to offer it up again, piece by piece. On one hand, it'll be a great way to honor the artist, and help them spread their fame, at least among those who are interested in their work. On the other hand, it's great for the campaign, giving us something to offer potential donors, other than just asking for money. Finally, it's great for all those folks who didn't come to the festival simply because they couldn't, or didn't know about it. After all, we probably should have started advertising it much sooner. So during the 34 days remaining in our campaign, I want to introduce each of our guests in a separate post, including all their links, lots of pics, info on where they can be seen, etc. and most importantly, their performance at our festival.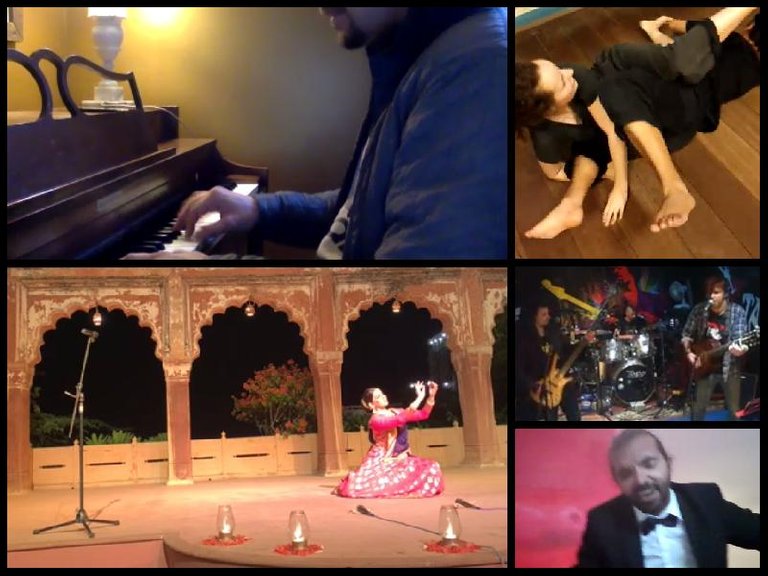 ---
---