Campaigning for Itínera - Encounter With The Doighouse
Just as I announced in my last post Itínera Theater's pre-campaign is on its way, which means over the next few weeks we are organizing Zoom meetings with people from various natural building and theater projects, to which all of you are invited! So please tell all your friends about it and check out the event page for more details! It's going to be exciting!!!
Meet the Doigs, and Get to Know the Doighouse
Our first encounter is happening very soon, in only two days: On October 3rd, at 8:30 a.m. Pacific Standard Time, or 5:30 p.m. Central European Time we'll get to meet Susan and Tony Doig from the Doighouse Project. This awesome couple are good friends of mine. They are recent retirees, who have decided to create a Permaculture learning center on Vancouver Island. Located in the semi-remote mid-island area of Qualicum Bay (remote is very relative, it's Canada after all!) they started building an Earthship inspired building, which will be their home, as well as a classroom for sustainability-related subjects.
Adjacent to the house, a Permaculture garden is taking shape, with an abundant mix of wild and domestic species, ranging from numerous native berries to fruit and nut trees, as well as a growing diversity of domestic animals. Taking natural conservation seriously, the Doigs have left two thirds of their property untouched, as a Zone 5 of thriving wilderness. Since the land has not been logged in close to a century, it is covered by a lush growth of immense conifers, as is typical for the region. Since the cleared land for the house and garden resulted in a bunch of giant logs, Tony set up a mobile saw mill to prepare all the structural lumber for the build right on site.


image source
Community is key for sustainability, which is why the Doigs are deeply involved in knitting tight connections both locally and globally. They offer "community gardening boxes" for residents of the area to rent and use for food production. Their networking reaches out to all kinds of local sustainability-related projects, closing loops wherever they can. At the same time they have decided to "invite the world into their home", seeing that they've always enjoyed traveling, but instead of subjecting themselves to the stress of it they prefer to host volunteers, who offer their help in natural building and gardening work in exchange for room and board. Of course those things are just the basics, and in fact the exchange usually includes lots more: skills, expertise, and widened horizons, as well as laughs, stories, and lasting friendships.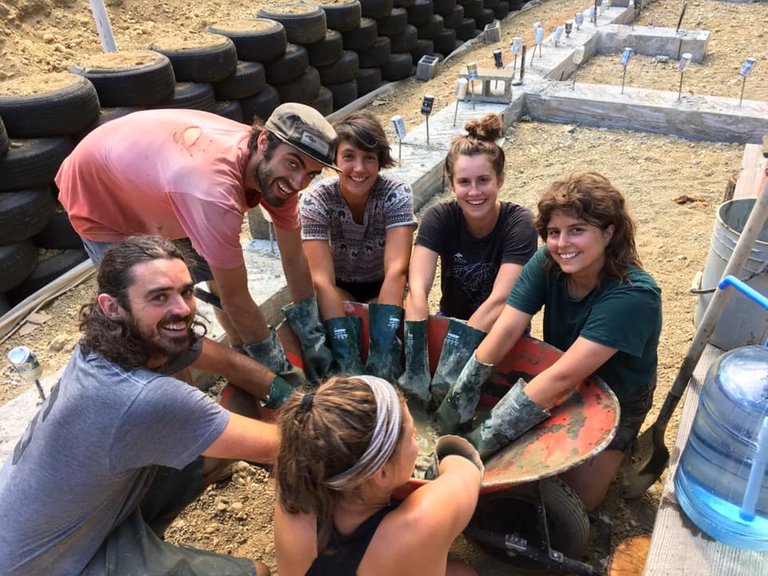 image source
Come And Join the Zoom Meeting!
So, have I managed to tickle your fancy regarding this amazing project? Do you happen to have any questions, which Tony and Susan might be the best ones to answer? Why don't you join the encounter? Here is the Zoom link to it:
https://us02web.zoom.us/j/87278015455?pwd=SDBVbEV6UTA4allWaHBia295b0tKQT09
The talk will be in English, but we'll provide live translations with Spanish subtitles. After a brief introduction on part of Itínera, the Doigs will present their project with lots and pictures and anecdotes, followed by an opportunity to ask questions.
Whether you can make it or not, please take a minute to check out the online presence of the Doighouse: A good start is their Doighouse home page. Also worth taking a look in order to establish connections, is their facebook page. Finally, their building is featured on Metapystations.com with interesting details on their house. In addition to our Encounter, the Doigs organize regular fireside chats also on Zoom, where they give updates about their build, the garden, as well as other related topics on sustainability. Check out their webiste for more info!
---
---