Campaigning for Itínera - Building Like Nature Would, with Moein Nodehi

The first Conference for a Better World organized by Itínera Theater was such a wonderful success that it amplified out enthusiasm for this entire campaign. We hope that all of you amazing people feel the same way, whether you had a chance to attend last Sunday's encounter with the Doighouse, or not. In either case I can only urge you to clear your schedule for this Sunday, as we have another exciting guest presenting his amazing work: Moein Nodehi is an architect who has firmly embraced the concept of natural building, and has made it a center feature of his structures. Once again, the talk will be at 8:30 a.m. Pacific Standard Time, or 5:00 p.m. Central European Time.
The Perfect Guy for Earthship Biotecture
Before I continue, I should mention that I have not had the pleasure to meet Moein myself. However, I have heard many good things about him from my friends who hired him to make a 3D rendering... including a promotional video, or the building that was designed specifically to become the main structure of Itínera Theater. Even though this entire campaign has nothing to do with this theater building, Moein's work is fascinating enough to invite him to be one of our presenters. To give you a closer idea of what he does, check out this video: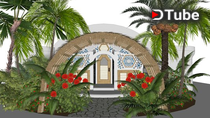 ---
As you may have guessed, the connection with him passes through Earthship Biotecture, the company that has brought us Earthships as a building technique. It's them who organize the Earthship Academy, as well as develop the various models, not to mention conduct numerous Earthship builds around the world, for profit, as well as humanitarian ones. While I was at the Academy in 2014 I didn't meet Moein, though he works there as a teacher, instructor, and architect.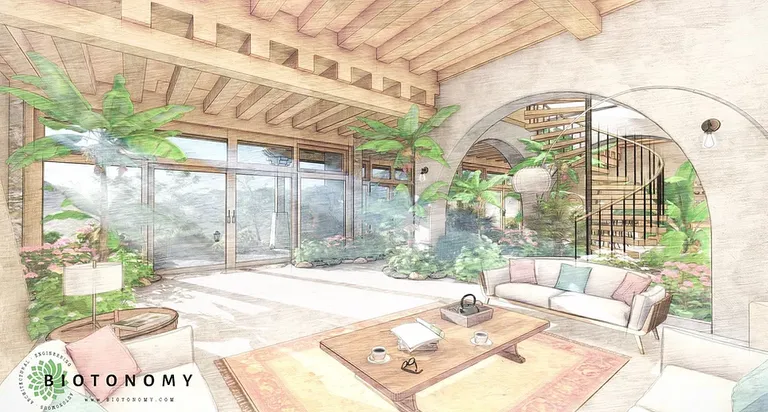 image source
Following Nature's Example
If you do a search on Moein's name, you are bound to find numerous sources, one more impressive than the next. The essence in all of them is the close relationship to natural systems you can find in Moein's designs. First and foremost, the page of his own company Biotonomy explains very clearly his focus on nature as his guideline in designing more than just structures: his aim is to design buildings that are more than just structures - they should be entire ecosystems! While they decrease their energy and water consumption, by the nature of their design they meet the needs of the people using them by growing food, maintaining a clean and pleasant ambient temperature, and esthetic audiovisual feel. At the same time pollution, operating costs, and the overall carbon footprint of these designs are reduced greatly. In a way just like Earthsips, except for Moein's buildings seem to extend on these same principles, taking them further, encompassing more.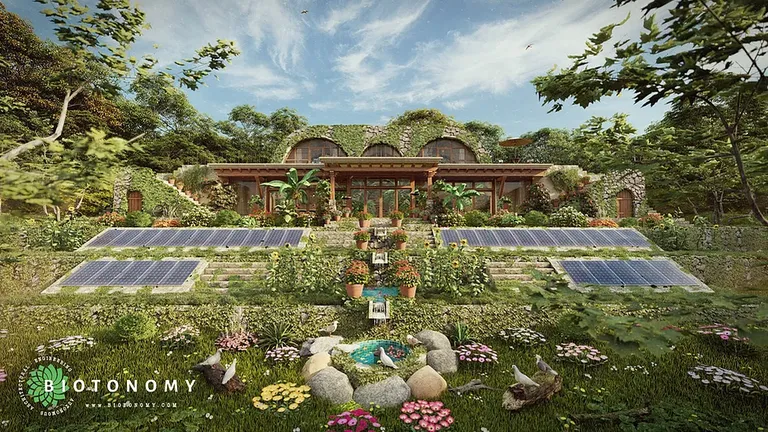 image source
A Different Take on Earthips
The image shown here is his Model 909, which was actually built in Spain. Just like an Earthship, it uses natural heating and cooling, produces its own electricity, collects its own water, treats its wastewater on site, and produces food. At the same time it has a gorgeous appearance, amidst gently flowing waterways, and lush greenery. A perfect example that sustainable architecture is not limited to the stereotypical big slanted windows of Earthships (though I personally find those windows particularly appealing). So Iḿ sure by now you have started doing searches on Moein Nodehi, so I would certainly recommend his Instagram page with lots and lots of impressive images.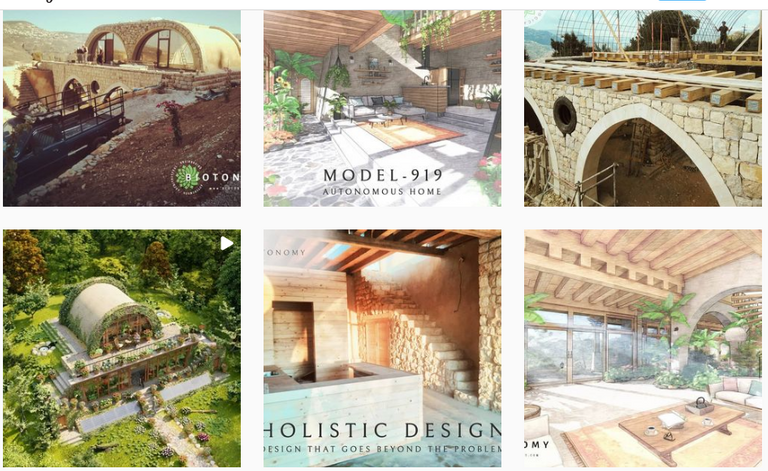 image source
Join our Encounter, and Get to Know Moein
If you like what you've seen so far, you will most likely LOVE our Zoom conference this Sunday, where you will be able to listen to Moein present himself, and ask him the questions you've been most burning to know. The talk will be in English, but we'll do our best to translate the most important ideas into Spanish with live subtitles. In the Q&A session we are also going to help out with any language issues, should there be any. You can access the talk via this link, or you can take the long cut over the facebook page of the event.
Hope to see you there!
---
---