watercolor drawing delphinium bouquet illustration
watercolor drawing
Delphinium Bouquet Illustration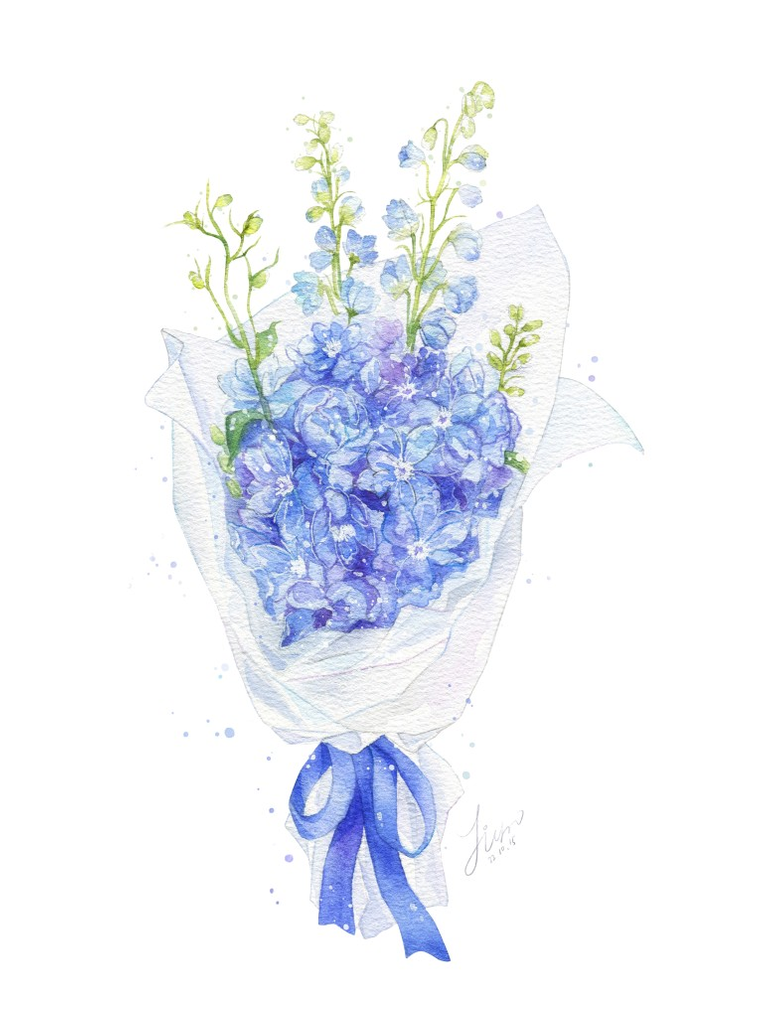 I'm back with a watercolor drawing post after a long time.
Watercolor illustration of your favorite flower Delphinium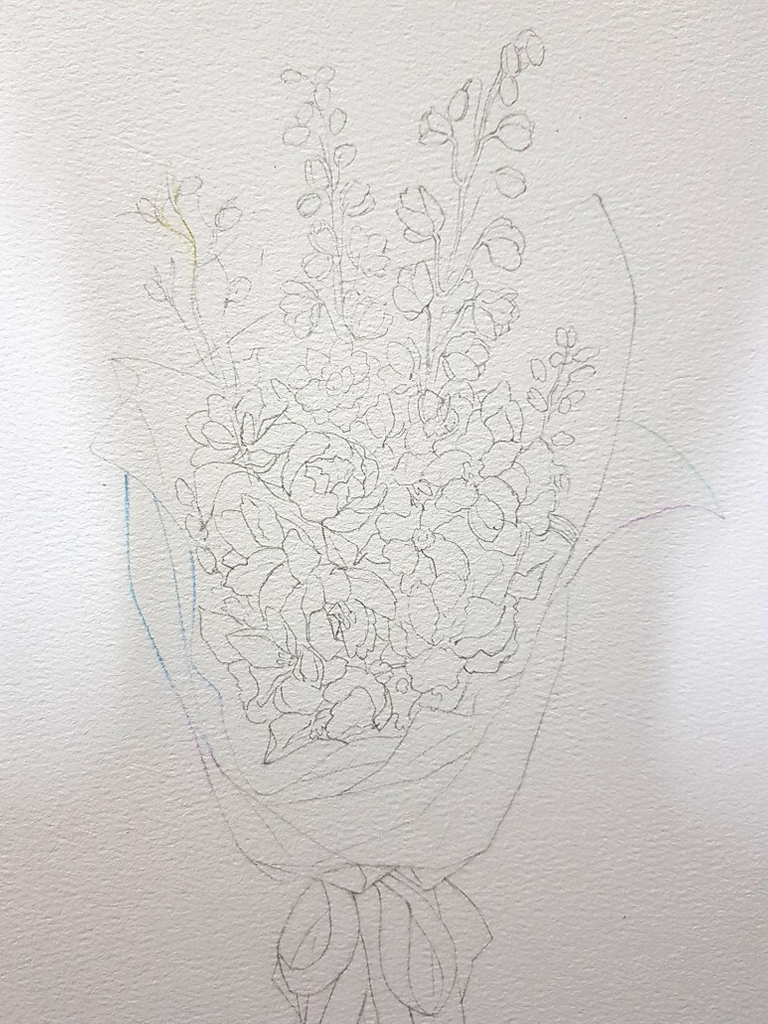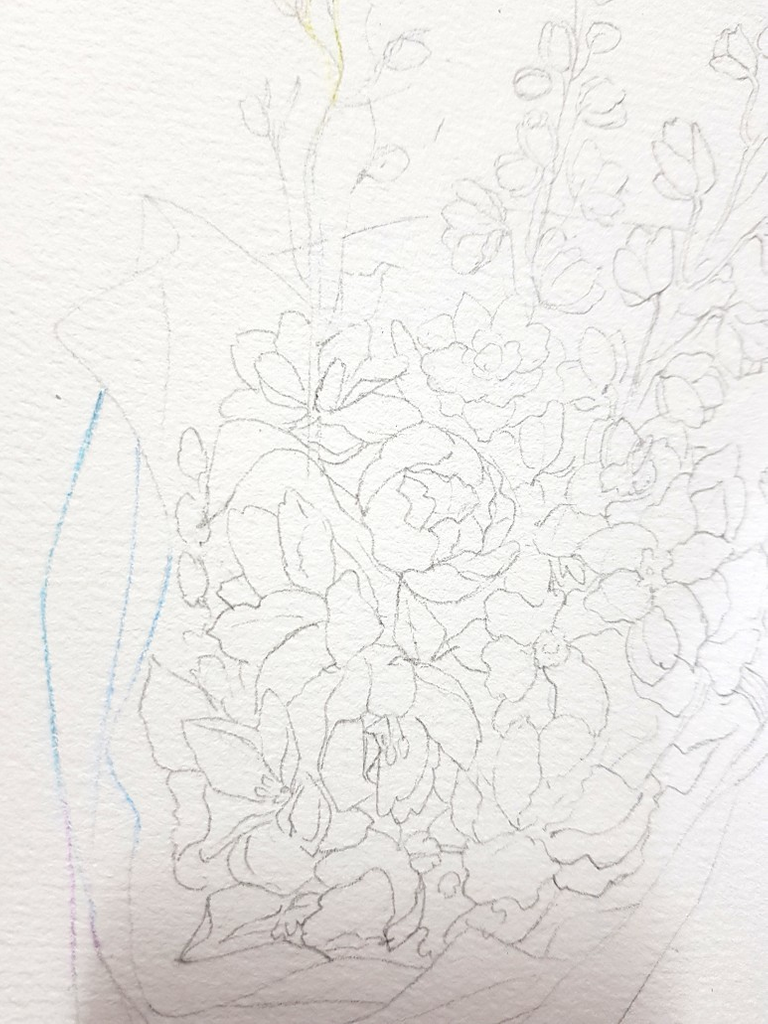 Referring to the Delphinium Bouquet data, I make a detailed sketch.
Instead of looking at the data and drawing it 100% the same, sketch it by adding or subtracting it appropriately.
When the sketch is complete, the paint is loaded for watercolor coloring.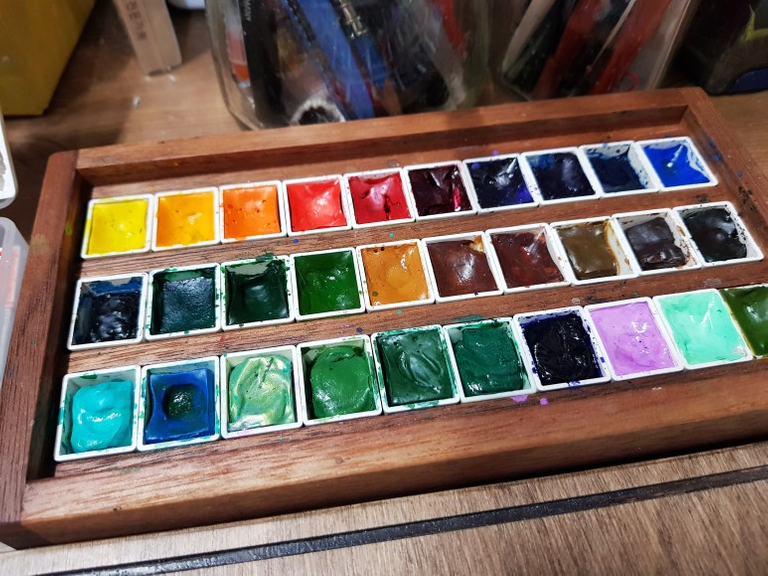 Two palettes to use for watercolor drawing delphinium bouquet illustration
On the left is a holbein-focused palette
On the right is a palette centered on Windsor & Newton (the top two lines are Windsor, the rest is a brand that focuses on your favorite colors, Champong
​Next, the brush loading!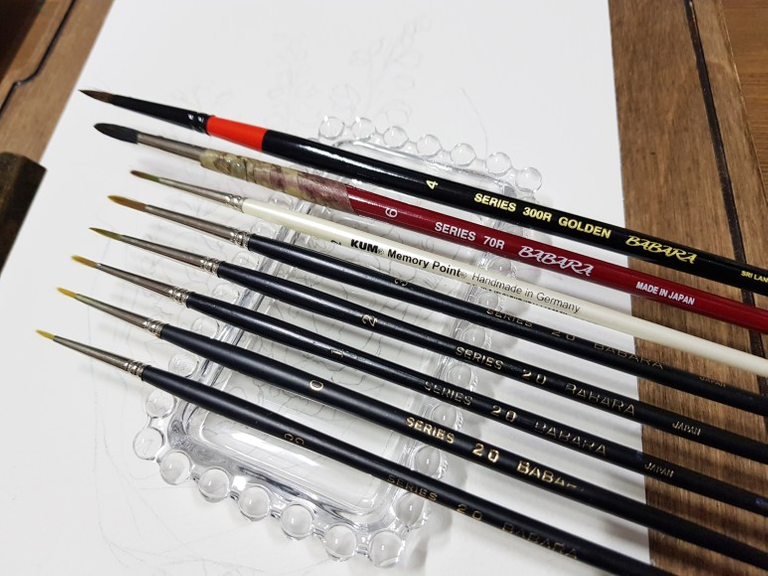 Favorite and frequently used watercolor brushes
Barbara 20R brush strokes . Elastic brush. Used for watercolor and acrylic for brushing
Always keep one set new.
​Barbara 70R / No. 6.
This brush is a mixture of natural and artificial hair, and has excellent water retention and durability.
I use it quite hard, but it doesn't wear out, so I've been using it for quite a while
​Barbara 300R entrance exam brush lol
A watercolor brush that bursts with charm due to the strength of the brush tip.
This is the brush I have been using since I was a child, so it is inevitable that it will fit well in my hand.
Barbara 300R, the magical watercolor brush that you find when you can't get a picture to work
20 R, 70 R, 300 R, etc. Numbers are series numbers
R stands for Round. It means round brush , and the letters attached to the back of the brush mean the shape of the brush.
F is a flat brush, A is an oblique brush, B is etc.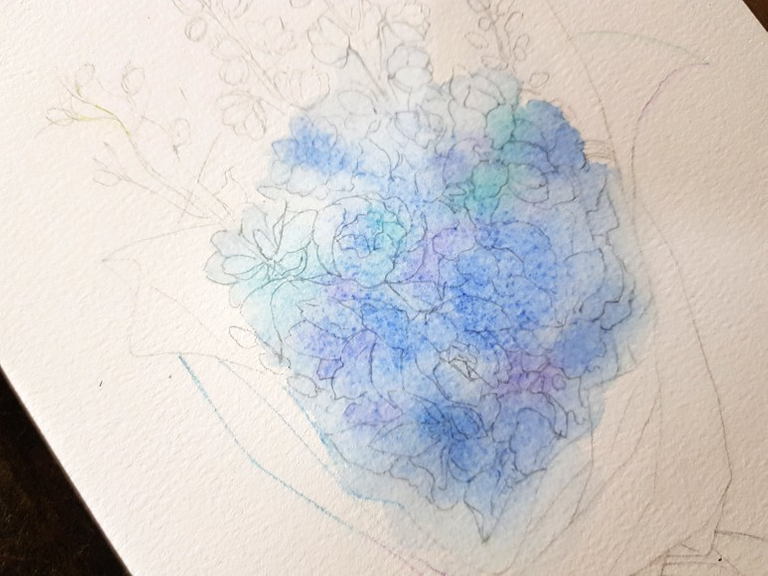 After a long time, I took a deep breath and started watercolor illustration!
The whole delphinium flower mass is colored blue.
I put purple everywhere as a point color.
Wet-in-wet (bungee technique) A method of painting while still not dry
Colors are naturally mixed or gradated as the water spreads.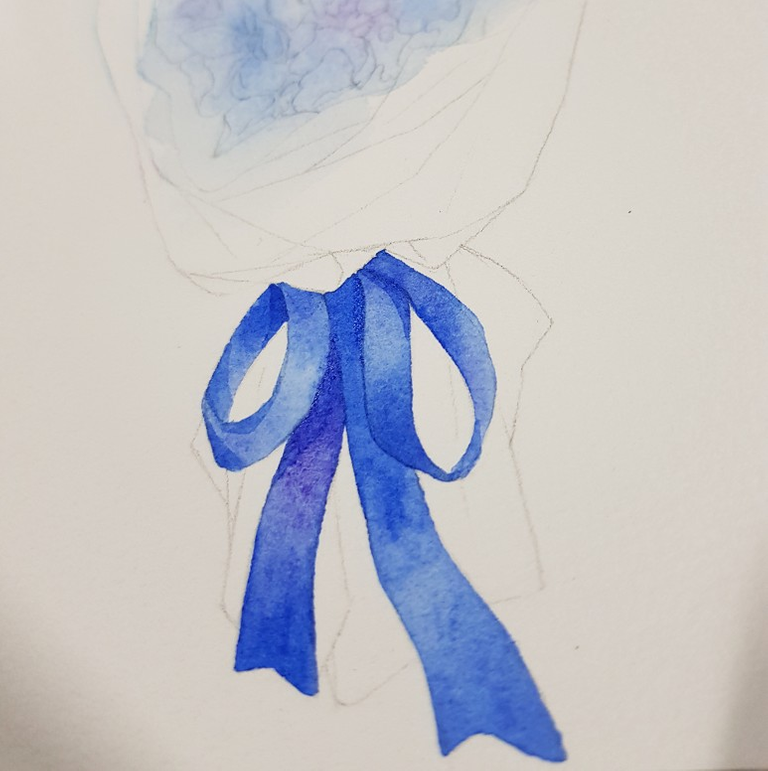 While the flower part dries, paint another object.
The shade on the blue ribbon is also highlighted with purple.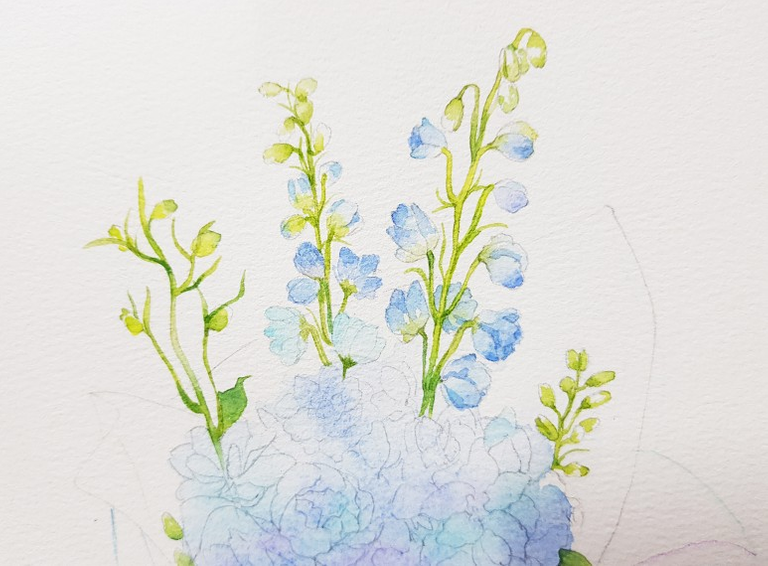 While the ribbon dries, paint the delphinium flower buds.
Since the object is small, it takes a long time to color each one in detail, so I paint with the feeling of throwing paint.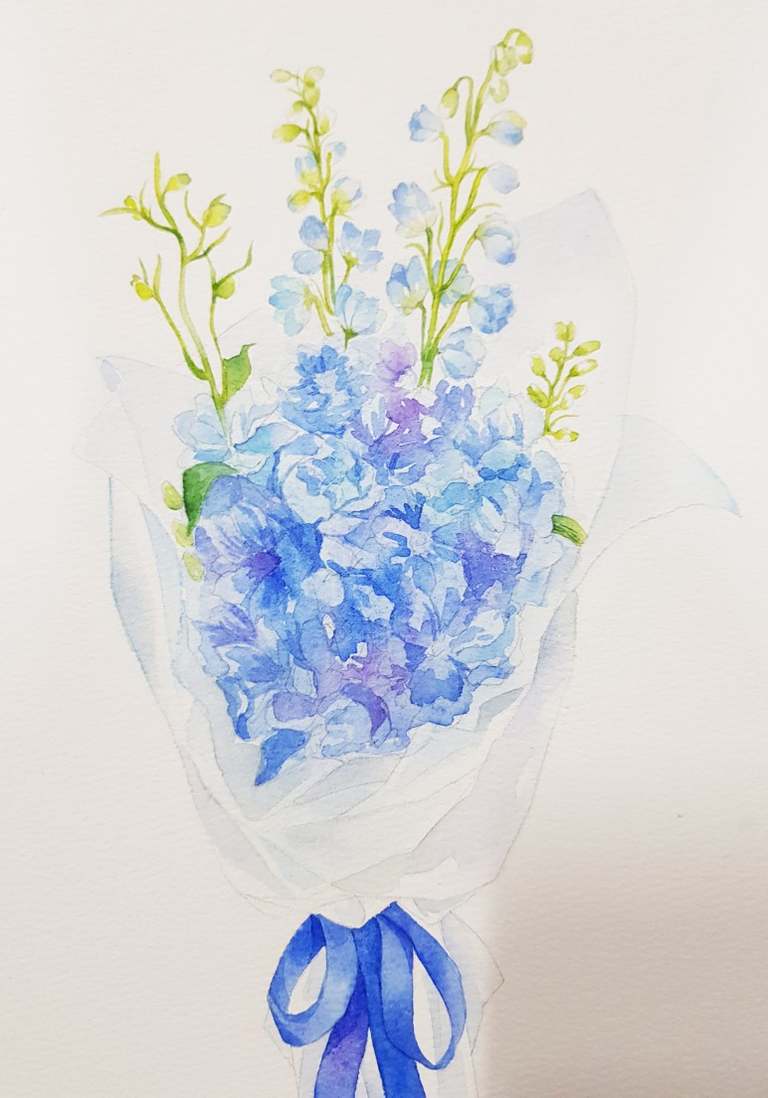 Now to express the most feared flower..
Do you want to watch a drama... do you want to draw a picture? I put the paint a little thicker, but the sketch disappeared. ah......
So, as the soul leads... just... just... throwing paint while trying to express the flower...
Ah..ah...what are you painting hahahaha It seems like all the flowers are disappearing.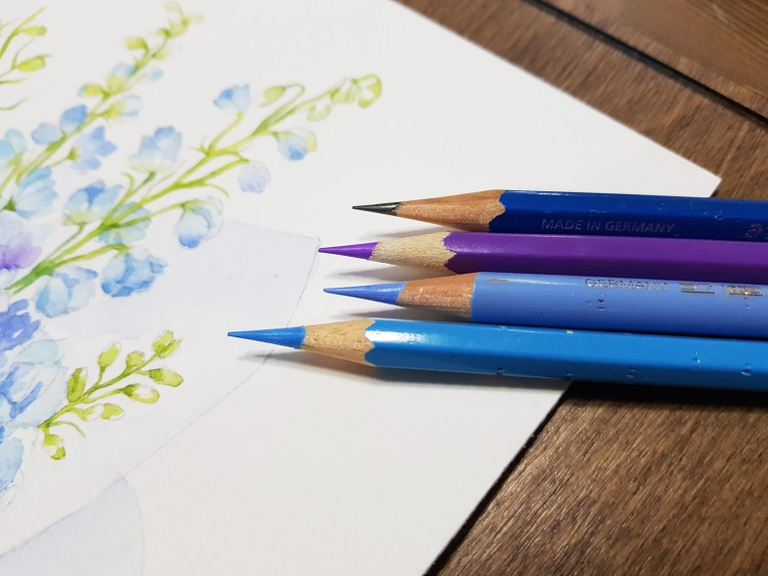 For CPR, pencils and colored pencils are also required. Let's take the line again.
​And the highlight of my watercolor illustration is white paint.
The white paint I use is a Chinese brand Rubens, and I bought it to match the price through direct purchase, and I am completely satisfied with it!!
It goes really well with white. Great for retouching Great for opaque watercolors too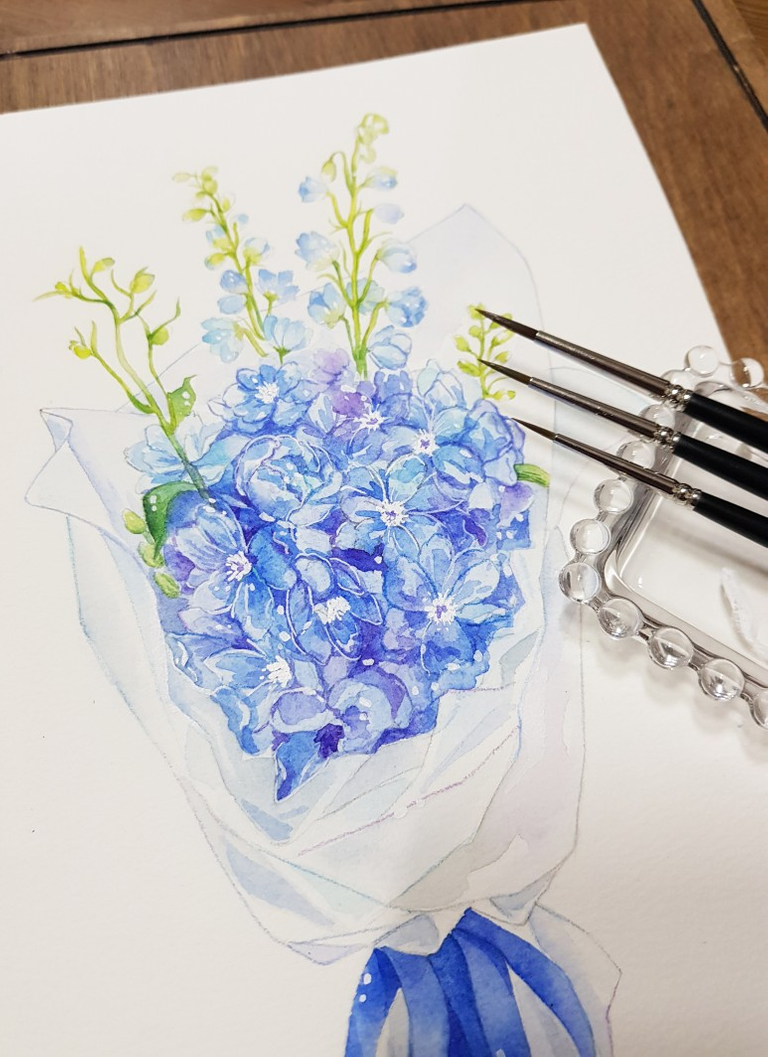 I shaded the flowers, lined them up, and resuscitated them with white.
The Delphinium bouquet illustration was completed plausibly.
Even if you mess up in the middle of watercolor painting, let's finish it well.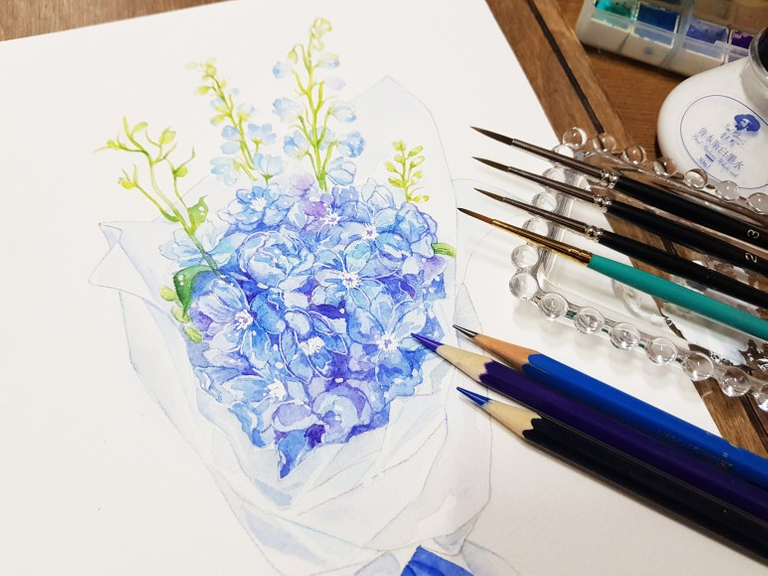 In fact, the delphinium flower should have been described as a flower petal floating in the sky like lace...
Sorry, but where is this?! Did you finish it?!
Watercolor bouquet illustration completed after twists and turns.
Dawn watercolor painting
---
---