15-11-2021: POWERLEDGER updates [EN] - [IT]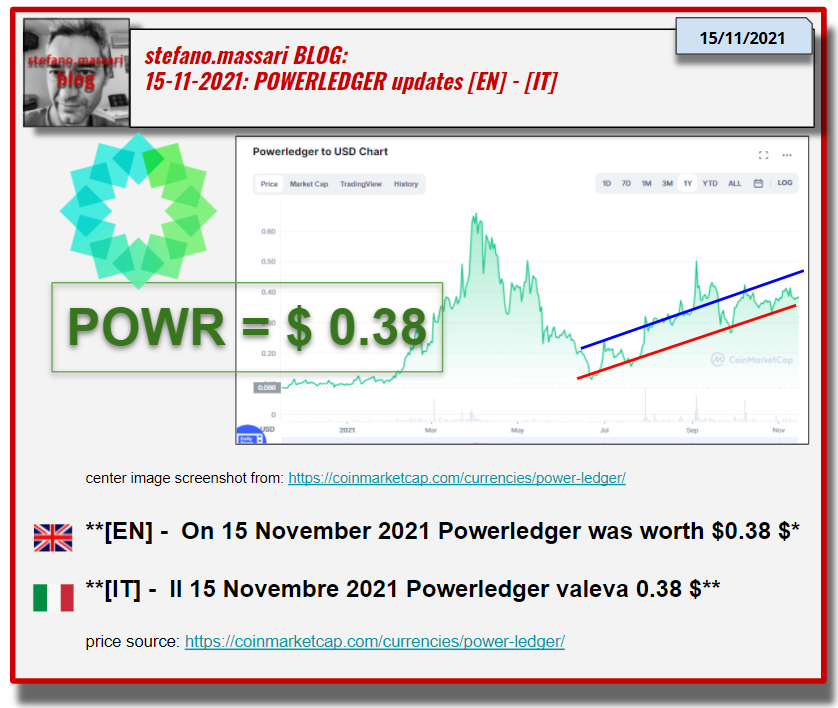 center image screenshot from: https://coinmarketcap.com/currencies/power-ledger/
[EN] - On 15 November 2021 Powerledger was worth $0.38 $
[IT] - Il 15 Novembre 2021 Powerledger valeva 0.38 $
price source: https://coinmarketcap.com/currencies/power-ledger/
---
ENGLISH
Cryptocurrency data
Powerledger features:
Token name: POWR
Area of application: blockchain applied to the energy sector
Ranking: 367
Consensus algorithms: Unknown yet
Market Capitalisation: $176 million
Max Supply: There is no cap
Circulating Supply: 458 million
Considerations
On August 24 I had a look at the price of this project and it was worth 0.32, now it has gone up slightly and the value of its token is $0.38.
Powerledger's mission is to develop an energy exchange platform that allows households and businesses to swap energy supply with each other via a trade that takes place on blockchain.
Link to the official website:
https://www.powerledger.io/
Breaking news
Powerledger will participate in an energy initiative in Chile to undertake a new sustainability project in Chile's most remote communities.
https://www.powerledger.io/media/powerledger-chosen-for-bhp-chile-sustainability-project
Chart analysis
The 1-year set chart shows that the price has been travelling in a bullish channel since July 2021. Lately, however, the price seems to be locked in a compression triangle. So there is currently uncertainty.
There is a 65% probability that the price will fall in the coming weeks. In the long run this token might give some satisfaction, but it all depends on whether its system will really start working. As of today we are still in an embryonic phase.
Conclusions
Powerledger is an interesting project that combines blockchain with the world of energy. One of the most important topics on our planet. Its system could further stimulate the use of renewable energy. In my opinion Powerledgwer is one of the most interesting projects in the world of blockchain.
Question
What do you think about blockchain applied to the renewable energy sector?
Previous post
https://hive.blog/hive-146620/@stefano.massari/powerledger-short-presentation-en-it
First post made on this topic
https://hive.blog/hive-146620/@stefano.massari/powerledger-short-presentation-en-it
Referral
My HIVE referral link:
https://hiveonboard.com?ref=stefano.massari
---
ITALIAN
Dati della criptovaluta
Caratteristiche di Powerledger:
Nome del Token: POWR
Settore di applicazione: blockchain applicata al settore energetico
Posizione in classifica: 367
Algoritmi di consenso: Ancora non lo conosco
Capitalizzazione di mercato: 176 milioni di dollari
Max Supply: Non c'è una tetto massimo
Circulating Supply: 458 milioni
Considerazioni
Il 24 Agosto avevo dato un'occhiata al prezzo di questo progetto e valeva 0,32, ora è salito leggermente ed il valore del suo token è di 0,38$.
La missione di Powerledger è sviluppare una piattaforma di scambio di energia che permetta alle famiglie e alle aziende di scambiare tra di loro la fornitura di energia tramite una compravendita che avviene su blockchain.
Link al sito ufficiale:
https://www.powerledger.io/
Ultime news:
Powerledger parteciperà ad un'iniziativa energetica in Cile per intraprendere un nuovo progetto di sostenibilità nelle comunità più remote del Cile.
https://www.powerledger.io/media/powerledger-chosen-for-bhp-chile-sustainability-project
Analisi del grafico
Il grafico impostato ad 1 anno mostra che il prezzo sta viaggiando in un canale rialzista da Luglio 2021. Ultimamente il prezzo sembra invece essere rinchiuso in un triangolo di compressione. Quindi c'è attualmente incertezza.
C'è una probabilità del 65% che il prezzo cali nelle prossime settimane. Nel lungo periodo questo token potrebbe dare alcuni soddisfazioni, ma tutto dipende se il suo sistema inizierà a funzionare realmente. Ad oggi siamo ancora in una fase embrionale.
Conclusioni
Powerledger è un progetto interessante che unisce la blockchain al mondo dell'energia. Uno degli argomenti più importanti del nostro pianeta. Il suo sistema potrebbe incentivare ulteriormente l'uso delle energie rinnovabili. A mio avviso Powerledgwer è uno dei progetti più interessanti nel mondo della blockchain.
Domanda
Cosa ne pensate della blockchain applicata al settore dell'energia rinnovabile?
Post precedente
https://hive.blog/hive-146620/@stefano.massari/powerledger-short-presentation-en-it
Primo post fatto su questo argomento
https://hive.blog/hive-146620/@stefano.massari/powerledger-short-presentation-en-it
Referral
Il mio referral link di HIVE:
https://hiveonboard.com?ref=stefano.massari
---
---