Follow Friday: Grounds for optimism
The News
After taking a bit of a hit the $HIVE price is recovering a bit and is back over a dollar. I expect some people were buying at the sale prices. I have a Python script that fetches this data from CoinGecko. It would be nice to see SPS improve.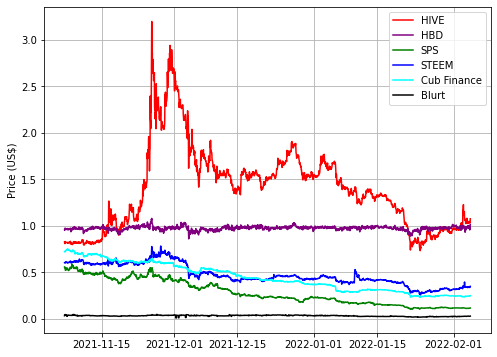 I did a post this week about web stats for Hive dapps. The numbers are improving for some of them. On Hypestat I can see Peakd and Hive.blog have better Alexa scores today. I saw the actual Alexa service that is owned by Amazon is going away this year, so I wonder where else we will be able to get such data.

On a side note, I seem to be unable to copy/paste images into peakd in Brave browser on Linux. I can paste on discord and Facebook. Any ideas on why that would be?
Friday Followings
I have done hundreds of #FollowFriday posts. It will tend to be people I know or happen to find and I will miss many good ones. Feel free to do your own posts and tag me so I can share them.
The Doghouse
I have seen yet more drama over what Hivewatchers does. It is by no means perfect, but most people have little idea of how much abuse goes on here. This guy was caught out recycling content, which some may feel makes it less worthy of rewards. The greater community gets to decide. He is also in conflict with some of the Hive communities as his posts do not conform to their rules. Those who set up a community can set rules. If you do not like them then go elsewhere or perhaps start your own community. Communities have to be managed to keep them viable. Nobody is entitled to special treatment. In fact we are not entitled to rewards either. The community gets to decide how those are distributed and you have to accept that larger accounts have more say. Getting rude towards long-standing Hivers will not help your cause.
I do not agree with all that Hivewatchers do. I do not think those who made fairly minor slip-ups should have to beg for forgiveness. Just let them show they have learnt they were wrong and can do better. We cannot afford to just drive people away.
The End
I will be producing another #BritList post tomorrow, so any last-minute additions are welcome. I have scripts that look for people based on what location data they have in their profiles as well as some of the tags they use, but I can still miss some.
Have a great weekend and Hive five!
---
---