Experience Never Gets Old | The Intern (2015) Movie Review

Hivers!
I am not too old for an experience, and not too young to discuss old maturity. Right now, maybe I can still be considered a millennial generation, even though I'm 35 years old, still, my peers are very close to technology. For me, there is no day without technology.
Although information and technology have started to reach the older generation, the percentage is very small. There are still many old men who don't understand digital technology. And, in the film that I will discuss, there is a beauty that is displayed by the older generation, perhaps beating the younger generation, that is experience and truth. Let's take a look.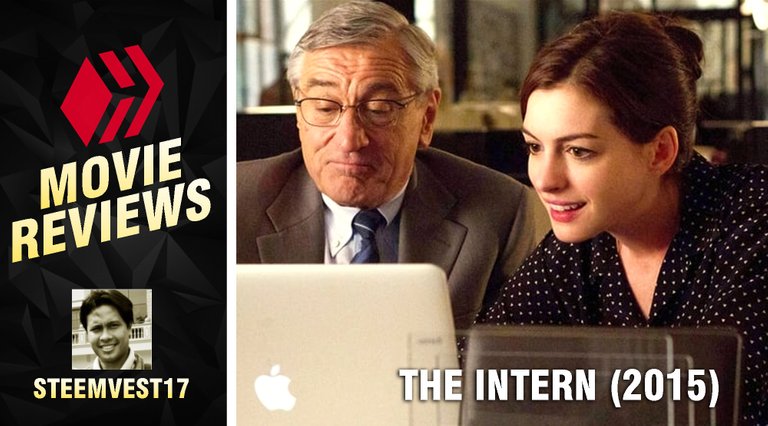 THE INTERN (2015)
You must be happy with the picture above, Anne Hathaway and Robert Deniro. That's right, they are both figures that I admire in many films that have been released, Robert De Niro was most interesting when he was in the Godfather, and that I have not forgotten until now. Anne Hathaway herself has provided a lot of humor in the hearts of many viewers. I don't need to explain both, you must know a lot.
The Intern tells the story of a young woman socialite who founded an online fashion company. She is energetic, beautiful, and workaholic. She is Jules Ostin (Anne Hathaway). In short, the company he founded opened new job vacancies. Uniquely, the job vacancies were not directed at the younger generation, but for parents who had retired to work with internet-crazy young people.
Finally, Jules Ostin's company recruited a 70-year-old retired VP (Vice President) in a telephone book company. Here it is, Ben Whittaker (Robert De Niro).
I saw Ben had no financial difficulties, he just felt very lonely by himself after retiring and his wife passed away. That's the reason why he chose to work at Ostin's place, not because of the necessities of life, such as getting fresh air. That's right, he did it wholeheartedly, with experience, neatness, and charismatics. In contrast to the style of young people who have disheveled hair, do not wear a coat and tie. Yes, like young millennials today.
In 2015, Anne Hathaway was 33 years old. It is very suitable to play a beautiful woman who is successful in her career. At first Ostin (Hathaway) was hesitant to hire Ben, but over time Ostin felt happy, she seemed to have a friend who understood everything. I can think that Ostin might feel that Ben is like her father, full of advice, and always right in taking action.
Not to mention, the young friends that Ben got were very close to him, even in a scene that I thought was funny, young people had started to be inspired by Ben. In the office, Ben has become an uncle to everyone.
This is a film that is very touching. Your heart will feel warm, and the joy of watching is given since the beginning of this film. No intrigue, no hatred. Everything feels so good and peaceful. I want you to watch this with your lover or family.
---
The Intern Official Trailer by Warner Bros. Pictures
---
Movie Title: The Intern
Year: 2015
Release Date: 2 October 2015 (UK)
Genre: Comedy, Drama
Director:
Stars: Robert De Niro, Anne Hathaway, Rene Russo
Duration: 2h 1min
Distributed: Warner Bros. Pictures
Rating from me: 7.3/10
---
---
---
---