STEEMPEAK SETTINGS Pt1 - "General Settings"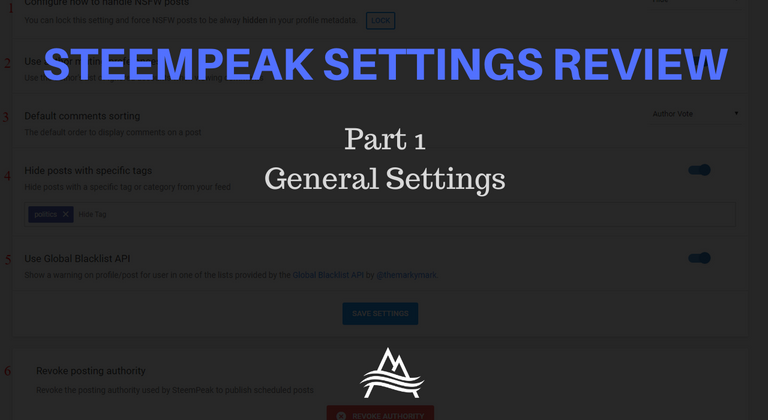 I'm (@jarvie) starting a series highlighting and explaining the different SETTINGS found on https://steempeak.com/
Settings are meant to save users time on typical actions but also are places to make the Steem experience enhanced to function as you want. #options
Stay tuned for posts about other SteemPeak settings:
Content Settings
Interface Settings
---
GENERAL SETTINGS
Pretty easy to access your SteemPeak settings and follow along https://steempeak.com/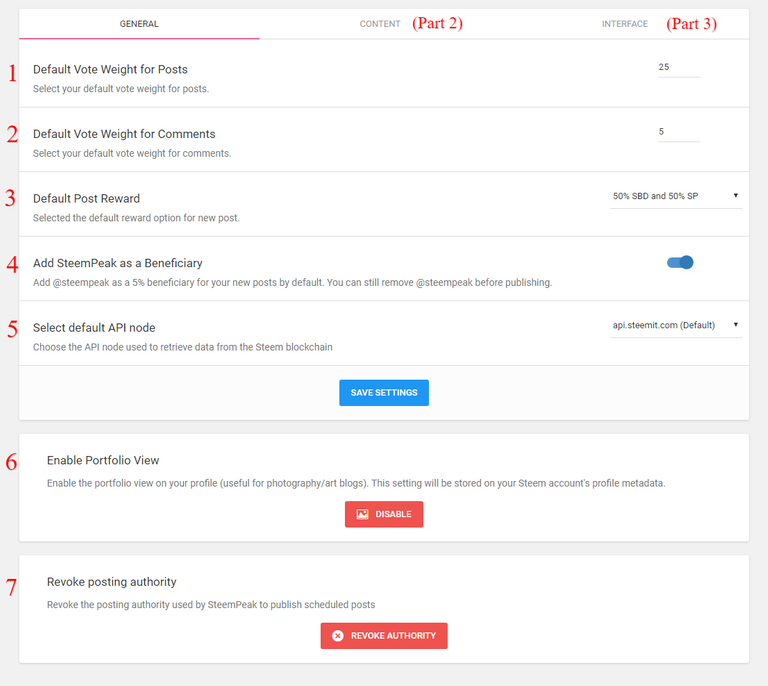 1. DEFAULT VOTE FOR POSTS
What is your normal POST VOTE? Meaning where on the slider do you normally end up?
This is meant to save you some time... if you're normally 50% then set this to 50.
Doesn't mean that should always be what you use... but it should save you some time on a good portion of your vote actions.
---
2. DEFAULT VOTE FOR COMMENTS
What is your normal COMMENT VOTE? Meaning where on the slider do you normally end up?
This is meant to save you some time... if you're normally 50% then set this to 50.
---
3. DEFAULT POST REWARD TYPE
50% SBD / 50% SP - Presently the reward pool isn't even rewarding actual SBD but this reward pool choice still uses SBD value to determine Liquid payout and then the payout is in Steem.
100% SP - means all rewards will go to the non-liquid Steem Power as a reward.
Decline - means that you're not interested in earning tokens from the reward pool and are declining them.
DEFAULT = 50/50... because it's easy enough to take the actual tokens given in this scenario and power them up yourself.
OTHERS? - There are 3 other options when you make a post but we were sure if any of them were consistent enough to be added to the default settings options. So far no one has petitioned them so that may be true. However just know there are 3 other options.
Burn all rewards @Null
Steem Proposal System @steem.dao
Get 100% liquid rewards through a 3rd party system @likwid
---
4. STEEMPEAK 5% BENEFICIARY?
End user gets to decide most things on SteemPeak including whether or not they want to support SteemPeak with a 5% beneficiary on all their posts by default.
DEFAULT = OFF
TIP: You can turn this option ON and then on a case by case basis each time you post you can decide if you want it higher or lower or gone.
We are very grateful for all those that have turned this setting on... and thankful in advance to anyone reading that chooses to turn this on.
---
5. DEFAULT API
These are servers that retrieve data from the blockchain for the interface.
Default = api.steemit.com
TIP: If one API NODE isn't working you can switch to another and at times one may be faster than another.
In the past there have been other API NODES that have offered to be on the list.
You can check https://status.steempeak.com/ to see if a node is having issues
---
6. PORTFOLIO VIEW
If you're a visual artist you may be interested in this feature.
It basically creates a new page on SteemPeak where you can send viewers to have a strictly visual interaction with your posts.
EXAMPLE: https://steempeak.com/@jarvie/portfolio
TIP: Use tags that are related to visual content like #photofeed #photography etc

7. POSTING AUTHORITY
7A REVOKE STEEMCONNECT ACCESS
If you're logged in with SteemConnect you'll see this button.
If you click it you will be logged out and you won't be able to use SteemPeak through SteemConnect again until you log back in and give SteemConnect authority to do posting-key type transactions again. Aka post/comment/vote.

7B. REVOKE POSTING AUTHORITY
If you're logged in with Keychain you authorize each transaction with your on computer app = keychain. However scheduling does require posting authority which you can revoke if you desire.
---
---
Vote for the @steempeak witness
Now is probably a nice time to remind you that we run a witness server to help produce the blocks for the Steem Blockchain. You can vote for our witness so we are in a position to process more of them.
Vote on out profile page: @steempeak
Vote on the witness page: https://steempeak.com/witnesses


This works for all witnesses BTW
Using Keychain: You just have to click and approve the transaction
Using SteemConnect: You'll need access to confirm the transaction with your Active Key at least
---
The SteemPeak Team
About us: https://steempeak.com/about
Join us on Discord: https://discord.gg/6hCAcVp
---
---