Tale of Creepy Noise - Hexacentrus Japonicus

What you do when a creepy noise make you awake from sleep? Either u get scared or you get curious to find where is coming from.
Same thing happen to me last night a strong noise coming within my room. Well such creepy noise is very common at night in my area, as it surrounded by open fields and jungle. So croaking frogs , noisy crickets and other wild insects sounds are very common. Going out in my area will give you an original NatGeo experince at night.
But this time the noise is within the room , and sound is very strong. After looking here and there I found this, sitting one corner of the window.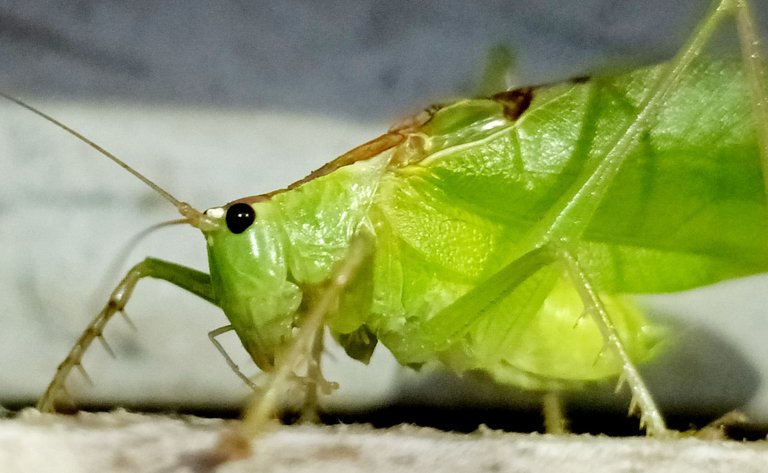 I never heard such a strong sound of this grass hopper or locust scientifically this species of insects is known as Hexacentrus japonicus Two things I found strange about this. Firstly it has a brown patch on top of it. I saw many locusts but having a single colour in its body. Bit this one is differrnt.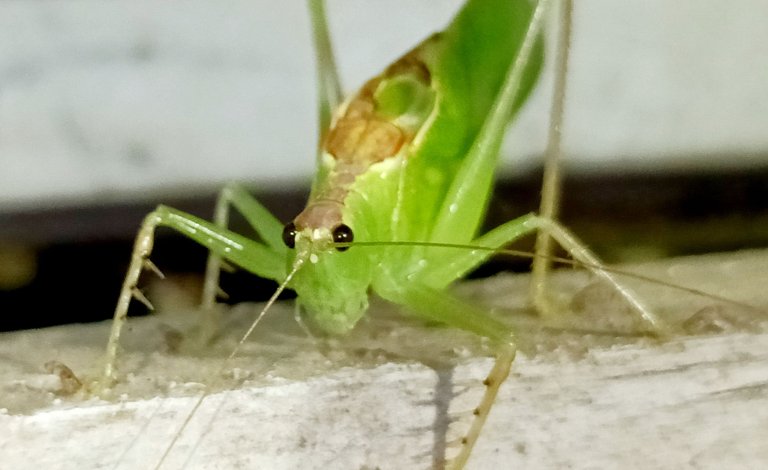 Secondally, I saw a big bump underneath the body. Like it is carrying its baby. When it was making moaning noise, that part use to shake. Mat be it was using all her strength to shout out on something.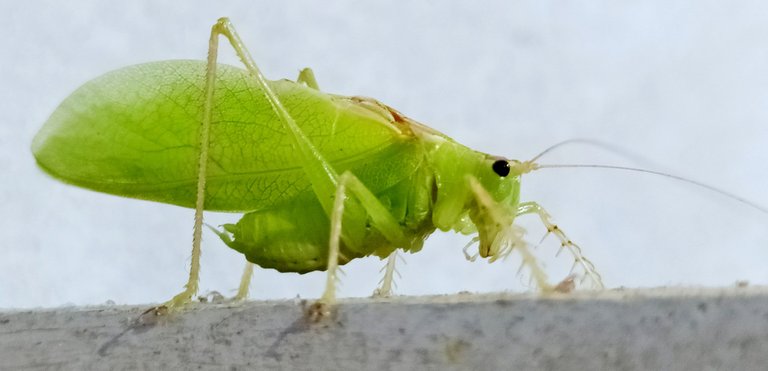 Finding these Grass hoppers in my region is very common. Especially during g tge farming days. And seeing them intruded into my room is also common, as we have big piece of land with green grass just back of my window. So finding them inside is not so unusual, but her moaning like noise is a serious concern, which put me off my deep sleep.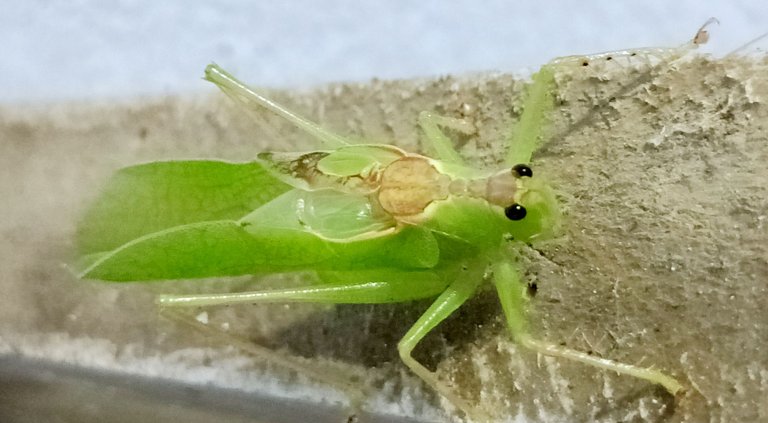 Hexacentrus Japonicus as these are known scientifically is the type genus of bush-crickets in the subfamily Hexacentrinae. so they are very friendly, green lesfes lover and not so harmful. At least not u till I get closer to it to take a micro shot with my mobile handset.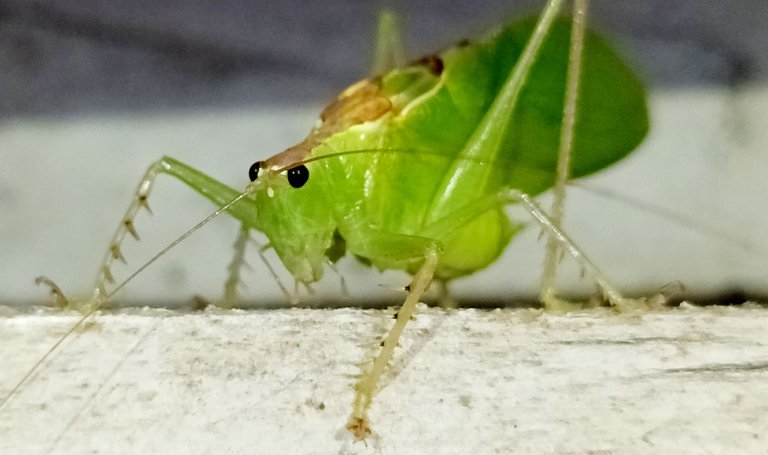 It does looks creepy as well, with six spiked thorny legs. And two towers like moustache coming out of mouth. It has black eye, which follow my camera. It looks to be ready to counter attack in case I am going to harm. But I am snapping it, monitoring it closely. No way I am going to harm.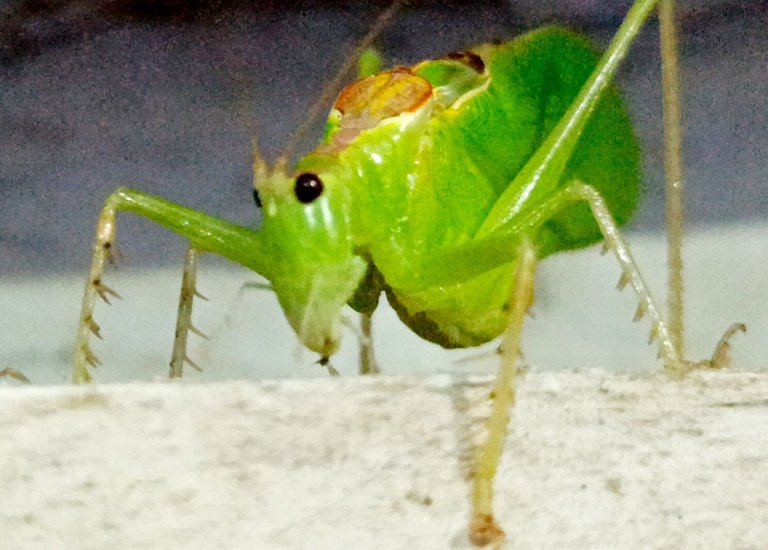 Not sure what those long antennas (moustaches) near the mouth do to these insects. How these help them, might be scare some one. It was good 2-3 cm long just equivalent to its bodysize.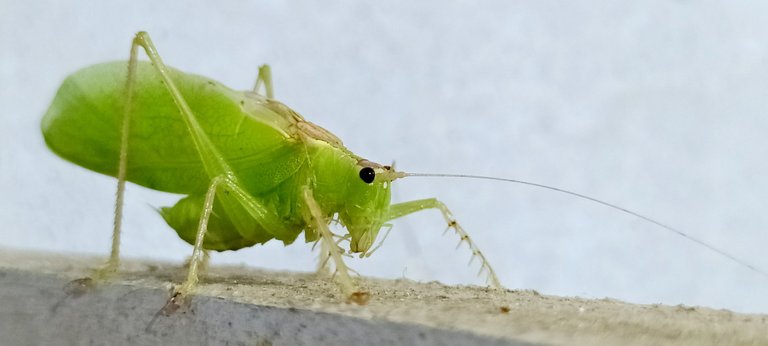 I am yet to figure what the little insect is carrying in its tummy. It was cylindrical type like a baby womb. But it lookes to be in pain that what make it making such creepy moaning noise.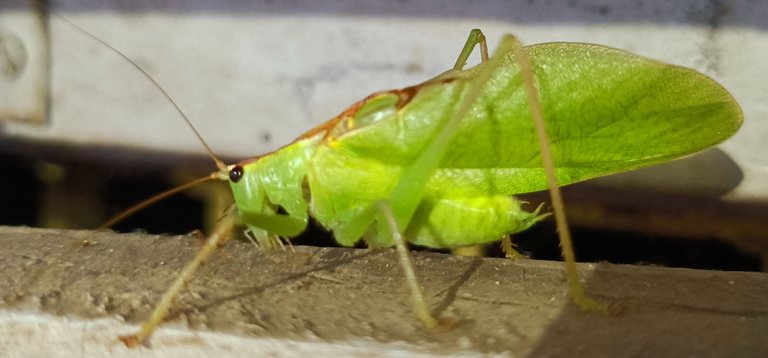 Anyhow after playing and photoshoot, it flyaway to nearby wall. May be its enough for them. I left it to rest as well. By now, it stopped making any kind of noise.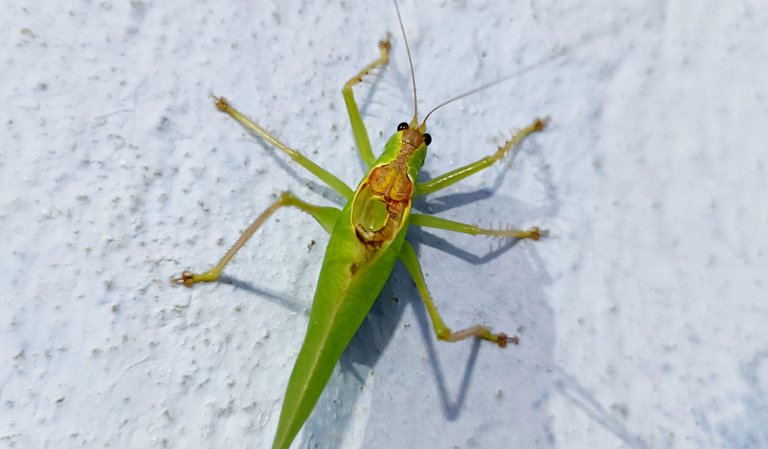 Time for sleep, I went to my bed. And when I woke up this morning, it was nowhere. Hopefully it flyaway safely to their family members. But does allow me to cook a nice story for my HIVE community. I am planning to record the original noisy sounds of nature at night of my area.
Peace
---
---