Hivechess Tournament Season 5 Round 2: We have a new winner, @yazp!

Dear Chessfriends,
in the second round of Season 5 we were 13 players including 2 new to Hivechess (@klausklaus and @masterswatch - welcome!). This time @yazp (zulukill) was man of the day and won epically with 4 points lead over @sawko who for the first time was left with the 2nd rank! Congratulations!
The again somewhat strange pairing might have helped @yazp, but anyway, we know this from Lichess. And in their only game against each other he could beat @sawko which made the difference between place 1 or 2!
@jaki01 got "only" the 3rd rank, followed by myself as 4th. With quite a gap landed @schamangerbert (HerbyW) on the 5th spot and the remaining tournament points went to @masterswatch, @pereu4ivatel (pereu4uwatch) and @vjap55 (who must have had some connection problems).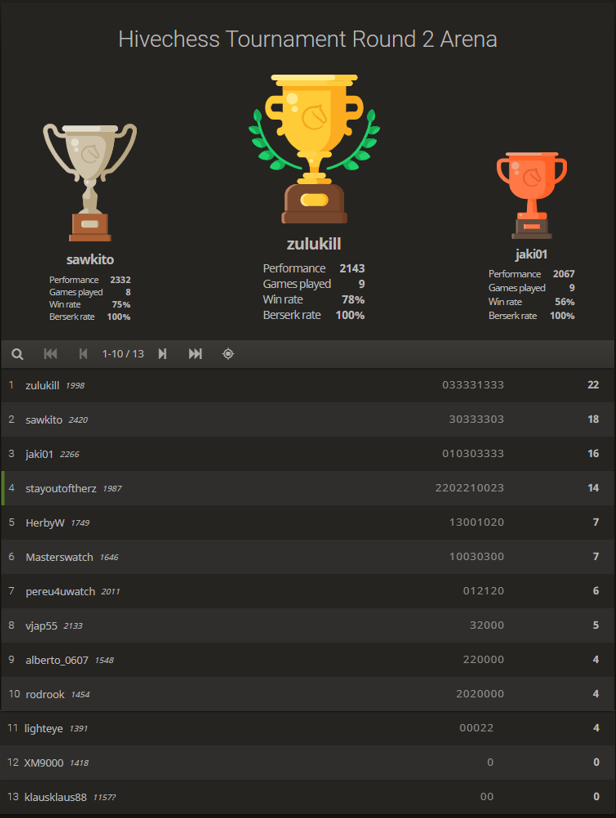 The games of this round can be found here, in case you want to replay some of them.
Season 5 "Spring": 12 Feb to 23 April 2021 / Ranking after 2 rounds:
Due to his win today, @yazp (zulukill) could gain the 3rd rank, ex aequo in points with @jaki01.
The rules you can look up in the announcement post.
See you next week and keep practicing!

---
---