WHAT IT COST ME FOR CHEATING ON NATURE || MY PHONE GOT STOLEN

---
Today didn't go as planned for me the way I assumed how it would go. Painfully, my phone got stolen. So how did it happen?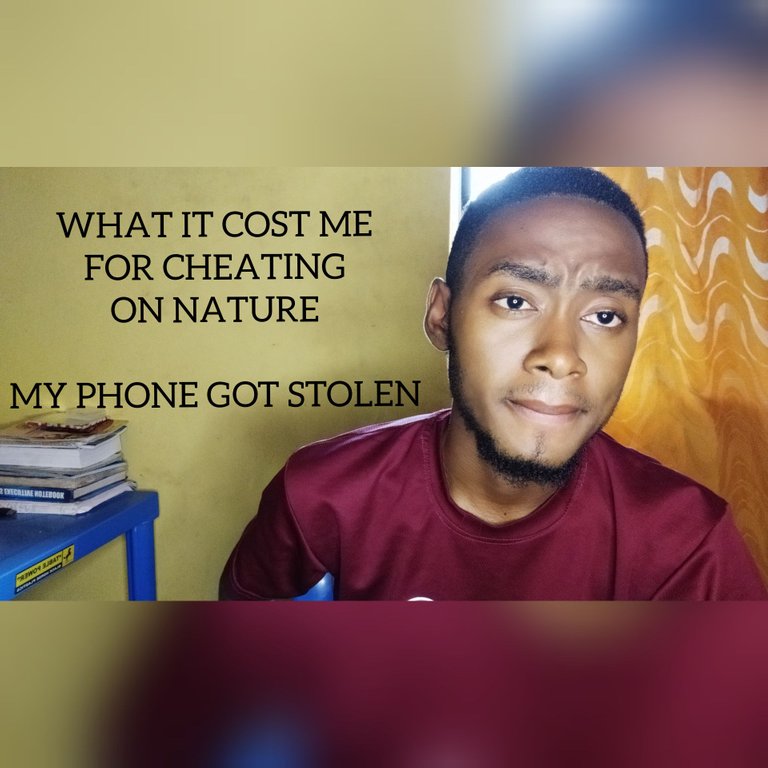 CHEATING ON NATURE

Between yesterday and today, I was awake all through the night rehearsing the songs that would be sang in church today. I didn't give myself enough time to rest because I wanted perfection in my guitar lines. Then later, I went to bed around 2am and set my alarm for 4:30am to prepare leaving for church.
As a worker in the church, we are expected to get to church as early as 6:30am to soundcheck and make necessary arrangement before the service begins. Since my house is far away from the church, I had to wake up 4:30am to meet up by 6:30am.
After the service, which ended by past 10am, I had to wait for a compulsory choir meeting which took about an extra hour. Then, I left church by past 11am still having my phone on me.

PART WHERE MY PHONE GOT STOLEN

At 11am, I boarded a bus going home from church and while on my way home, feeling exhausted, I dozed off while my phone was in my pocket. The next thing I remember me waking up due to a loud shout from the driver asking for payment after getting to the last bus stop. Before I knew, I could not find my phone in my pocket any longer and other passengers had highlighted from the bus. Immediately, I borrowed a phone to try dialing my phone number but it kept saying switched off.
I searched all round the vehicle including where I sat but I could not find my phone. It really pained me to lose my phone as we all know how expensive mobile phones are at the mome. This kind of expense is not the type I planned for at the moment.
Worst of all, retrieving my sim is another big problem I am going to face. As in Nigeria, one would go through stress before the sim can be retrieved. My biggest problem is getting my NIN (national identification number) which I can use to retrieve the line. I have misplaced the slip, and the only back up I had was on the device. This line is very important as it is the line I used to open so many accounts online especially Binance.
I tried using https://android.com/find to see if I can track my device but I only got the last location of the device. I don't pretty know how they track phones or if at all they track android phones.

PLANS ON GETTING ANOTHER PHONE

Right now, I have no where to turn to than to my hive account since it is my only source of income as a student. I don't want it to take too long before getting another device since it is my primary source for content creation i.e. making videos and writing posts. I normally use the hotspot of my phone to write contents on my system but now, I had to beg for internet connection for @mayorkeys to make this post and also to use his device to shoot this video.
This definitely means without a phone, I would be very inactive on hive, and I cannot afford doing that due to the initiatives and contest I am running on the platform.
Now to get a phone, I plan getting a phone of $300. I took a loan of $100 (150 hive) from @selfhelp4trolls which I promise to return after my power down. Hopefully, I get raise $300 before my power down completes to get a new device and remain active on Hive.
---
▶️ 3Speak
---
---