Creating a Hive Economy: A Clarion Call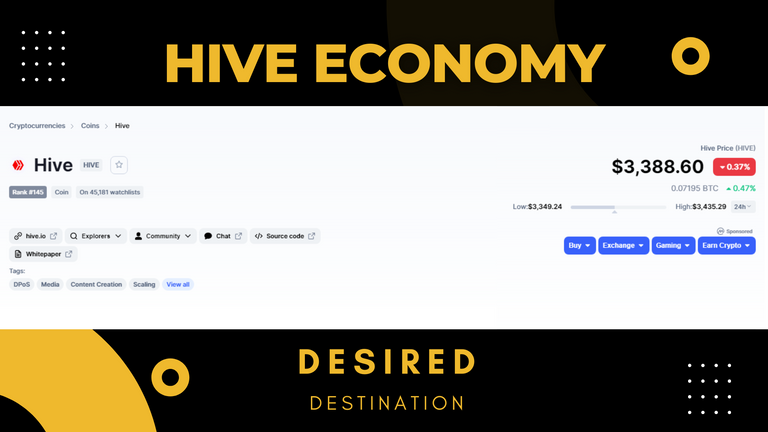 Economy is a broad subject and theme that encompasses a wide range of vital human activities, including but not limited to production, trading, consumption, distribution of products and services, and resource management.
Most of the time, we throw around the expression "the economy is poor," especially when it appears that earning money is becoming increasingly difficult, and expenses are frequently outpacing income.
The economy is a crucial component of human life, and it is one aspect of human intelligence that other intelligent organisms cannot duplicate.
---
As the world progressed, so did the concept of economy. Different agents of civilisation, including technology, continue to influence the economy. Find out how far the economy has progressed:
To begin, the world had the market economic system, which focuses on transactions between buyers and sellers without the intervention of a third party, primarily the government.

After that, the government became interested in economic operations, leading to the creation of a command economic system in which the government or a centralized authority takes responsibility of economic activities and essentially dictates how they are carried out.

With the advancement of technology, we can establish a case for a blockchain economic system, in which economic operations are carried out on a blockchain and cryptocurrencies are used as the principal means of exchange. Because this economy is decentralized, it is immune to government control. Hive Economy is a blockchain economy product.
---
The Hive Economy
The Hive economy, also known as the Hive economic system, is an economic system built around the Hive ecosystem of decentralized applications (DApps) and based on the Hive blockchain.
The Hive economic system supports (some in part, others in full) economic activities such as purchasing, selling, distribution, and consumption of certain commodities and services, just like a traditional economic system.
Furthermore, as a blockchain-based economy, it is based on a peer-to-peer system that allows economic transactions to take place only between the persons involved, without the intervention of a third party. The Hive blockchain has established a solid reputation as a blockchain economy with a solid potential.
---
Hive Economy is Constrained
A real economy is ubiquitous. This means that a true economy should be able to cut across various aspects of life, such as culture, education, technology, morals, politics, legal frameworks, history, natural resources, geography, ecology, and so on. To be adequately sustained, an economy must be diverse.
Moreover, it should be able to accomodate more persons into its economic system through activities that interests them.
Hive is one of the most rapidly expanding blockchain economies, although it falls short of the requirements expected of a true economy in several ways, the most significant of which is the lack of real-world implementation of the Hive blockchain and its network of DApps. Just the same issue with most other blockchains!
The point is that Hive has done well in the crypto arena, having launched a slew of crypto-based initiatives and amassing a sizable number of DApps. But for a crypto noob, apart from the Hive blogging through the Hive blog and its related apps, they have very little to do on the blockchain.
A true Hive economy hopes to fix this!
---
The True Hive Economy: A Call for More DApps
In order to mimic what is available in the centralized world, a true Hive economy will necessitate the creation of more DApps. This will take a lot of time and effort, but it will be well worth it in the end. This will make it easier for more people to adopt most parts of the Hive blockchain without having to go through a lengthy learning process. Here are some of the ways this could help us:
Hive and its tokens have a constant upward trend because they are always in circulation.
Crypto independence, as seen by reduced fluctuation in Hive's market value as a result of broader cryptocurrency market changes.
More Hive blockchain activity, enticing more people to the Hive blockchain.
The Hive blockchain's long-term sustainability and increased scalability.
Achieving a True Hive Economy
Here are several DApps ideas that I think will be important in making the Hive economy more sustainable, with real-world applications:
Hive Music Streaming Service: Existing and prospective musicians will be drawn to the Hive blockchain by a music streaming service that pays them in Hive currency. This service might also include a podcast session, allowing Hive blockchain users to easily share audio podcasts and earn from doing so.

Hive Remote Work/Freelancing: Payment is a key barrier to cross-country and cross-continent job/work engagement because banks make it difficult for non-elite bankers to conduct transactions in foreign currencies (especially in low and middle income countries). Having a remote work/freelancing DApp on the Hive blockchain will remove this barrier and provide the Hive currency more real-world applications.

Hive eCommerce: eCommerce adoption has been slow in the crypto realm, and the lack of a proper blockchain-based e-commerce system has hampered international transactions for low- and middle-income countries like Nigeria. eCommerce on the Hive blockchain will be a game changer, thanks to Hive's integrated payment system. This can be accomplished by constructing an all-purpose multivendor online store using Hive as the principal payment system, or by developing Hive payment plugins/addons for existing Web 2.0 platforms, such as a Hive payment WooCommerce plugin for WordPress sites.
---
Conclusion
The goal of cryptocurrencies is to unify the world's economic activity by bypassing governments that seek to divide people. A more unified economy with more power for individuals can be realized by a robust Hive economy via DApps with real-world applications. A realistic Hive economy with real-world DApps will lower the barrier of entry into the crypto realm for the vast majority of people, while also increasing the value and worth of the Hive blockchain and its tokens. So, this is a call to Hive blockchain developers: let's build a real Hive economy!
---
---