A New Typing Speed Milestone!
My typing skill is something I have been very passionate about. I love typing so much and it has been a hobby that I found since I was very young.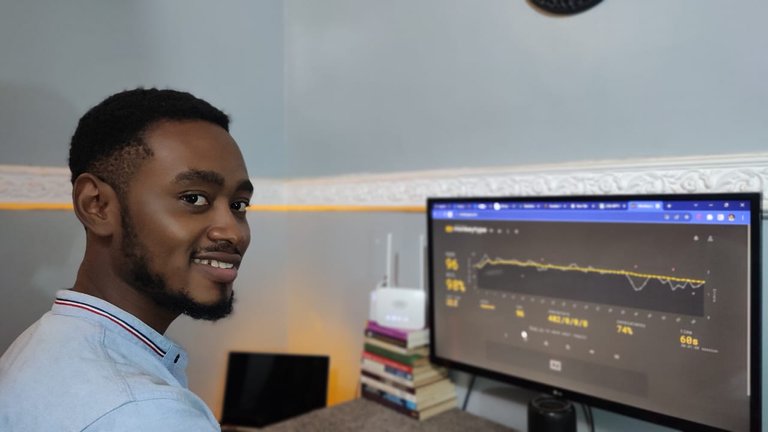 When I was so little I set a goal of hitting a speed limit of 120 Words per minute but because I did not constantly or continuously have access to laptops or keyboards to rehearse typing, achieving these goals has been quite difficult for me.
I spent a long time with a speed of about 50-60 words per minute before I started improving steadily.
Some months ago, I shared a video of how I hit my highest speed limit ever of 87 Words per minute, and today, I am happy to share that I have broken that speed limit, and I have achieved a much higher speed limit.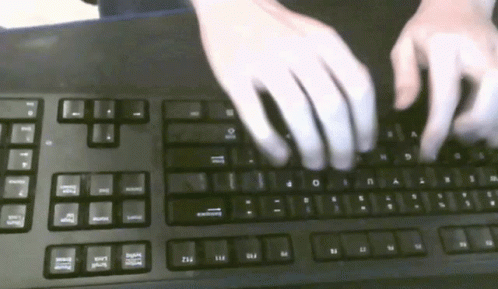 I am glad to have attained a typing speed of 96 Words per minute which is very massive. I wasn't expecting myself to reach this speed because it is my first time passing the 90 mark.
I have always been struggling to attain 87 WPM again since the last time I got it but I never did. I was only getting 86 repeatedly, and not eating 87. But this time, I just randomly decided to take a typing test and type normally.
It didn't even feel I typed any faster but I just typed the way I would type normally and I found that I broke my previous speed limit of 87.
At first, I tried the typing test using a different typing test site monkeytype.com, and surprisingly, I hit this score.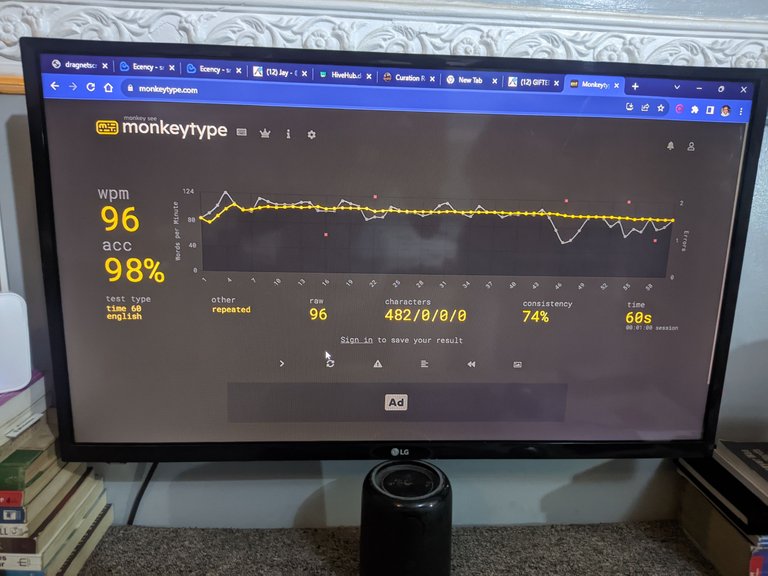 I thought maybe it could be the site that boosted my speed, and immediately, I had to use a different keyboard and laptop to check my typing speed to see if I would still pass 90 WPM and this time, I decided to type in the dark and I got this speed using 10fastfingers.com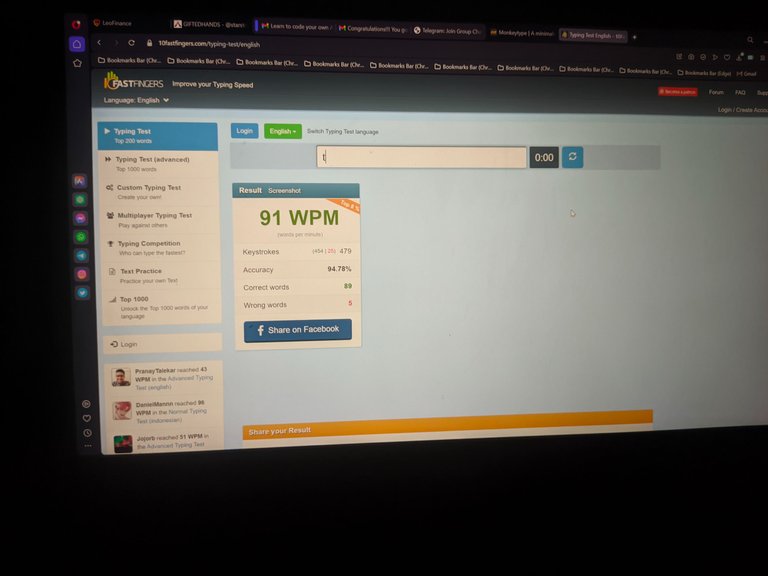 I could not believe my eyes when I found out that I passed 90 WPM the second time with a different keyboard.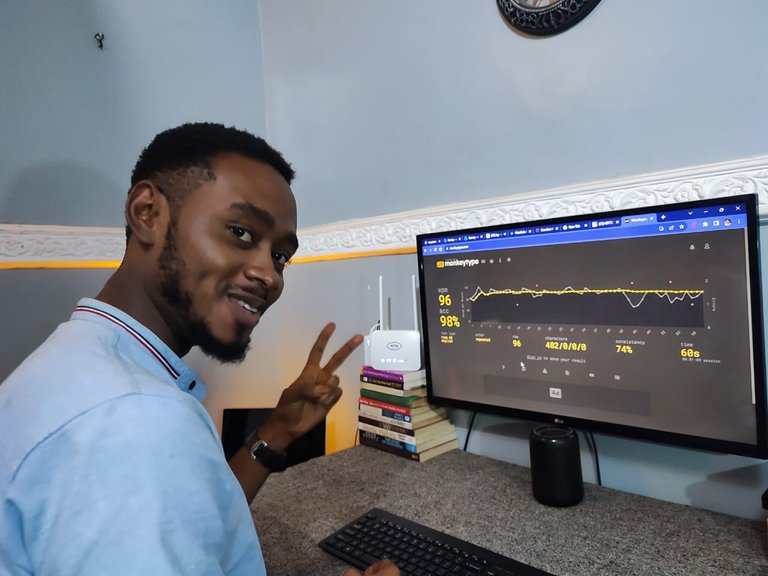 Since yesterday since I broke the record of hitting 90, it has become easier to attain a speed of 90 WPM when I type although I have not yet hit my highest speed of 96 words per minute again since the first time I did.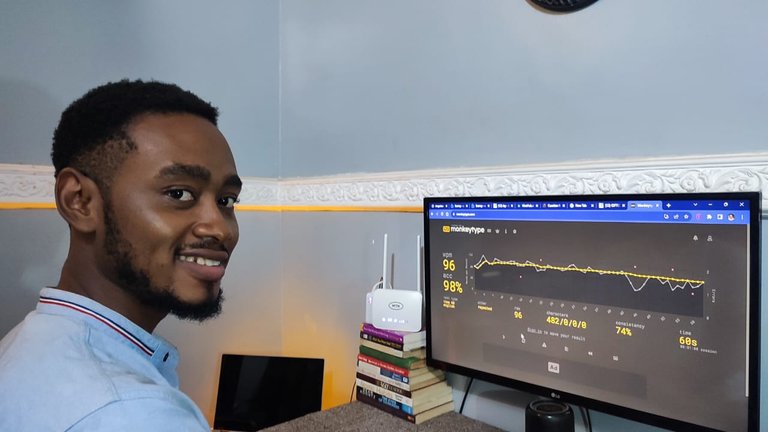 It is just like how I hit 87 Words Per Minute last, and I didn't attain it until I was able to surpass it. Maybe in the end, I would break this record when I least expect. We don't know, this time I may hit 107 Words per minute. Who knows?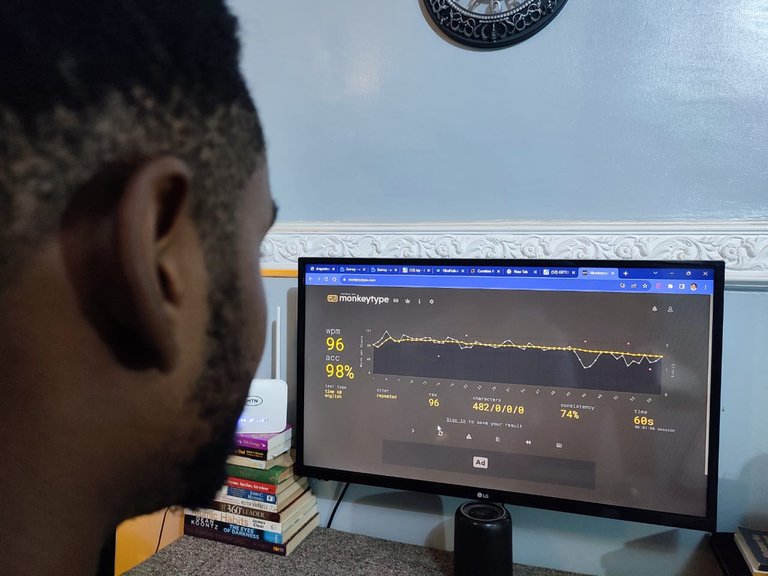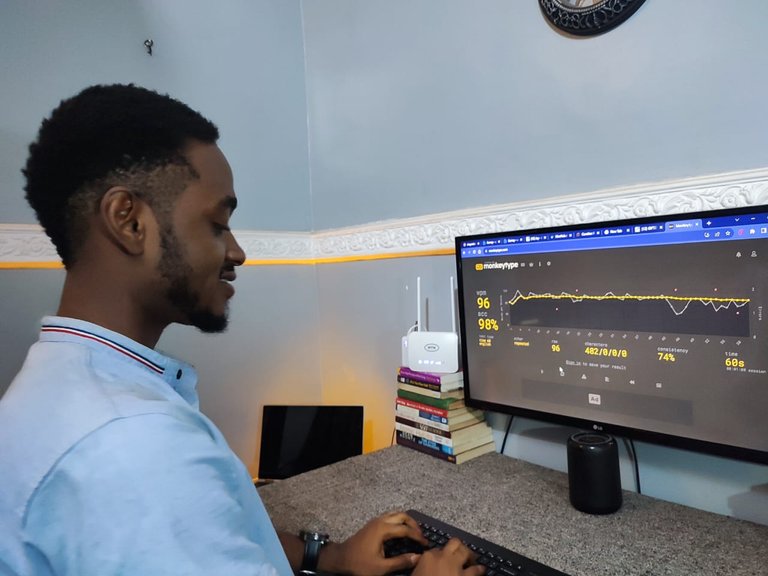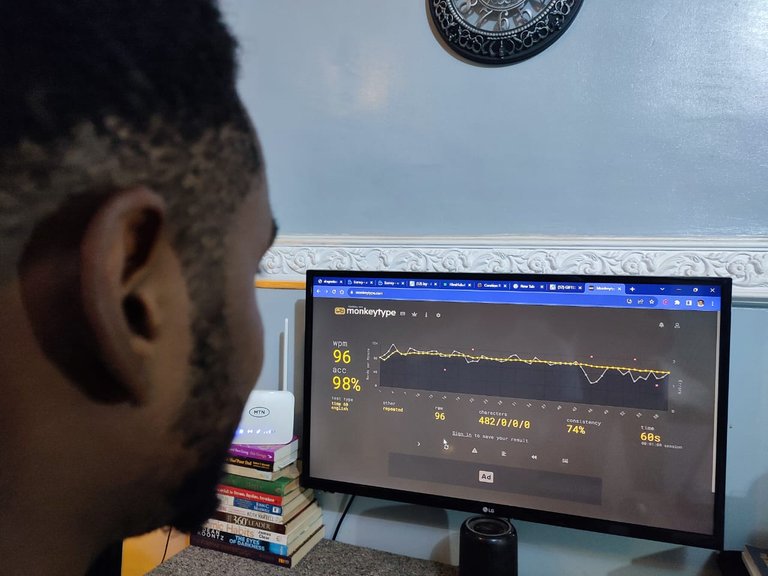 I leave it up to you to guess my next highest typing speed after this 96 WPM and if your guess becomes right, I would make a post announcing who guessed right and send the person some rewards. I can't say the rewards now but still then.
Have a great life.
---
𝙰𝙱𝙾𝚄𝚃 𝚃𝙷𝙴 𝙰𝚄𝚃𝙷𝙾𝚁
---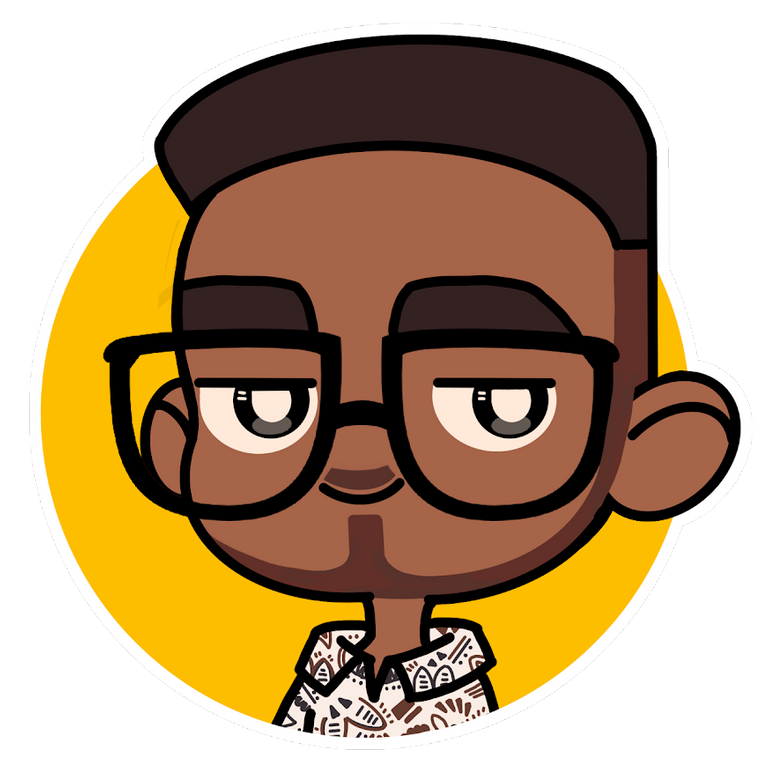 Designed by @ grisvisa
Starstrings01, also known as Giftedhands, attends the Federal University of Agriculture in Abeokuta to study mechatronics engineering. He is a lover of the hive, a guitarist from Nigeria, and a student.
His ambition on Hive is to be more than just an ordinary blogger; he wants to be someone with a purpose. That's why he started the newbies initiative @newbies-hive to help guide and support newbies. Please follow the @newbies-hive curation trail by clicking here.
He tries to juggle education with being active on the chain, but his love and passion for Hive keep him on track..
---
All images are mine except where indicated otherwise
All gifs included are powered by Tenor
---
Some posts you might be interested to read:
QUALITY ENGAGEMENT Vs. QUALITY CONTENTS Vs. GAINING VISIBILITY ON HIVE
BEING UNIQUE DOESN'T MAKE IT ORIGINAL || HIVE REWARDS ORIGINALITY
SETTING YOUR RECOVERY ACCOUNT USING PEAKD INTERFACE
---
If you're a newbie and you're looking for a place to learn about how Hive works and meet other newbies, you should check out the newbies initiative Applications for this round just opened and we're looking forward to starting real soon.
---
---