Trying not to win against them 🏦 and i am not even the bank!
Knuckle heads who are home
in the evening were such fun to have around.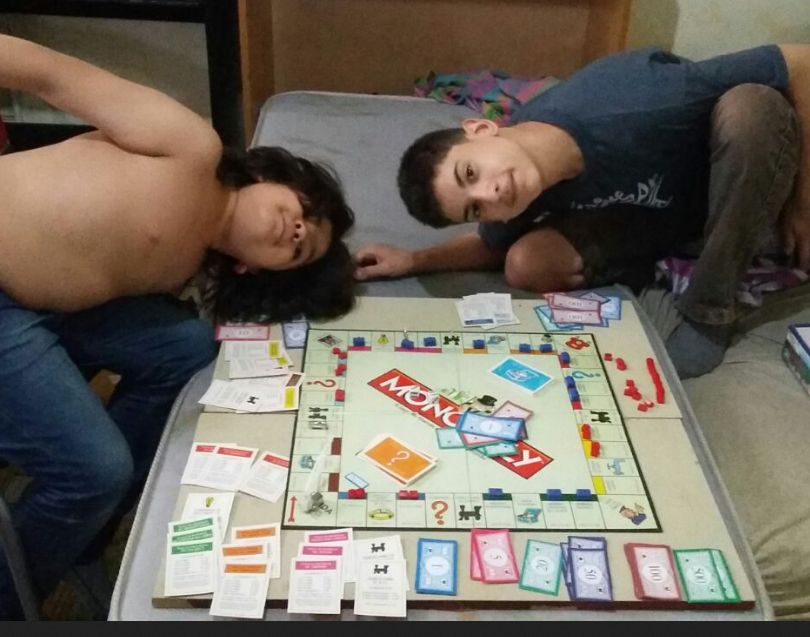 an eveing of fun...
We spent too many days playing computer games and playing with selfie cams. They got me on the SteamPowered platform and we gamed the days away over many weekends, but I don't have many pictures of them with their backs turned. But I relish the nights that were spent talking and moving and rolling the dice.
They had more properties in the beginning. I was broke and paying them but once I got my houses and hotels, then they were selling to me in order to pay for their visits on my properties. My middle kid would not let his blue ones go, he was waiting for me to land on them in order to get me back, but I didn't.

These guys were about to realize that the slow and steady strategy was going to get them. I did not let it go to mortgage time. The best way to gracefully end the game is to take a photo of the board and promise to pick it back up.
Pretty soon, it is time to go back to Mom's house
(and they never had to lose.)
Lessons in the real world?
Now they are both older, both unemployed and struggling, they both have steady girlfriends, but they are dead set on not posting on Hive*.
I mean, the money is just waiting to fall into your wallet if you use the platform and post your real self...
It may not be much at first, but their dating lives would improve. Everyone can use the extra cash, but you can only lead them to the ♨️ ... as the old saying goes.
Go figure.

---
---