SPK Network | LARYNX Miner Claim drop - 90 Days until Snapshot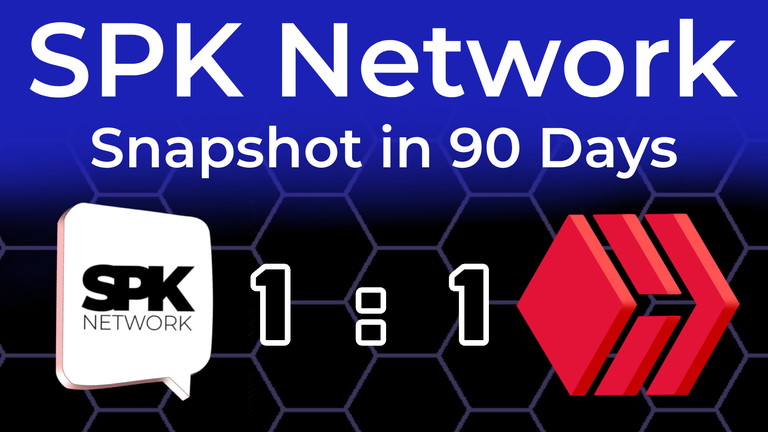 ---
We are happy to announce that exactly three months (90 Days) from now, we will do the snapshot of Hive and Hive Power Balances. In this claim drop, Hivers will get a one for one drop of LARYNX Miner tokens. More information in this extract of the SPK Network Light Paper:
---
CLAIM DROP
A one-time HIVE wallet balance blockchain snapshot shall be taken at a specified date and time. There will be a 90-day countdown prior to the snapshot. The claim drop of LARYNX Miner Tokens is once per month, each month to HIVE and HIVE Power holders. Users will have to log into the Speak Desktop App each month to claim their monthly balance.
Unclaimed tokens:
The Hive community completely controls the distribution of the unclaimed LARYNX Miner Tokens. 3Speak has no control over where these unclaimed tokens are sent. It is proposed by the Hive community that the tokens are placed under the control of the Network's Decentralised Proposal Fund System, as described in section 7. Any user may submit a proposal, and HIVE Power holders will be able to use their Hive Power balance to vote on proposals, releasing the distribution of the unclaimed LARYNX Miner Tokens.
---
Snapshot Date: January 6th, 2022 at midnight PST
---

---
More info about the SPK Network:
The SPK Network is a decentralized Web 3.0 protocol that rewards value creators and infrastructure providers appropriately and autonomously by distributing reward tokens in such a way that every user, creator, and platform, will be able to earn rewards on a level playing field.
---
First app on the SPK Network:
---
---