The Wealth that lies in knowledge
It always feels so well when we are flowing with what we know already but the moment there's contradiction to that, it's always a challenge.... Maybe because when we code them in, it sticks and then uncoding and coding a whole different explanation for what we thought was correct is always tasking.
That was the case we had in our jsss2 when we started doing the subject for the first time... We called it Health and Physical Education (HPE) in my school.

It was on a beautiful morning shortly after resumption that the teacher came to our class and the topic on the board was Health.
She asked if we could define it or had a clue as to what it entails when it's said that someone is healthy...
Many hands were raised because it's what we have been hearing all these while but the fun fact was that for all the persons that raised their hands, the highest she scored the best definition she got was 4/10.
I was really curious to know what exactly the teacher wanted to be her perfect definition because what my classmates were defining were obviously what I knew and thought was the perfect definition.
How can I forget this definition when it took me almost the whole semester (term) to wipe out the wrong definition or "not so correct definition" I knew and replace it with the new one..... It was always tiring as I would rush and define using the old one sometimes when asked 😂.
Her definition....
Health is defined as the state of complete mental, social and physical well being of an individual and not merely in the absence of disease or infirmity.
To her the key to the definition was the last statement, "not merely in the absence of disease or infirmity."
This is because some persons think they're healthy just because they're not ill whereas they are not healthy....
Just for instance, Psychopaths: they're not sick but then they are socially deprived...
But thinking about it, almost everyone isn't healthy going strictly by this definition, hehe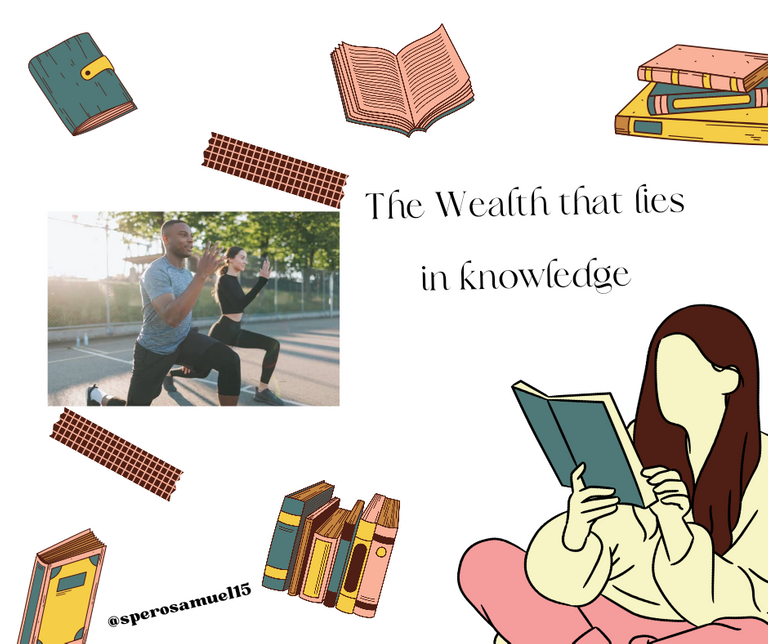 Designed using Canva
This was what made me love this subject... Changing the narratives and I was eager to learn more it will help me correct.
A very interesting subject honestly... I enjoyed doing it and even wrote it In my WASSCE examination ( West African Secondary School Certificate Examination).
More still because it teaches about the human body and it's ecosystem.

Exercise: The memorable moments with HPE.
This was my memorable topic in HPE, not because it's the best we did but because it was the subject that made the first attempt of explaining a lot of things to me even though they were basics then...
Questions like:
Why do we sweat during exercise?
How does exercise help us?
Why is this sports done this way or that way?
Does exercise affect my academic performance?
Is it important for healthy living?
They were all answered and I came to discover that exercise was even the most important thing to healthy living.
I didn't understand it clearly then but as a medical student, I fully now understand what the teacher was trying to tell us then.
Keeping physically fit helps us prevent or reduce risks to a lot of diseases, improve your brain health, help manage weight, amidst other things.
What made this moment even more memorable was the fact that we went to our field during the classes and had practicals.. which was literally playing during school hours.
It was really fun and we all yearned for subjects that will take us outside the four walls of the classroom.

Health and physical education is really a great subject we all should do irrespective of our interests be it art or science as it has a lot to teach us as regards to better living.
Remember, Health Is Wealth.
---
Thanks for reading and have a great day ahead 👍
---
---