Is it Fair?
Fair, you say? What exactly is fair?
According to Merriam Webster dictionary,
Fair is defined as an act marked by impartiality and honesty : free from self-interest, prejudice, or favoritism
Having known the definition, do you think the world is fair? Is anything fair at all on earth?
I was on transit to my campus when I saw two children who were begging and on a closer look, I noticed one of them was blind... I was immediately forced to ask myself many questions as regards to what exactly would be their fate and it was in that little discourse with myself that the topic came to my mind... Fairness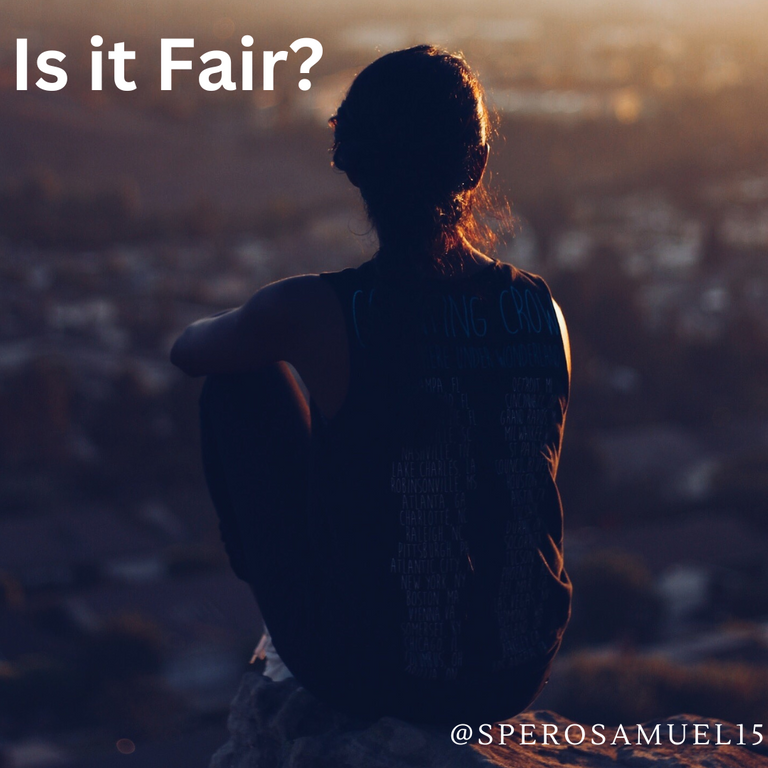 Canva
Is it fair that some are disadvantaged from birth already coming out of the uterus with one congenital defect or another?
Is it fair that some are poor irrespective of their hardwork?
Is it fair that our skin colour varies?
There are endless of "is it fair" questions to ask, but then to what end?
Will asking these questions bring forth an answer? NO! It won't rather it worsens the situation.... It dampens and weakens your spirit.
We've all been brought to the world even against our wish, but then, we are here already and the good thing is that you are the architect of your own life henceforth.

It's said that,"As you make your bed, so.you will lie on it"
And that's the sad Truth.
Yes, the world isn't fair to anyone or most persons but why dwell so much on something you can't effect a change about?
Why not channel your energy towards making your life better?
Many started literally from nothing but today, they are comfortable at least, their families are okay and living well and you too can do it.
I won't love to start giving examples of persons who really had it rough growing up even to the extent of doubting their next meal but today they are making names for themselves in various sectors of life because I believe we all have our phones to do that.

The fight isn't against your neighbor nor against the wealthiest man in your community, the fight is against your own self.
It's all about making a successful step ahead at all times
It's all about looking at yesterday when you wake up and affirming that, yes, you are better than you were yesterday.
Never compare yourself with any man!
We all are uniquely built in our own way... Always allow your uniqueness speak for you because Comparison kills faster than it builds.

self-esteem; always wake up building yours.
It's not fair you're suffering, yes, but amidst all that, never let your disability, the unfairness be your weakness.
You can definitely get to the top you're aspiring to get to irrespective of all odds just with dedication and consistency towards your goals.
Always be positive in life...
Give no room for negative thoughts....
We will be fine eventually at last..
---
Thank you for reading and have a great week ahead 👍
---
---