New Epic Card! #Day 122 // ¡Nueva Carta Épica! #Día 122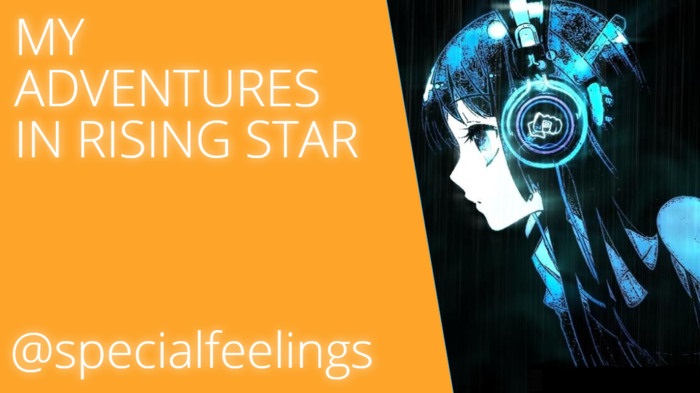 ENGLISH

Hello, how are you? I want to welcome you for another day to my daily Rising Star space. I hope you are having a peaceful Sunday. Today is open packs day, so make yourselves comfortable and let's see what cards we have today.











Today's packs were extraordinary. First of all, I got an epic card, which hasn't happened for a long time. Then, many new cards have appeared and I'm adding to my collection. These new cards that are already part of my collection are Riley, Flame Guitar, Dave, Heather, Nanny, Bizzo and Remy.
RANKING
It has been a complicated few days in the ranking because I have been close to get out of the top 100 because lately I could not play as much as I would like and my weekly minutes went down, but little by little I hope to recover the weekly minutes I used to play. Let's see where I stand today.

I'm up one position from yesterday, so I'm glad I didn't drop out of the top 100 these days. I honestly thought I would stay out for a few days, but luckily that hasn't been the case.
With the packs I acquired today I think I will be able to stay in the top 100, but nothing is ever a sure thing. I'm already a little nervous to find out my position tomorrow and to see if today's packs will be a major help in the ranking. We will know tomorrow.
FESTIVAL
The festival is currently taking place in Iceland and will end on October 6 when it will move to France. This way we will say goodbye to the Nordic countries we have been traveling these last weeks❄️

The bracelet we can get at the Icelandic festival is one of my favorites along with the Finnish one and it looks this good.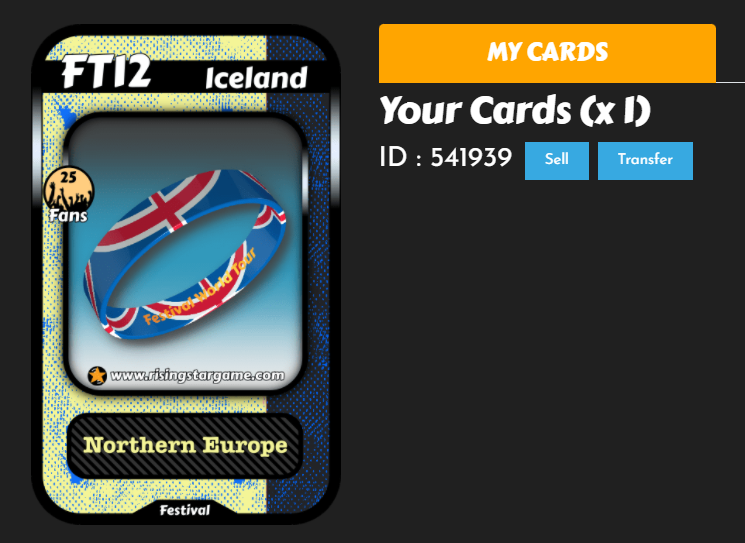 I have already got this beautiful bracelet and with it I have 12 bracelets from the 12 festivals that have been celebrated. My goal is to get all the bracelets from all the festivals and so far I'm well on my way to my goal👍

MISSIONS
To my surprise today I got 2 small achievements by completing the Band Rehearsal mission 500 times and the Radio Interview mission 700 times. The rewards are not bad at all.


My progress in the missions goes up to zone 3 where I have unlocked 5 missions. I only have 2 missions left to unlock in this zone to be able to access the last zone of the game. To unlock the next mission I need to reach level 175, which will take me a few weeks because today I am at level 154.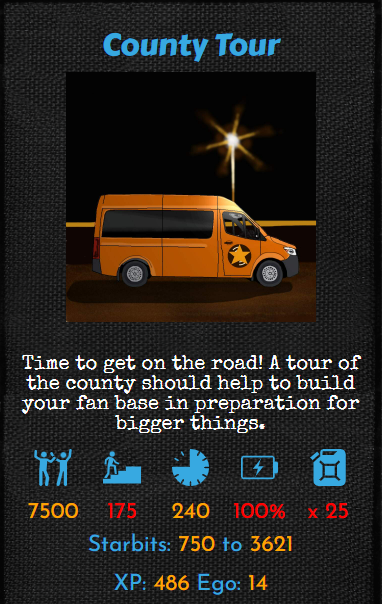 I also need 25 cans of petrol. I already had 10 of these cards because they were needed to unlock previous missions, so I will need to get 15 more cards. Their cheapest price in the market is 5000 starbits each.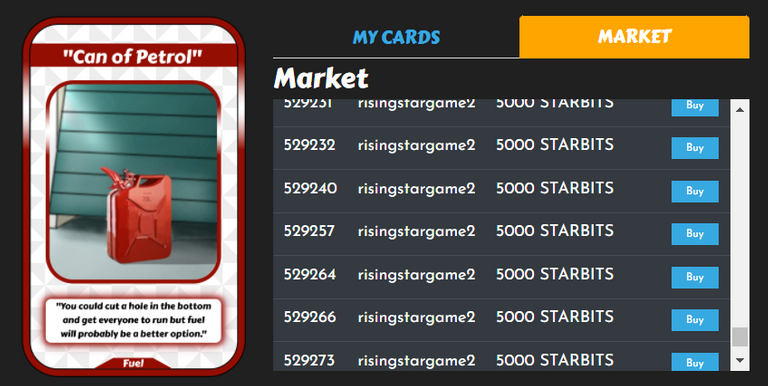 MY PROGRESS - DAY 122
TOTAL MISSIONS: 4089
CARDS: 952
PERMANENT FANS: 33540
LUCK: 9016
SKILL: 50464
IM: 603
LEVEL: 154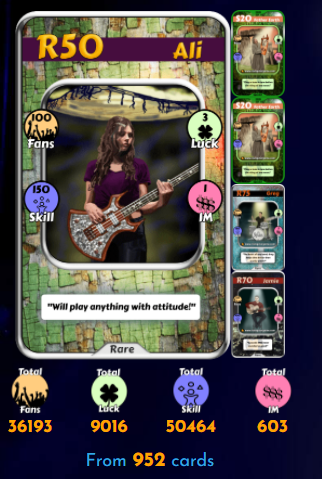 RANKING

And that's all for today! What a day! I was expecting today to be a quiet Sunday and I get nothing more and nothing less than an epic card. I have counted my epic cards and with today's card I have 6. That's why today is a very special day for me, these cards don't come out every day. I hope you liked today's post I hope to see you again tomorrow! Thanks for supporting me! 💋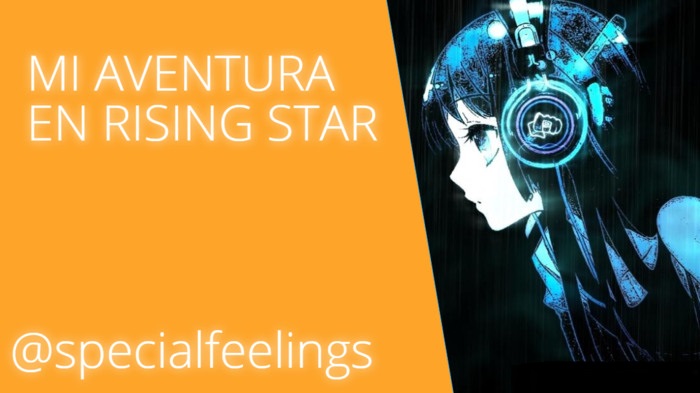 ESPAÑOL

¡Hola! ¿Qué tal estáis? Os quiero dar la bienvenida un nuevo día a mi espacio diario de Rising Star. Espero que estéis pasando un domingo tranquilo. Hoy es día de abrir packs, así que poneos cómodos y vamos a ver que cartas tenemos hoy.











Los packs de hoy han sido extraordinarios. Para empezar porque me ha salido una carta épica, cosa que no pasaba desde hacía ya mucho tiempo. Después, han aparecido muchas cartas nuevas que añado a mi colección. Esas nuevas cartas que ya forman parte de mi colección son Riley, Flame Guitar, Dave, Heather, Nanny, Bizzo y Remy.
RANKING
Han sido unos días complicados en el ranking pues he estado cerca de salir del top 100 porque últimamente no pude jugar todo lo que me gustaría y mis minutos semanales bajaron, pero poco a poco espero ir recuperando los minutos semanales que solía jugar. Vamos a ver cual es mi posición hoy.

He subido una posición respecto a ayer, así que estoy contenta de no haber salido del top 100 estos días. Honestamente pensé que me quedaría fuera algunos días, pero por suerte no ha sido así.
Con los packs que he adquirido hoy creo que podré mantenerme en el top 100, pero nunca nada es seguro. Estoy ya algo nerviosa por saber mi posición mañana y observar si los packs de hoy supondrán una ayuda importante en el ranking. Lo sabremos mañana.
FESTIVAL
Actualmente el festival se está llevando a cabo en Islandia y terminará el día 6 de octubre cuando pasará a celebrarse en Francia. De esta manera nos despediremos de los países nórdicos por los que hemos viajado estas últimas semanas❄️

La pulsera que podemos conseguir en el festival de Islandia es una de mis favoritas junto con la de Finlandia y se ve así de bien.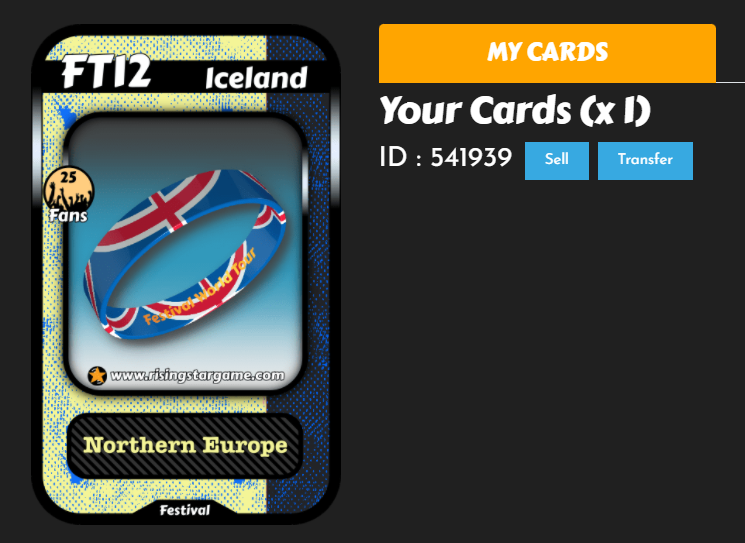 Ya he conseguido esta preciosa pulsera y con ella son ya 12 las que tengo de los 12 festivales que se han celebrado. Mi meta es hacerme con todas las pulseras de todos los festivales y por ahora voy bien encaminada hacia mi objetivo👍

MISIONES
Para mi sorpresa hoy conseguí 2 pequeños logros al completar 500 veces la misión Band Rehearsal y 700 veces la misión Radio Interview. Las recompensas no están nada mal.


Mi progreso en las misiones llega hasta la zona 3 en la que he desbloqueado 5 misiones. Ya sólo me quedan 2 misiones por desbloquear en esta zona para poder acceder a la última zona del juego. Para desbloquear la próxima misión necesito llegar al nivel 175, lo cual me llevará unas semanas pues hoy me encuentro al nivel 154.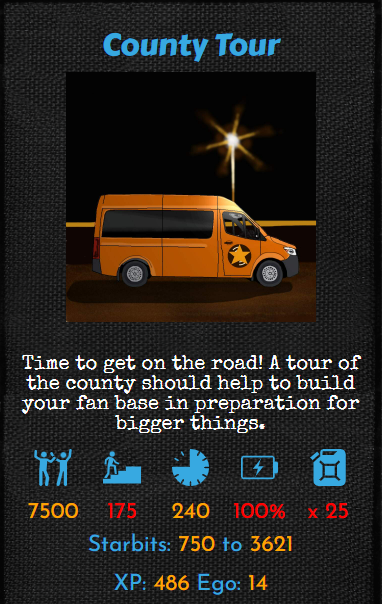 También son necesarias 25 cans of petrol. Ya tenía 10 de estas cartas porque eran necesarias para desbloquear misiones anteriores, así que necesitaré hacerme con 15 cartas más. Su precio más barato en el market es de 5000 starbits cada una.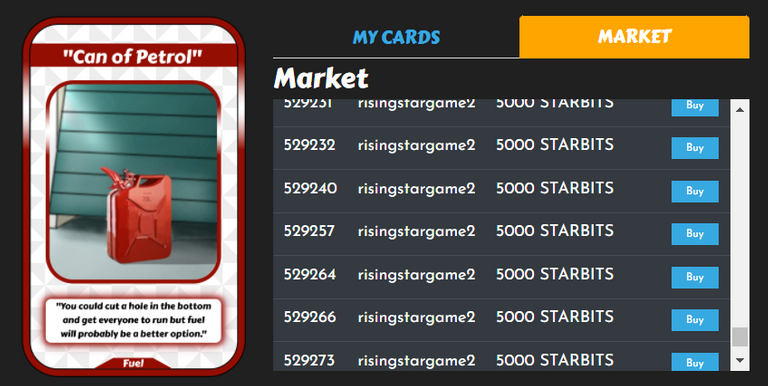 MI PROGRESO - DÍA 122
MISIONES TOTALES: 4089
CARTAS: 952
FANS PERMANENTES: 33540
LUCK: 9016
SKILL: 50464
IM: 603
NIVEL: 154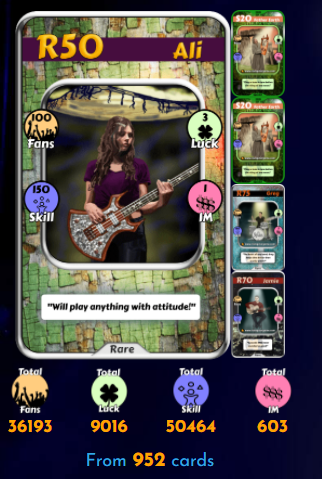 RANKING

¡Y eso ha sido todo por hoy! ¡Vaya día! Yo que esperaba que hoy fuera un domingo tranquilo me sale nada más y nada menos que una carta épica. He contado mis cartas épicas y con la de hoy son 6 las que tengo. Por eso hoy es un día muy especial para mí, estas cartas no salen todos los días. Espero que os haya gustado el post de hoy ¡Os espero mañana de nuevo! Gracias por estar ahí 💋
---
---