Got the Iceland Wristband! + 12 Packs #Day 119 // ¡Conseguí la Pulsera de Islandia! + 12 Packs #Día 119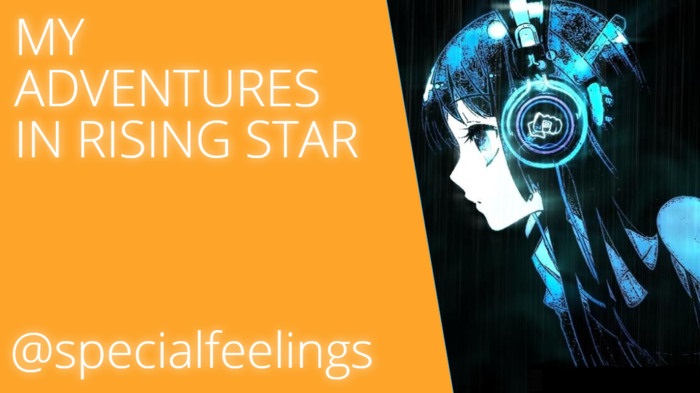 ENGLISH

Good morning, afternoon & evening! I hope you are very well this Thursday. I invite you to my daily space to talk about my progress on Rising Star. Today I have accomplished a lot of things I had pending😊
First, I already got the bracelet from Iceland😀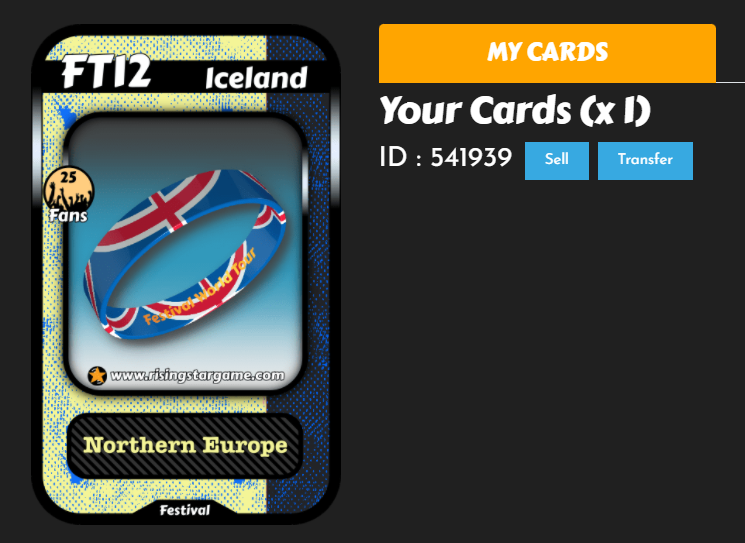 It is wonderful, I love the color combination and the style of the cross. So far this bracelet along with the Finnish one are my favorites❤️
This bracelet is available for as long as the festival is going on in Iceland. Yesterday it started and like all festivals it will last for a week until the 6th of October. On that day the festival will start in France for another week.

More stuff I had pending was to complete the mission I had unlocked a few days ago when I managed to reach level 150. Today I got down to it and managed to complete it.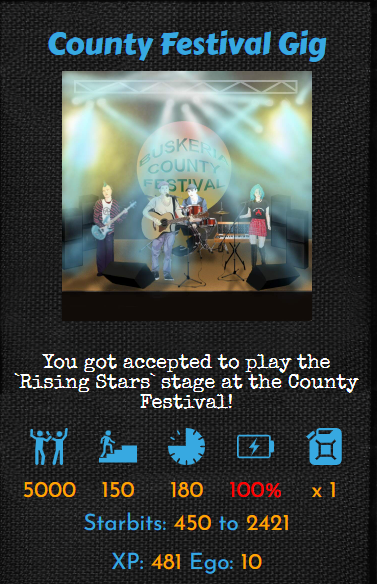 I also got 100 starbits for completing it for the first time. By the way, speaking of missions I have to tell you that I'm less to reach 4000 completed missions and receive a free pack🎁

Now my next goal is to unlock the next mission for which I will need to reach level 175. Today my level is 152. Besides, I will need to buy more can of petrol cards. Thanks to @mimismartypants for reminding me because I didn't even remember😅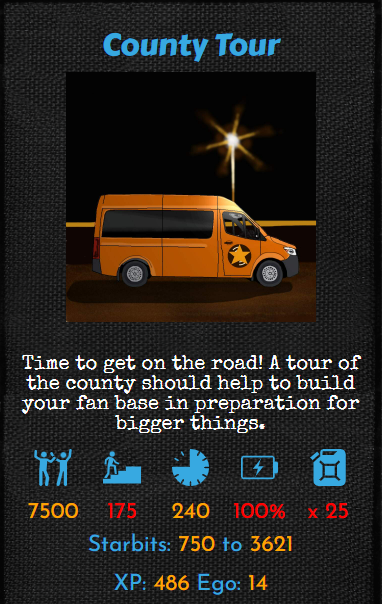 Let's talk a little bit about the ranking. I have been telling you for a few days now that I have decreased a lot my minutes of play so that will be reflected in the ranking negatively. So I have been dropping positions these days in which I couldn't buy packs until today, when I did buy packs. Let's see where I am today.

To my surprise today I moved up one position with a higher score than yesterday in weekly minutes played. Even so, my weekly minutes played are still below 6000 what is my main goal. I will try to improve them, but it is costing me a lot because I can't dedicate as much time as I would like to. I hope today's packs can help me to stay in the top 100.
Let's check out today's packs. I hope I'm lucky🍀












Well, I have been very lucky. I got some guitars, many fan cards and I don't even know if you noticed, but in one of the packs I got 2 rare cards, so today I am very satisfied with the result of the packs. I also have to highlight the Cheap Kettle Drum card that I didn't have and it is the only new card that I add to my collection from all these packs. It is getting more and more complicated for me to add new cards to my collection, as I have more than 900 cards.
MY PROGRESS - DAY 119
TOTAL MISSIONS: 3922
CARDS: 913
PERMANENT FANS: 31725
LUCK: 8738
SKILL: 49145
IM: 579
LEVEL: 152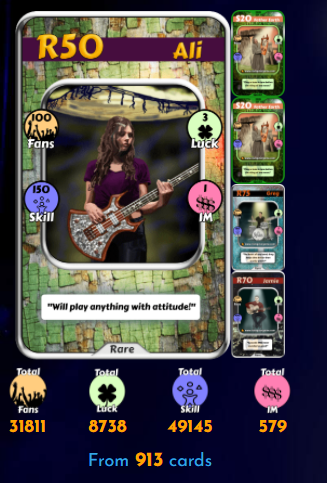 RANKING

And that's all for today! If you have noticed today I have changed the order in which I usually deal with the topics, since I wanted to change a little and deal with the topics as they came up. It has been a very productive day because I have completed tasks that I had pending. I hope today's packs will help me stay in the top 100, I am very happy with the result of the packs. See you tomorrow!💋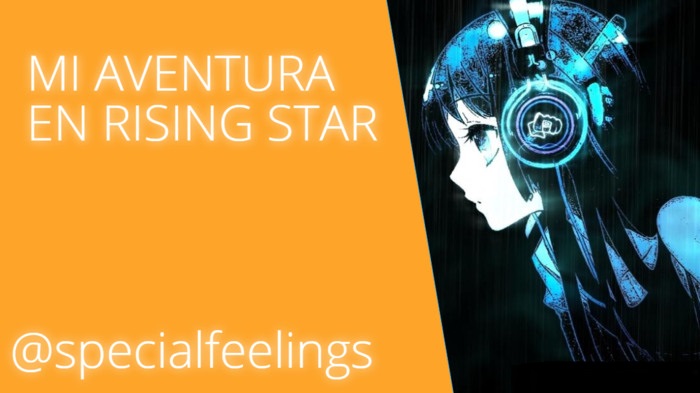 ESPAÑOL

¡Buenos días! Espero que estéis muy bien este jueves. Os invito a mi espacio diario para hablar sobre mi progreso en Rising Star. Hoy he logrado muchas cosas que tenía pendientes😊
Para empezar, ya he conseguido la pulsera de Islandia😀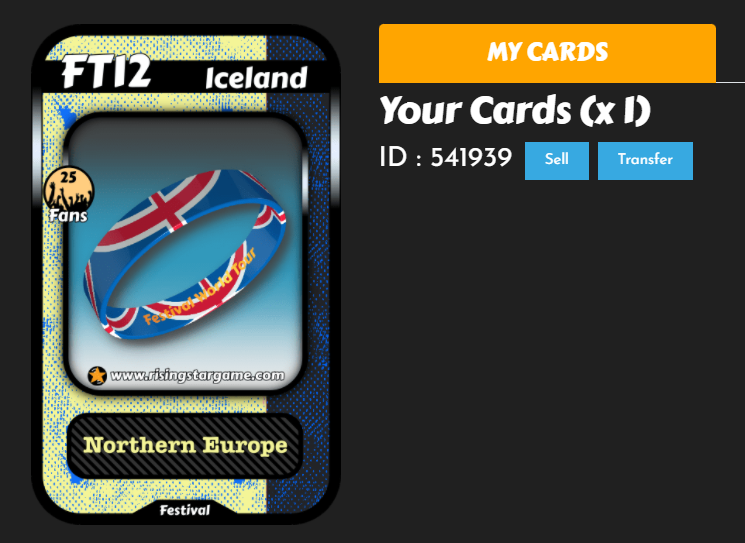 Es maravillosa, me encanta la combinación de colores y el estilo de la cruz. Hasta el momento esta pulsera junto con la de Finlandia son mis favoritas❤️
Esta pulsera se puede conseguir durante el tiempo en el que se celebre el festival en Islandia. Ayer empezó y al igual que todos los festivales durará una semana hasta el día 6 de octubre. Ese día el festival empezará a celebrarse en Francia durante otra semana.

Otra de las cosas que tenía pendientes era completar la misión que había desbloqueado hace unos días cuando logré alcanzar el nivel 150. Hoy me puse a ello y conseguí completarla.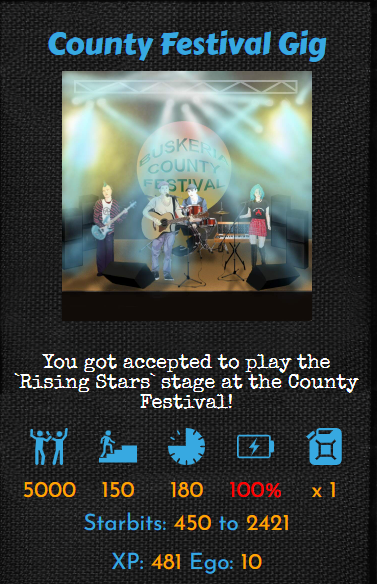 Además me han dado 100 starbits por completarla por primera vez. Por cierto, hablando de misiones tengo que deciros que ya me queda menos para alcanzar las 4000 misiones completadas y recibir un pack gratuito🎁

Ahora mi siguiente objetivo es desbloquear la próxima misión para la cual necesitaré alcanzar el nivel 175. Hoy mi nivel es el 152. Además, necesitaré comprar más cartas de can of petrol. gracias a @mimismartypants por recordármelo porque yo ni me acordaba😅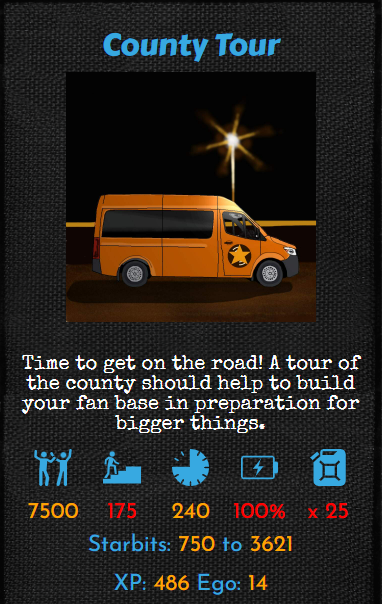 Vamos a hablar un poco sobre el ranking. Ya os vengo diciendo desde hace unos días que he bajado mucho mis minutos de juego por lo que eso se verá reflejado en el ranking negativamente. Así pues he ido bajando posiciones estos días en los que tampoco pude comprar packs hasta hoy, que sí he adquirido packs. Vamos a ver en que posición me encuentro hoy.

Para mi sorpresa hoy he subido una posición con una puntuación mayor que ayer en los minutos semanales jugados. Aun así, mis minutos semanales jugados siguen por debajo de 6000 que es mi objetivo principal. Intentaré mejorarlos, pero me está costando mucho porque no puedo dedicarle todo el tiempo que a mí me gustaría. Espero que los packs de hoy puedan ayudarme a mantenerme en el top 100.
Vamos a ver los packs de hoy. Espero tener suerte🍀












Pues he tenido mucha suerte. Me han salido algunas guitarras, muchas cartas que aportan fans e incluso no sé si os habéis dado cuenta, pero en uno de los packs han salido 2 cartas raras, así que hoy estoy muy satisfecha con el resultado de los packs. También tengo que destacar la carta Cheap Kettle Drum que no la tenía y es la única carta nueva que añado a mi colección de todos estos packs. Cada vez es más complicado que consiga añadir nuevas cartas a mi colección, ya que tengo más de 900 cartas.
MI PROGRESO - DÍA 119
MISIONES TOTALES: 3922
CARTAS: 913
FANS PERMANENTES: 31725
LUCK: 8738
SKILL: 49145
IM: 579
NIVEL: 152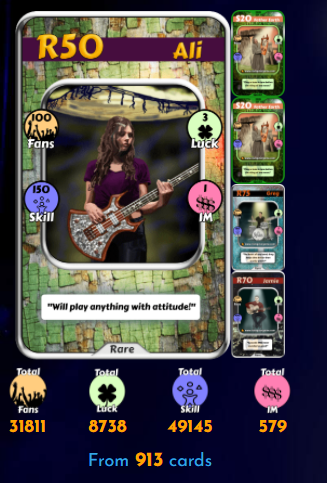 RANKING

¡Y eso ha sido todo por hoy! Si os habéis fijado hoy he cambiado el orden en el que suelo tratar los temas, ya que me apetecía cambiar un poco e ir tratando los temas según me iban saliendo. Ha sido un día muy productivo porque me he quitado tareas que tenía pendientes. Espero que los packs de hoy me ayuden a mantenerme en el top 100, estoy muy contenta con el resultado de los packs. ¡Nos vemos mañana!💋
---
---