Drawing a Chilli but in a Samurai outfit


Hello guys, I'm back and it's time to continue some of my Spice nft artwork blogs. Last week I participated in the Splinterlands Art contest so I didn't post any of my personal art blogs so before we begin I want to say thanks to all of the Hivers out there who showed love and support to my first Splinterlands art contest entry. Do check it out if you haven't seen it yet hehe.
"Those who serve"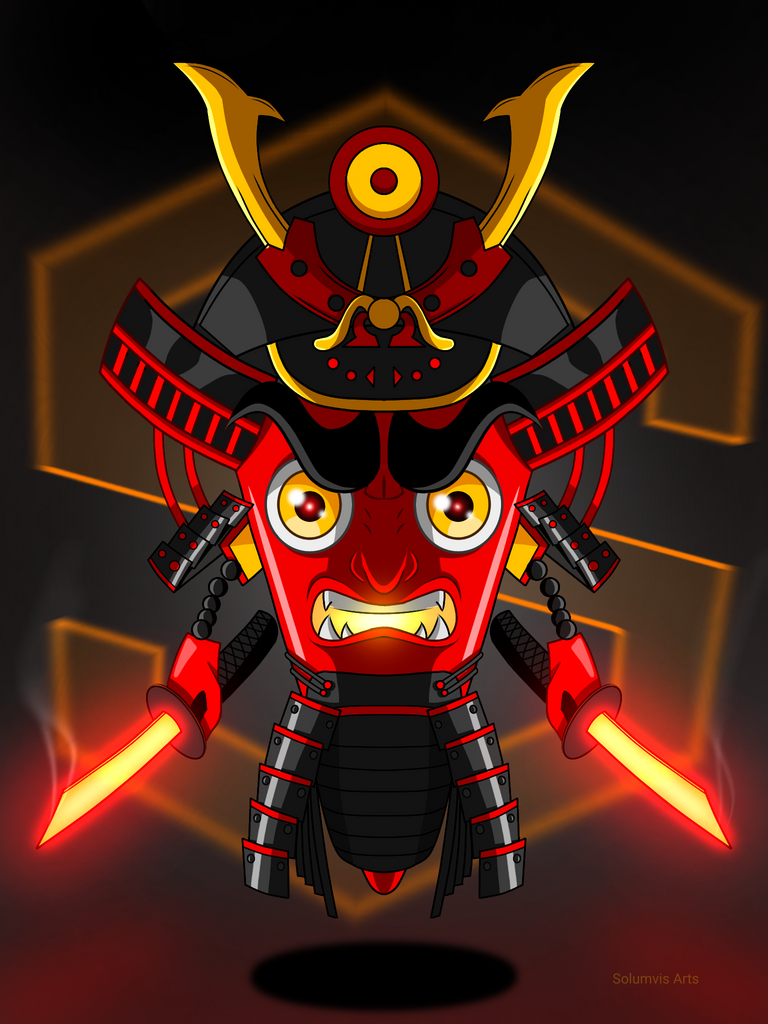 Samurais are Japanese warriors who were made to follow one purpose, to serve their Master. They are quite famous for their intimidating figure and sword skills. I came to know about Samurais when I started watching a cartoon called 'Samurai Jack' which was aired during my childhood. It was a great show to be honest but for some reason, they decided to drop it and decided to air other boring cartoons xd. If you are someone who likes to explore a bit into the Samurai culture I suggest you guys to watch "The last Samurai' starring Tom Cruise. Come on now, it's Tom Crusie the film is gonna be awesome if he is in it haha. Even if you don't enjoy you can't deny the Japanese ambience of the film.
Back to the art now, I have been drawing human OC's so far so I wanted to do something different with the Spice Mascot itself. I only used it for creating jewellery on most of my OC's so I think it was time for him to shine as well. I decided to go with the Samurai theme. After all, I had every intention to use glow here which was perfect because I can use the swords as the light source now hehe.

The process...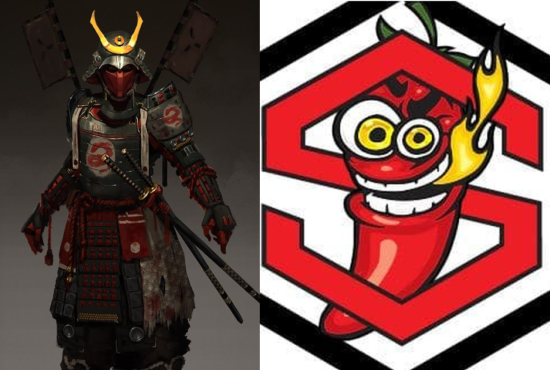 These were the references I chose for the creation of Chilli Samurai. I think I never shared the mascot image before, sorry about that xd. As for the Samurai design, I chose this one because I liked the way the helmet looked it was not very complicated with a lot of details like other designs I saw so far. I started experimenting with some parts of the helmet design here and tried to add it to Spice Mascot here. I ditched a lot of complicated details because it was making the artwork more complicated to paint. We don't want that now do we hehe.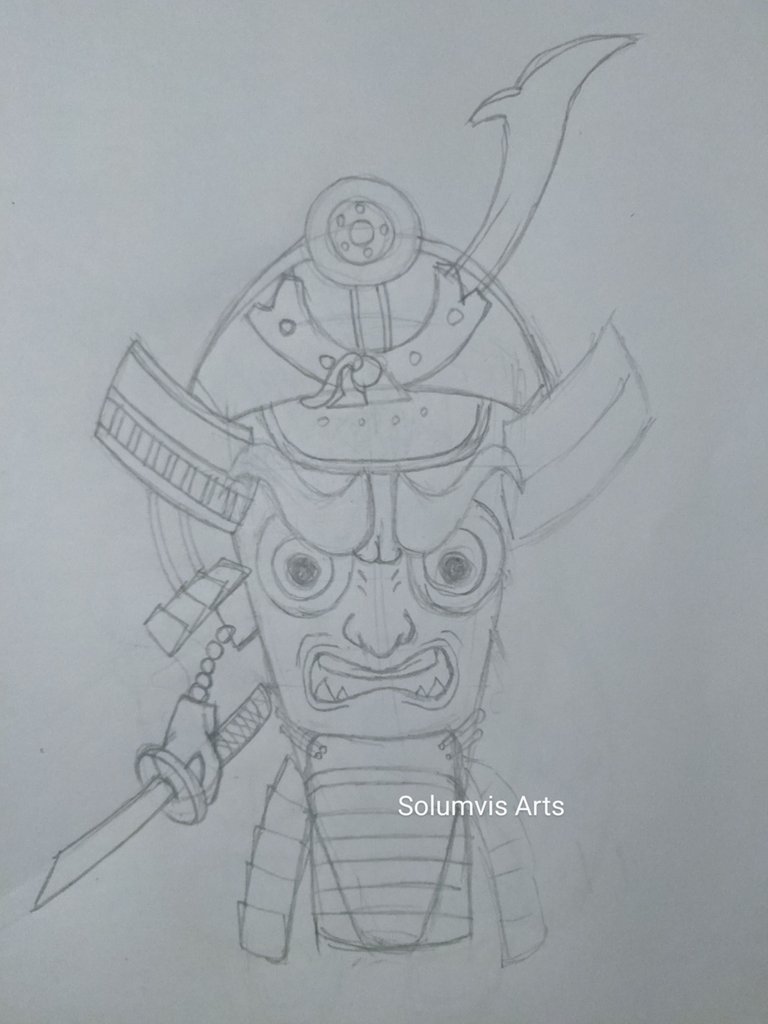 Yeah, I'm sure you noticed that I didn't finish some parts of the artwork here. I did that on purpose to save time. The character is facing towards you so I used a symmetry ruler to draw the parts I skipped here.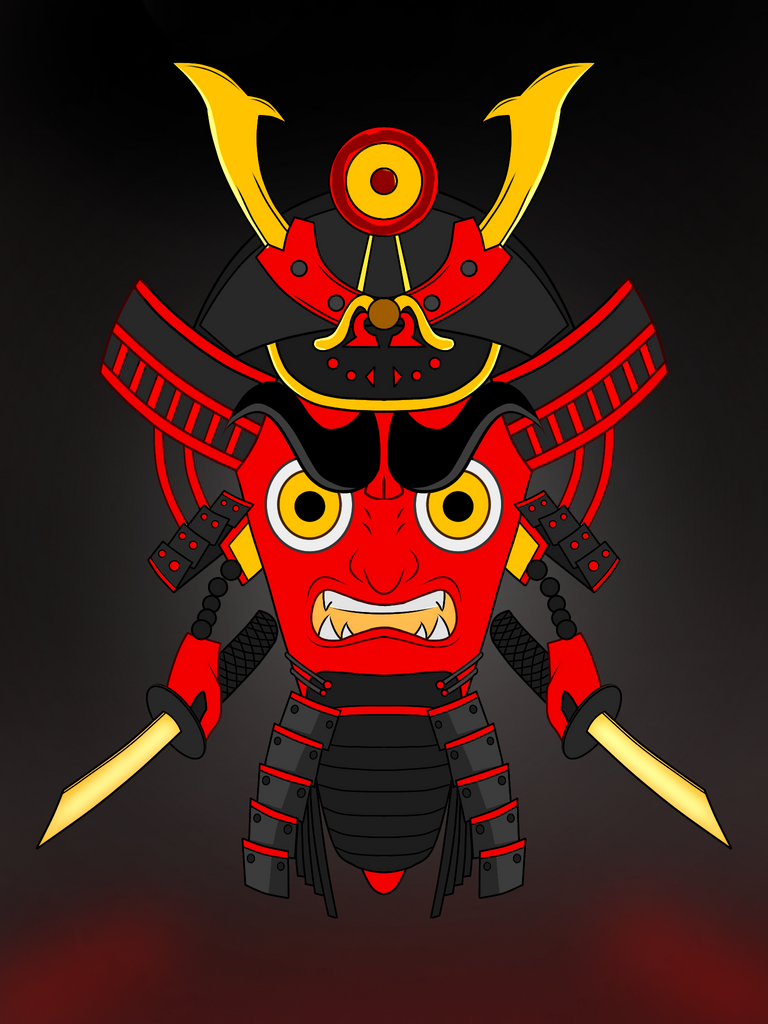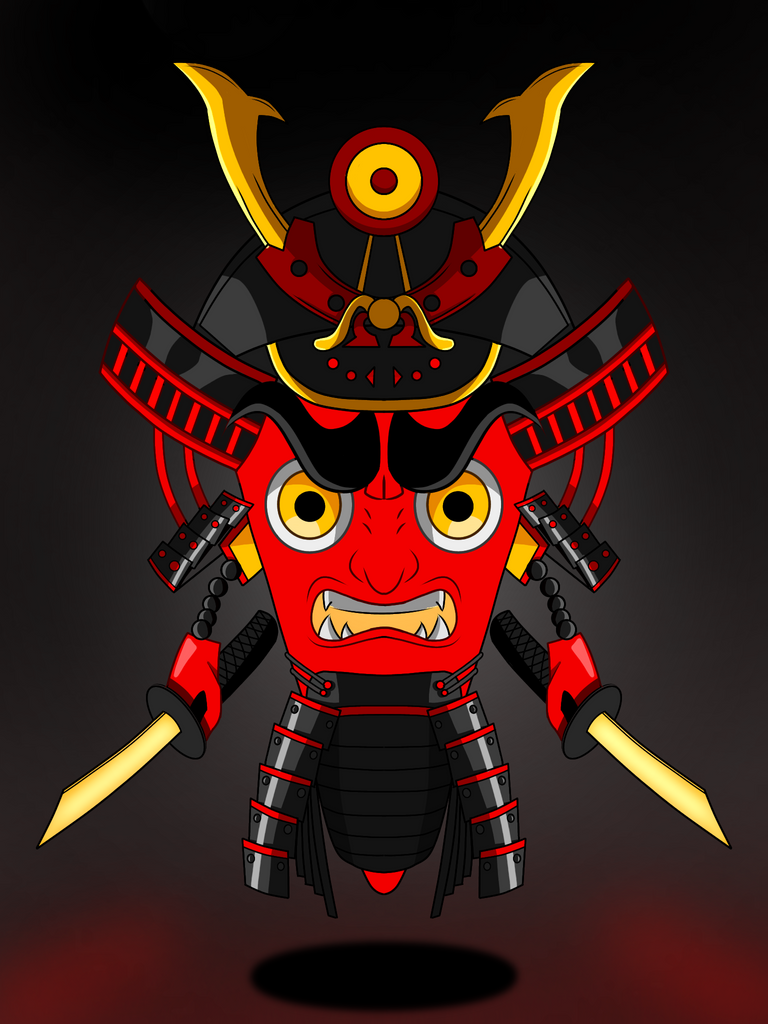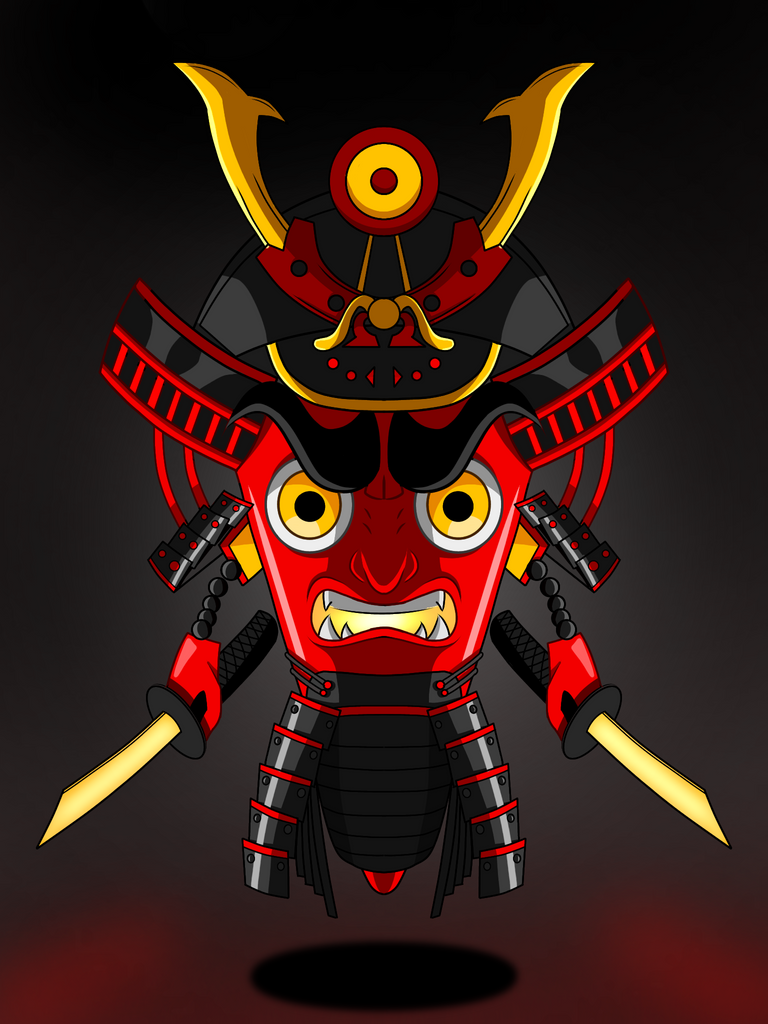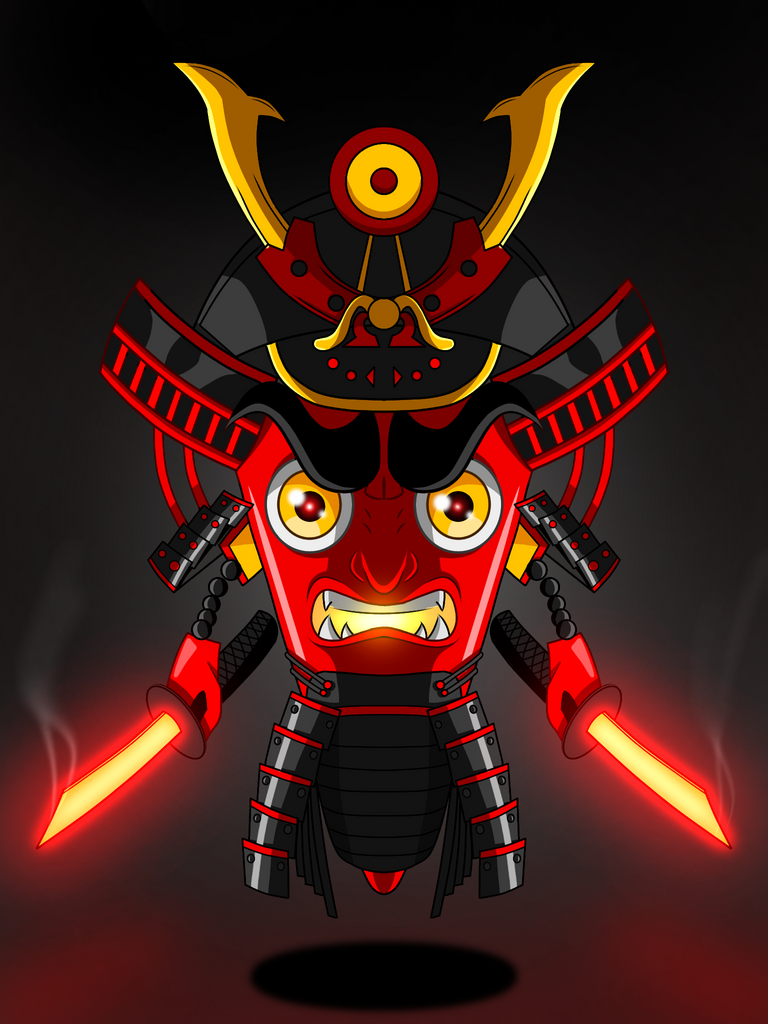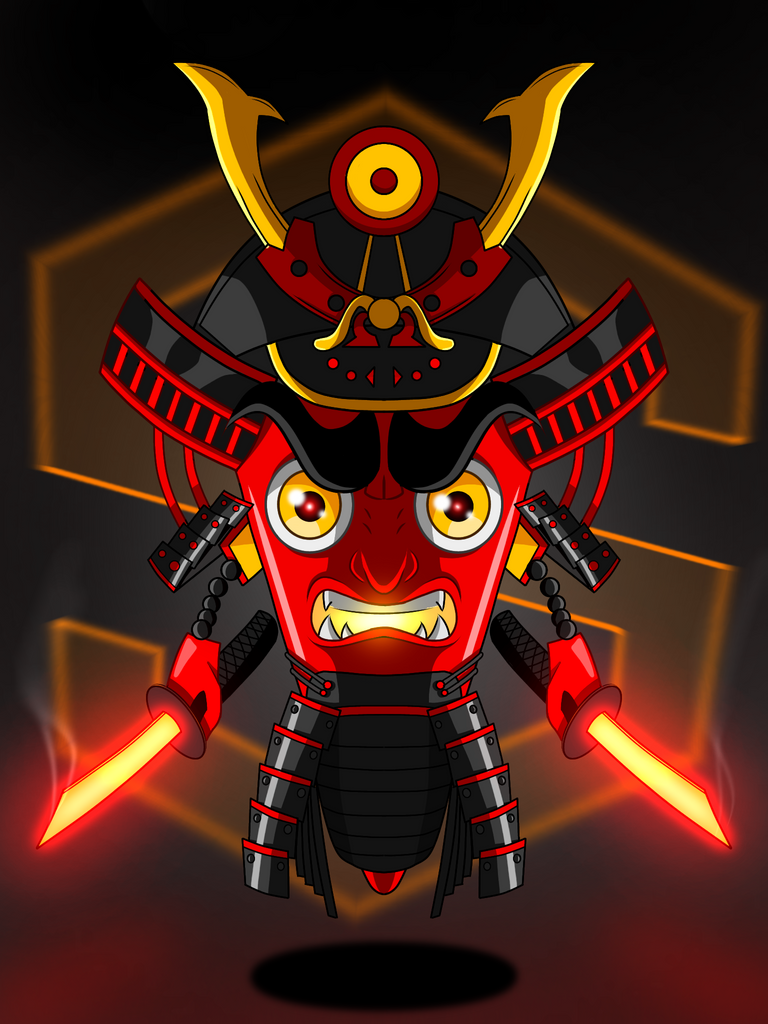 As for the limbs I improvised here because after adding hands and legs similar to that of humans on a chilli, he kinda looks weird to be honest and It killed the overall vibe so i had to remove it. I wanted an angry Chilli Samurai but after adding those limbs in the initial design I cringed so hard haha. The chain ball design is what I came up with to replace the initial design and as for the legs I skipped it and made him float. This illusion can be made by simply adding a shadow below while keeping a distance from the floating body. It's cool, it's easy, try it hehe.
Has anyone of you guys watched 'The Wolverine' movie? The glowing swords here were based on the swords seen at the end of the movie. Well, it's a bit different but still almost the same thing. Now that there were two light sources from left and right the body needed to be shaded accordingly with respect to the direction of the light source. You can see a similar shading style on the Super Saiyan form of DBZ characters. I had fun doing it since it was my first time shading it this way. It worked but it doesn't end there.
We have a molten sword here so we need to add some smoke around it to make it look more cool and realistic. I used a penfade brush at low opacity and blurred out the top edges to make it look like smoke. I think there are other easy methods to draw one but this is the one I came up with hehe.
Since there was light coming from the swords I added a small reflection on the ground as well. As for the finale, the big 'S' of Spice token was used with 'radial blur' and there you have it, the Chilli Samurai is now ready to serve the owner of this NFT.

Tools used: Ibis paint x, Book and pencil
Duration: 10hrs
Reference link
Find him here at Spicenftart
Thank you so much for your time and maybe join me on my journey in Hive if you like to see more of my artworks :)
---
---