BLUE ELEMENTO: MY MERMAN OC

Hello guys, I'm back with another artwork for the 'Mermay challenge'. This time I decided to draw a Merman instead of a mermaid because I drew a Mermaid a while ago. It's good to diversify sometimes to make things interesting right? This time I choose the element earth as the theme for my Merman design. It's pretty obvious from his tail design don't you think? The cracks on his tail are very similar to dry ground. All I needed to do after that was to decide about the pose that I was gonna draw. I like the blue colour, it represents calmness and my painting is based on a Merman with closed eyes like he is meditating under the ocean peacefully so the colour fits the theme perfectly. Now that the idea was formed I made a rough sketch in my notebook.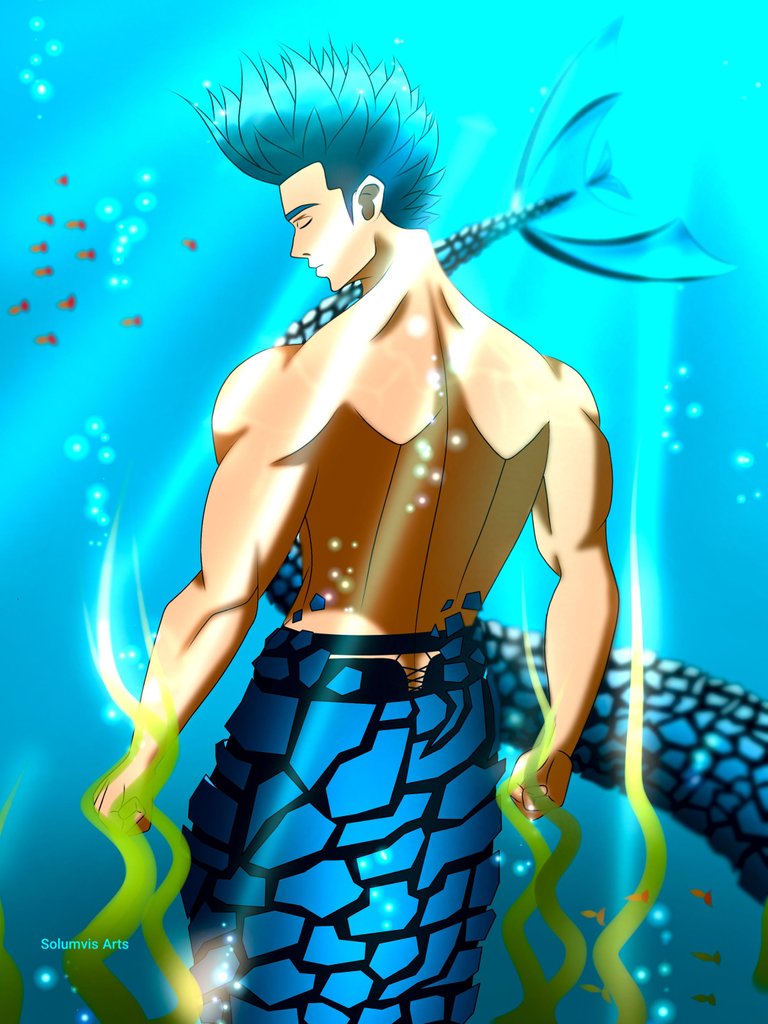 THE PROCESS
The first thing to do was to look for a nice reference image to draw the pose. I'm one of the guys who used google(noob moment)to get those but recently I found out that Pinterest offers a better collection. I was awestruck by all the unique collections they had in there(seriously). Most of the time I draw a simple front or side view pose but this time I decided to draw a back pose with a visible face. It was very hard to find an image like that but eventually, I found it. I totally lucked out because most of the pictures I saw online had zero face visibility.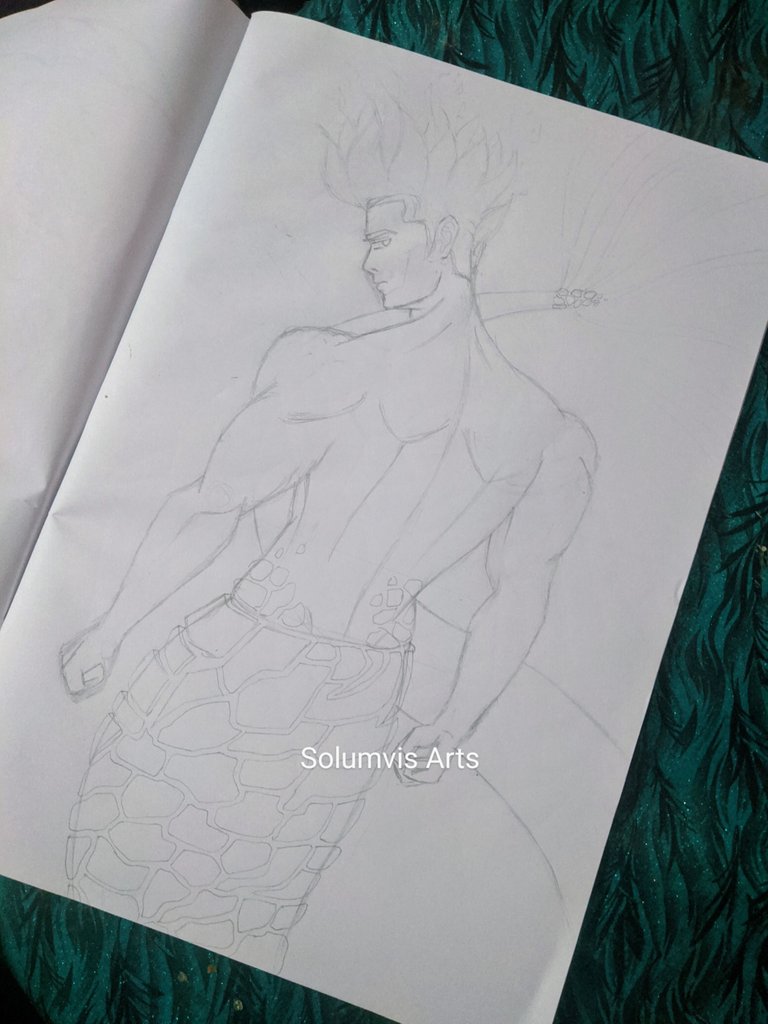 The image above is the basic design I made after brainstorming. Like I said earlier my concentration was more on the tail design rather than the body. I wanted to make it look different from what we usually see. I draw most of my artworks at night because no one disturbs me plus there is no noise during that time. I feel like my brain works better at night haha!
The next day I started to paint this on my phone so let me share some of the progress. I used 'pics art' to make the collage below. I figured that it's better to make a collage than to make my fellow Hivers scroll through all my progress haha!
MY PROGRESS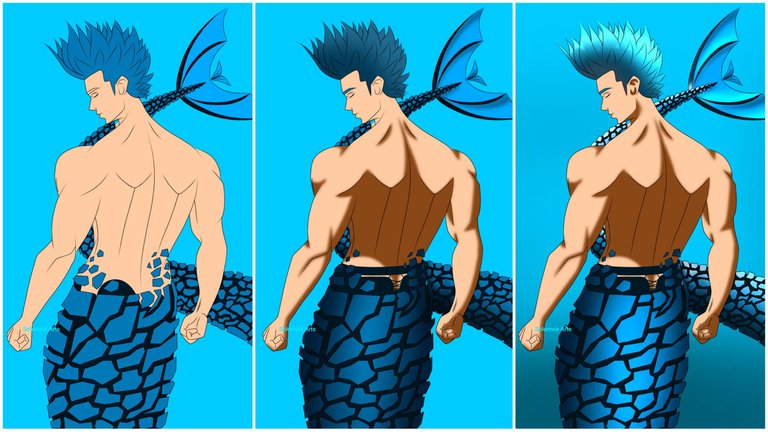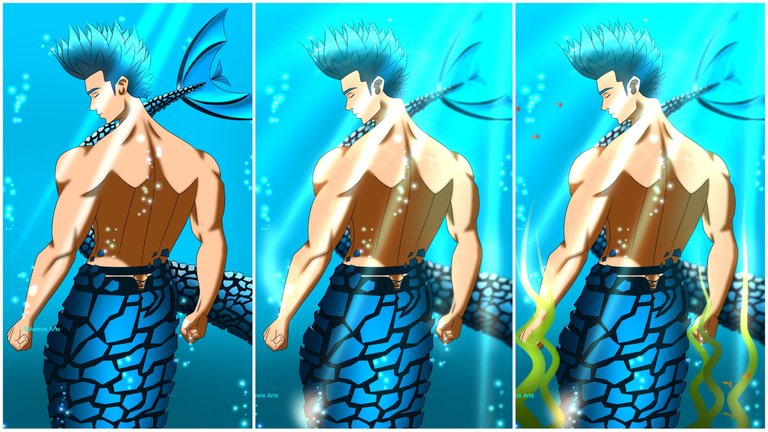 I really had some trouble drawing the head. I flipped the canvas multiple times to figure out what was wrong with it and found that the head was too small so I fixed it with liquify brush. It's one of the most useful brushes in any digital painting software till date. Do test it out if you are an artist. I promise it's not a waste of your time.
The tail design was done with the help of the polyline tool. It is extremely helpful to people who are using their fingers to draw like myself. It took me some time to complete it though. It was well worth the effort because after colouring I loved the design even more.
The colouring process was the same as in my previous works. I put the base colour first followed by shades and highlights. I usually make sharp shades but this time I decided to blur the edges to make it soft. I did this because it creates a minor illusion of 3d shading without much effort. This type of shading can be seen on many Korean webtoons or Manhwas.
It's an underwater artwork with a light source on top so I had to make it look magical. So I added that reflection detail from the water above on his shoulders and added a glow effect on his hair and upper body. Also added some rays of light at different opacity to make it look special.
The final step was to complete the background by adding some fish and sea plants around him to blend the character with the surrounding. Once that's done I used the Adobe lightroom mobile version to tweak the colours a bit for some vibrancy.
Thanks for reading and I hope you guys enjoyed my artwork. I'm planning to do a futuristic mermaid as my 3rd one so I'll be back soon guys. Until then Hive on!
Apps used: Ibis x paint Android and Adobe lightroom.
Duration: 7-8hrs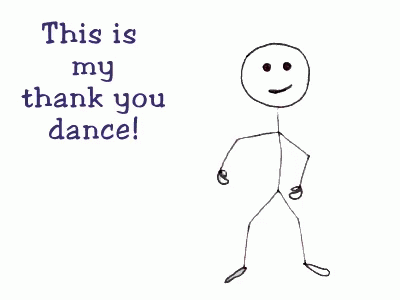 ---
---