Ava Original Character Artwork (NFT series part-1)

I got a chance to work on an upcoming NFT project again!
Last week I mustered up some courage to ask the project owner to allot me some slots for the upcoming NFT project. I was very hesitant at first because contacting them on individual chats was scary at first because chances are you might get blocked if they don't know you that well however since I made an identity as an NFT artist for the same team earlier things went so smooth. Thankfully he allotted 10 slots for me this time. It made me so happy because it was the first time that someone is trusting me with that many slots. I told my family about it and they were all happy to hear that. I know it's not much but these little things do matter to me a lot.
Usually, I draw most of my artwork from my memory so I ended up with lots of anatomical mistakes but as I said in my previous post I discovered the Pinterest app and things are starting to brighten up for me. I was looking for a simple pose with more face visibility with a cool hairstyle. This is what I found. I changed the hand gesture a bit because the canvas size I chose crops out some parts so made the lineart in a way that it fits the canvas well. I chose red as the main colour because the NFT mascot's colour is in that colour. Unfortunately, I can't reveal more info about it.
This is the final product I came up with and I named her Ava. The naming is just for fun. It's not necessary to name them but it's very useful to identify them quickly.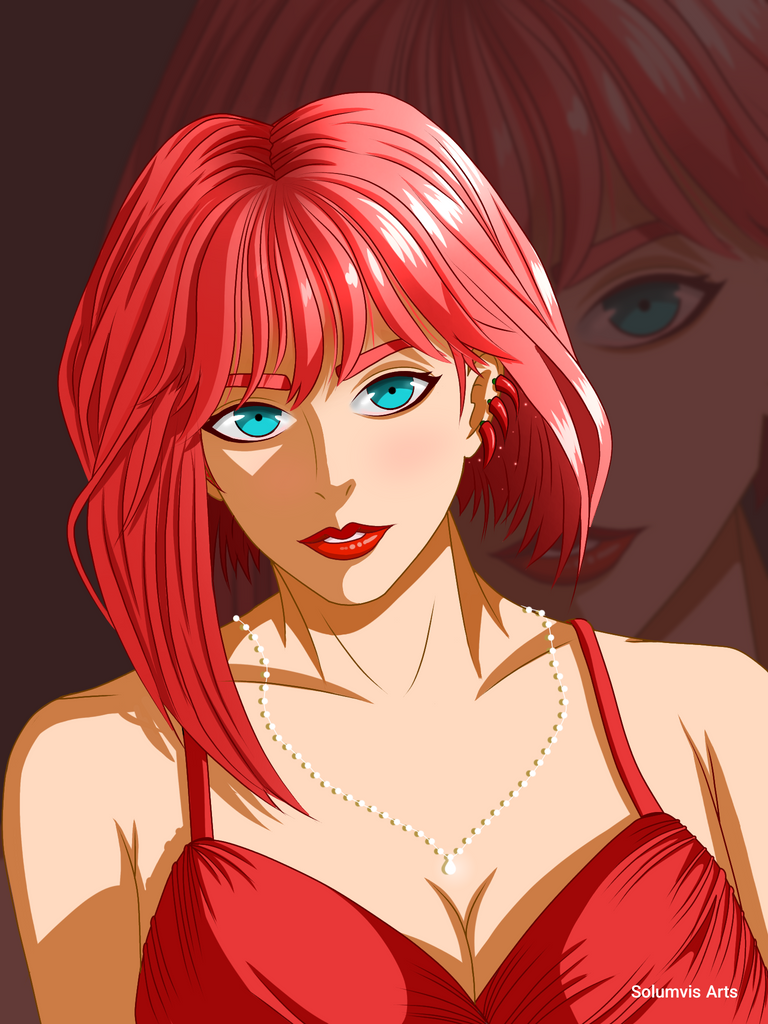 The initial colour design was blonde hair with green eyes but I changed it realising the Mascot's theme and changed it to red. I really had fun drawing her hair. It's the best part I like about the whole painting. After that, I realised that the green eyes don't seem to go well with the red hair so I played with the hue slider a bit and realised that blue eyes match really well with the red hair like Spiderman's suit.
I drew the rough sketch in my notebook but this time I wanted to make the character look a bit more mature so I drew her eyes and lips in a different style compared to my old works. The below design was the one I came up with. Let me explain the process in short below.
The process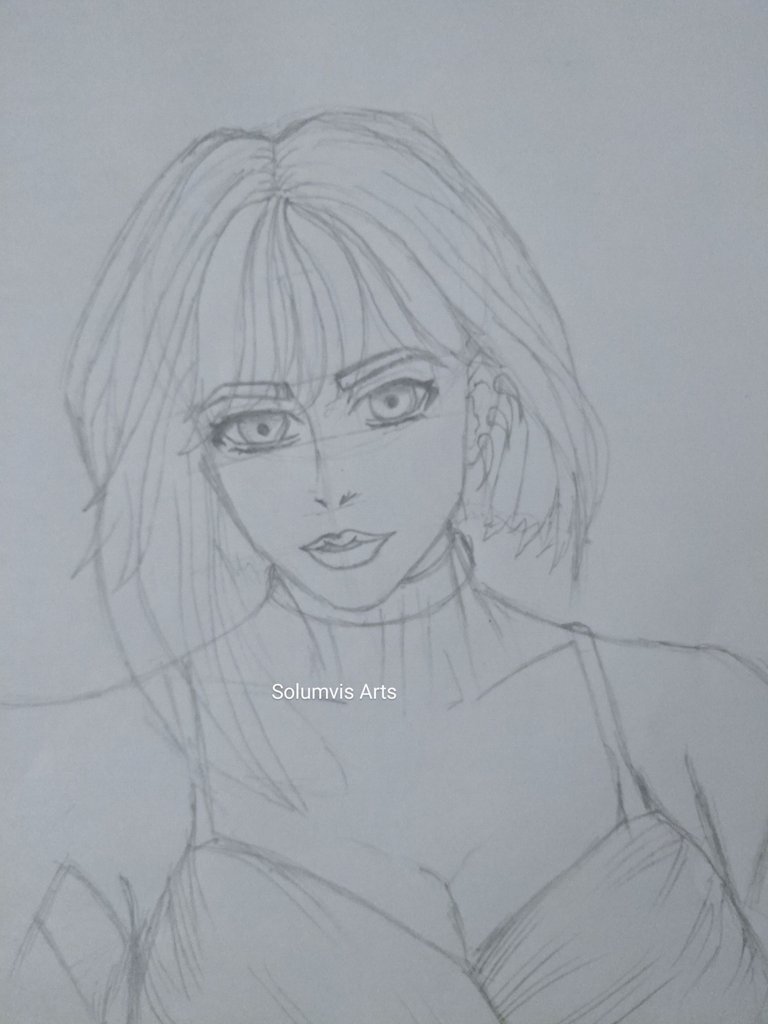 I made this rough sketch using a 2B pencil on normal paper. The bangs were my area of interest so I gave more details in that area so that it will be easier when I make the digital lineart.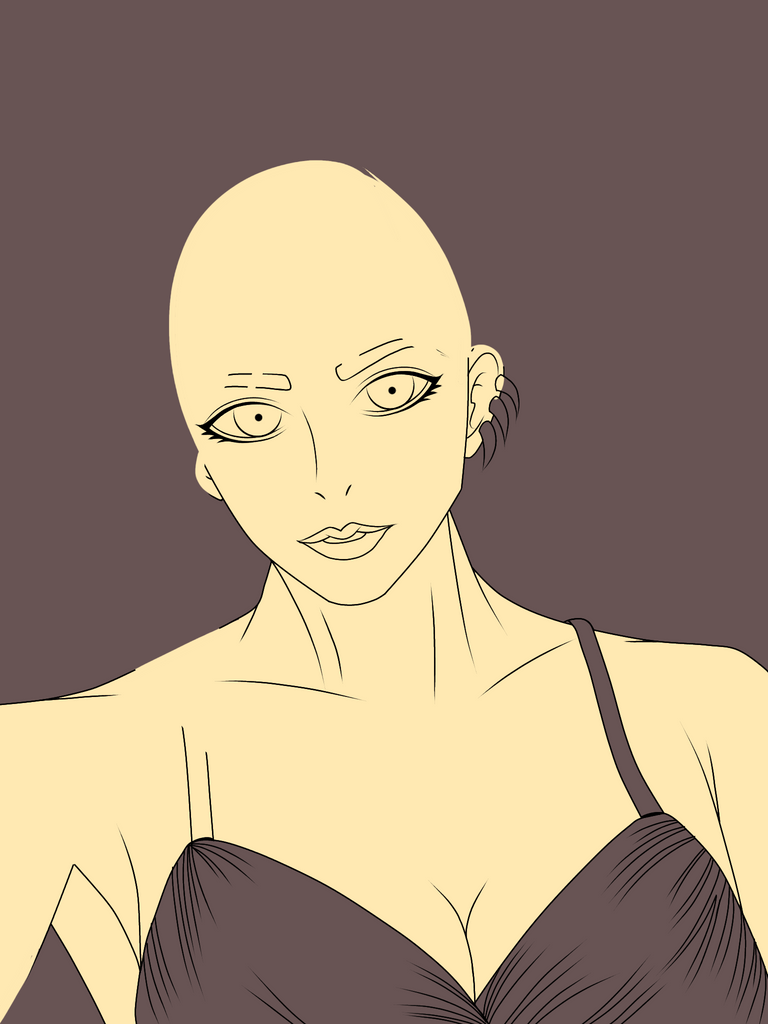 I drew the body and her dress first because it was the easiest part and painted it.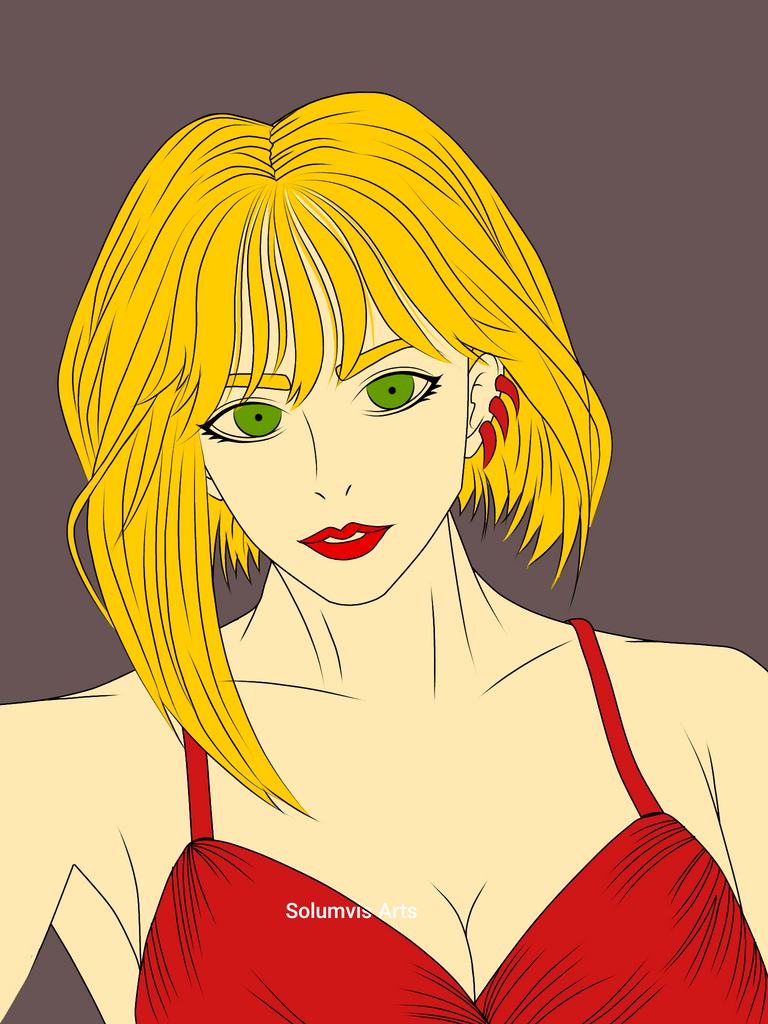 Then I made a good lineart of her hair and painted it blonde while painting her eyes green.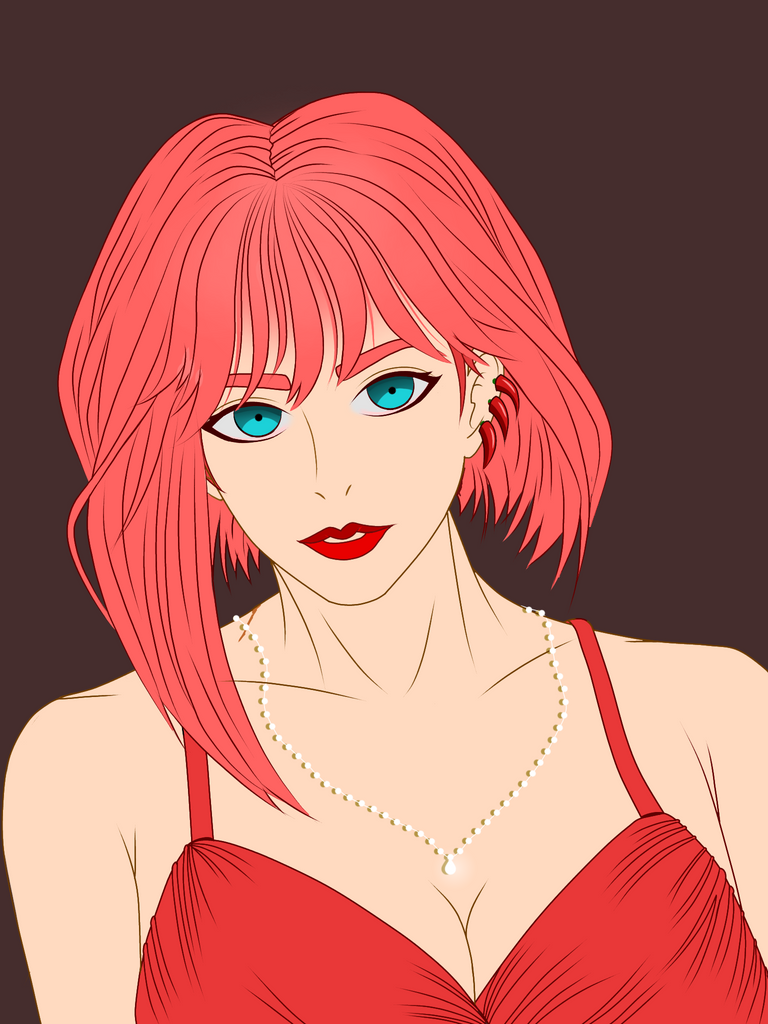 I changed it or red colour later and also repainted her eyes to blue. There were some gaps between the bangs so I airbrushed that area with the same colour a bit to blend it well with the bangs. While I was at it I made a simple necklace with dot brush because it felt like something was missing.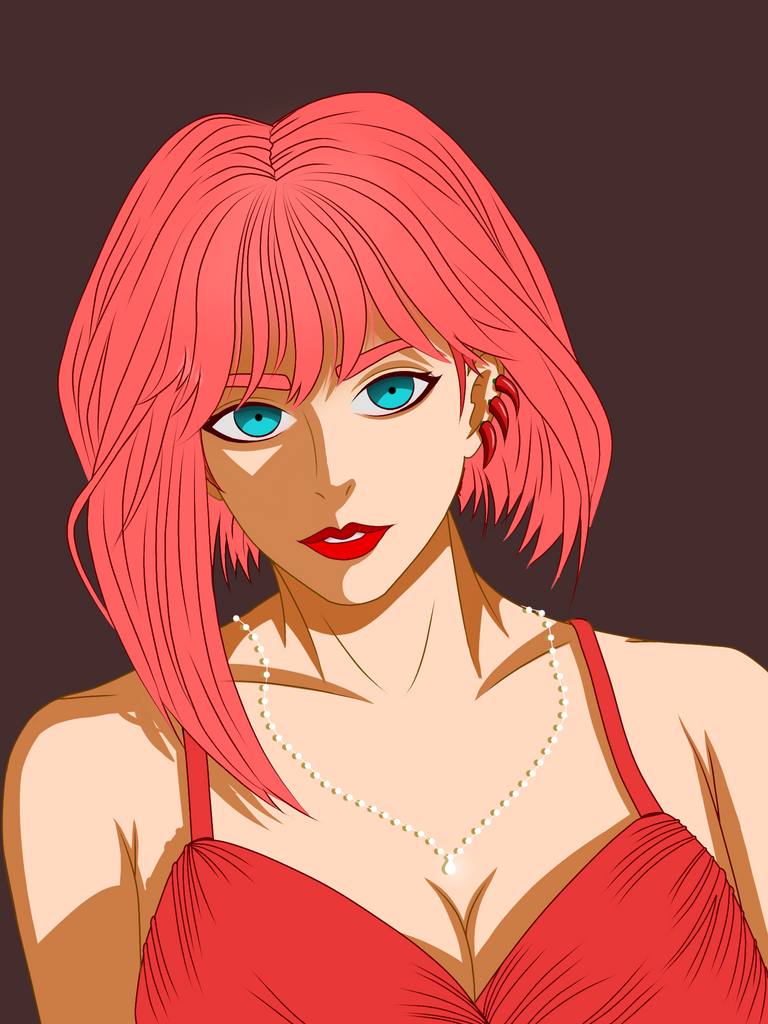 The source of light was coming from the right side so I painted the shades accordingly on the left side, under her neck, head and her eyes.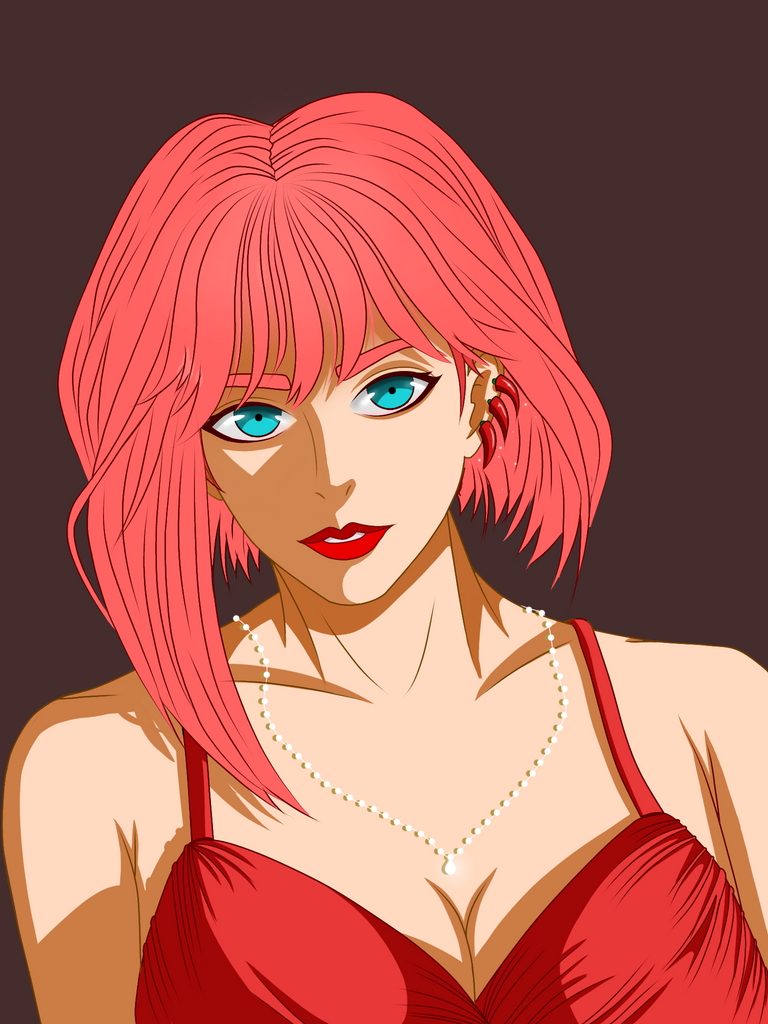 Added some highlights on her eyes and shaded her clothes as well.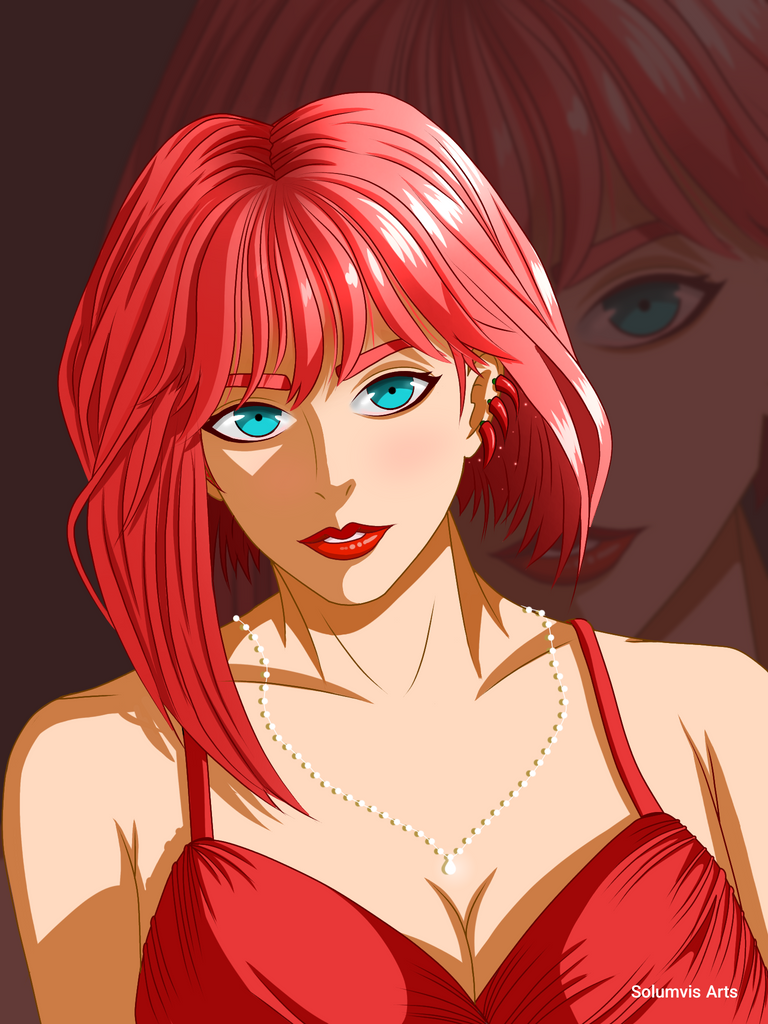 Added shadows and highlights on the hair and airbrushed a bit on the left side with a darker red tone as well as on the right side with a lighter red tone to satisfy the lighting condition.
Finally, I duplicated the artwork at a reduced opacity while zooming in and created the background. I used 'overlay blending mode' for the background to make the main character pop.
I'm also including a gif of the timelapse to show the process quickly.
Apps used: Ibis paint x Android
Duration: 8 hours
Thank you so much for reading
---
---